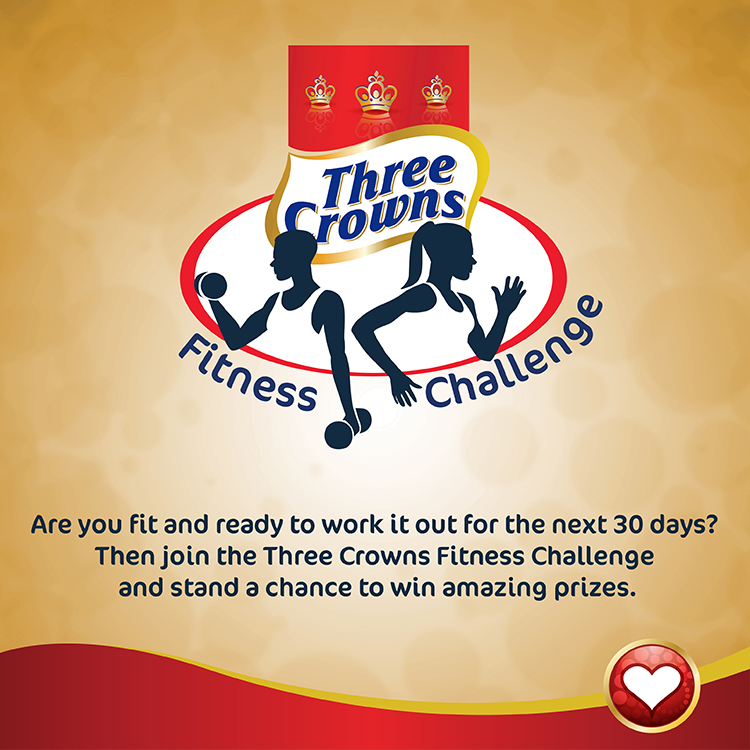 Ok people, the fitfam movement has been trending on everybody's lips, with so many articles, videos, pictures all geared towards making people live a healthy lifestyle.
Really who can blame them? try exercising for a week, you feel the difference in your body; you are happy, flexible, agile, and more attractive and people around you just notice this certain glow on you. Well, that is just a tiny bit of the benefits of keeping fit and healthy.
The moment of truth; I have been lazy about it like a lot of you have , make I talk true, e no easy but when we actually put our minds to it, it is very rewarding. So when I heard about the Three Crowns 30-day fitness challenge, I am like for real?
The reason is that, this Three Crowns Fitness challenge offers you the opportunity to cultivate a healthy lifestyle and then rewards you for it. I mean, who does that? Ok Guys, I'm not talking yeye'' rewards, I'm talking about weekly pampering gifts, spa treatments, weekend aerobic sessions with celebrity trainer and life coach, Mr Shedams of Shredded gang and fabulous prizes when you finally win the challenge, plus you know how Three Crowns takes care of their fans, right?
So, this is how I heard it's going to go down. The popular Mr Shedams of ShrededGang would post work out demo videos and healthy food plans daily on the Three Crowns Instagram page and all we have to do is replicate those videos and post on our Instagram page, not forgetting to tag @3crownsmilk. Remember for every video, you get a score which determines whether you win the fitness challenge at the end of the 30 days.
Just so you know, I am winning this challenge and if you like good things like me, you wouldn't miss out on this opportunity to start a healthy journey and win gifts too. Yaay!
So, this is what I'm going to do now. I am going to sign up by sending my picture, full contact details, Statistics and Instagram handle to [email protected] because the challenge officially starts on the 14th of November and ends on the 10th of December and I definitely don't want to miss out and you shouldn't too.
By the way, you've got no excuse not be a part of this fitness challenge because the workout routines are very easy to follow and the food plan is equally yummy and flexible.
That being said, I wish you all the best as you take up this health and fitness challenge.
For more information, visit @3crownsmilk on Instagram.
 ____________________________________________________________________
Sponsored Content