"If women can agree and accept that they are the weaker sex, then I'm sure more men will stand for them" – Uti Nwachukwu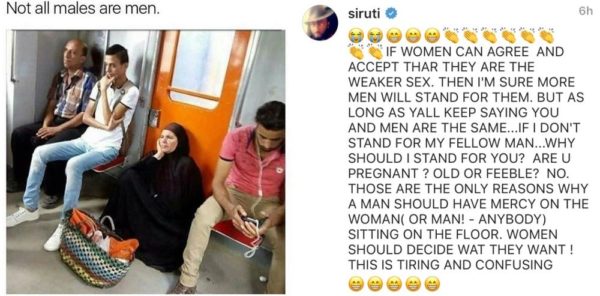 Maureen Chukwujekwu, event planner and wife of Nollywood actor Blossom Chukwujekwu, posted a photo on Instagram a couple of hours ago that showed three men sitting on a train and a woman sitting in between them on the floor. The caption read "Not all males are men".
Taking to the comment section, media personality Uti Nwachukwu stated that the expectations women have of men can be "tiring and confusing".
See his post below.
If Women Can Agree And Accept That They Are The Weaker Sex. Then I'm Sure More Men Will Stand For Them. But As Long As Yall Keep Saying You And Men Are The Same…If I Don't Stand For My Fellow Man…Why Should I Stand For You? Are U Pregnant ? Old Or Feeble? No. Those Are The Only Reasons Why A Man Should Have Mercy On The Woman( Or Man! – Anybody) Sitting On The Floor. Women Should Decide Wat They Want ! This Is Tiring And Confusing
Do you agree with him?