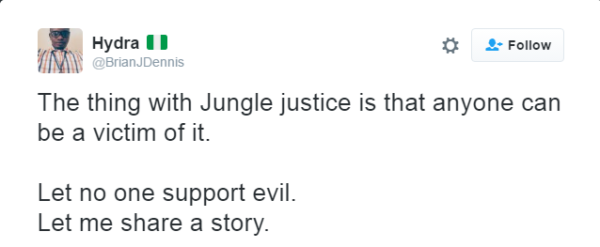 Jungle justice is becoming rampant in the Nigerian society these days, and it's troubling. Almost every week, at least a story of how one suspected criminal was lynched makes its way to the media, and this excludes other cases that go unreported.
More recently, photos of a young man who was beaten and burnt to death by a mob went viral on social media.
While some claimed he was 7-years old and was lynched because he stole Garri (a staple food), others claimed he was a 20-year-old notorious armed robber who was part of a gang terrorising the area. Either way, taking laws into our own hands is wrong.
The whole attack was even filmed, and you could hear fellow Nigerians shout "hit him very well" in the background.
This story shared by a Twitter user following this latest case sheds more light on why cases like this should be allowed to be handled by the appropriate authorities.