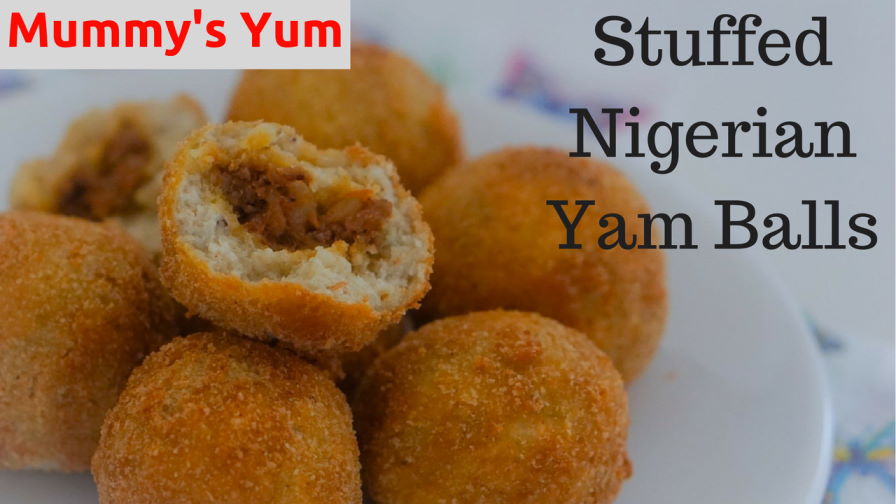 Stuffed Nigerian Yam Balls are a little variation of my yam croquette in terms of shape and content. This is stuffed with minced meat which will surely make it extra yummy for the kids.
This will make a good handy breakfast with pap or custard and as well a lunchbox meal for school kids. It is also a perfect and healthier snack for your toddler to nibble on and learn self feeding. I hope you'll give it a try.
Ingredients
2 round slices boiled Puna Yam (This makes about 6-7 balls)
2 Eggs
2 tsps ground Crayfish
1 cup Breadcrumbs (Click here or here to make yours)
½ cup Flour
Boil dried Minced Meat Sauce or other choice filling
Oil for deep frying
Method
Grate yam if using leftover or overnight cooked yam. If it is freshly boiled, you can use a masher to mash it up, then allow to cool inorder not to burn your hands.
Add crayfish and a small quantity of the beaten egg, then mix and knead with your fingers to get a dough-like texture.
Place flour and breadcrumbs in separate flat dishes and the eggs in a bowl for easy rolling and dipping.
Take a yam dough and flatten on your palms, take a little mince and place in the middle. Bring dough together to form a ball and add more if need be to close the filling very well.
Roll dough in the flour, dip in the egg, then roll in the breadcrumbs and place on a clean plate. Do the same until you have moulded all your balls.
Deep fry in hot oil until golden brown. Fry in batches if making more or if using a smaller frying pan.
Drain and serve.
Watch the Video