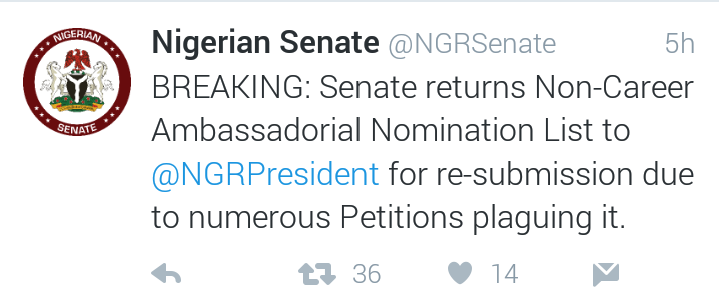 The Senate, on Tuesday, confirmed the nomination of 47 career ambassadors forwarded to it by President Muhammadu Buhari in July.
The Senate, however, rejected the entire list of 46 non-career ambassador-nominees forwarded to it for confirmation in October.
The rejection of the 46 non-career nominees was based on a report submitted by the Chairman, Senate Committee on Foreign Affairs, Monsurat Sunmonu (APC-Oyo).
Sunmonu said the imbalance of nominations observed in the list of career nominees was not corrected by the President in the non-career list.
According to her, over 250 petitions were received by the committee from aggrieved Nigerians over the imbalance of nominations in the first list.
Ebonyi, Bayelsa and Plateau had no nominees at all and were not addressed by the second list containing names of non-career nominees.
"We thought that the issue of non-equitable representation across the 36 states of the federation raised on the list of nominated career diplomats by the President will be addressed in that of non-career nominees; unfortunately, this was not so,

This is in spite of public outcry over it and the committee's observation to that effect to the Secretary to the Government of Federation, David Babachir Lawal during an interface with us before the screening.

Therefore, we've found it difficult to start the screening of the 46 non-career nominees since last month and in fact; we proposed to the Senate that the list be returned to the Executive for needed review and re-presentation," she said.
The approval and rejection through voice votes followed a motion moved by the Senate Leader, Mohammed Ndume.
Notable names on the rejected list are former Sen. Olorunibe Mamora from Lagos State, retired Justice of the Supreme Court, George Oguntade (Lagos), Yusuf Tuggar (Bauchi), and immediate past Deputy Governor of Niger State, Ahmed Ibeto (Niger), whose nomination as a Minister was withdrawn by Buhari in October 2015.
Former National Secretary of the defunct Action Congress of Nigeria (ACN), Usman Bugaje and former Deputy Governor of Plateau, Paullen Tallen, had earlier rejected their nominations.
The Senate, in the 47 approved career nominees list, ignored observations made on 14 of them having less than 30 months left to stay in service and three others who could not recite National Anthem during screening.
This was also in spite of submissions against their confirmations by Senators Peter Nwaoboshi (PDP-Delta) and the Senate Minority Leader, Godswill Akpabio.
Senate President Bukola Saraki urged the 47 career Ambassadors-Designate, to be good ambassadors of the country where ever they were posted.