Has your sweetheart been pestering you about taking her on baecation for Valentine's? Or is bestie getting married in six months and your Aso-Ebi swag must be on point? Or perhaps you desperately need a car that will not embarrass you every time you take it for a spin? Or maybe your landlord has given you a friendly reminder that your 2-year rent is due next August? If you need to start saving those precious Kobos, then REACH is the place to be, and they are launching with a 100-day challenge. Anyone who manages to save N100 or N1,000 for the next 100 days will receive a 5% bonus! Are you up for the challenge? What are you saving for in 2017? Join over 1,000 REACH users, including MI, Classiq and Big Brother's Kevin PA, who have already started their new savings journey.

We know you're wondering, what is REACH?
REΛCH is an app that helps individuals and people in groups to set, track, and achieve their financial goals. REACH reminds us of Susu and other traditional savings schemes, except this time, it's digital. The app lets you save for your biggest moments in life (weddings, holidays, brand new car, rent – you name it!) as an individual or with family, friends and other groups with the same goal as you. It's accessible to anyone with a Nigerian bank account.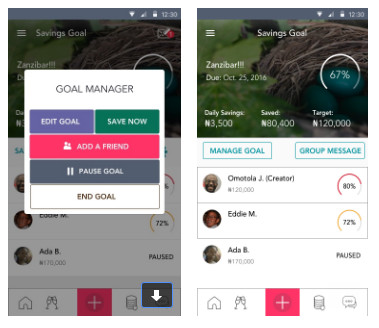 So, how does REACH work?
Users can set, track, and achieve their financial goals on the REACH app. Simply tell REACH how much you need to save, and by when the amount should be complete, and the app will generate the daily, weekly or monthly amount that needs to be deducted for you to reach your goal by the specified time. In addition to that, you can invite friends to join your savings goals and take advantage of the in-app messaging service, that allows you all to gist privately about your progress. Users can also cancel their savings plans at any time and a full transfer of funds will be made, without any financial penalties.
How much will all this cost me?
Absolutely nothing! There are no costs applicable to savers as REACH generates its revenue through lead generation and by connecting vendors with customers. We are not here to chop your Dollar Naira.
Ok, REACH sounds great so far…is that all?
Well, in addition to saving personally, if you choose to join the hundreds of people who have been saving since July 2016, you can also make considerable savings on purchases made via REACH Partners. Most notably, REACH users with a REACH Score of 300 and above enjoy a 5% discount when shopping at CityDia supermarkets in Lekki and Surulere. REACH and FlyBoku.com have also partnered to offer REACH users a discount of at least ₦2,000 off their flight bookings. These and other impressive deals are on the REACH benefits page.
And one last thing #reachdance…
REACH launches its 100-day challenge today. Users who save at least ₦100 for the next 100 days will enjoy a 5% bonus on all that's been saved up by March 24 (100 days from today). Anyone who manages to save at least N100 for the next 100 days will receive a 5% bonus! Are you up for the challenge? #reachdance kicked off this week with a host of Nigerian celebrities, including MI, Classiq and Big Brother Africa winner, Kevin Chuwang Pam, VJ Adams, Mayowa Ekpo, Bolanle Olukanni, and Young John the Wicked Producer, who are sharing what they are saving for in 2017, via shout-outs on social media. The company is also awarding N100,000 for the #reachdance with the most likes on Instagram. What's your savings goal? Tag @FindReach, using the hashtag #reachdance, and start planning how you could chop N100,000.
Count me in! How can I start using REACH?
We are glad to have you on board! You can download the REACH app on Google Play or on the newly launched iOS app now available on the Apple Store.
Show some love on social media by following:
Twitter @FindReach
Instagram @FindReach
Facebook @FindReach
Snapchat @findreach
Blog The REACH Chronicles
______________________________________________________________________
Sponsored Content