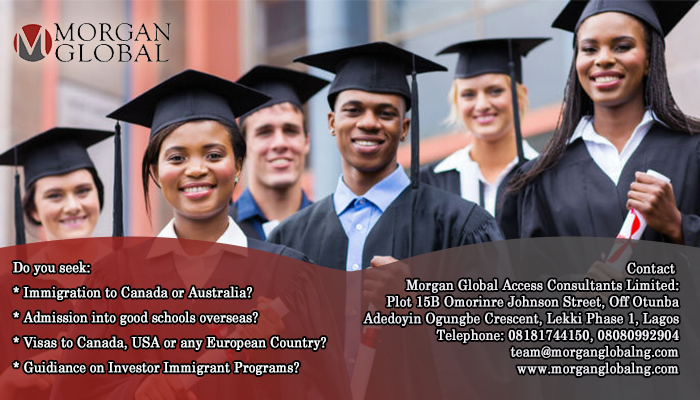 Are you interested in living and working in Canada or Australia? Do you or your loved ones seek high school, college or university admission for certificate, degree, diploma, Masters, MBA or post-graduate diploma programs abroad? Do you have strong English or French language skills? Or are you are professional with years of experience?
If yes, you have found a professional international education and immigration consultancy firm that can make your dreams a reality!
To learn more, book your consultation with Morgan Global Access Consultants Limited at https://goo.gl/AeAm0W.
Morgan Global Access Consultants Limited, a reputable international education and investment consultancy firm in Lagos is chaired by a Regulated Canada immigration Consultant, IRCC ID #R4066967, who will discuss with you the opportunities available for your immigration to Canada.
She has thorough experience from helping families relocate successfully to Canada, and she can help you too.
Also, there are a myriad of schools in Canada, America, Australia, Europe and other developed nations that offer international students like you the opportunity to build a successful career. Do you know that some of these schools are tuition free? We have recruited numerous students into various academic levels in schools all over the world; you too can become a professional with international education if you take action today.
We are giving clients the opportunity to speak with our immigration and international admission expert, simply contact us at:
Morgan Global Access Consultants Limited
Address: Plot 15B Omorinre Johnson Street, Off Otunba Adedoyin Ogungbe Crescent, Lekki Phase 1, Lagos.
Tel: 08181744150; 08080992904;
Email: [email protected]
Website: www.morganconsultancyservices.com
____________________________________________________________________
Sponsored Content