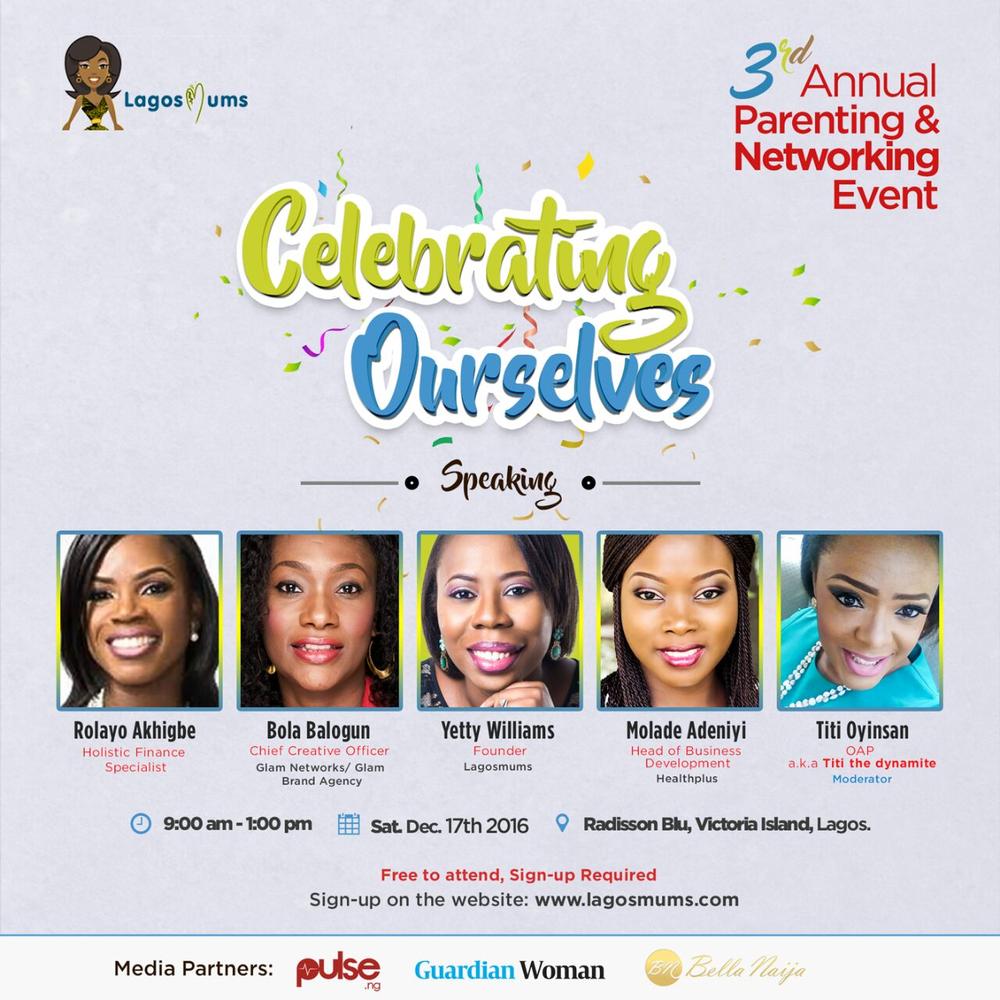 It's been a year already! It is December and time for the 3rd Annual Parenting and Networking event hosted by LagosMums. The event will hold at The Radisson Blu Hotel on Saturday the 17th of December 2016.
This year's theme has been tagged "Celebrating Ourselves" and promises an exciting line up of speakers including Bola Balogun, Molade Adeniyi, Yetty Williams, Rolayo Akhigbe and moderated by OAP Titi Oyinsan.  Each speaker brings to the table a unique perspective and insight to being a mother and all the joys and realities that come with it.
The theme "Celebrating Ourselves" will deal with the economic realities of today while focusing on the important role that mums play in the lives of their families and the society. Mums never get a day off and it is nice for us to get some time to connect and celebrate ourselves!
LagosMums launched this networking series because of its passion to create a forum, which raises awareness and drives a deliberate shift in raising children in the digital age. The past events which have been well attended, saw mums, dads and experts in an interactive session to discuss parenting matters, share experiences and gain valuable advice in a collaborative and encouraging environment.
"The past events have been a huge success and we look forward to this event being even more successful. 2016 has been quite a tough year for everyone, especially for mums who never get a day off. We wanted to give back by offering mums an opportunity to meet each other and focus on all the hard work that mums put in daily. If we end the year on a celebratory note we can focus on entering 2017 focused and ready to achieve all we want to." Yetty Williams, founder of LagosMums.
The speakers this year all bring different perspectives but hold the same view that parenting and being true to yourself are at the heart of motherhood.
Rolayo Akhigbe, who is a holistic finance specialist will brings effective financing tips to her audience with practical insights. Bola Balogun, is a mother of five and the CEO of Glam Networks. Molade Adeniyi is head of business development at Health Plus as well as working on her passion to be a public speaker. Titi Oyinsan is an on air Nation builder and founder of I am Dynamite Network.  Lastly, Yetty Williams, Founder and CEO, LagosMums joins the line up of speakers this year to lead the discussion on how mums can balance it all!
The LagosMums Parenting Seminar and Networking Event is free to attend, but registration is required as there is limited available seating. Register at: http://ow.ly/XDKd306YeW2
LagosMums Parenting Seminar and Networking Event holds on:
Date: Saturday, December 17th, 2016.
Time: 9am to 1pm.
Venue: Radisson Blu Hotel, Victoria Island, Lagos.
The LagosMums platform was created in 2011 to fill a void for mums, parents and caregivers by introducing a resource website, LagosMums.com. Over the years, LagosMums has grown its online platform through social media to be the premier provider of family lifestyle content. It is also committed to organizing programs and events that benefit its community and the society at large.  If you are looking for an article on pressing parental subjects, trying to find information on what to do with the family, find a school or simply want to connect, LagosMums.com is your hub.
___________________________________________________________________
BellaNaija is a media partner for LagosMums