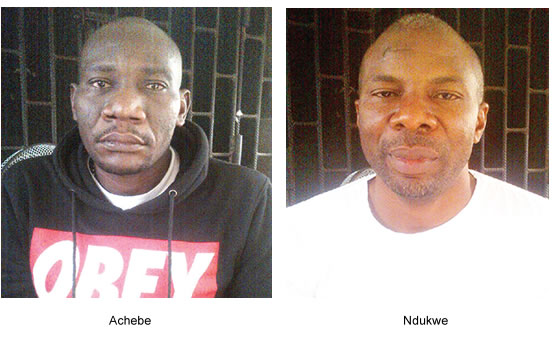 Two suspects – David Achebe, 37, and Daniel Ndukwe, 43- attempting to smuggle cocaine have been arrested  at the Murtala Mohammed International Airport.
One of them who was heading to Hong Kong, excreted 45 cocaine wraps, after the arrest.
A statement by spokesman of the National Drug Law Enforcement Agency (NDLEA), Mitchell Ofoyeju, described the arrests.
"Another suspect, who lives in Athens, Greece, was also apprehended in connection with unlawful possession of wraps of substances that tested positive to cocaine.

The arrests were made at the MMIA, Lagos, during screening of passengers on an Ethiopian Airline flight to Hong Kong and an Egypt Airline flight to Athens.

Preliminary investigation suggests that the suspects had targeted the Christmas holiday to smuggle cocaine out of the country but drug law enforcement officials at the Lagos airport were able to uncover their plan.

The total weight of cocaine seized from the suspects is 1.150kgs. One of them excreted 45 wraps of cocaine he ingested, weighing 935 grammes while the other excreted five wraps of cocaine weighing 215 grammes.

Both suspects tested positive for narcotic ingestion and while under observation; they expelled wraps of cocaine which they had wanted to smuggle out of the country. The suspects are currently under investigation.

The high expectations of both suspects making quick money this festive season from drug trafficking had been dashed by vigilant anti-narcotic officers," the statement stated.
The statement also reported the Chairman of the agency, Muhammad Abdallah, as saying that those wishing to get rich through drug trafficking would end up in prison.
"This is a warning to drug traffickers that the agency is determined to detect all hidden drugs and prosecute offenders. There are control measures in place to detect narcotics at all exit and entry points. We shall continue to improve on our strategies in line with our mission of providing a safe and healthy society for all." Abdallah said.
According to PUNCH,
Achebe, who deals in electronics, reportedly told investigators that a friend contracted him to traffic in cocaine with a promise of N5m for a successful operation.

"I sell electronics at Alaba market. This is my first time of dealing in drugs. My friend in Hong Kong introduced me to cocaine smuggling. He sent the drug to me. The cocaine was in a black polythene bag containing plantain and pineapples. I swallowed the 45 wraps in my toilet without my wife's knowledge. I was promised the sum of N5m which I had wanted to use in importing electronics. At the airport, they told me that scanning machine indicated that I had drugs on me. That was how I was arrested," he said.

Ndukwe in his confessional statement said he thought he would scale through the screening due to the small quantity of the drug, adding that he was to be paid N250,000.

"I have lived in Athens (Greece) for over a decade. I lost my job last year and things have been very bad financially. I came to Nigeria to visit my wife and two children. I had no plan to smuggle drugs until a friend called me from Athens that I should bring five wraps of cocaine. Since it is only five wraps, I felt it will be an easy task. He sent someone to give me the wraps in Umuahia (Abia State). I inserted the five wraps in my anus," he said.