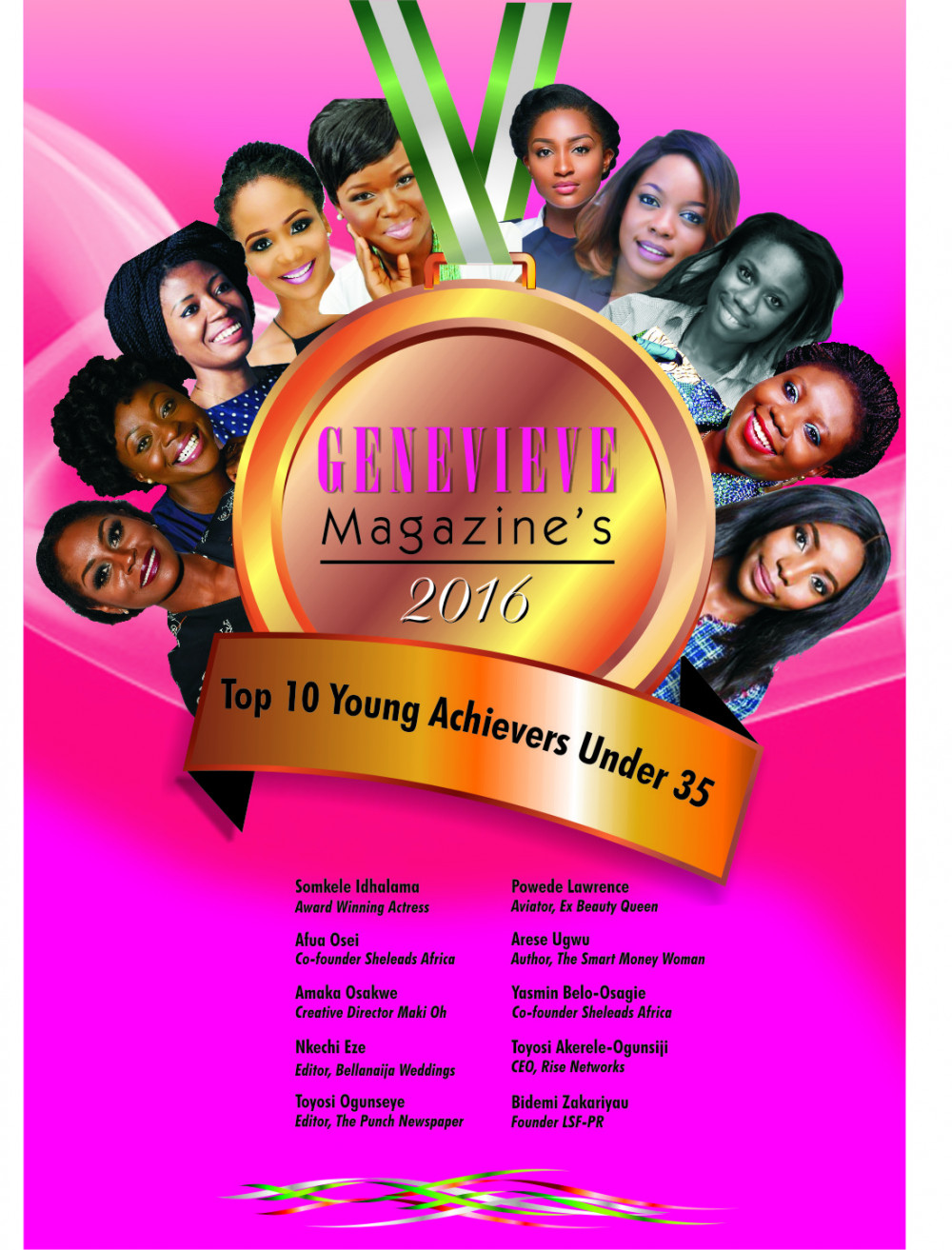 Genevieve Magazine listed our BellaNaija Weddings and BellaNaija.com Assistant Editor Ink Eze as one of their young achievers of 2016.
On their inspiration for compiling the list, they said –
At Genevieve we pride ourself in empowering women and after brainstorming to compile a list of young achievers under 35, we came up with 10 women who have been outstanding in their different commitments and we want to use this medium to say congratulations for coming thus far and more grease to your elbow.
Here's the women's magazine's take on the Top 10 achievers under 35!
Somkele Idhalama
Award-winning actress
Somkele has starred in a lot of block buster movies in 2016, from 93 Days to romantic comedy, The Wedding Party and The Arbitration but she has achieved more than just starring in a few cinema blockbusters. She was chosen as Toronto International Film Festival (TIFF) Rising Star along side O.C Ukeje, among others. It has indeed been an inspirational year for Somkele.
Yasmin Belo-Osagie & Afua Osei
Co-Founders SheLeads Africa
SheLeads Africa is a destination for women to intend to lead successful careers. Launched in 2014 by Yasmin Belo-Osagie and Afua Osei, to tackle the problems many African women have in terms of limited leadership possibilities and prospects on the continent and beyond,this social enterprise has since become a force to reckon with.
In 2016 ,they started the Accelerator program, a 3 month program designed to identify, support and fund the next generation of Nigeria's brightest female entrepreneurs. Also in 2016, SLA grew it's community by 600 percent to more than 200,000 women across more than 30 countries and 5 continents.
Among empowering women and delivering business and career advice to 200,000 millennial, urban and engaged African women through in person workshops and digital training, they recently became the first African startup to ring the closing bell at the New York Stock Exchange (NYSE).
Powede Lawrence
Aviator, Nurse, Ex-Beauty Queen
Known as MBGN Tourism 2013, Miss Powede Lawrence is more than just a beauty queen as she recently just got certified a pilot in South Africa, she is also a registered nurse and all these she garnered before turning 25.
Toyosi Akerele Ogunsiji
CEO Rise Networks
She is a Social entrepreneur and Founder of RISE NETWORKS, a Nigeria-based private and public sector funded Youth Interest social enterprise. She was The 20 Youngest Power Women In Africa 2014 and so far she has become a force to reckon with as a Social Entrepreneur and Human Development Expert.
Arese Ugwu
Founder, www.smartmoneyafrica.org
Arese Ugwu is the Founder of smartmoneyafrica.org, a personal finance platform tailored to the African Millennial. She promotes financial literacy in Africa through speaking engagements, workshops as well as multiple media platforms. She released her book the Smart Money Woman in 2016 and has gone ahead to become a distinguished woman in financial development.
Toyosi Ogunseye
Editor Of The Punch Newspapers
Being the youngest editor of a traditional newspaper is an achievement of a lifetime and Toyosi Ogunseye makes us proud and inspired.
Bagging awards like African Women in News Leadership Award, CNN Multichoice African Journalist Of The Year Award and most recently the recipient of the United States' Presidential Precinct's inaugural Young Leader Award, she is certainly a role model for most women.
Amaka Osakwe
Fashion Designer
Creative Director of Maki Oh and a 2014 finalist of LVMH Prize nomination has grown into one of the biggest success stories to come out of Nigeria's burgeoning fashion scene. She recently made the list for Business Of Fashion 500 and has become a fashion favourite for most Hollywood celebrities. Constantly featured on Vogue, the fashion designer is one inspirational success story.

Nkechi Eze
Editor, BellaNaija Weddings
There are a few people who do a lot of amazing work but still manage to keep a low profile, Nkechi Eze of BellaNaija Weddings is one of those.
BellaNaija Weddings the benchmark most bridal websites aspire to exceed is no ordinary feat but she has managed to keep things fresh and exciting. The BBN Wonderland project is one of the many achievements of the brand and she has not relented in making her work speak for her.
Bidemi Zakariyau
Founder LSF|PR
LSF|PR – a full service public relations consultancy with a core focus on corporate communications and consumer brands has become the go to PR brand for most multinational companies, the likes of Cointreau, IO Furniture, Laurent Perrier among others. Bidemi growth thus far has been inspiring and without doubt she is an achiever and an inspiration.
***
We're very proud of Ink and she has something special in store for 2017!