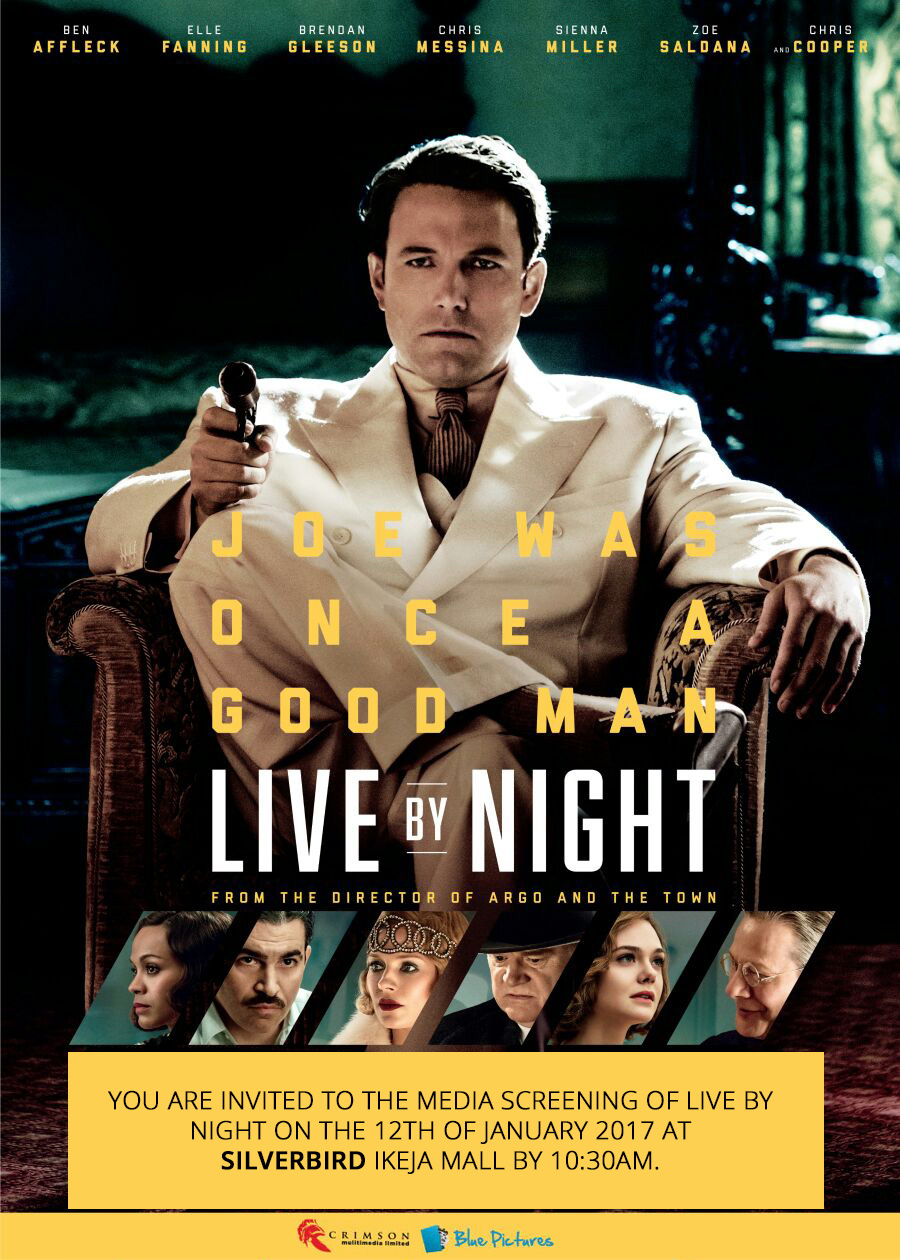 The highly anticipated Hollywood movie, Live By Night starring Ben Affleck will be in cinemas on January 20, 2017, but Crimson Multimedia and Blue Pictures, two leading movie distribution companies in Africa are giving the opportunity to readers of this website to see it as a VIP beforehand on Thursday, January 12, 2017.
Date: Thursday, January 12th, 2017.
Time: 10:30am
Venue: Silverbird Ikeja Mall, Lagos.
All you need to do to qualify as part of the 50 people to see the movie is to follow @BluePictures16 on Twitter and @bluepicturesng on Instagram and write #RSVP with the hashtag #BluePictures #LiveByNight #CrimsonMedia #BBBMedia.
The first 50 should proceed to DM their real name to @bbbmediang on Twitter or @bbbmedia on Instagram. Guests' list will be compiled from this. Goodluck!
Watch trailer: https://www.youtube.com/watch?v=CtFZcAuH-qI
Synopsis
Live by Night is a 2016 American crime drama film written, directed, co-produced by and starring Ben Affleck, based on the 2012 novel of the same name by Dennis Lehane. The film also stars Elle Fanning, Brendan Gleeson, Chris Messina, Sienna Miller, Zoe Saldana and Chris Cooper and follows an Ybor City bootlegger who becomes a notorious gangster.
Produced by Warner Bros. Pictures, the film premiered in New York City on December 13, 2016.
_________________________________________________________________
Sponsored Content