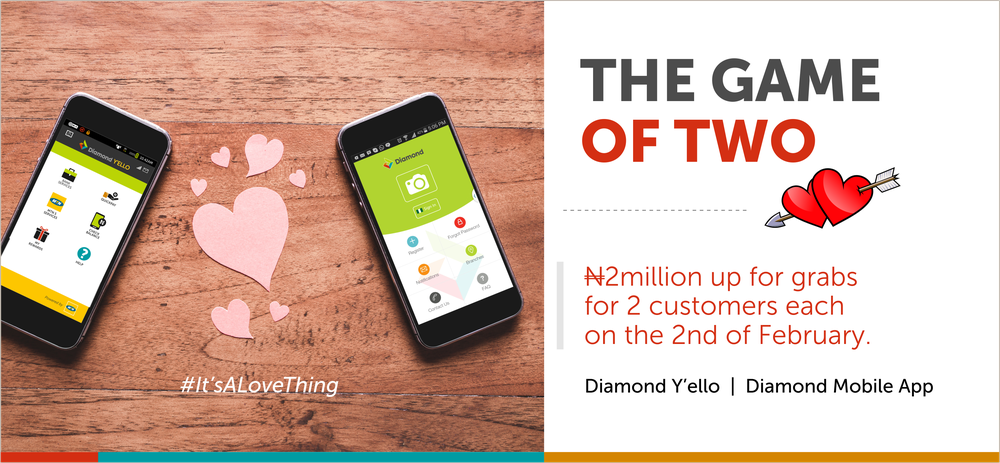 Diamond Bank has moved a step higher in the digital sphere by hitting a milestone of two million subscribers each on the Diamond Mobile App and Diamond Y'ello account.
It will be recalled that on February 2016, Diamond Bank hit the one million mark on its Mobile app, making it the most preferred mobile banking app in the industry. The one millionth registered customer, Calistus Chibuike Anowai, who on Valentine's Day last year downloaded and registered the mobile app was rewarded with N1 million Naira by the Bank.
Exactly one year after, Diamond Bank has recorded additional one million subscribers on its mobile app and have also decided to up the nudge by giving N2 million to the two millionth customer both on their Mobile app and the Diamond Yello Account.
The Diamond Mobile app allows Diamond Bank customers carry out a wide range of banking transactions from their Diamond Bank accounts including bills payment, flight ticket bookings, eSUSU (joint savings club), and funds transfers, amongst others.
Specifically designed for the teeming un(der)banked segment, the Diamond Y'ello account allows customers perform a wide range of banking transactions from their MTN lines without data or Wi-Fi connection. The account has helped the Bank record strong customer growth in three years, a goal that previously took the Bank ten years to achieve. This further underscores its focus on executing its digital transformation strategy by going beyond banking to meet its customers' varying needs.
In a statement issued to the press by the Bank, Head, Retail Banking Businesses, Robert Giles, attributed the record milestones to the Bank's digital innovation and quest to provide customers with convenient banking services.
"In February 2016, we recorded the one millionth Diamond Mobile app customer having launched the app a few years earlier. We are delighted that we were able to double that number in only one year. This is an affirmation of the trust our valued customers have in our products and services, and we pledge to continuously provide cutting edge services to them", he said.
See the Diamond Mobile App commercial here https://goo.gl/VRDb2Z
__________________________________________________________________
Sponsored Content