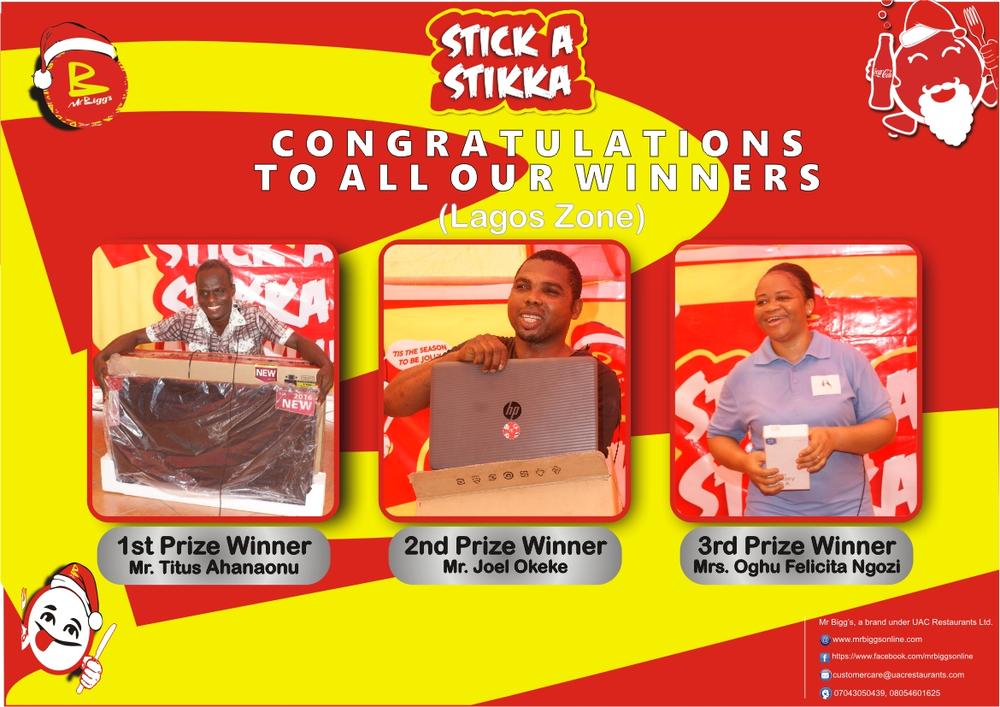 The event kicked off on Friday the 20th January 2017 with the speech from the Managing Executive –UAC Restaurants Susan Mawer delivered by the Finance Executive, UAC Restaurants Ltd Oluyinka Abegunde. She welcomed everyone to the remarkable event to mark the end of the December 2016 Stick a Stikka campaign. She spoke on the various challenges facing businesses and Mr Biggs resilience through it all in maintaining a strong and sustainable brand that is trans-generational and impacts the lives of its customers positively. Also reiterated was the fact that customers are dear to Mr Biggs, "so we celebrate them at every given opportunity as they are the reason for our existence and ensure brand sustainability and relevance in the QSR space".  Ending her speech to begin the raffle draws she said "We are indeed grateful to our customers for choosing to partners with us through their continuous patronage and we will keep fulfilling the Mr Biggs promise of being ''Always good''. The entire Mr Biggs family wishes our numerous customers a happy and fulfilling 2017".
Furthermore, Mr. Biggs rewarded winners that emerged in the maiden edition of stick a stikka Promo draws, which was recently held in Lagos, Nigeria. The lucky winners, which emerged from a transparent raffle draws witnessed by officials from Advertising Practitioners Council of Nigeria (APCON), partners to the campaign, Nigerian bottling company Coca-Cola represented by the Key Account Manager Mrs. Grace Owolabi, Mr. Biggs franchisees and other major industry players, according to a statement from the Mr Biggs media team.
Twelve people emerged winners for the December 2016 stick a stikka promo across the four Geo-political zones in the country, among whom were Lagos Region 1st price winner Titus Ahanaohu, went home with Samsung LED TV, 2nd price winner Jpel Okeke got HP laptop and the 3rd price winner OGBU Felicia Ngozi received Samsung Galaxy tab from Mr Biggs.
Draws were also officiated for the West, East and Northern regions and the winners got Samsung LED TV, HP laptop and Samsung Galaxy tab for the 1st, 2nd and 3rd prize winners respectively. Mr. Biggs also rewarded 80 lucky winners across the Nation with consolation prizes.
West Region Winners
1st Abiodun Olayinka
2nd Ishola Saheed
3rd Abraham
East Region Winners
1st Ojeloaoa Endurance
2nd  Ekenna Obianuju
3rd  Felix Olisa
North  Region Winners
1st Grace Haruna
2nd Uche Nwaji
3rd Pamela Vou
There was lots to eat and drink, the fun-fare was endless as all the winners couldn't hide their excitement and shared their experience with Nigeria's' largest Restaurant brand.
In closing, the marketing manager for UAC Restaurants Eustesia Ogunsusi thanked everyone for their patronage and support over the years noting that in the New Year 2017, it is Mr Biggs utmost desire to unleash more amazing surprises to every Nigerian and to continue raising the bar in offering only the best service to every Nigerian who ever walks through the doors of every Mr Biggs restaurant across the nation. She also admonished everyone present to share their moments on the Mr Biggs Facebook page on www.facebook.com/mrbiggsonline to help create a better relationship with the brand. She also thanked their partners who were present at the event stating that Mr Biggs looks forward to a more enthralling future as partners.
___________________________________________________________________
Sponsored Content