Parents as Cupid but Love at First Sight! Read Adaora & Tochukwu's Love Story & See their Glam Chicago Wedding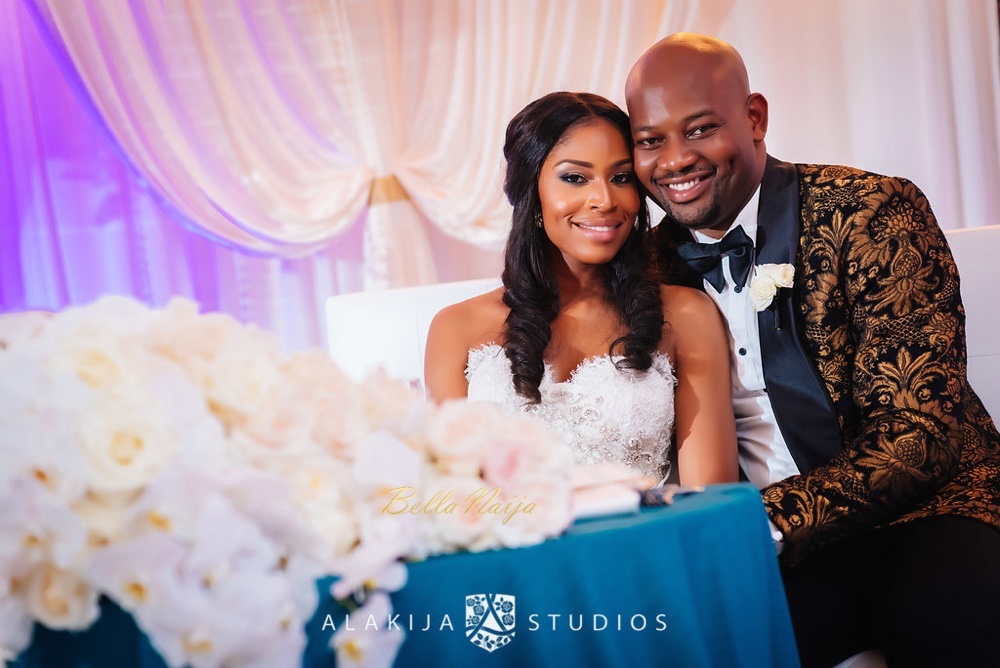 Meet Dr. Adaora and Tochukwu from Chicago. Their beautiful union was orchestrated by both their parents, who apparently knew what was best for their kids. Their parents set up a blind meet that worked in their favour, as their love bloomed at first sight! Cliche yeah? Well, we love this cliche kind-of-love.
For the couple, the big reveal before the ceremony was such a beautiful highlight. Adaora's sister had an emergency surgery the day before the traditional wedding. Luckily it wasn't trauma related but definitely sad because it meant she would not be there for the weekend's events. However, when they got to the reception on the day of the white wedding, she was there in her wheelchair to welcome them. Tochukwu's reaction was priceless!
Comedian and MC Chief Obi definitely entertained the guests as the overall turn-up for the both ceremonies for the two-day event were lit!
Congratulations and love from BellaNaija Weddings!
∼Pre-wedding Photography: Vito Rade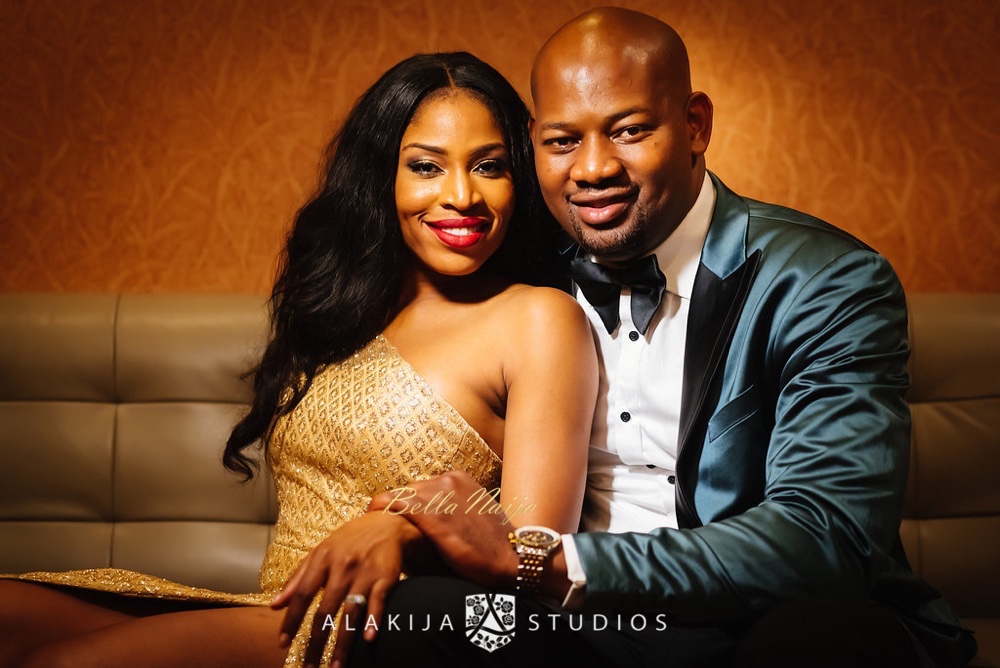 How we met:
How the bride, Adora says it happened;
I was finishing my anaesthesiology residency at Harvard in Boston and went home for Thanksgiving for the first time in years. As usual, I piled my schedule with plans to see friends and family but like it always goes, my parents had their own plans. My dad, the master planner, wanted me to meet his friends in a bid to finally get his "Ada" hitched. I obliged but made it clear that I would leave early because I had plans of my own. My expectations were quite low. Honestly.
Time to meet the family came, the very stylish mother, her two older sons, and her daughter. They were such a lovely family I must say. Anyways, they were all my parents' peers so after a few pleasantries I was ready to leave. In my mind, they had sufficiently seen my face, my height, skin color lol etc… Mission accomplished.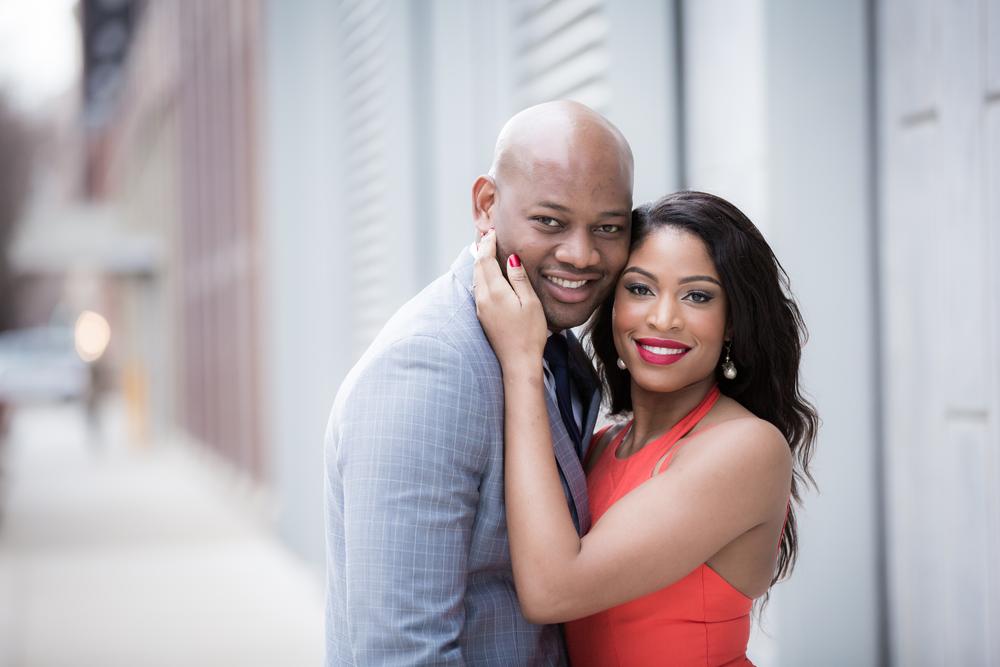 But little did I know, and also surprising to my dad there were many more members of this family. The daughter, Adaobi, was quietly texting one of her baby brothers and telling him to come to our house ASAP.
Well, she must have done some great convincing because not long afterward just as I was ready to leave, a tall, handsome, milk chocolate skinned man named Tochukwu rang our doorbell and walked in and in that same instance, people! I literally forgot about all my plans *sigh*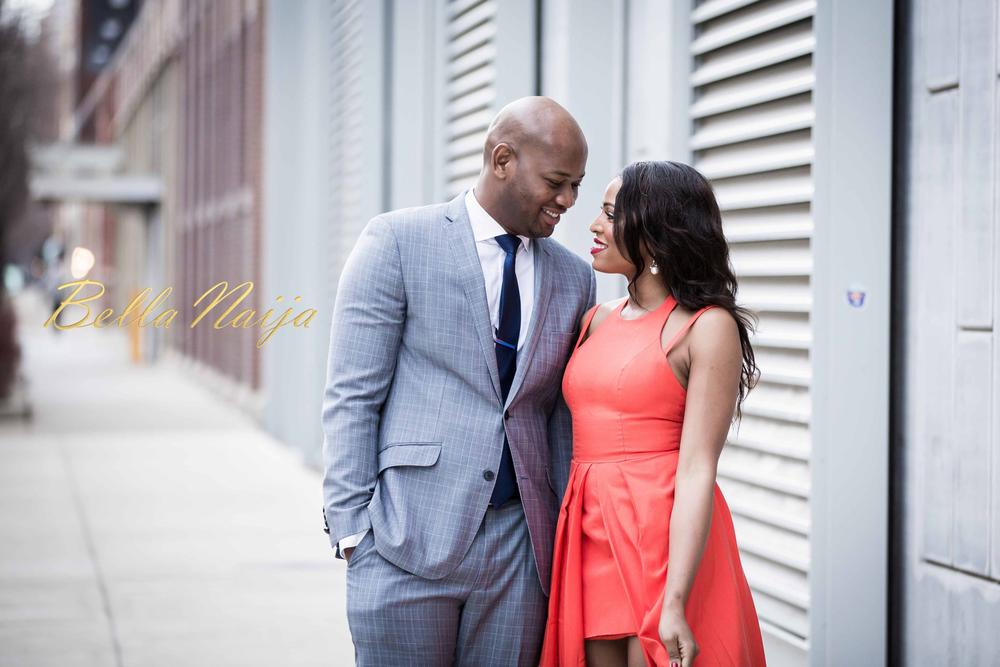 He was so polite, such a true gentleman. He introduced himself to my sisters and I and began to tell us a bit about himself but I told him to first relax and eat something. I directed him to the food and he went to the living room with his siblings and my parents. My sisters and I were very pleasantly surprised by our new guest and could not stop giggling and whispering to each other (I love having sisters btw!).
After about an hour I asked him about himself again. At that point, his eyes lit up and he directed me to the family room area (in my own house… He's a take charge kinda guy) and from there we talked about what we did, what schools we attended, our families and so on. We talked the entire night nonstop. Half way through we figured out we were also wearing similar outfits. Blue and white checkered shirt and jeans. Fate? I think so.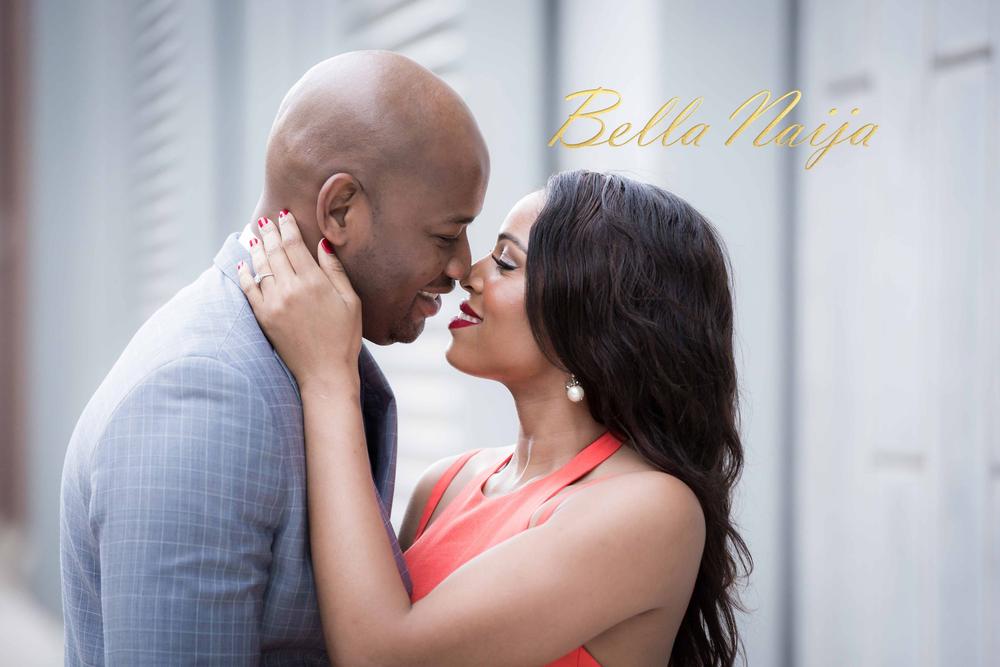 As he was leaving he asked for my number and the next day, when I was scheduled to fly back to Boston, he asked if I could squeeze out time for a date and of course I made it happen. It was another session of just nonstop conversation and it continued when I returned to Boston.
About a week after we met, he booked a flight to see me. Prior to him coming something told me to fast and pray about this, he seemed so special and I wanted God to really open my eyes. So I fasted for 3 days. I asked God, Lord if this is my husband make it obvious to me. That weekend he kept making insinuations about marriage and me being wifey material, then a month into us dating, he revealed to me that he wanted to marry me, that I was the one. I felt the same way. Look at God! In that short time, Tochukwu had become my backbone and best friend, a prayer partner and a source of joy, a perfect partner.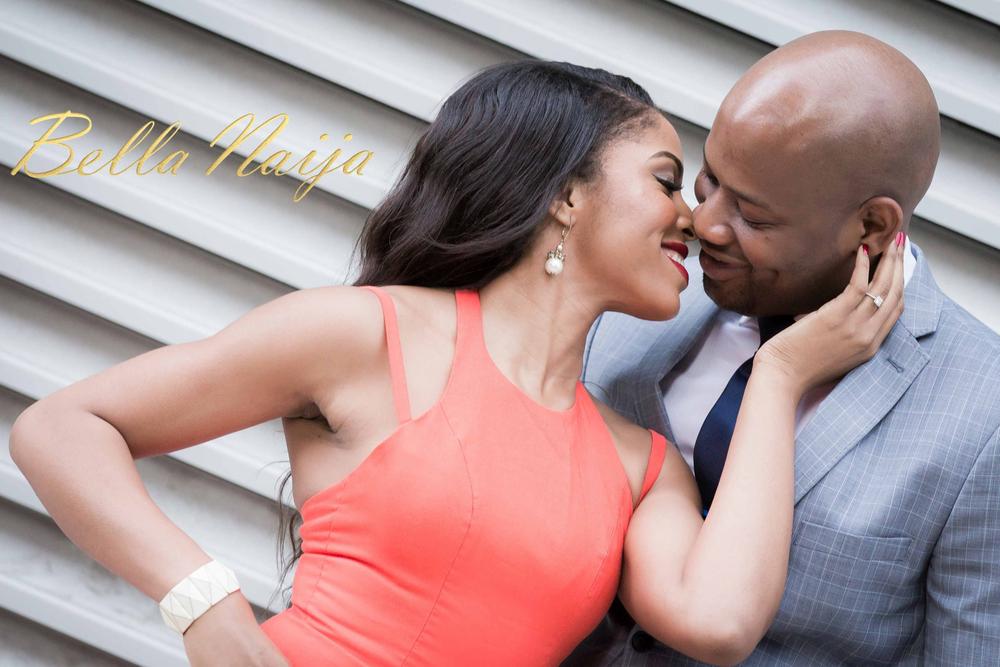 How we met:
the groom Tochukwu's version
Before meeting my wife to be, Adaora, marriage was not on my mind. When I did think of it, it was usually when my family brought it up. I was sure that at some point in the distant future, I would meet the right woman at a social gathering, school, work or a place of worship. So needless to say, I was taken aback when I met Adaora.
It was a beautiful Saturday afternoon on November 29, 2014. My recollection of it was that it started like all the other Saturdays except, as we know now, it had a beautiful ending. Around 4 pm my eldest sister, Adaobi, sent me a text message. It was a "gentle" nudge that said "Please join Oranu, Mom and me ASAP. We are visiting a family close to you." At first, I ignored it because I had other plans for the evening and had not been warned of this event. Then the text messages continued and transformed from a request to more of an order. That was when I called her.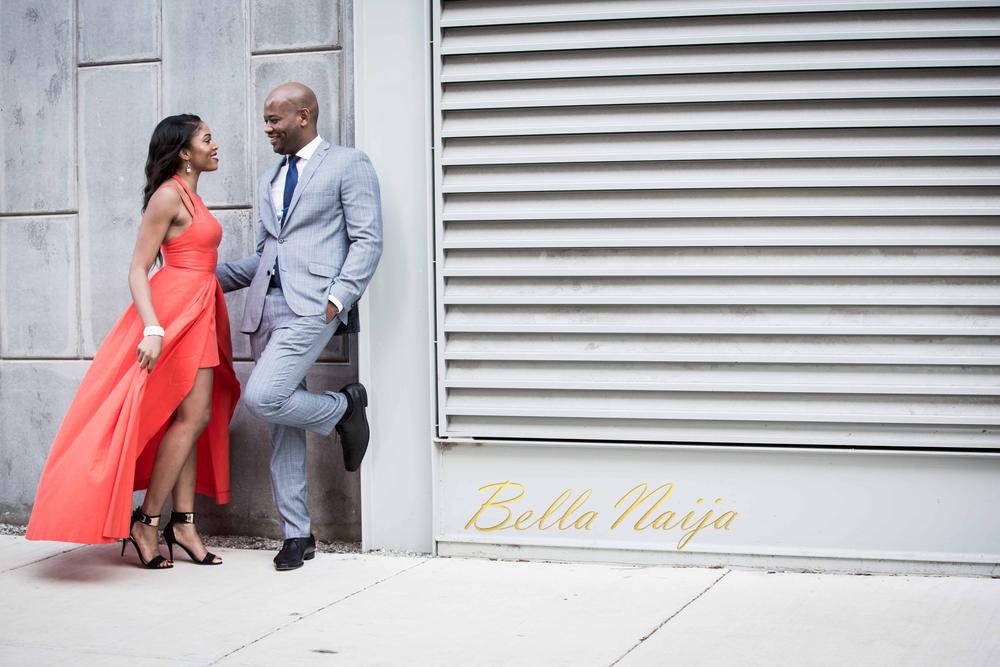 My sister did not allow me to speak but asked if I were at the door of the said home. I said "No". She then told me to be there in 30 minutes or I will have to meet them back in NW Indiana within two hours. In my head I knew right away what I needed to do, she's my oldest sister so I did not want to upset her. Luckily, I was already dressed so I made the 20-minute drive to the address hoping to appease them and then continue with my plans.
When I got to the house, I rang the doorbell, opened it and strolled in. Inside I saw my Mom, brothers and sister Adaobi sitting with a man, Adaora's parents, the host. I greeted them and continued to the kitchen where I noticed some young ladies talking. That was when I saw her, I noticed her right away. I introduced myself and realized they were sisters. I did not expect the excitement I felt at the time, so to compose myself, I lingered longer with her sisters. Then finally, I got the courage to talk to her directly.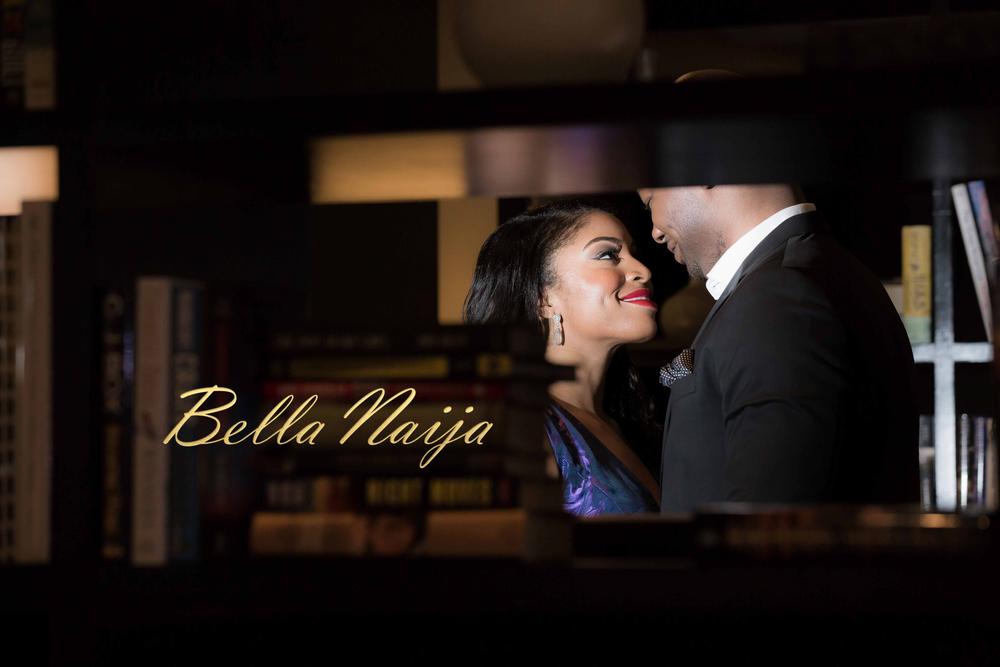 Our conversation was easy and nonstop that night. We both seemed eager to get to know each other. We talked about any and everything. I can't remember much from the evening but I do remember every detail of that very beautiful young woman I spent hours on end talking to. Our conversation was interrupted when my family told me they were leaving. So to not overstay my welcome, I decided to leave with them but made sure that I had Adaora's phone number and itinerary for the next day. She told me she would be leaving for Boston the next day so I called her in the morning and invited her out for coffee. Our coffee date morphed into a very long dinner filled with even more conversation and eventually trips back and forth. Beginning The Ibekie Love Story.
The proposal
By Adora
We officially met each other's family and had our introduction in August. We went on to have our Ime ego (dowry) in September as well at the CountrySide Banquets and Conference Center– La Grange, IL. Please bear in mind that all this time, I had no ring yet o! He kept saying that he wanted to take me to Europe for a trip before my birthday and he booked it for two weeks before.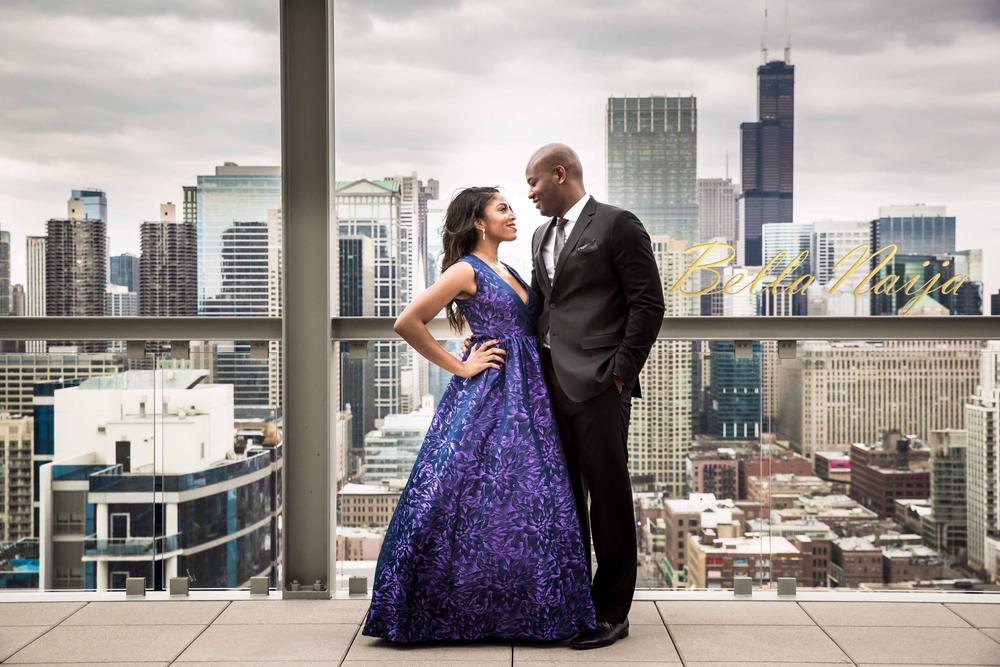 I had a feeling the proposal would be then, so I got my nails done, picked out a nice dress and was mentally prepared. I knew exactly how it would happen, at least in my head I did. We went to London first for a few days then took the train through the English Channel to Paris.
Before getting on the train he managed to have us wear the same shirts we wore when we met, it didn't even click to me. Anyways, when the train got into Paris, Tochukwu casually asked me if I would marry him and I smiled and said "of course, duh!" and I turned away.
Then the train attendant brought a bottle of champagne, stood there taking pictures and recording the magical moment. Tochukwu then went down on one knee with Tiffany's box in hand and asked me again if I would marry him. I was so surprised and ecstatic. Again the answer was, "of course, I'll marry you!"
I spent the rest of our trip on cloud 9. We spent days in Paris, then Germany and then ended in Switzerland. This turned out to be the most amazing engagement ever, better than I imagined. I felt like a princess the entire time. We already were traditionally engaged but he still went out of his way to make this moment so special. He's truly the man of my dreams, my Prince Charming, the one God blessed me with.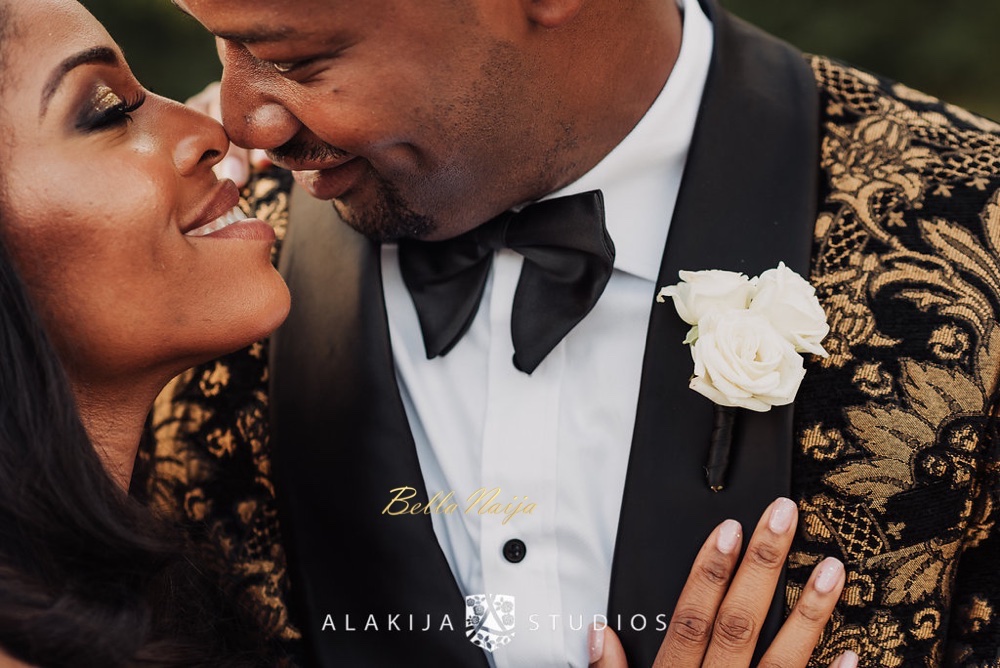 Advice for Couples
Attend Spiritual Counseling: We definitely wanted God as the foundation of our marriage
Get a Wedding Planner: Adaora was in her last year of residency in Boston, so it was great to have someone in Chicago to help keep things on track.
Delegate Tasks: Family and close friends who were willing to help were utilised, we could not have been more blessed for their help.
Enjoy your Big Day and Don't Stress: We had a few mishaps here and there but at the end of the day you can't change anything. Don't sweat the small stuff, just party and enjoy this once in a lifetime experience
White Wedding
∼ Photography: Jide Alakija | Alakija Studios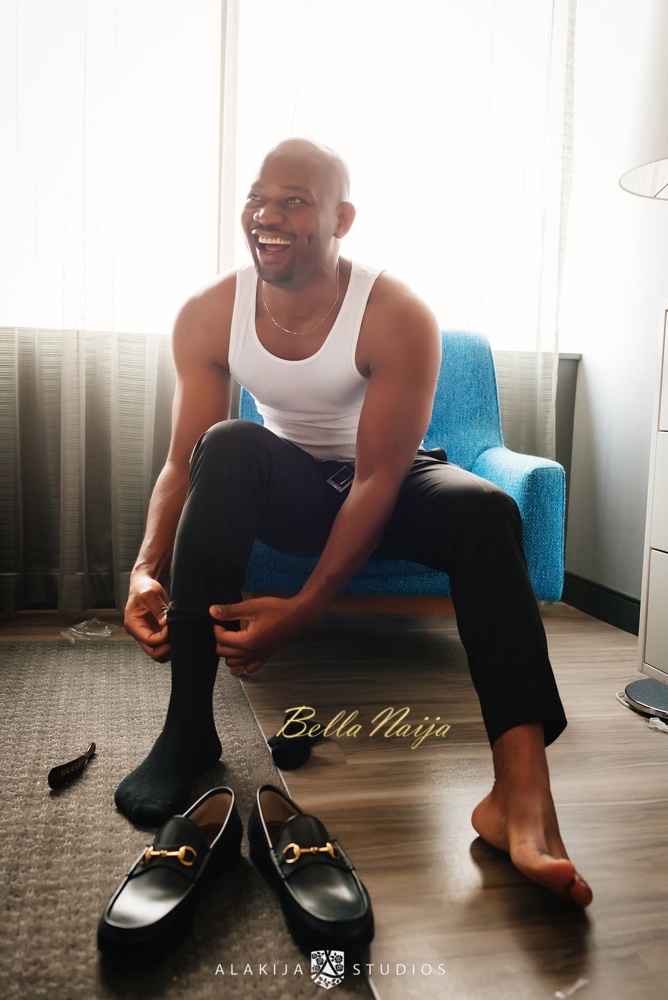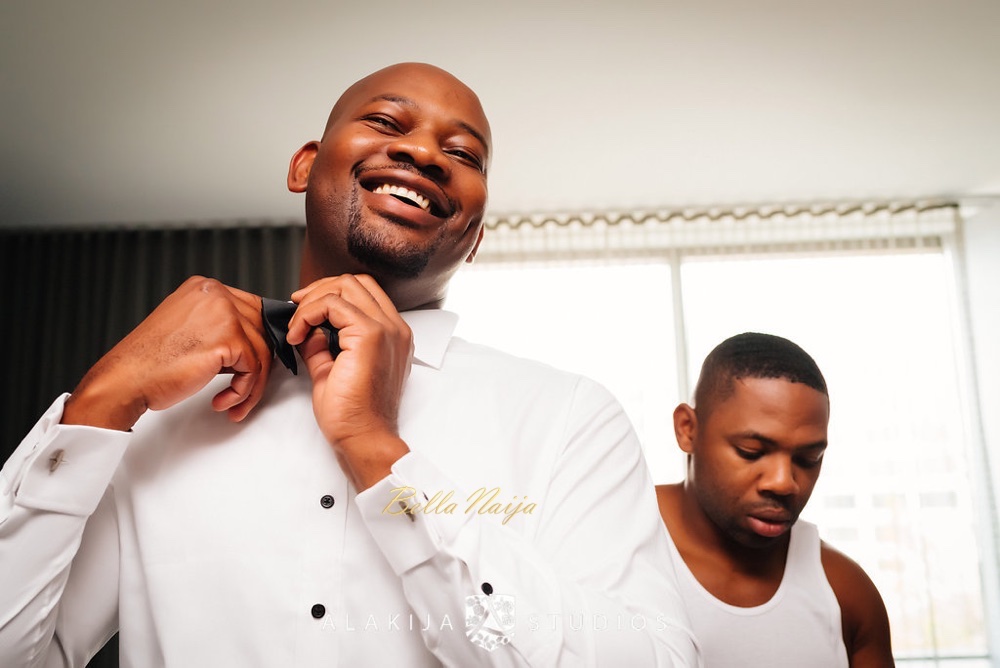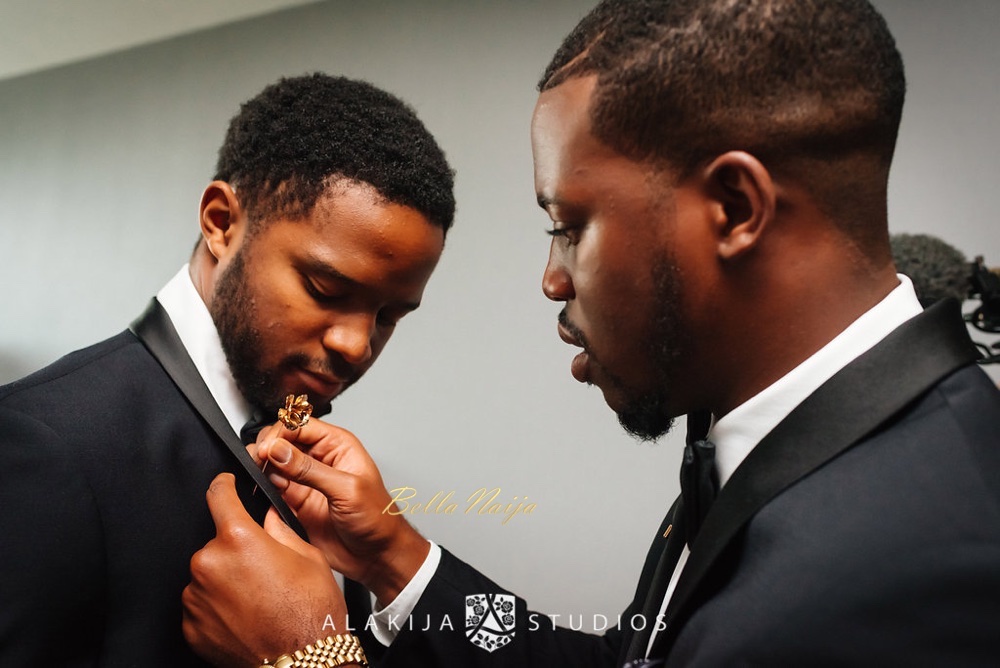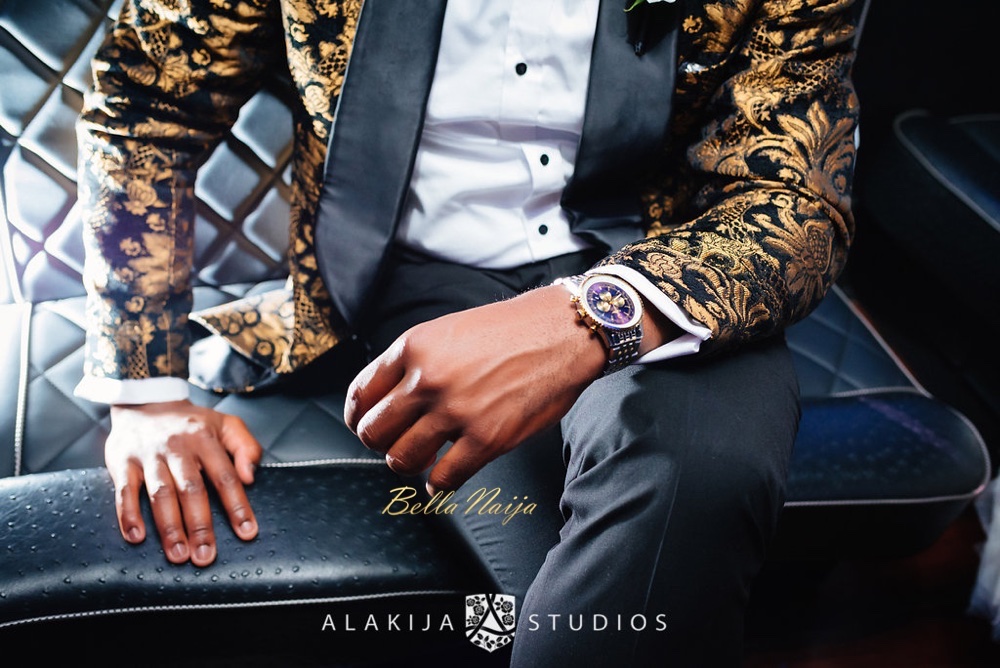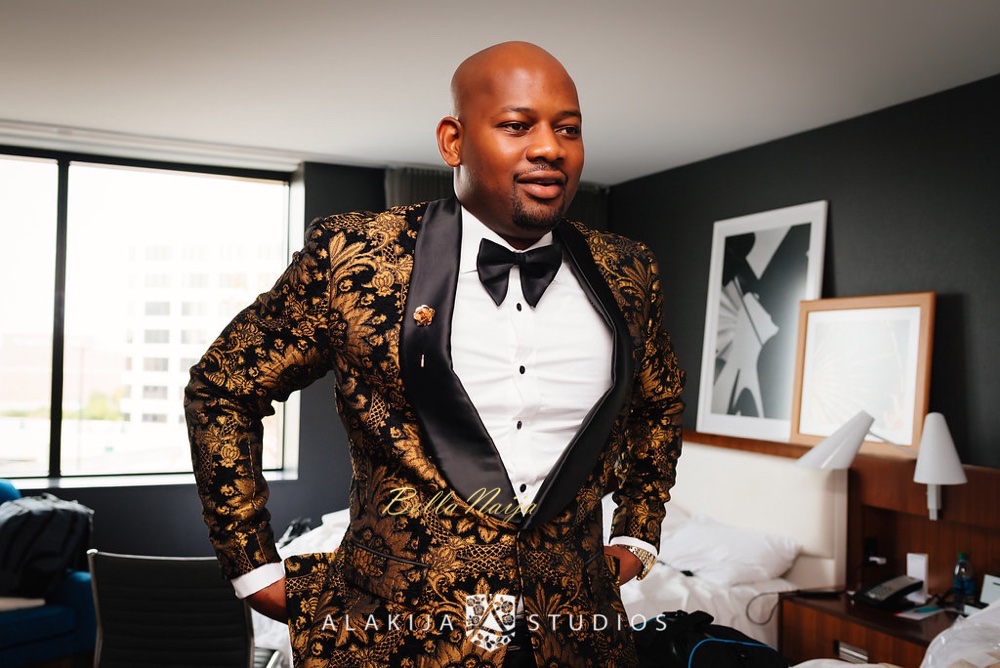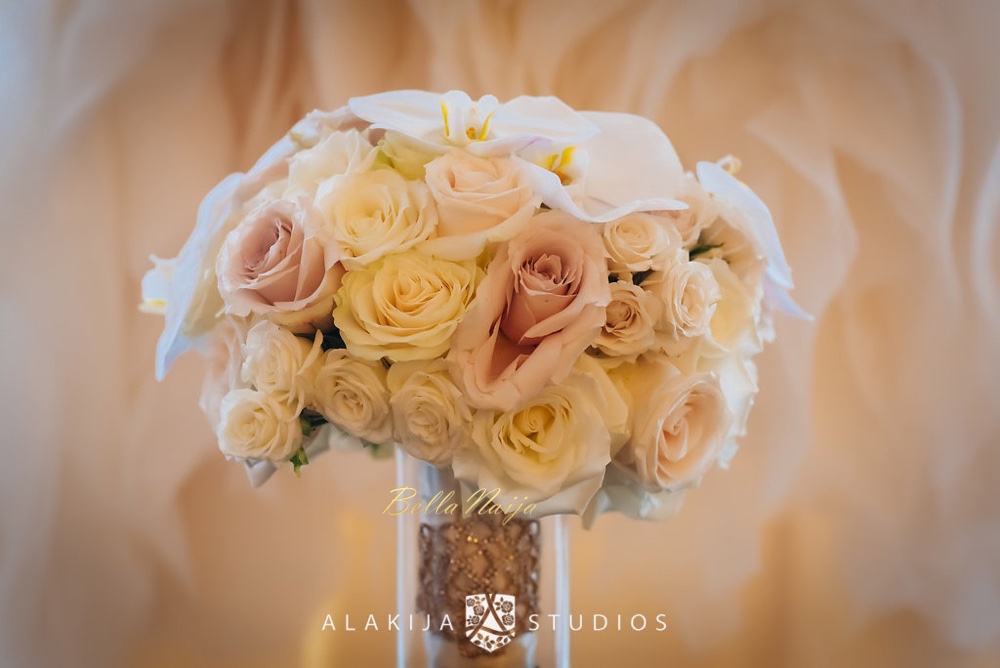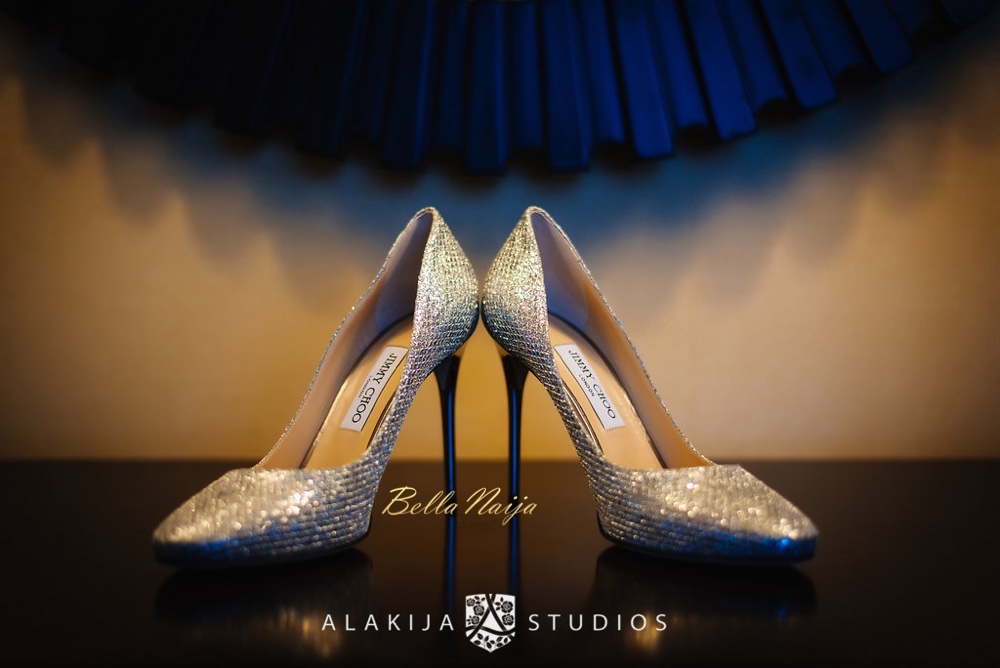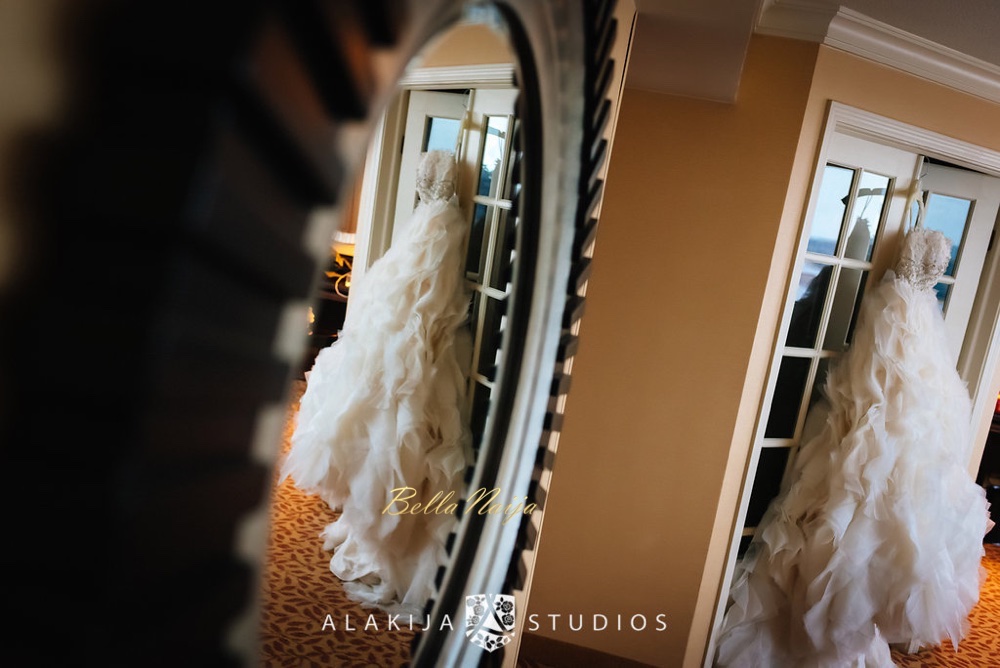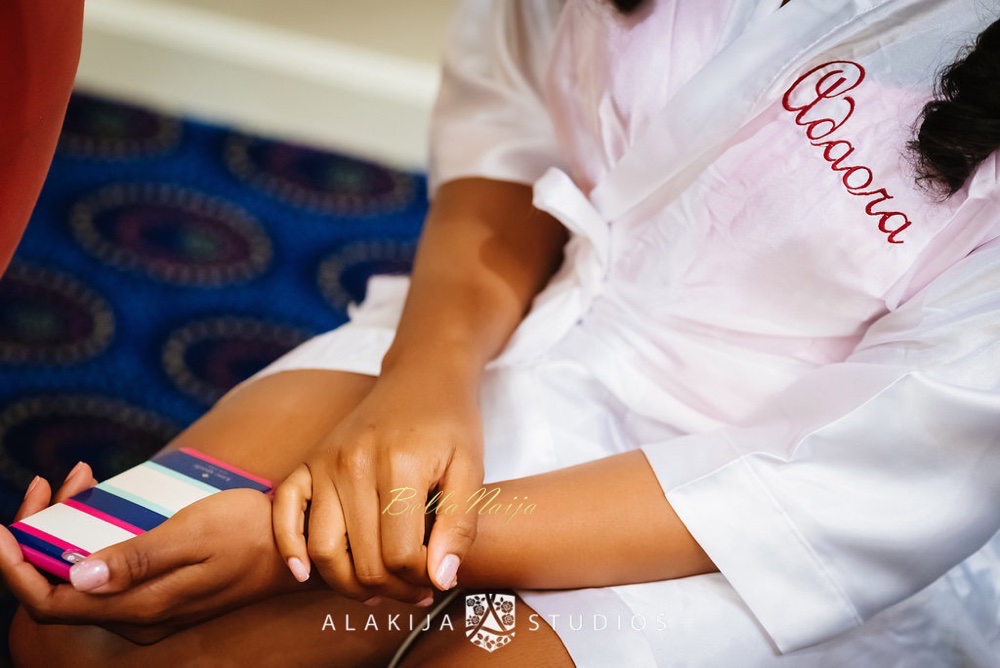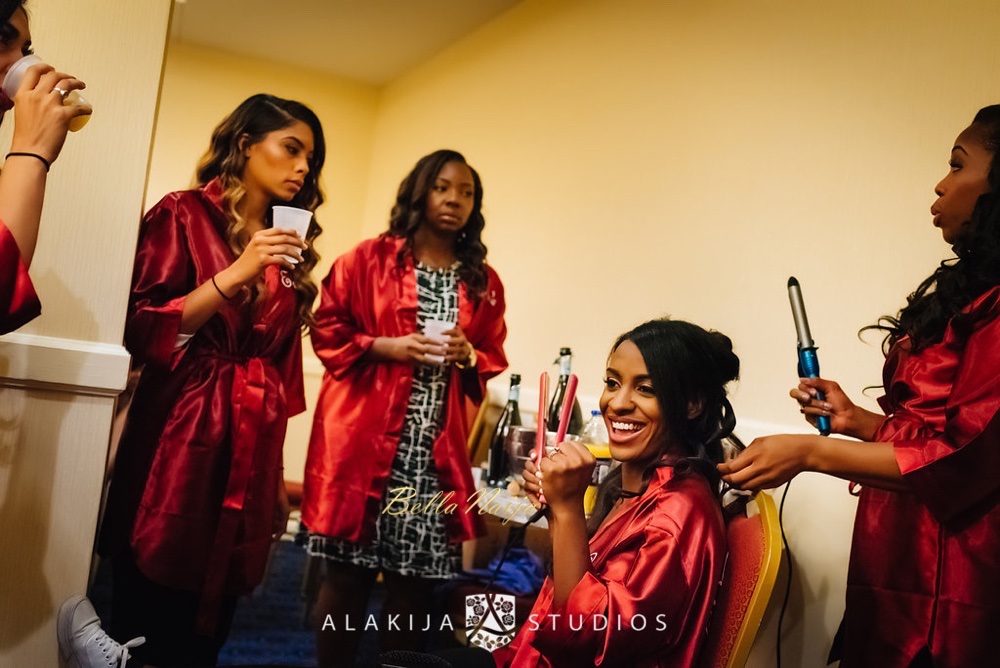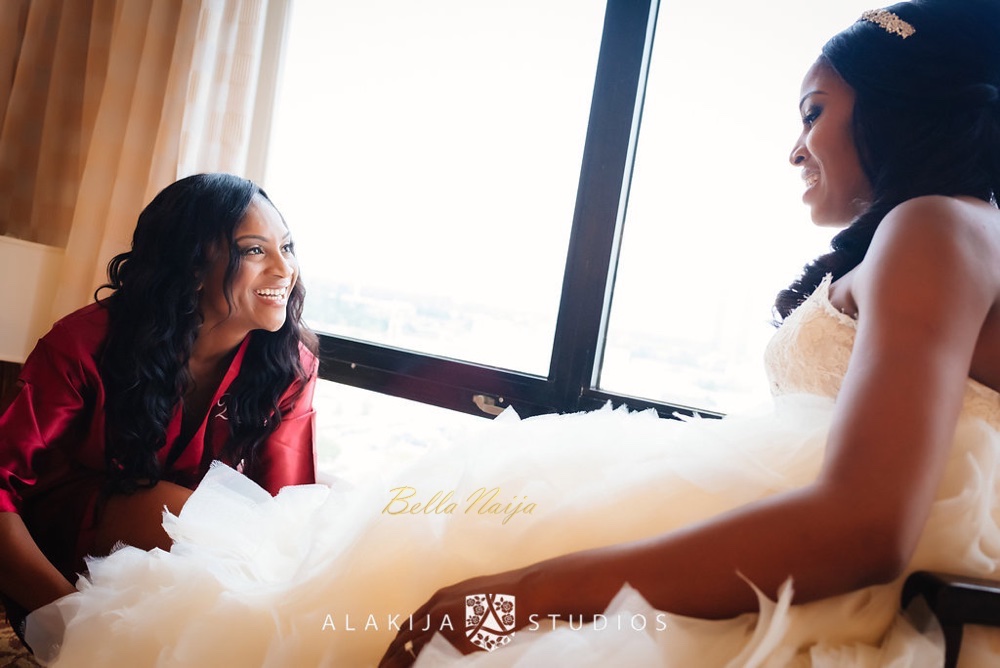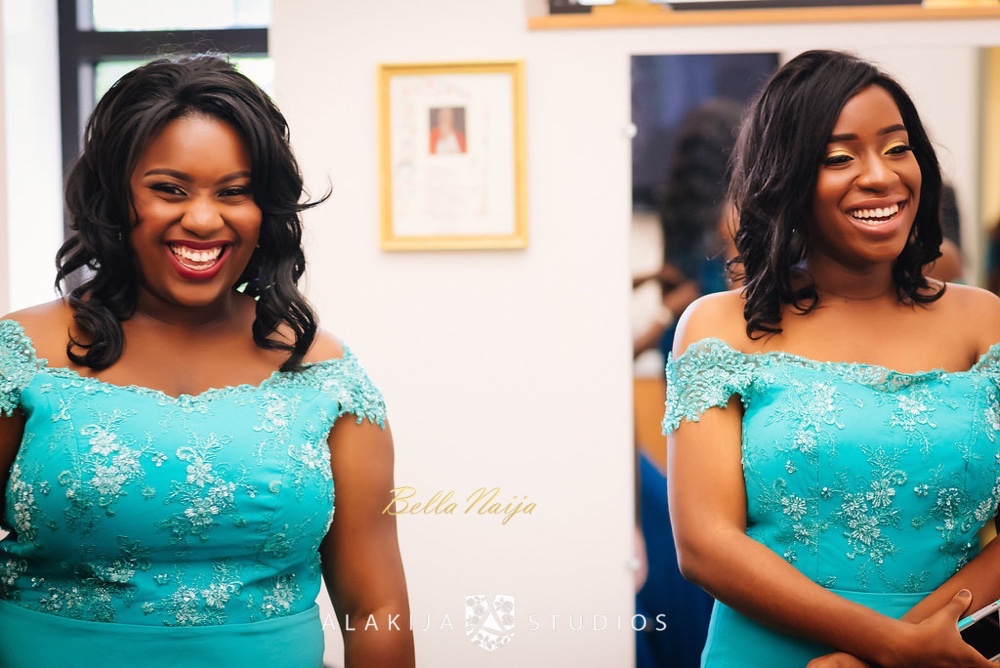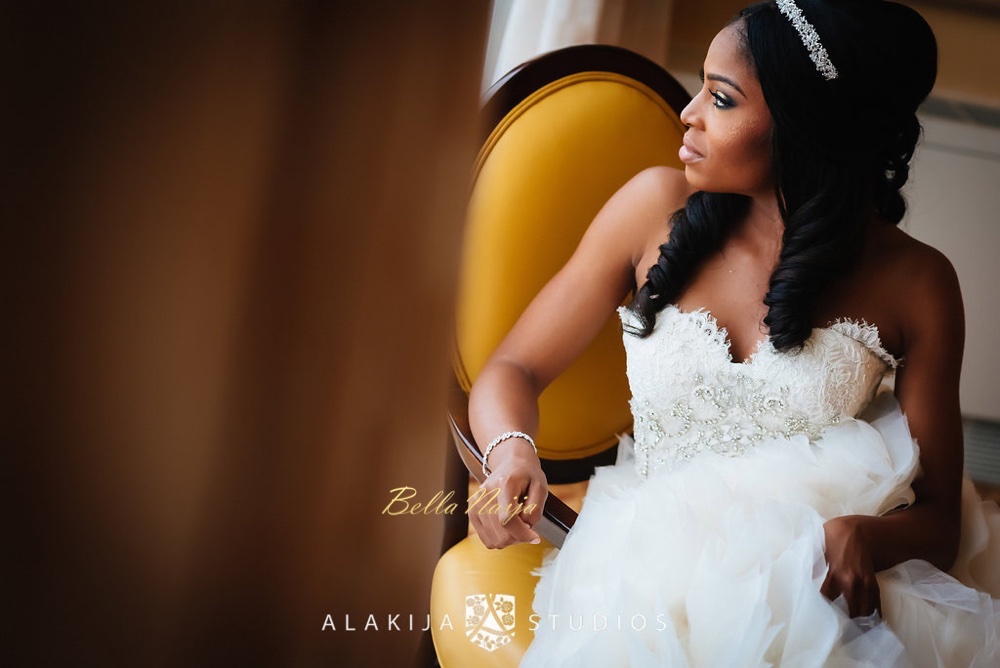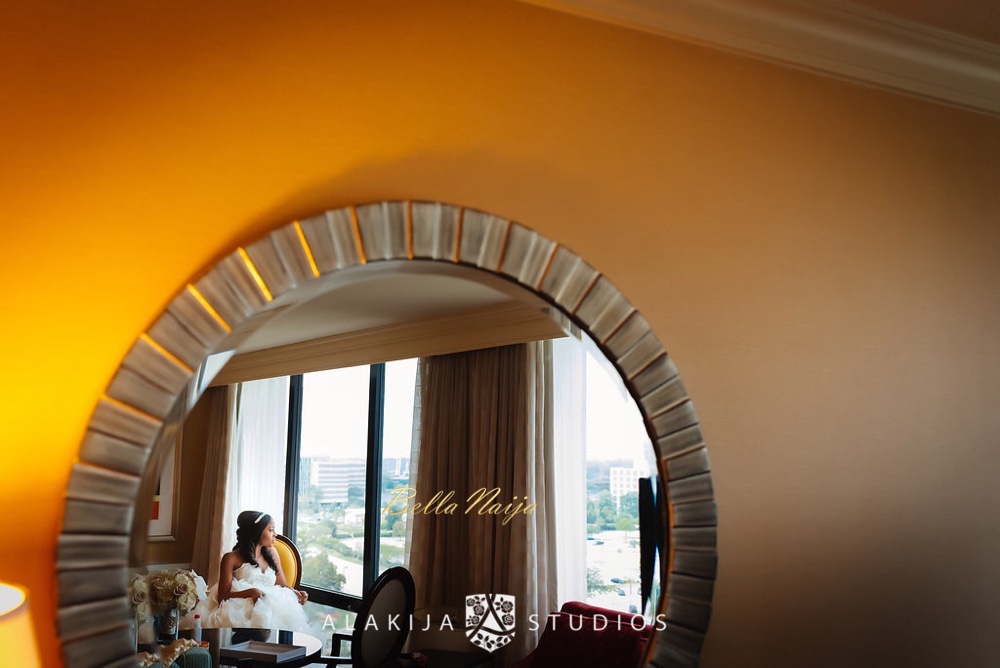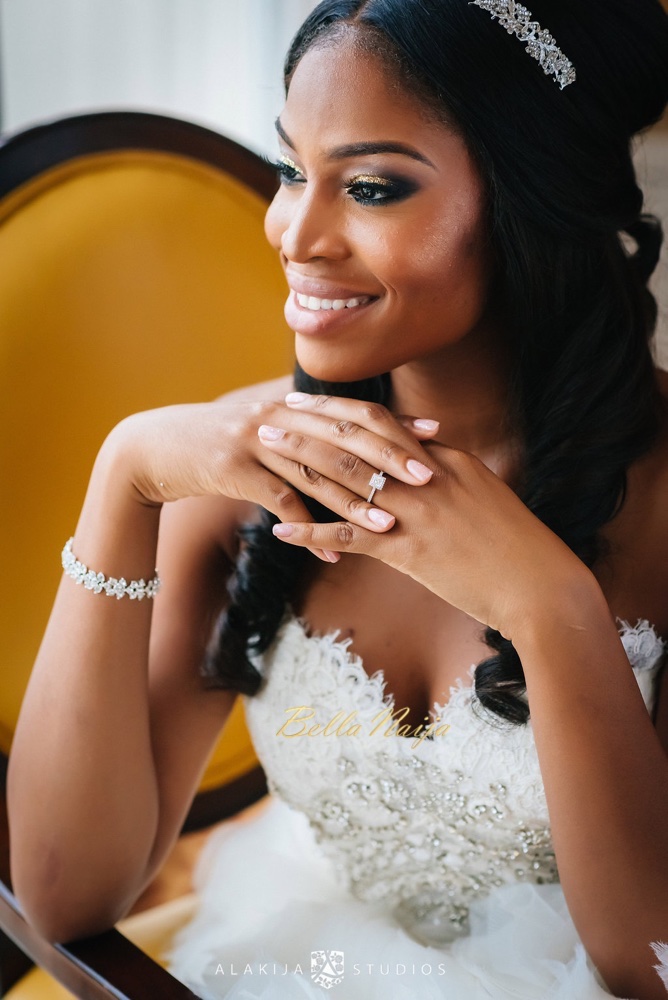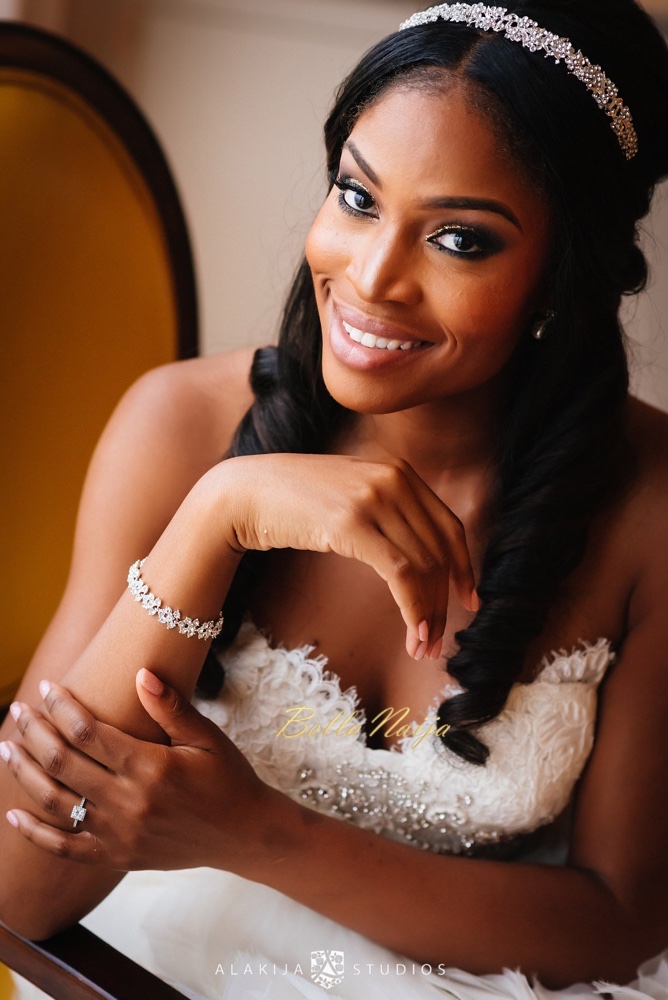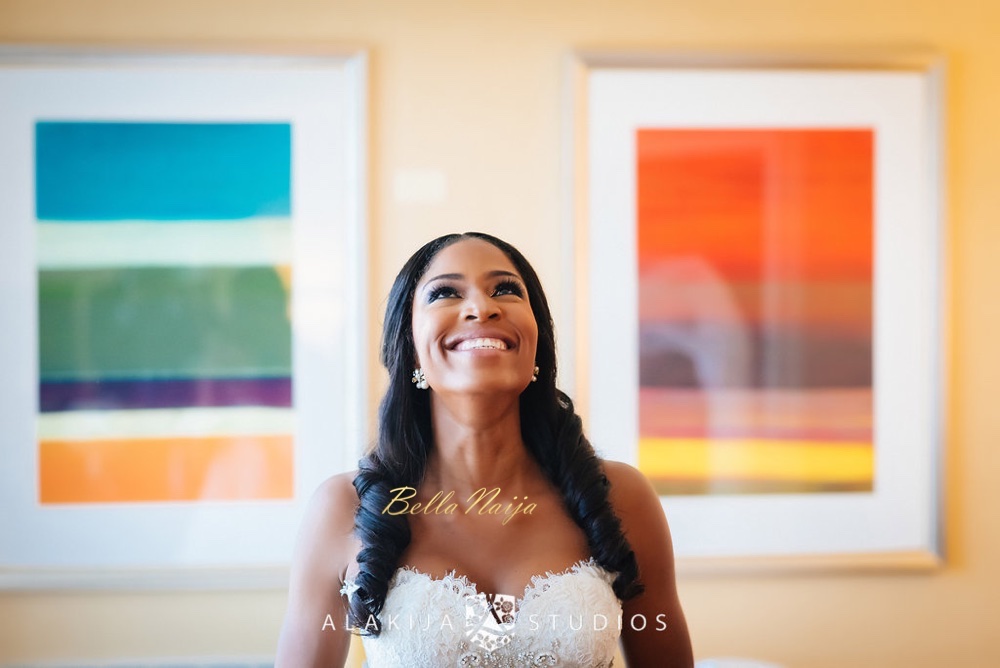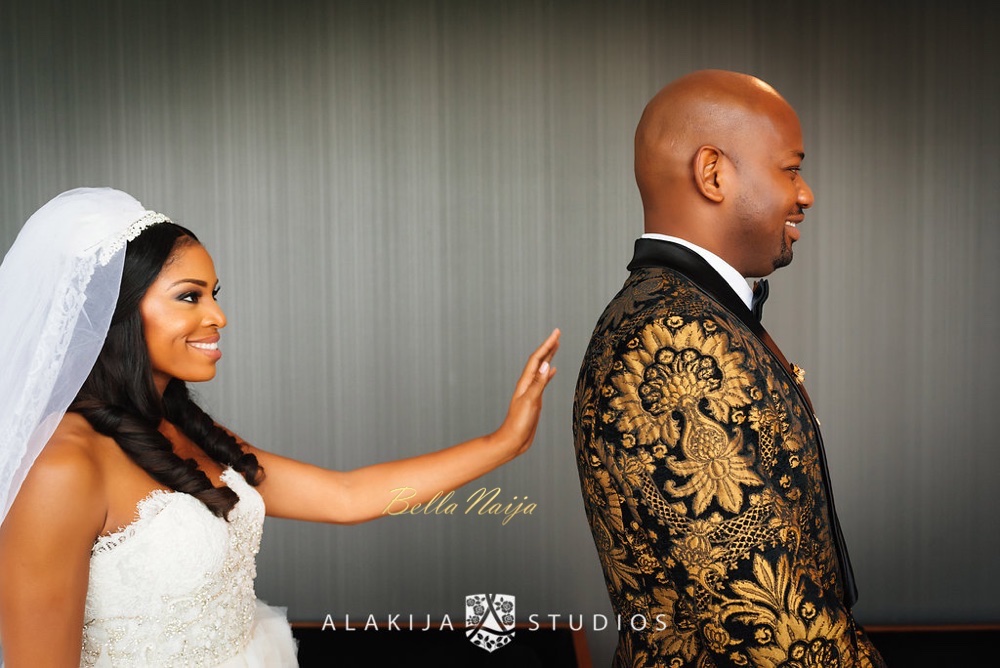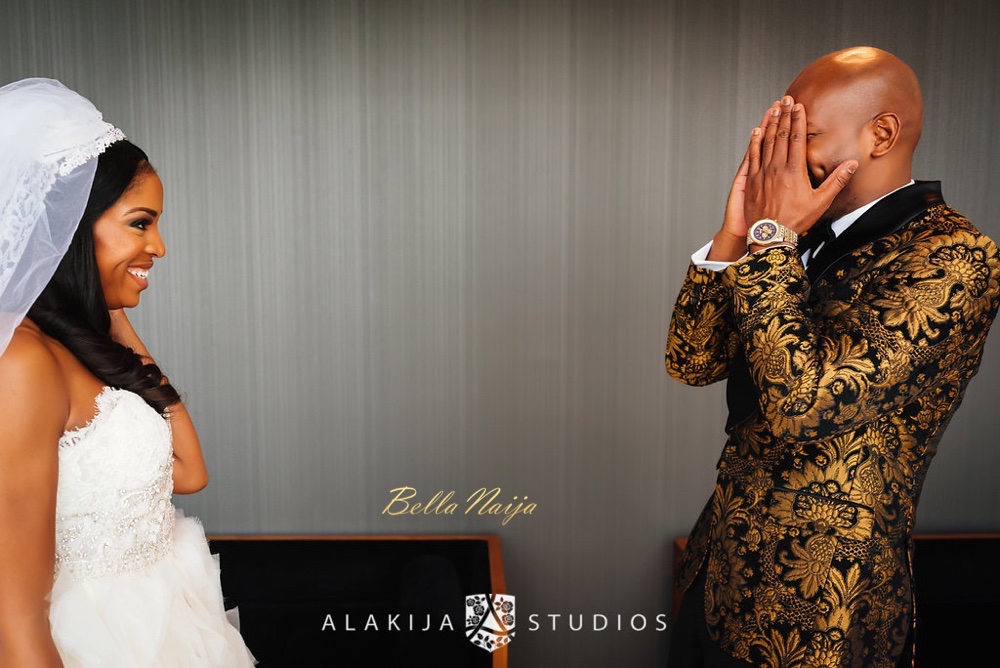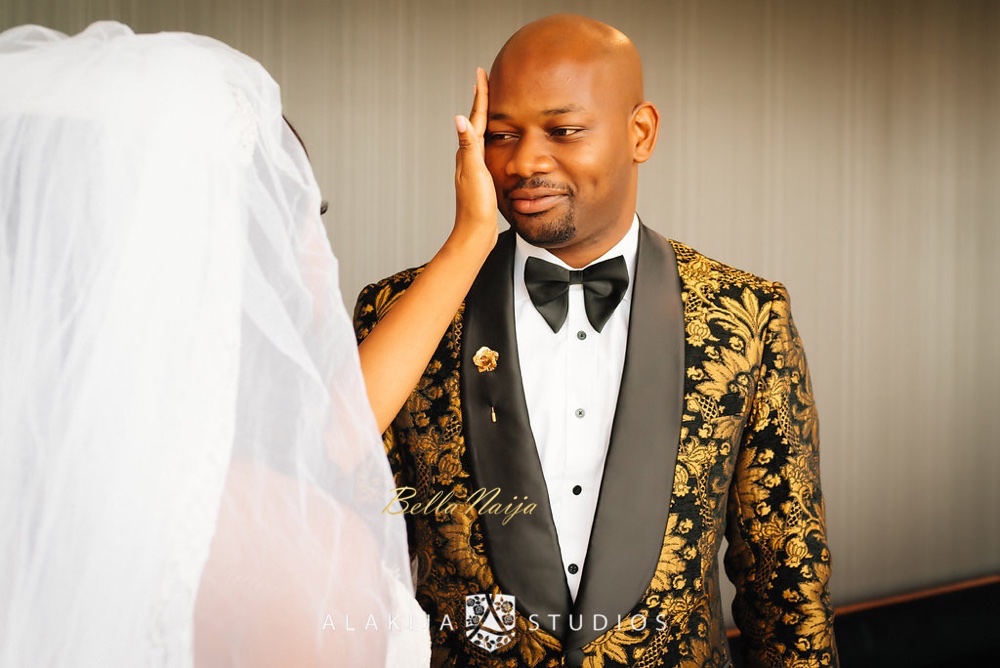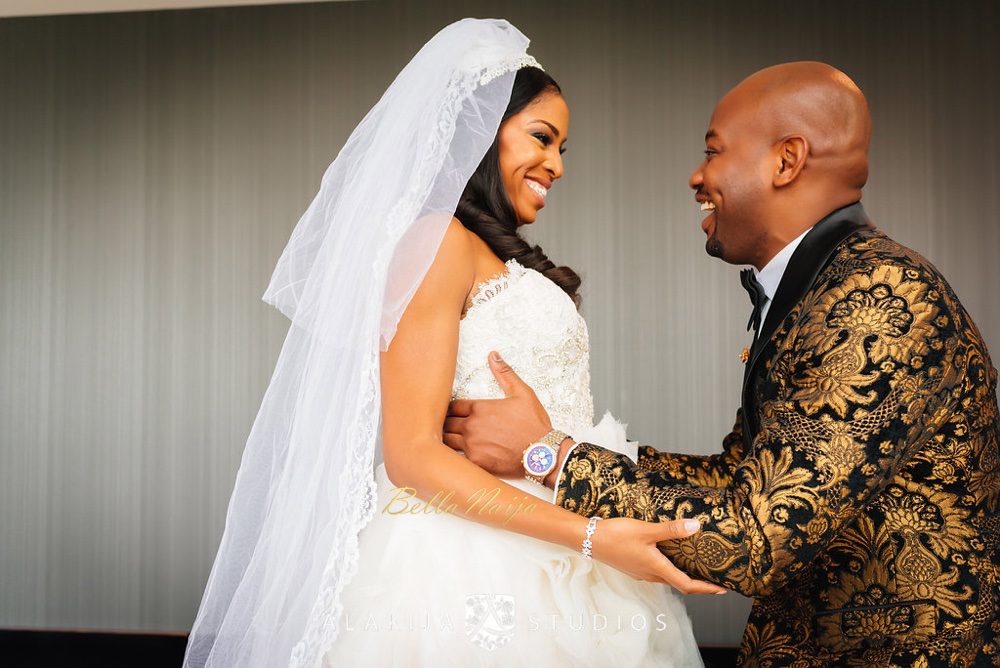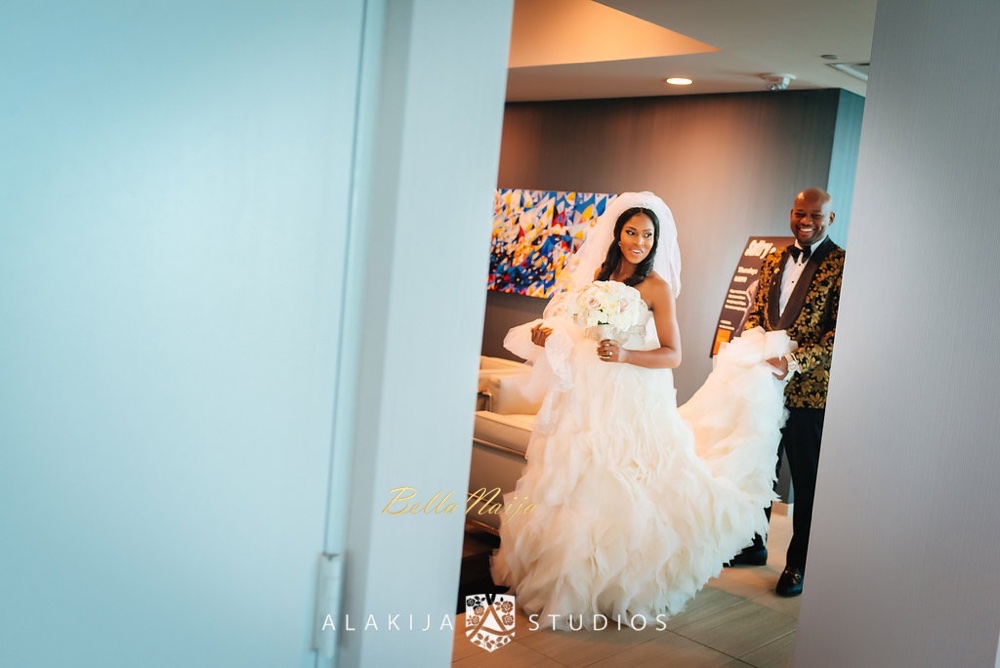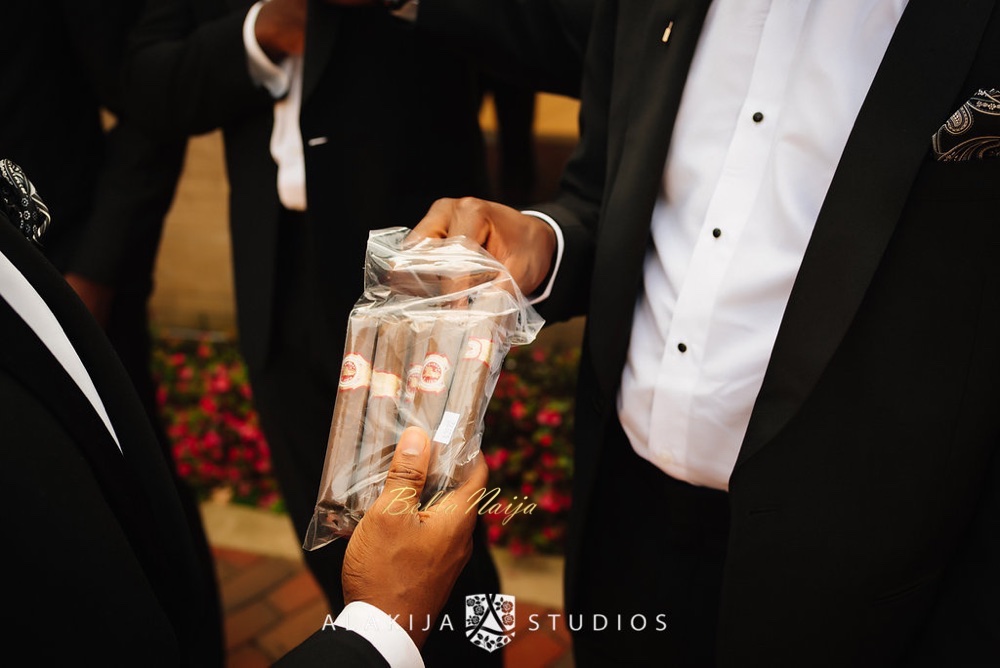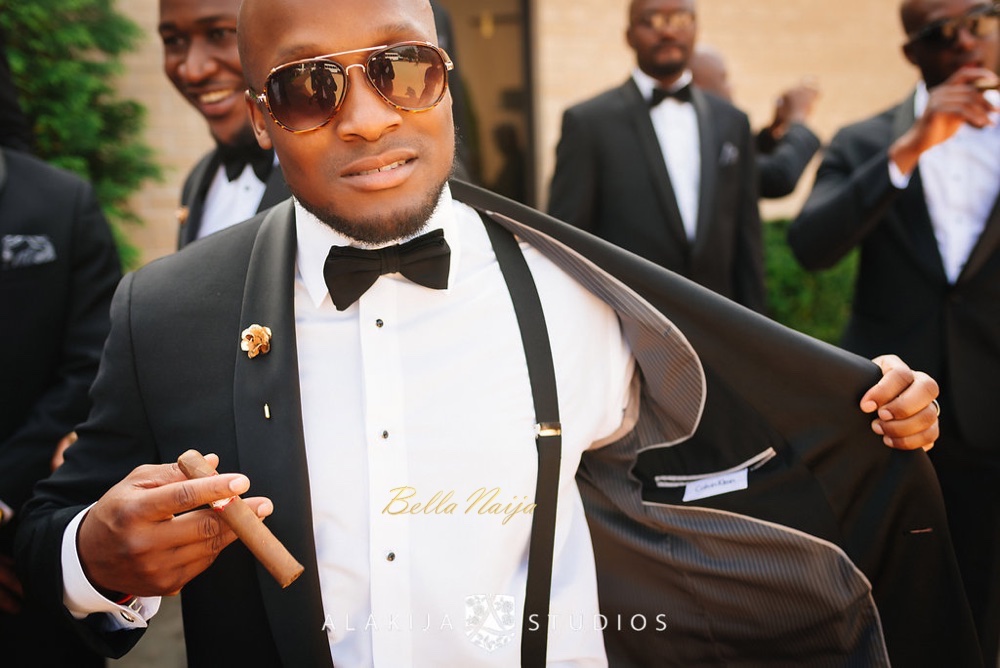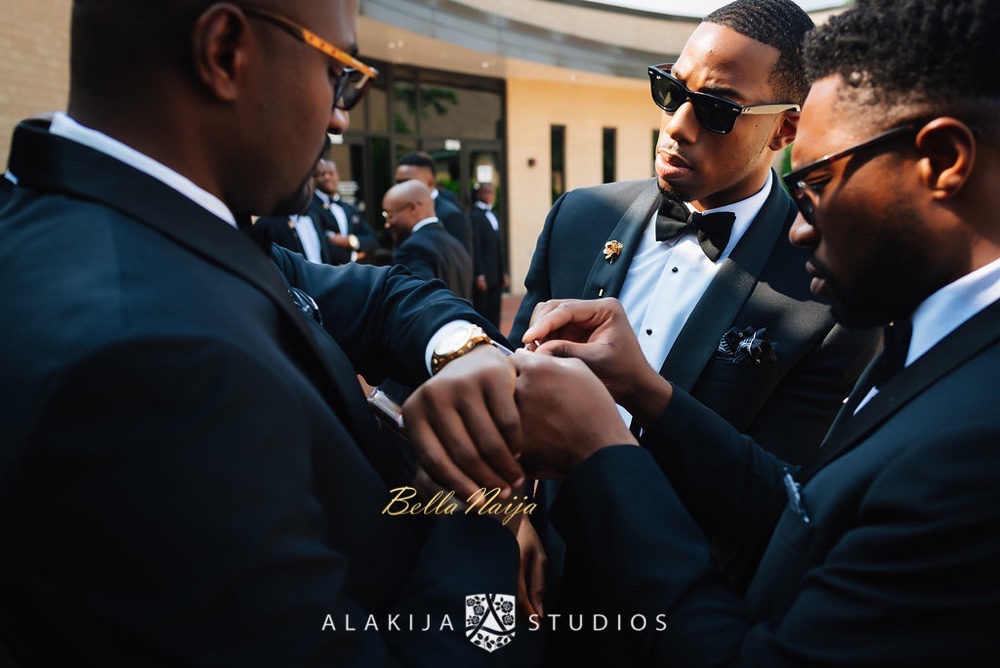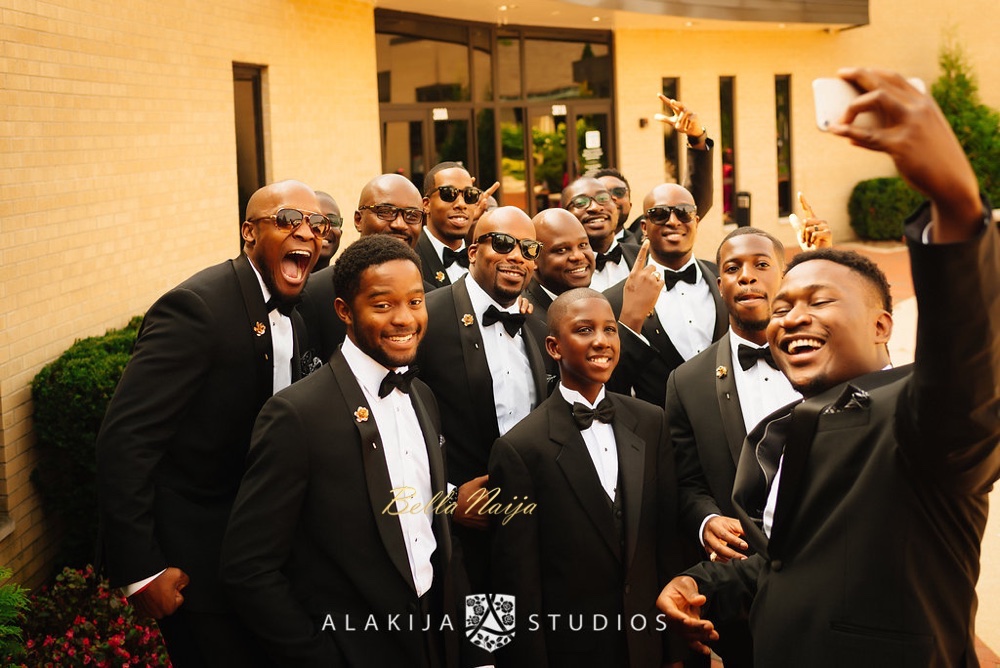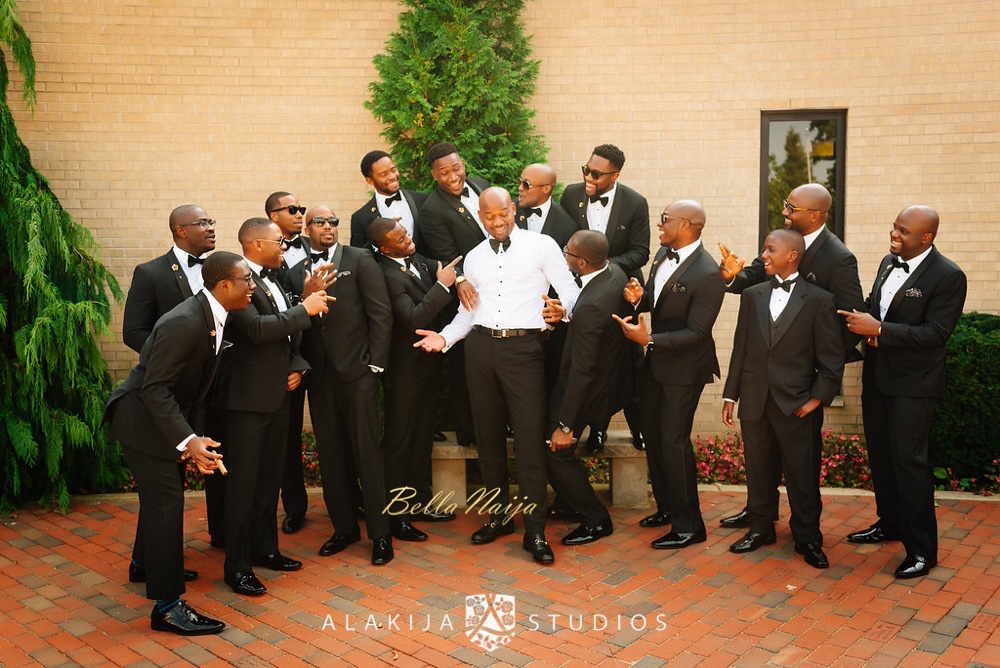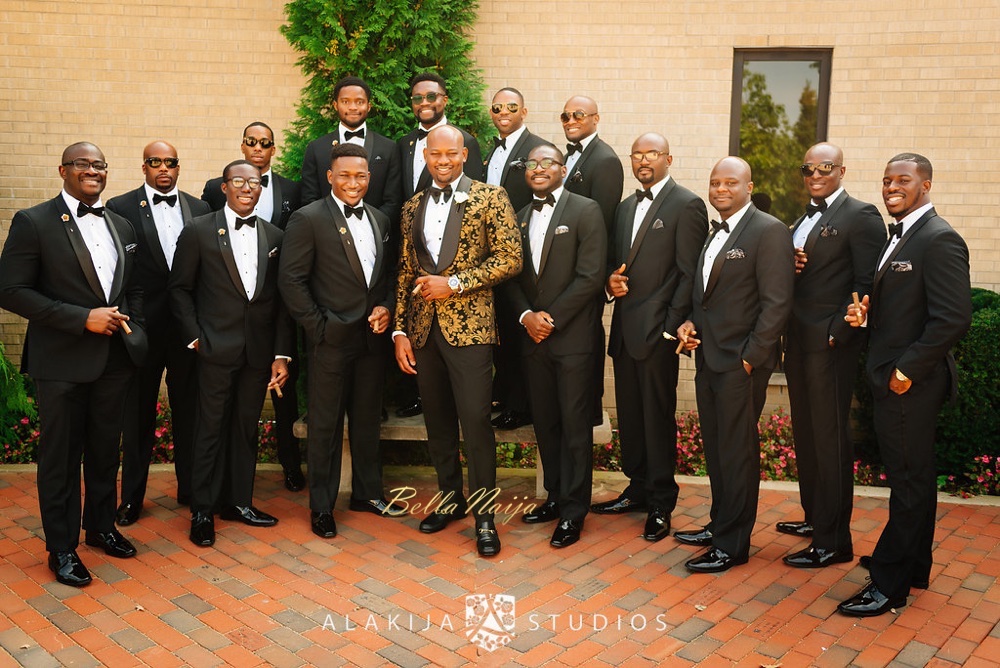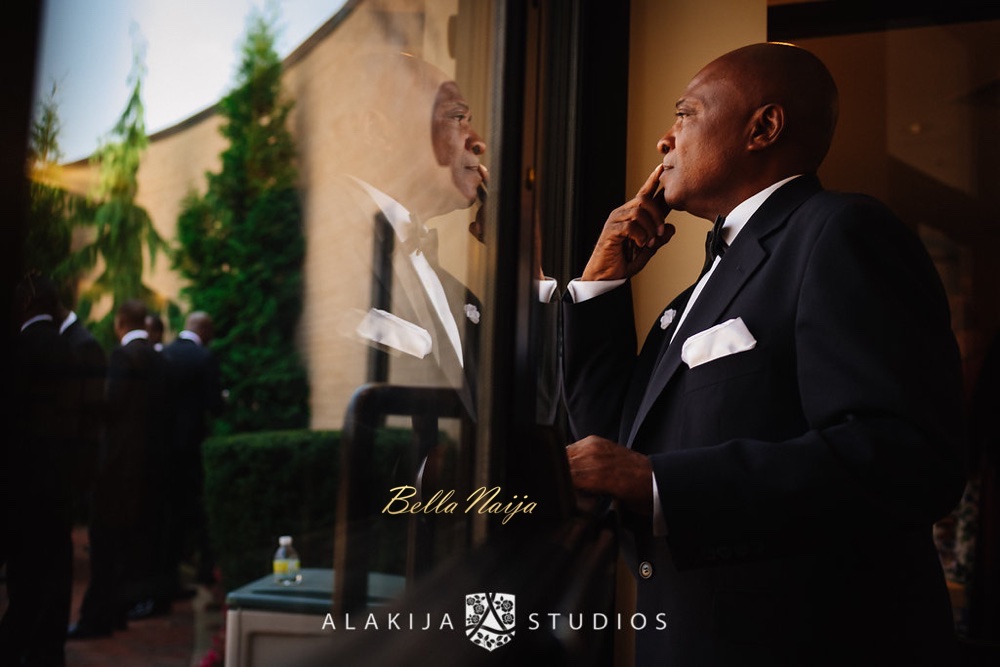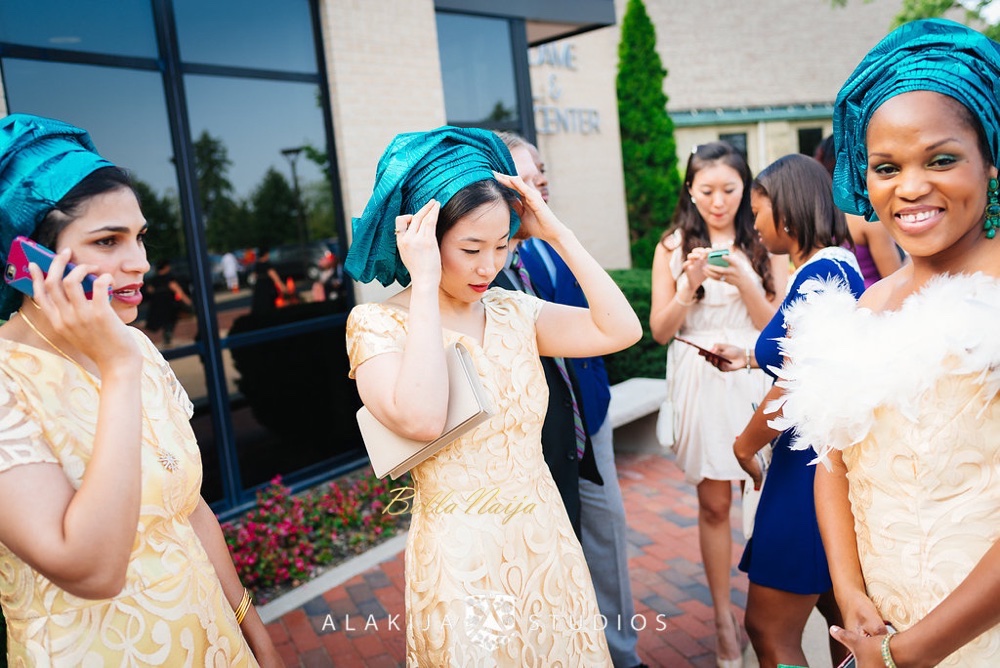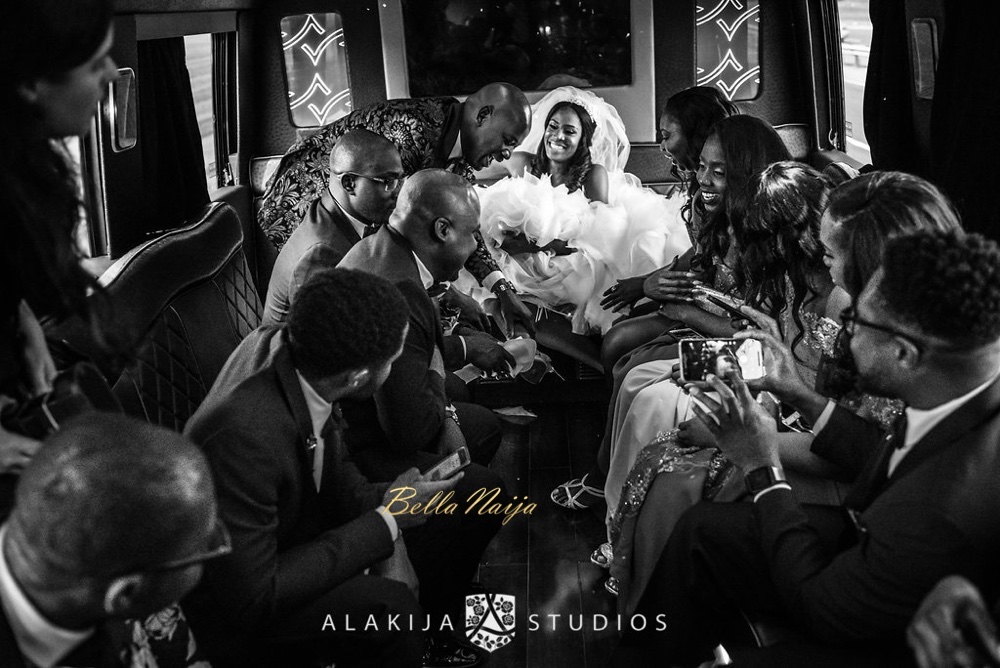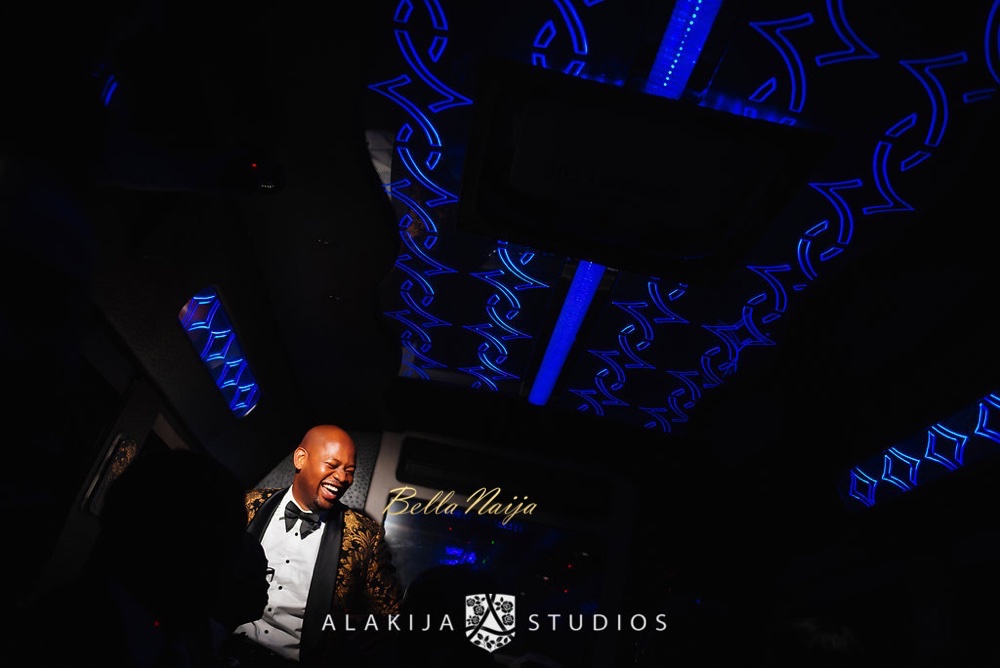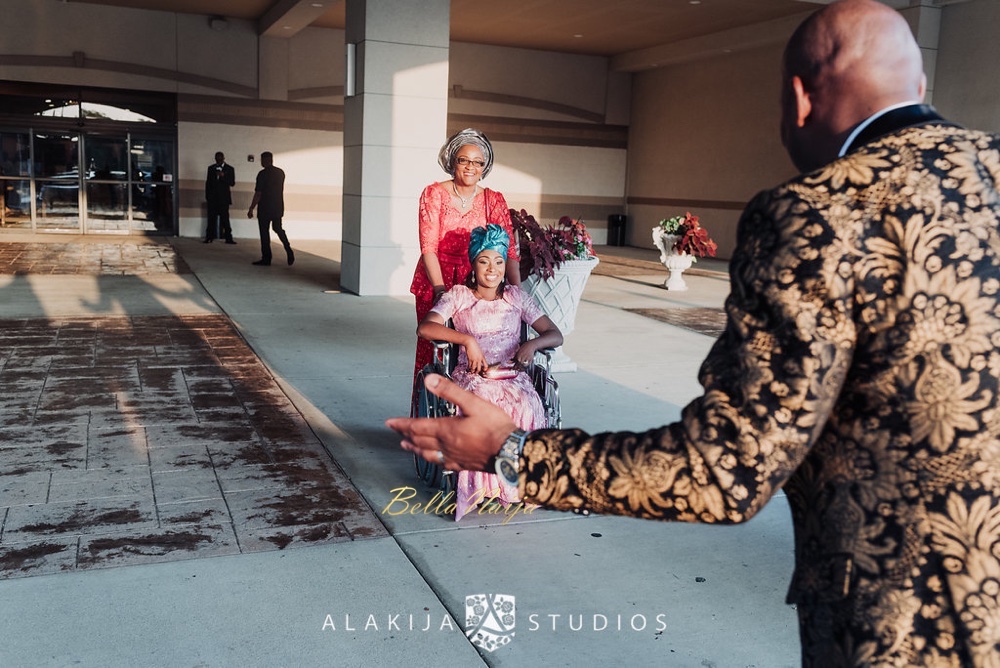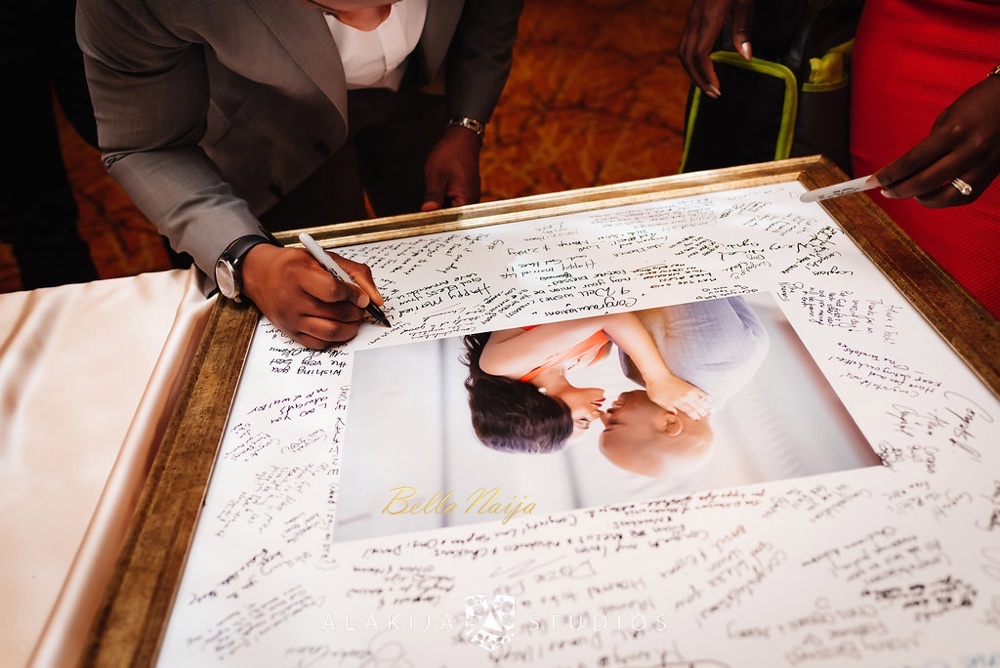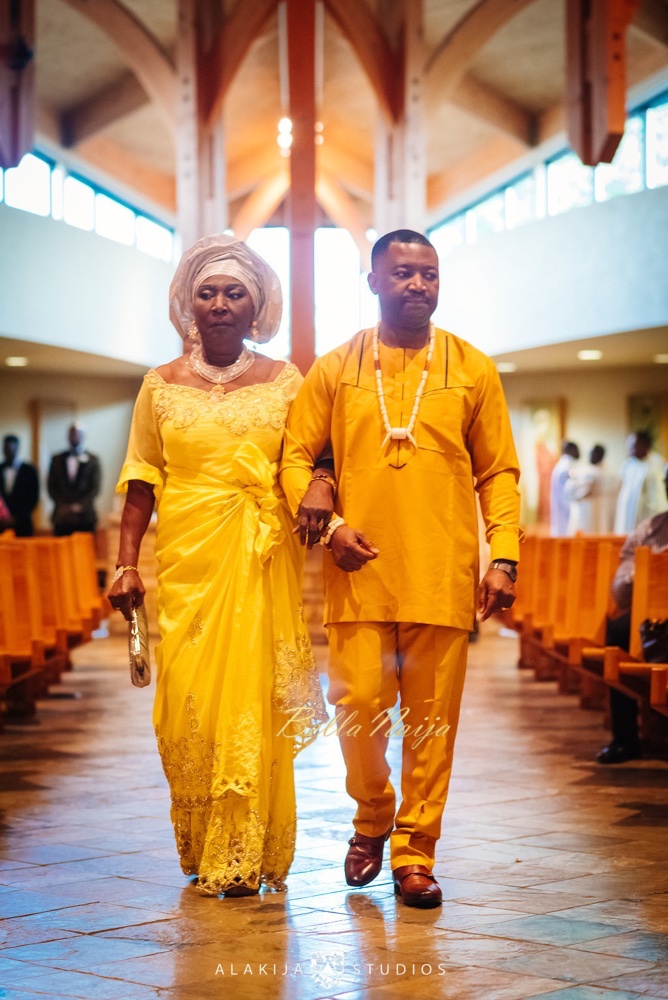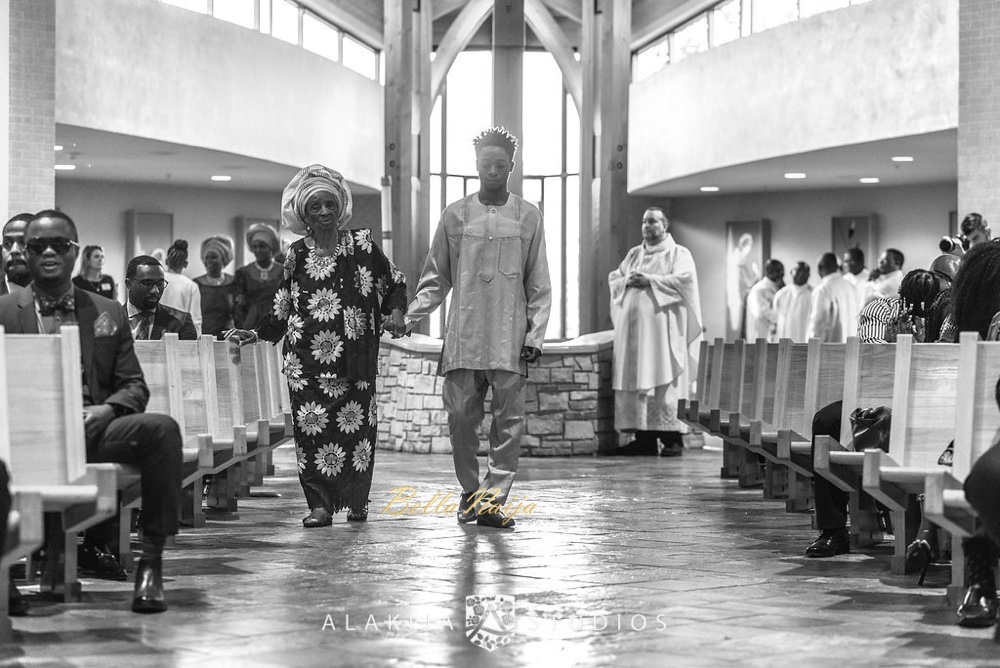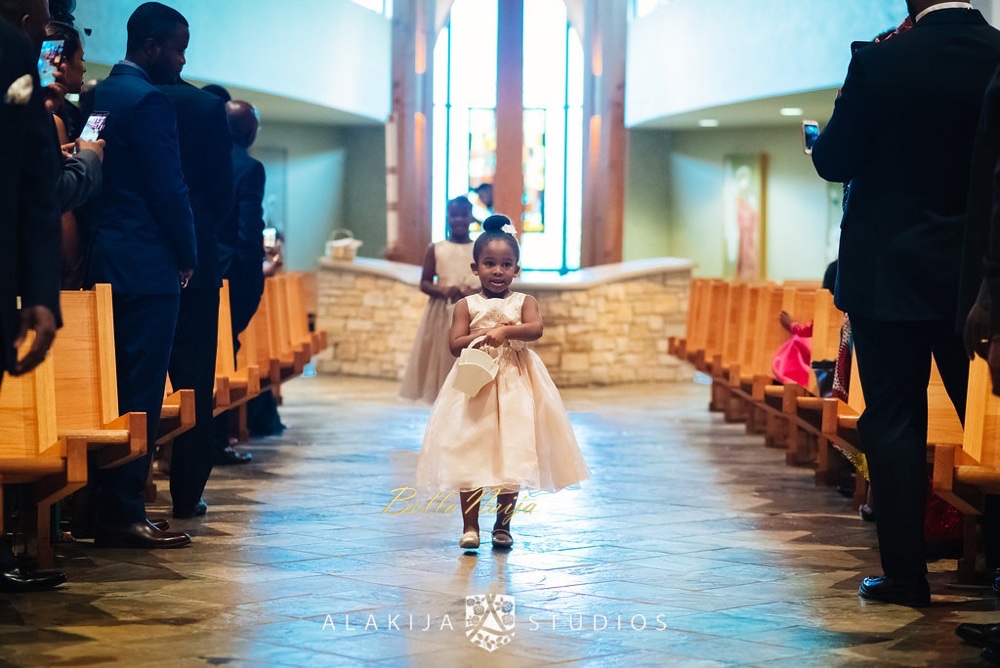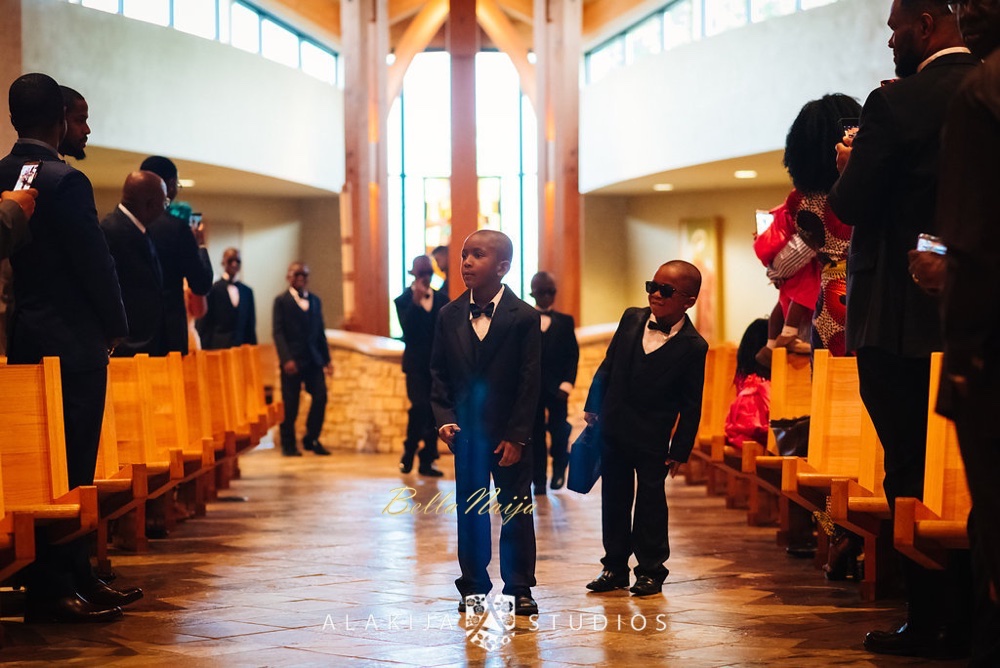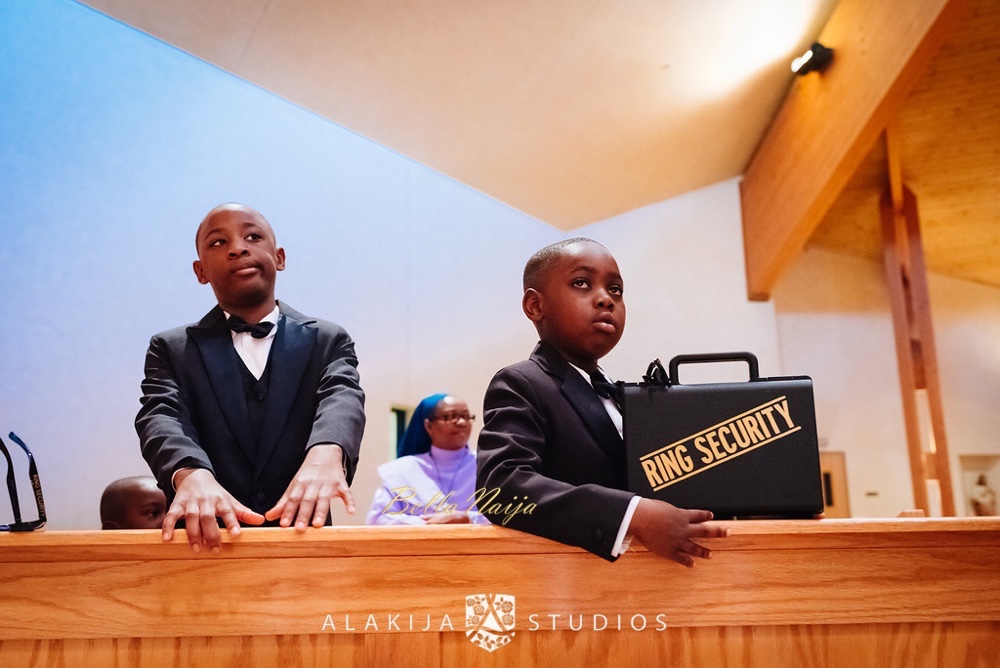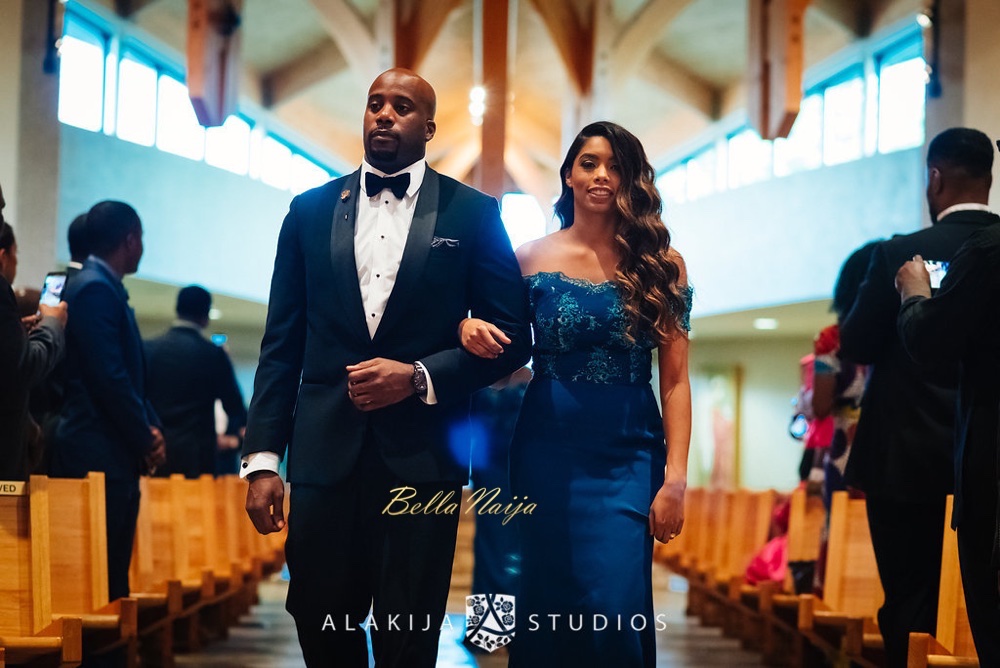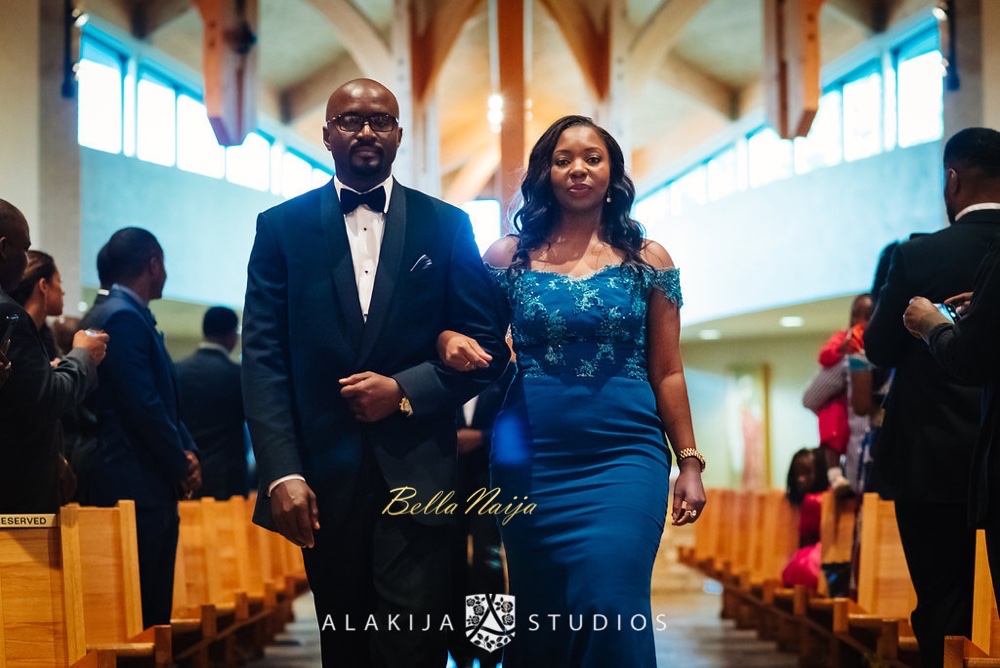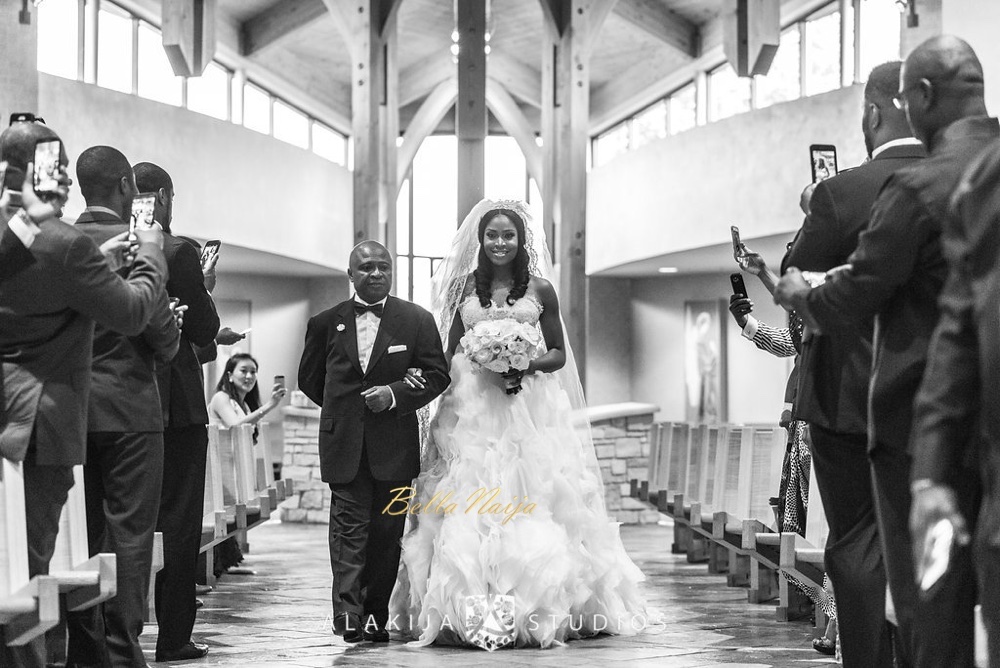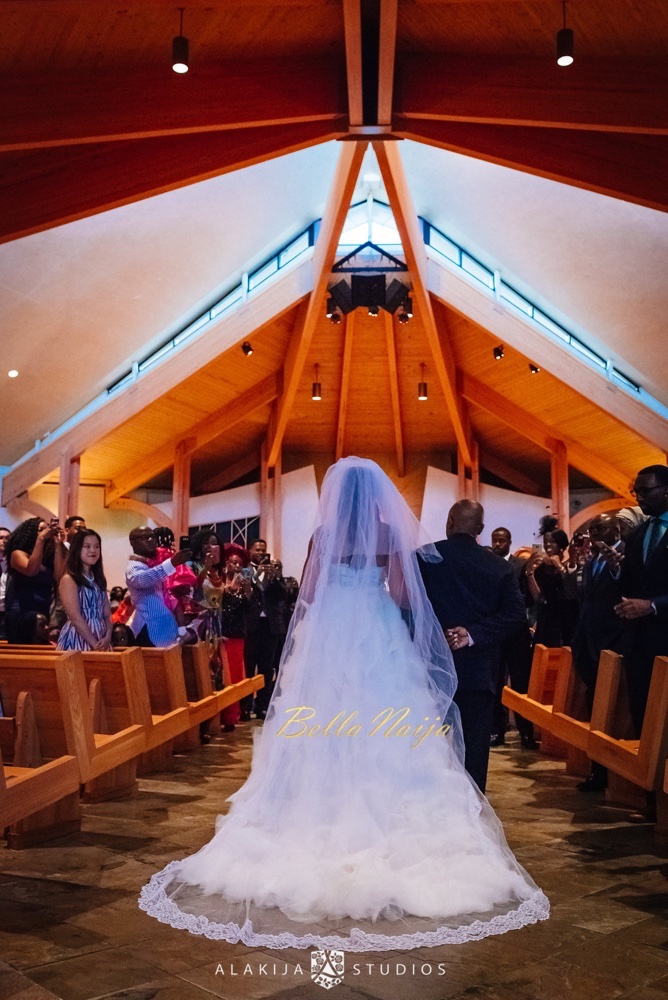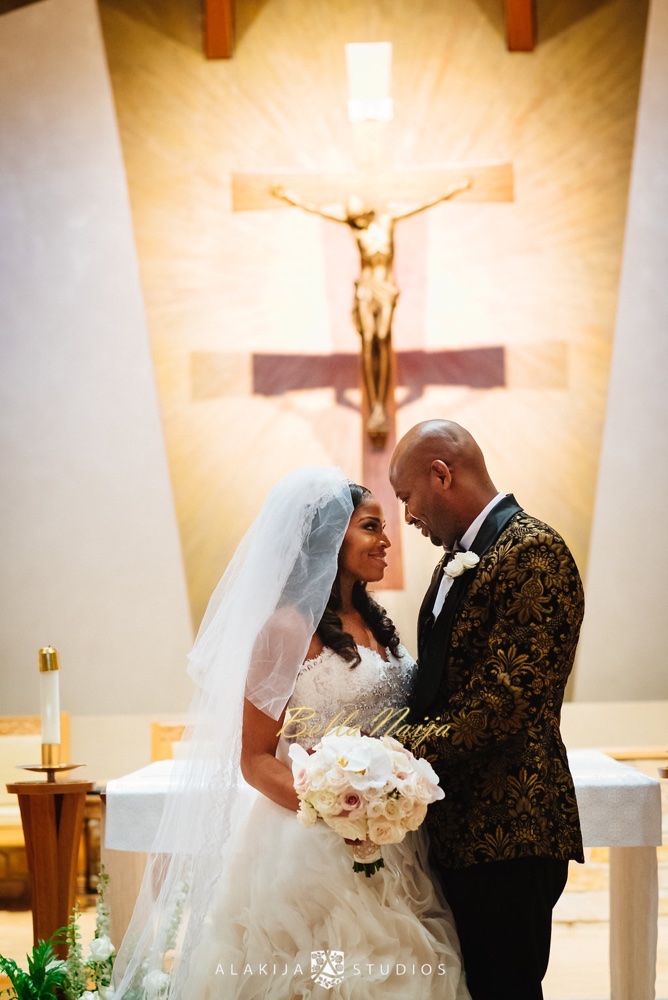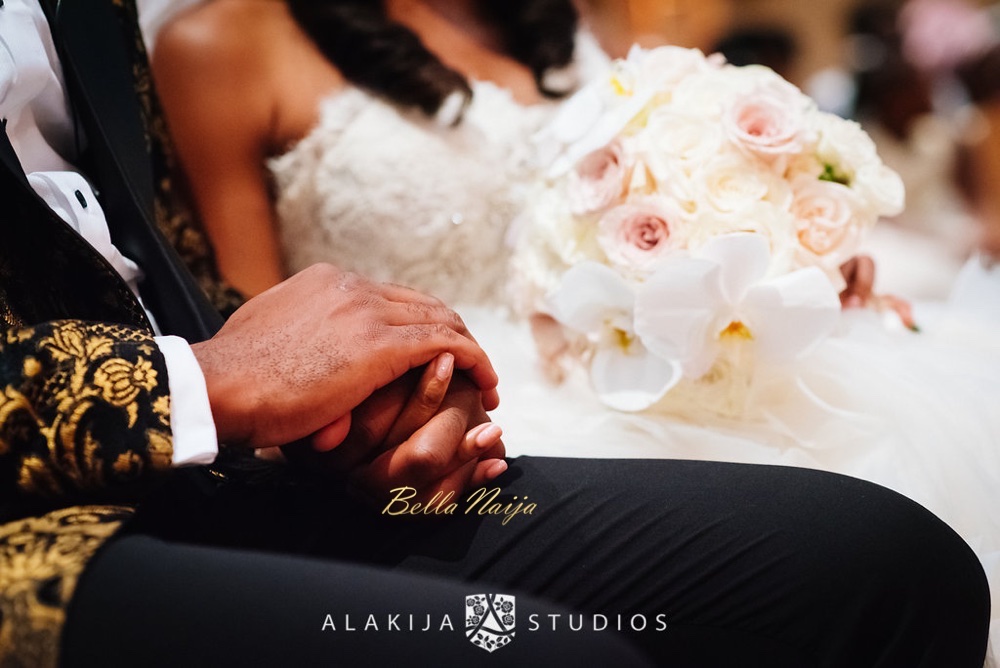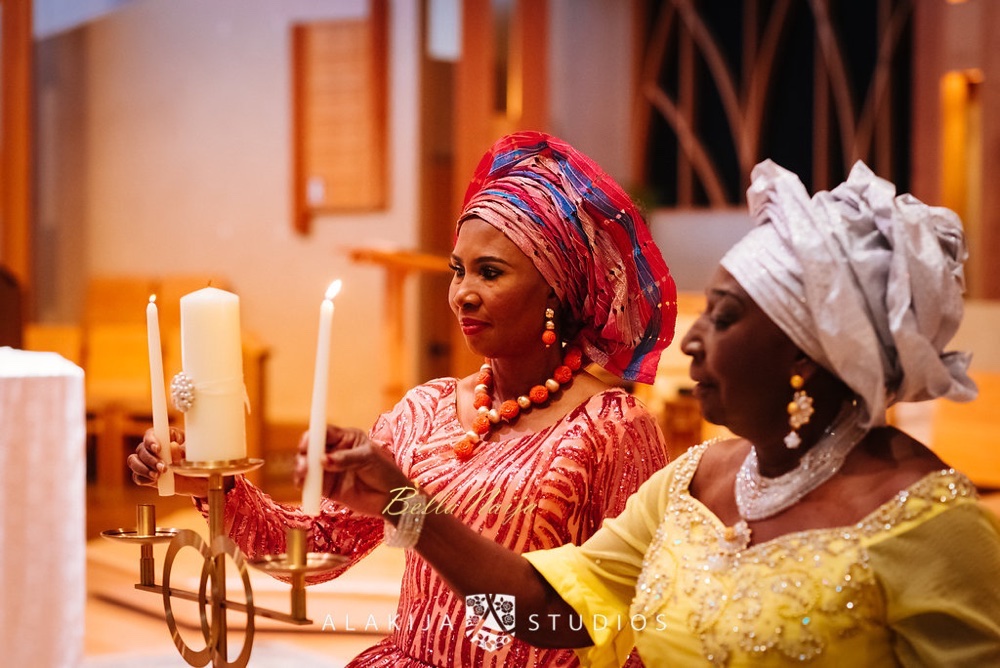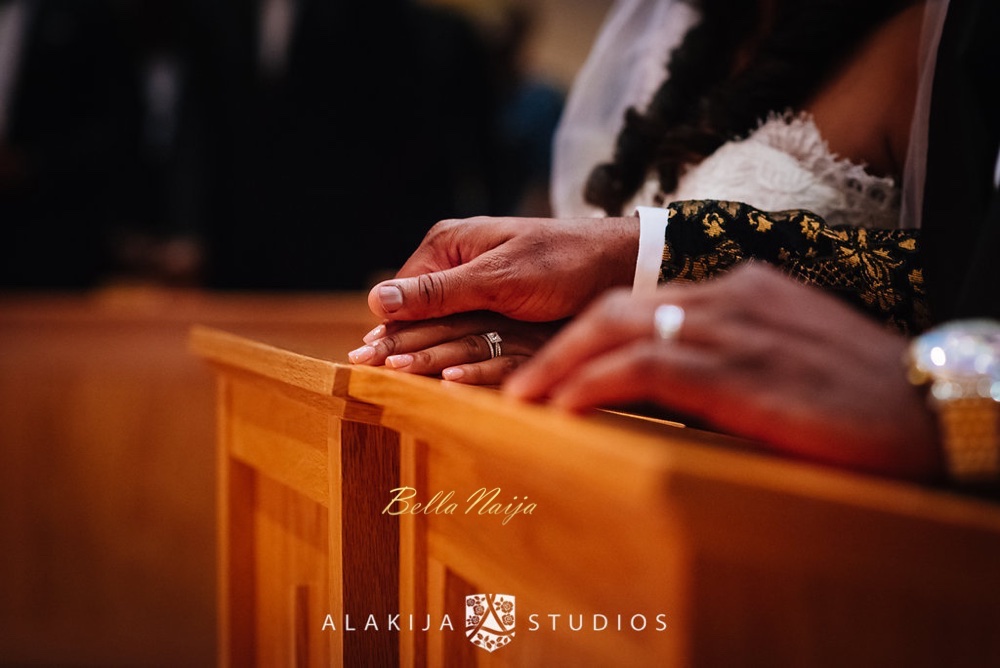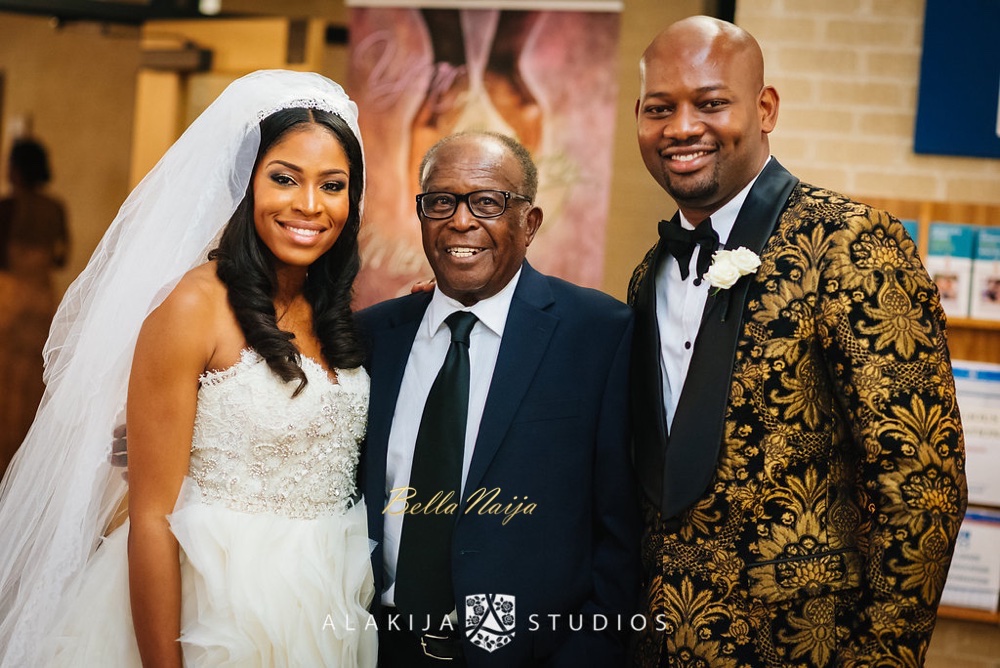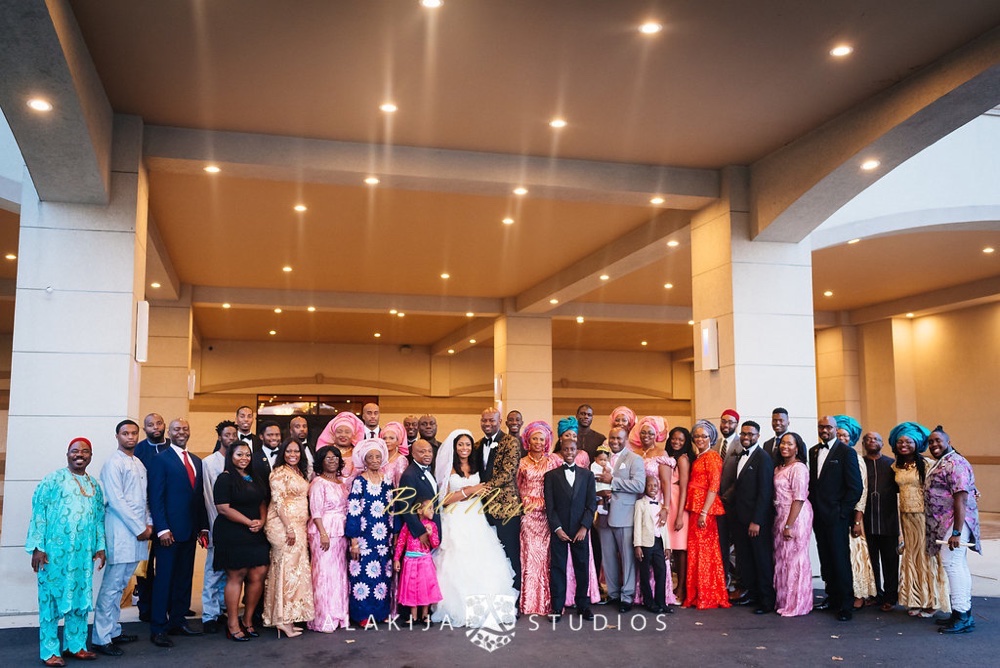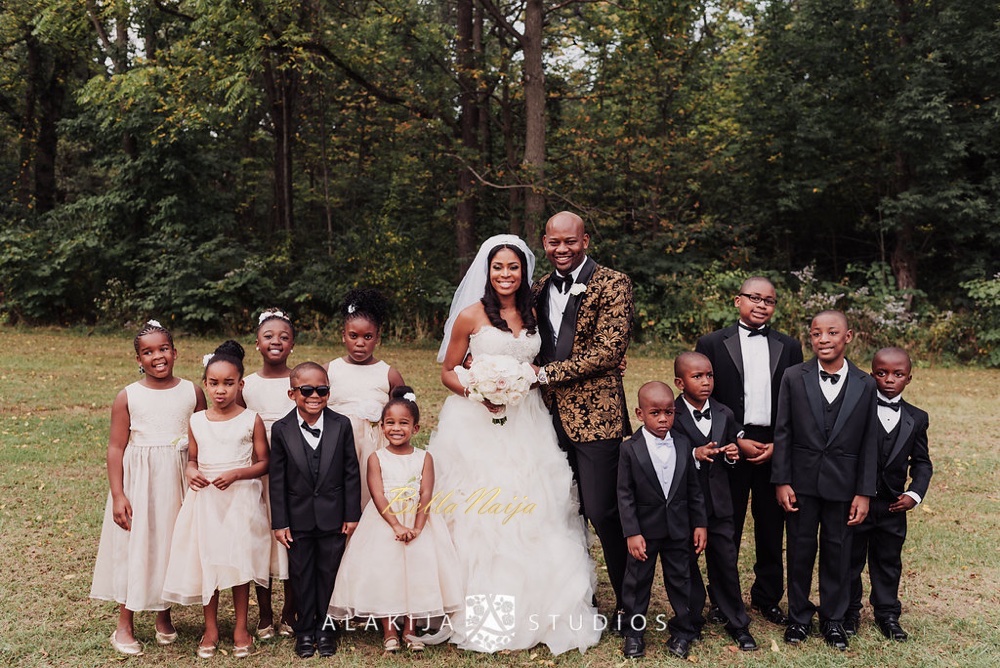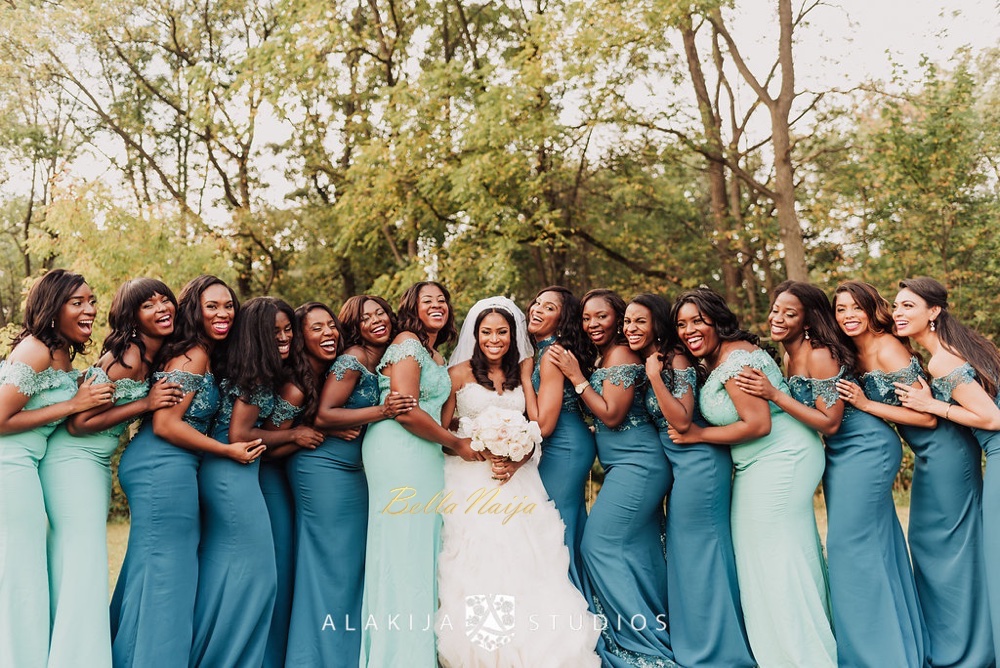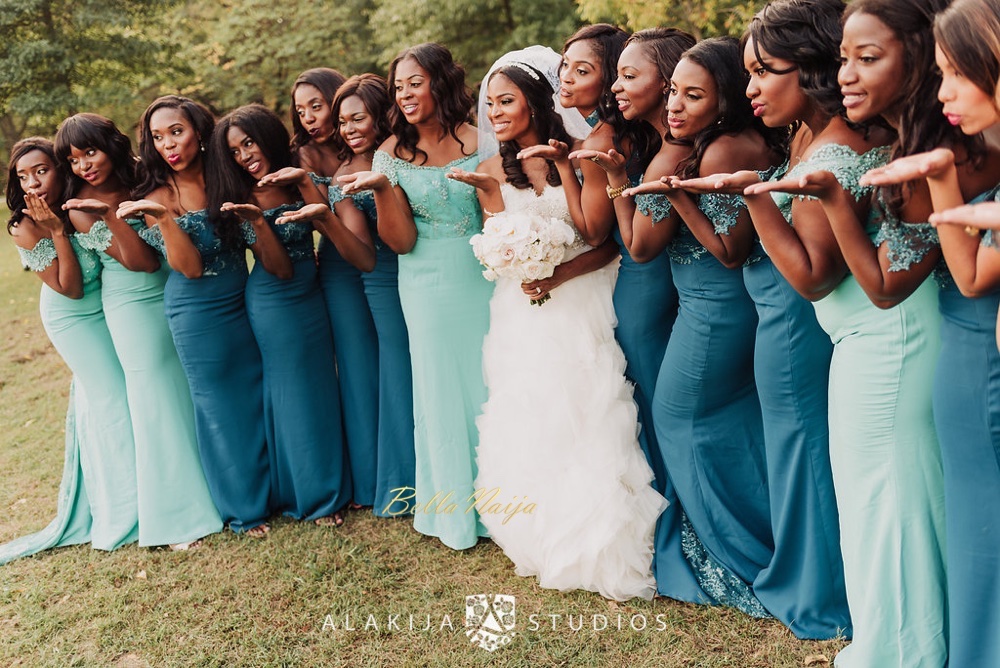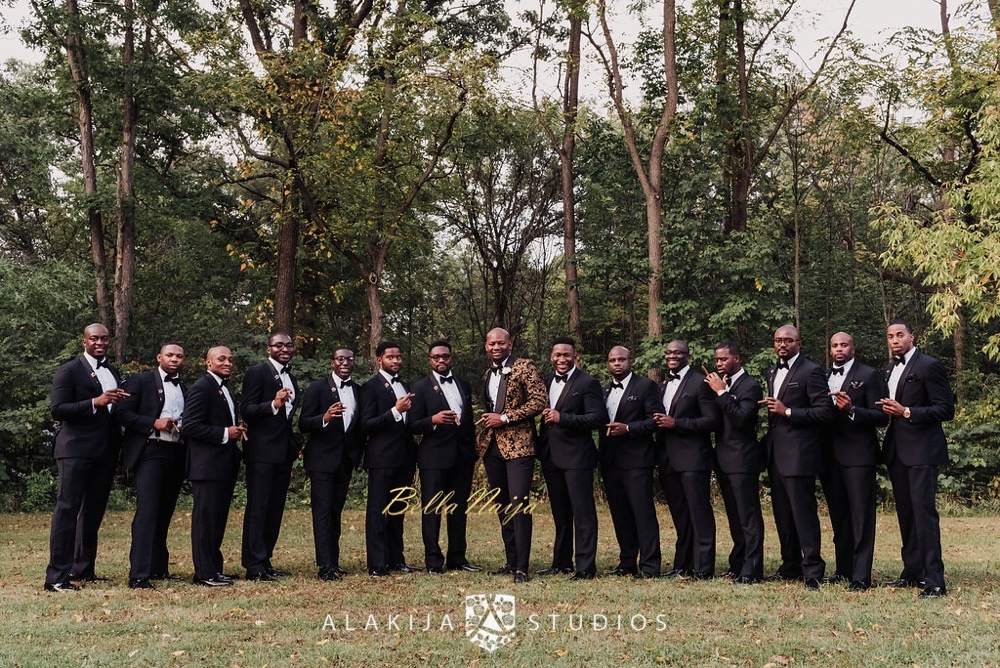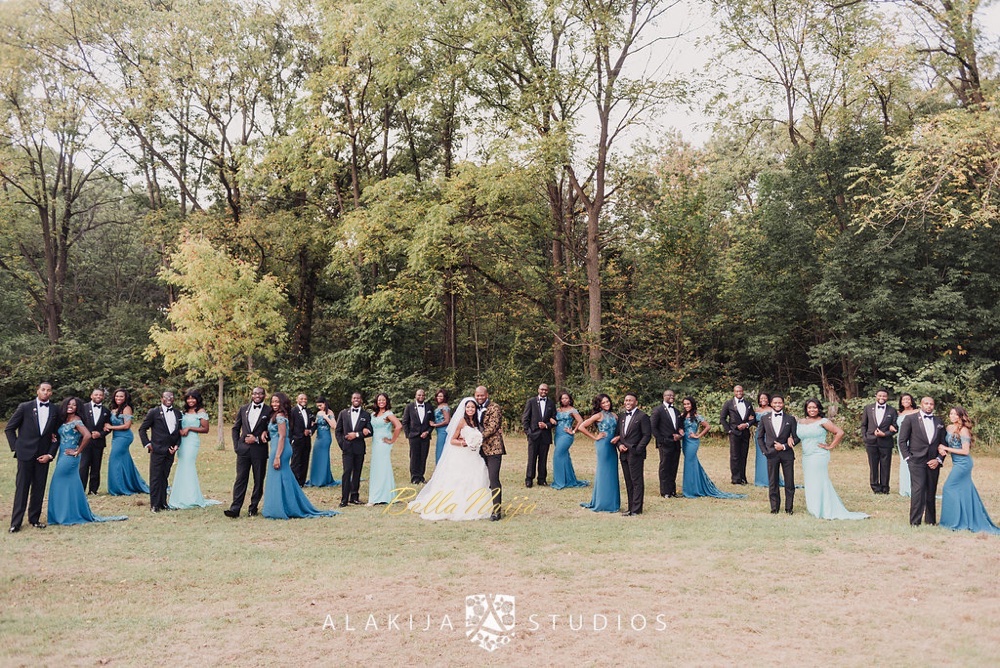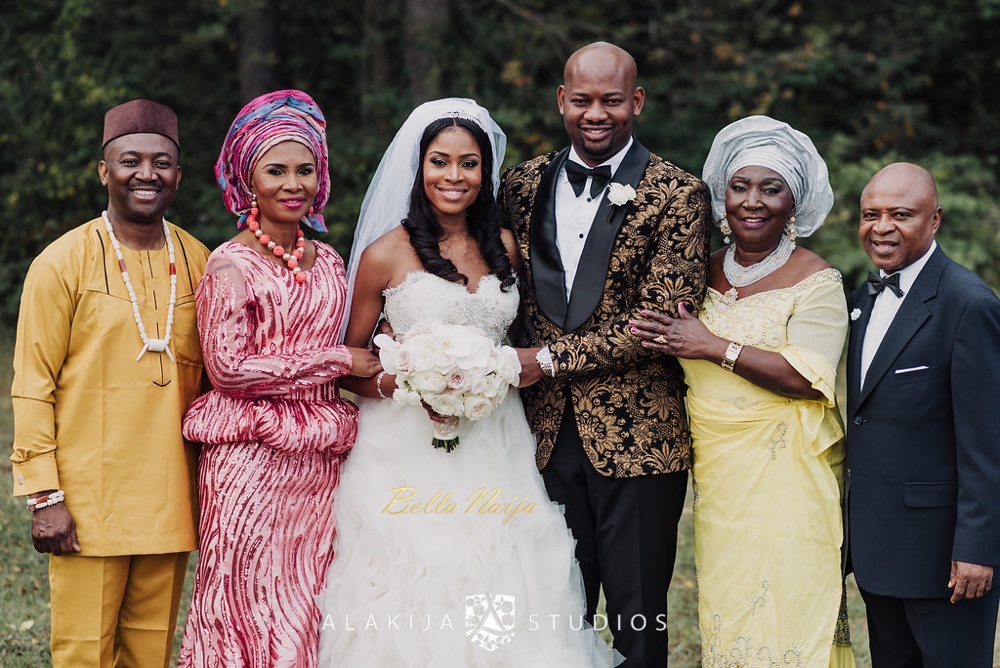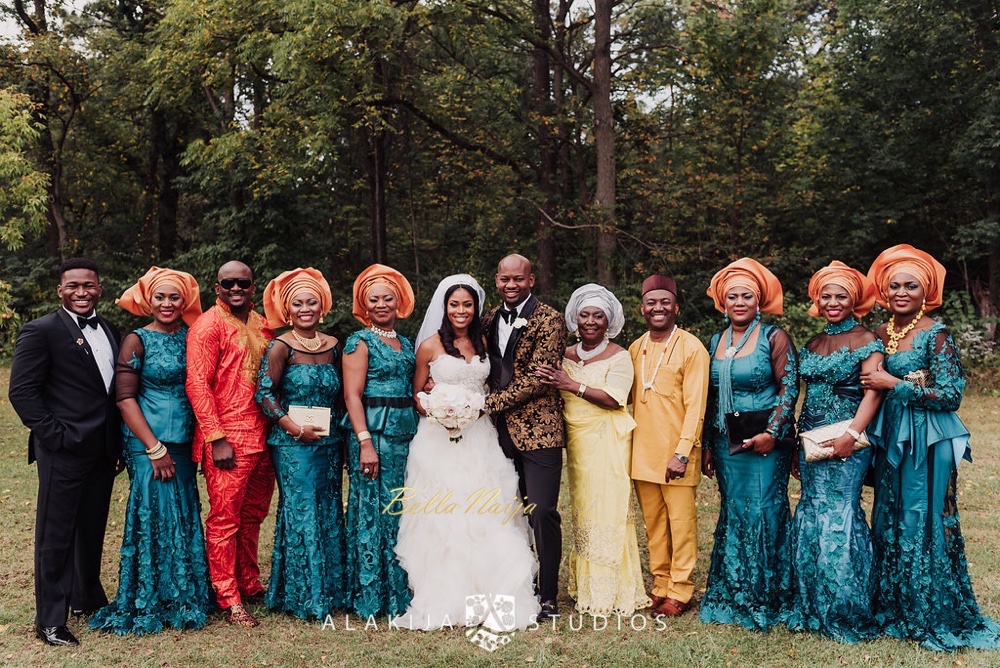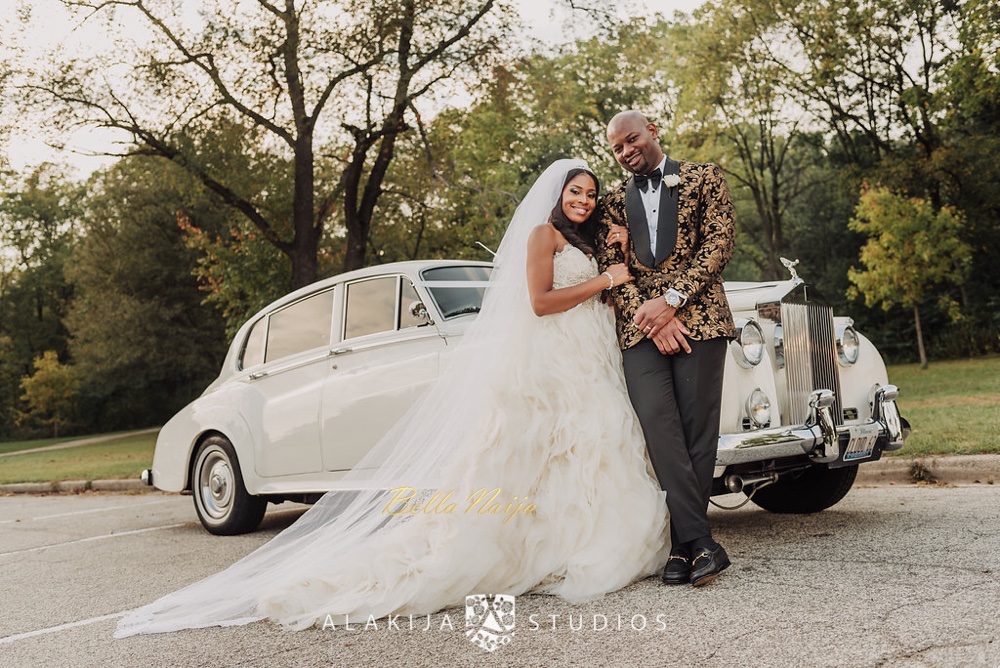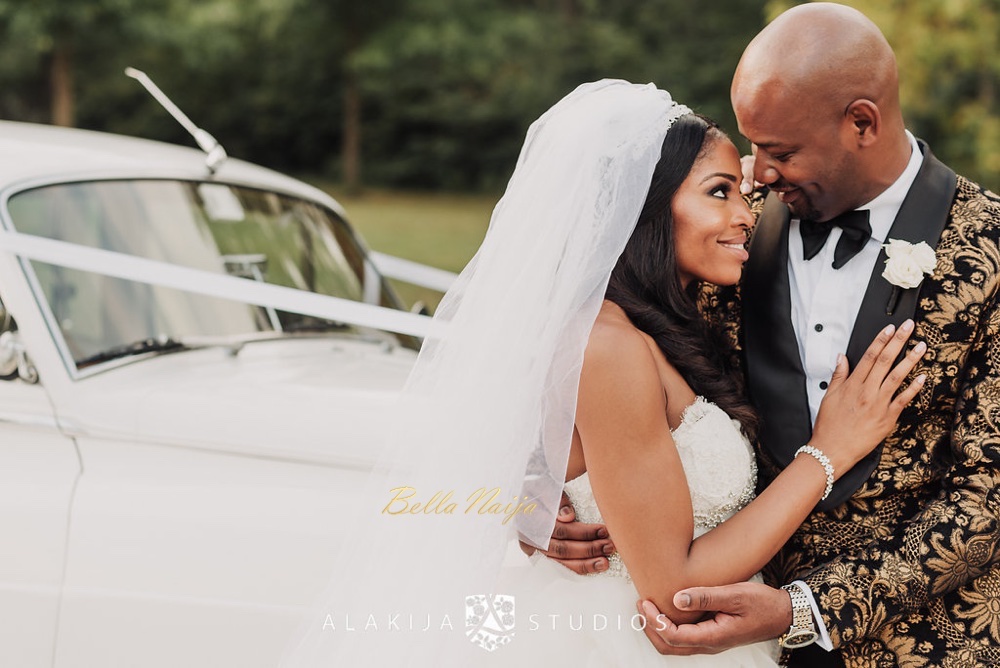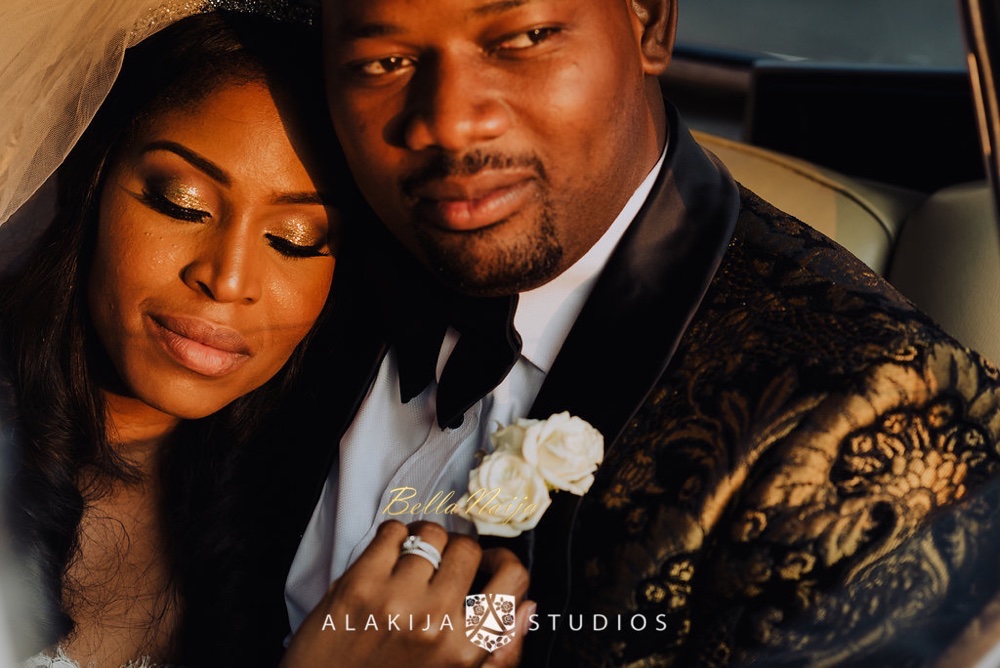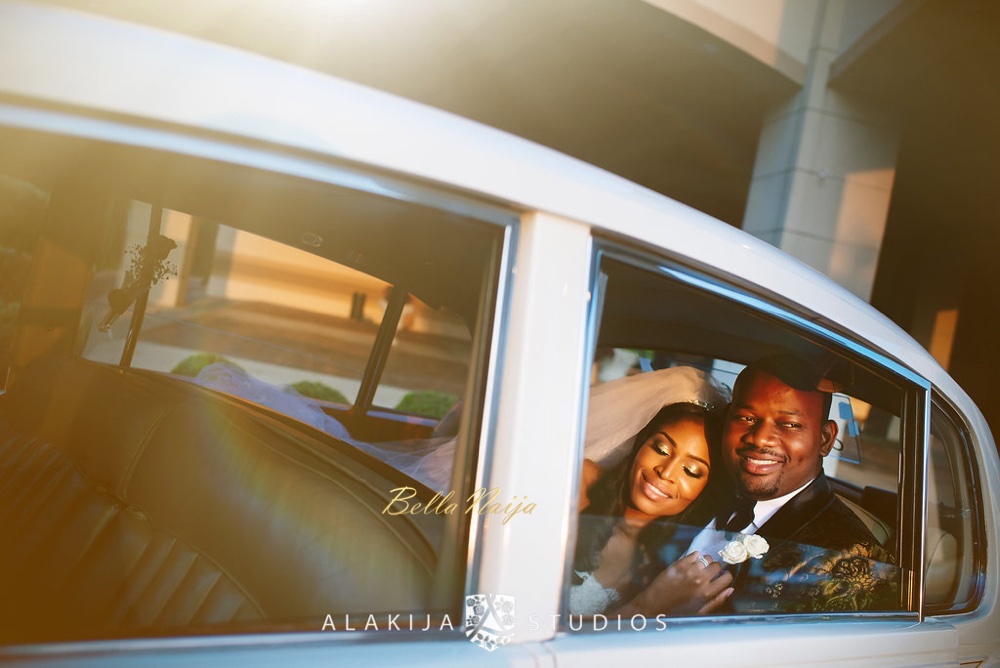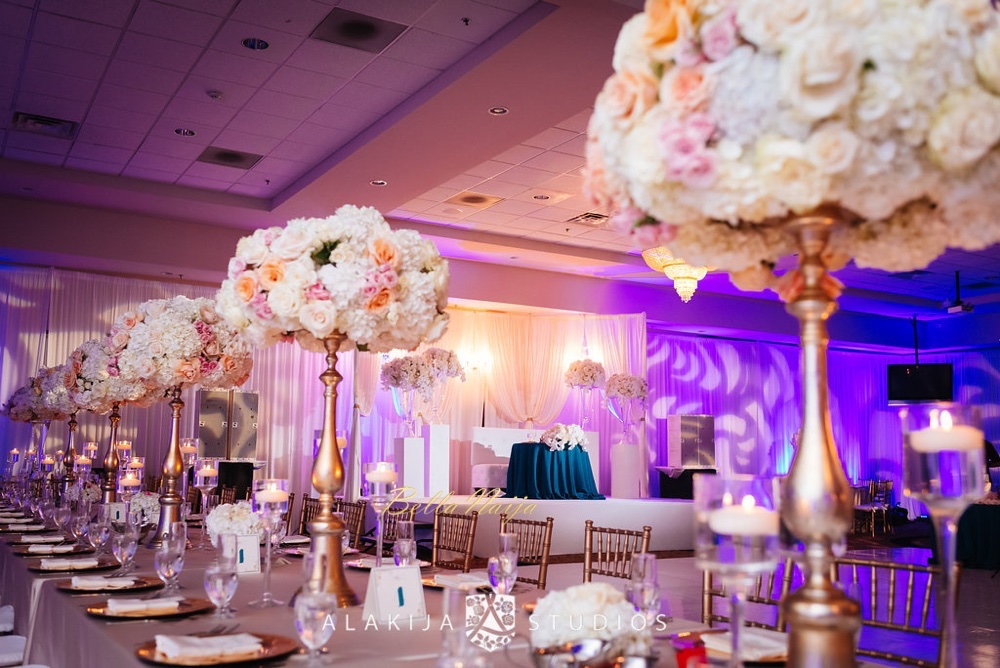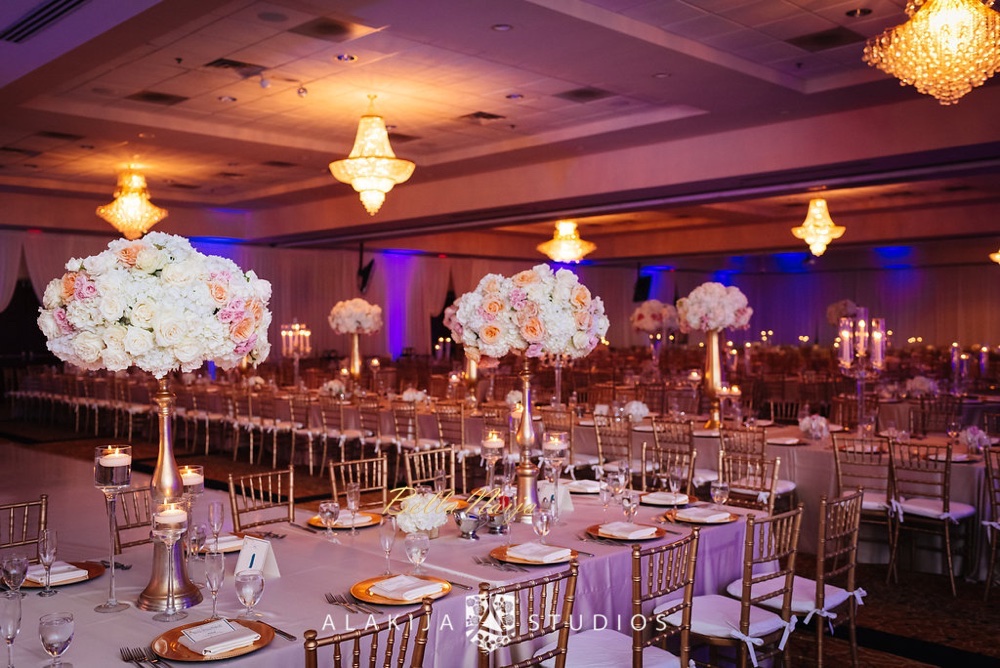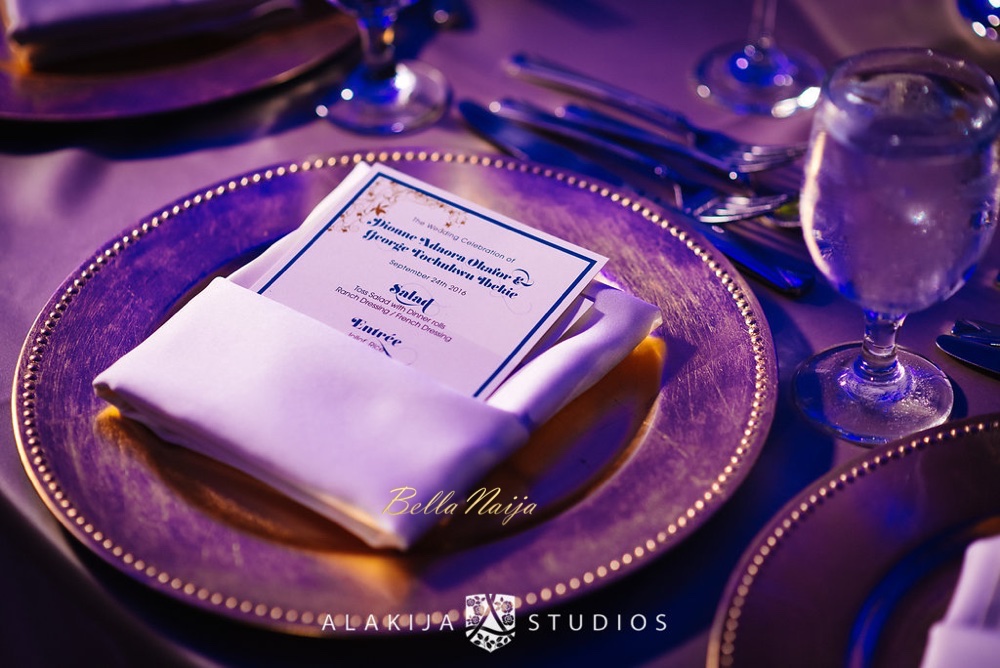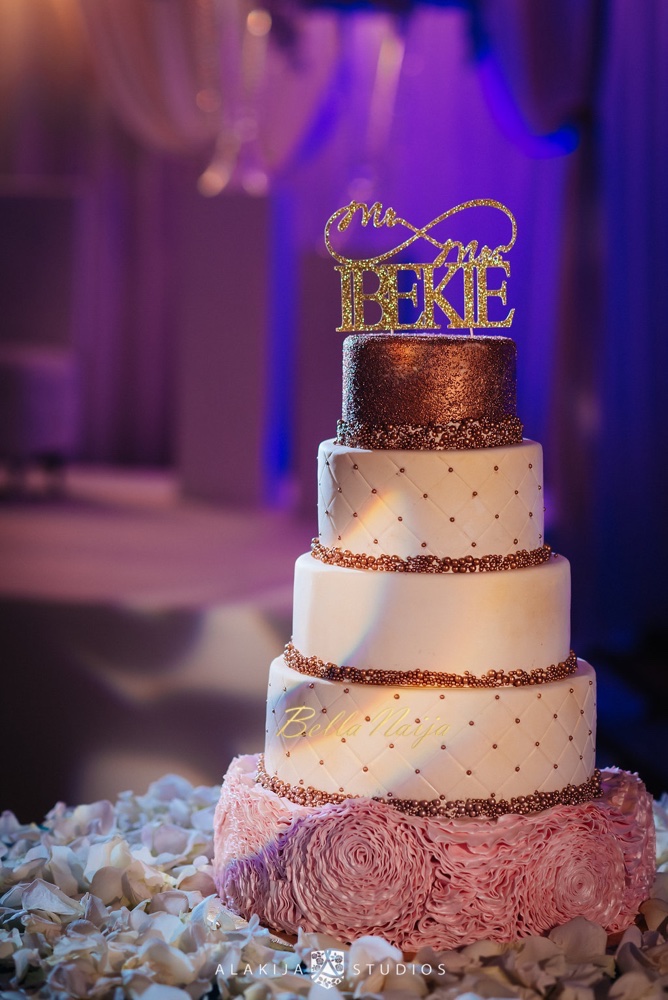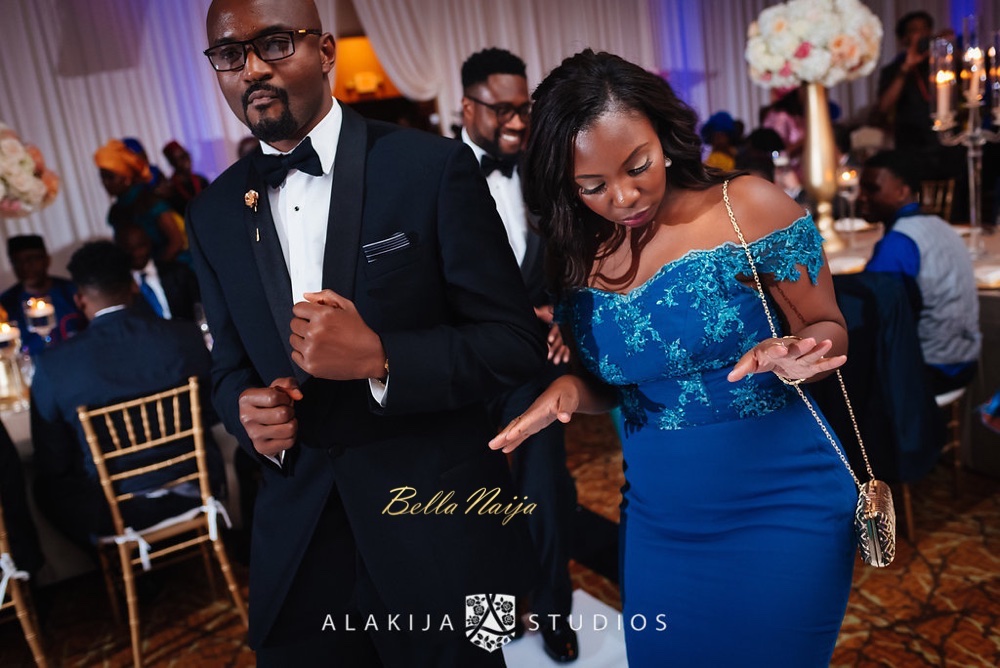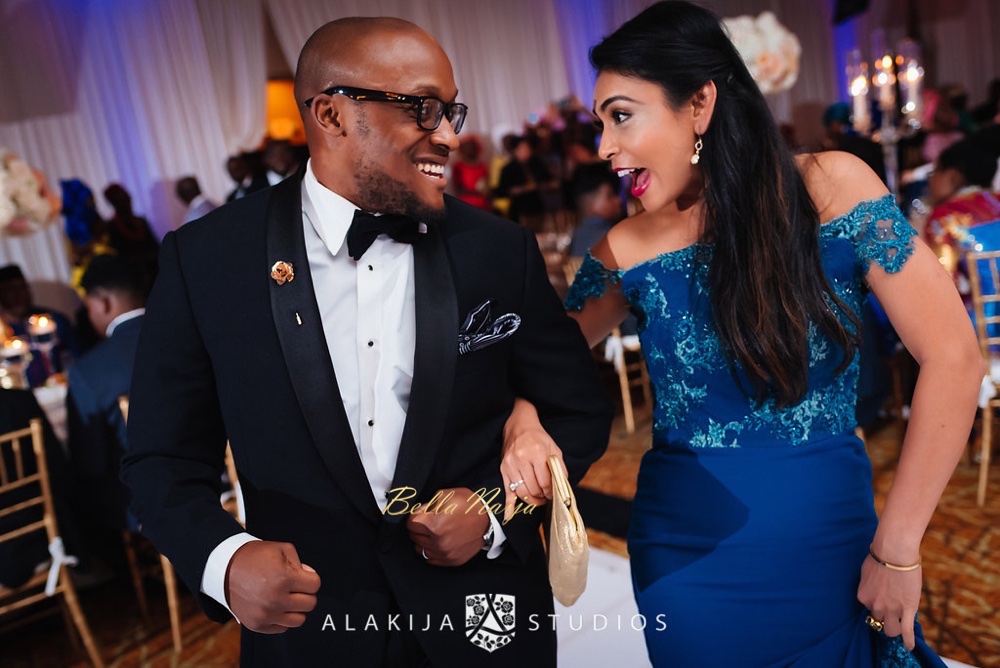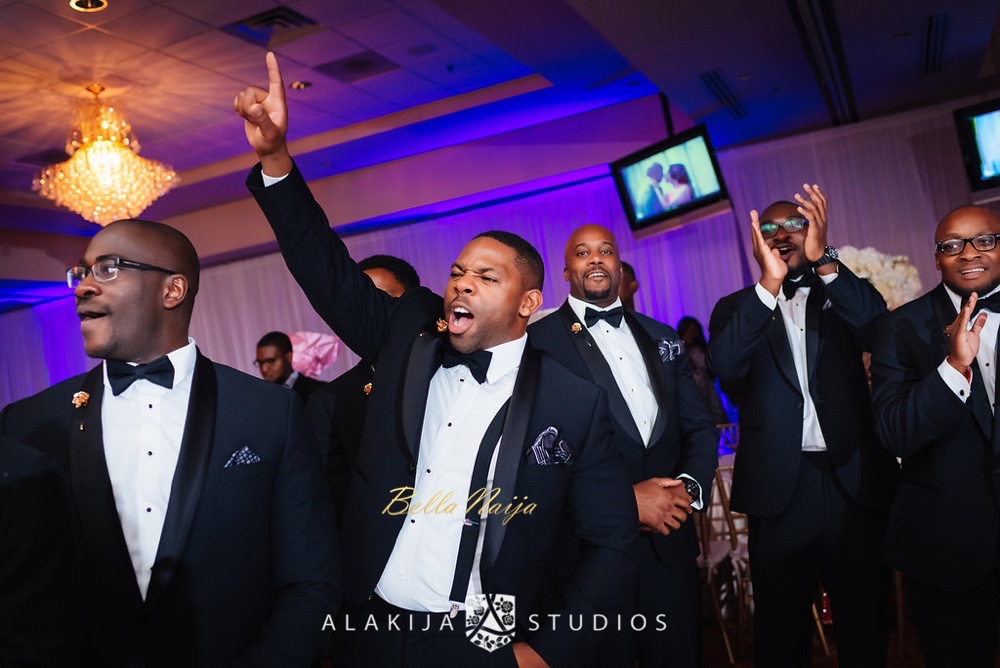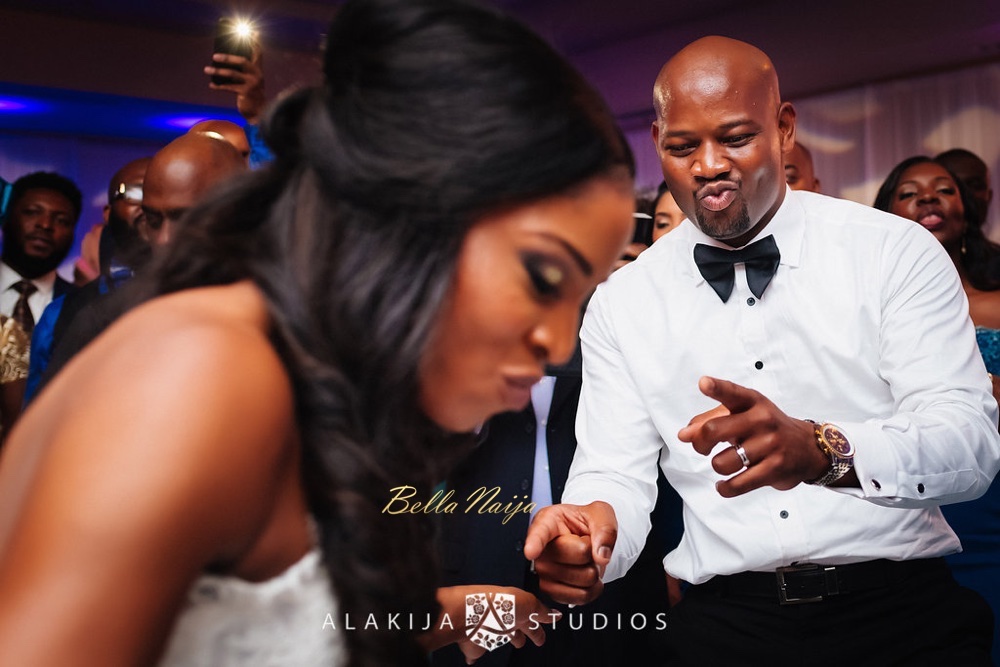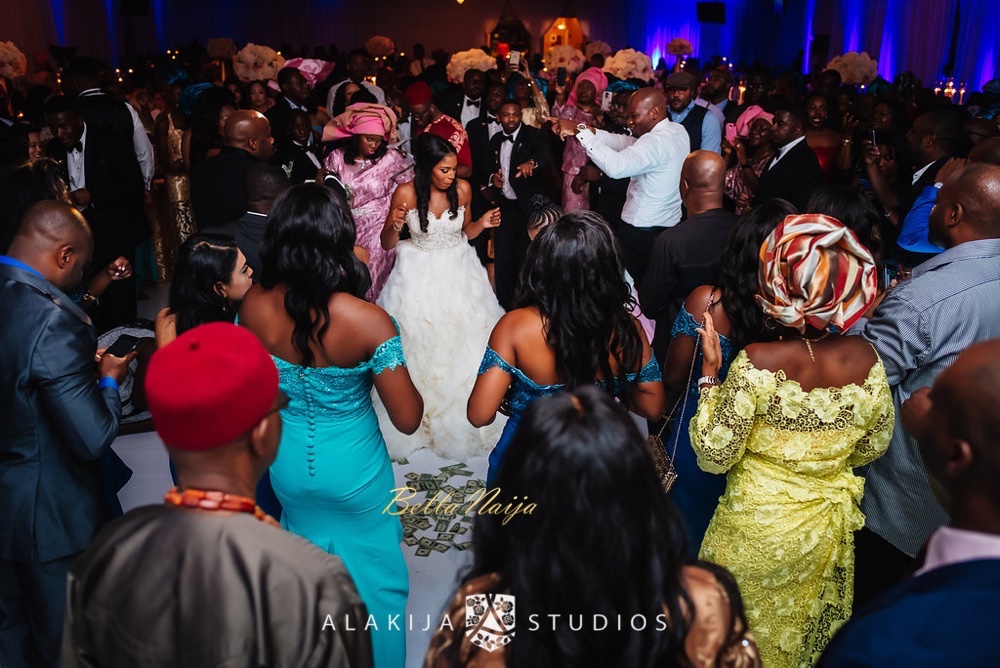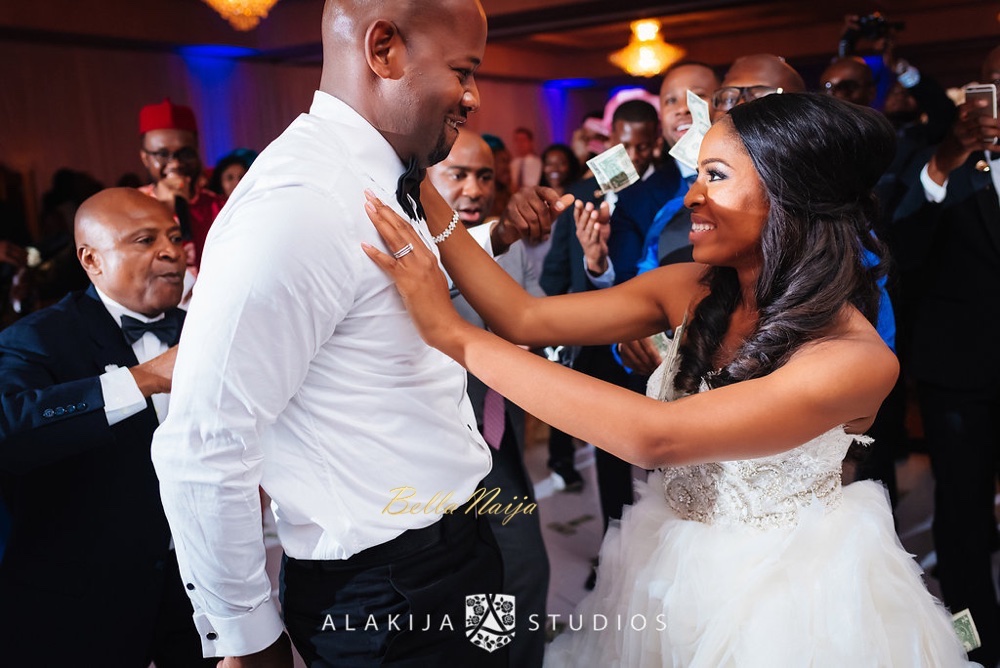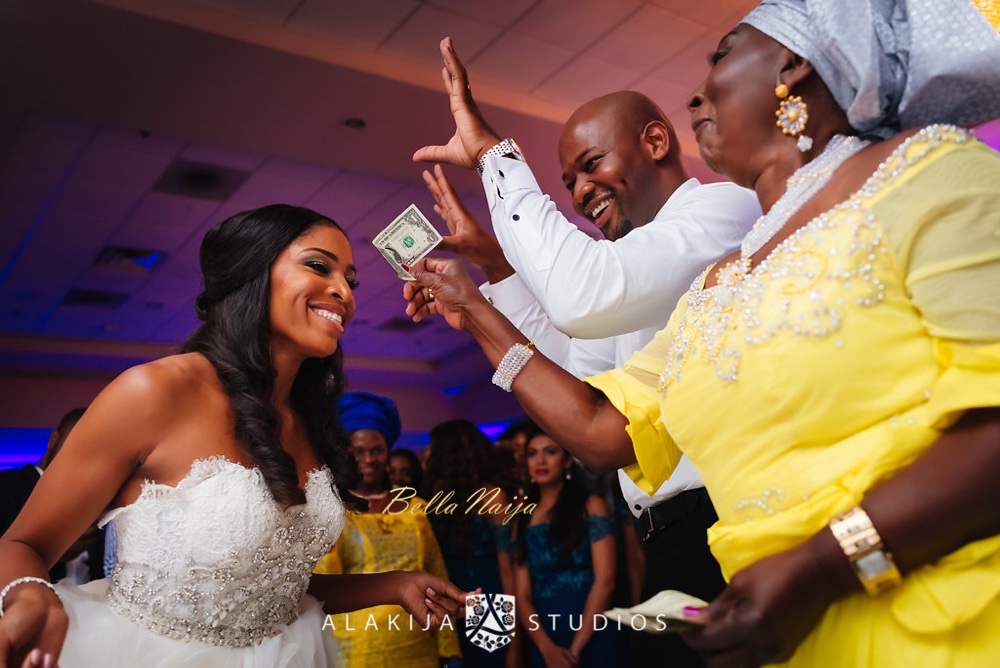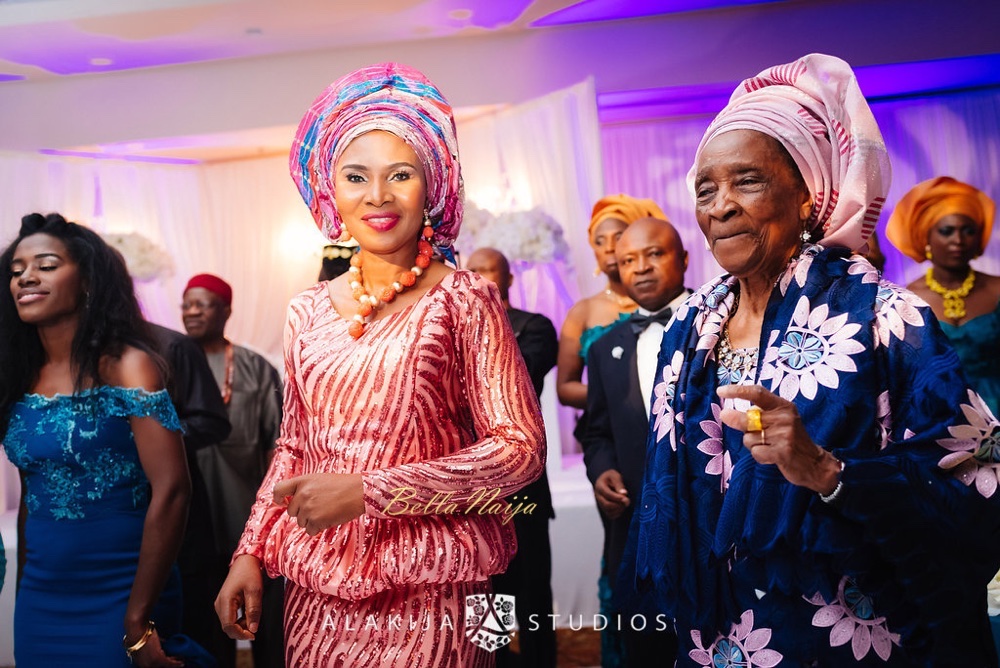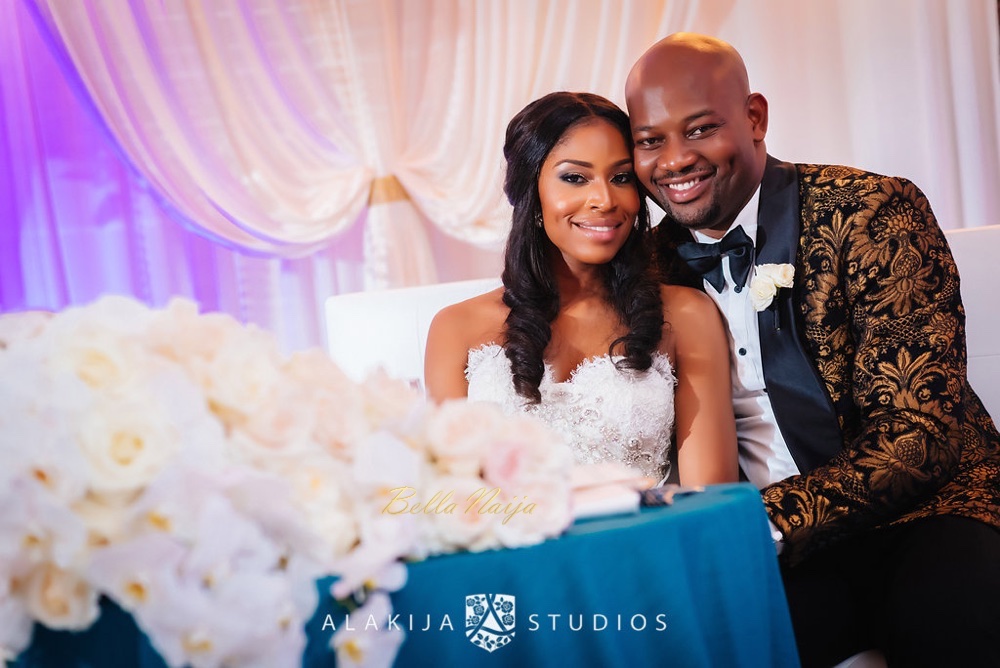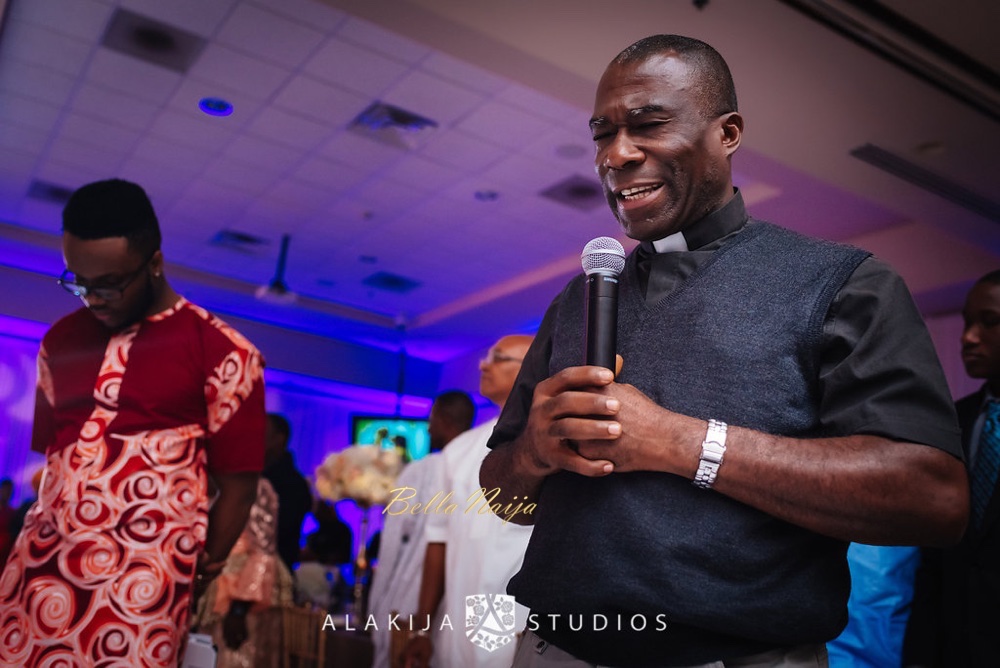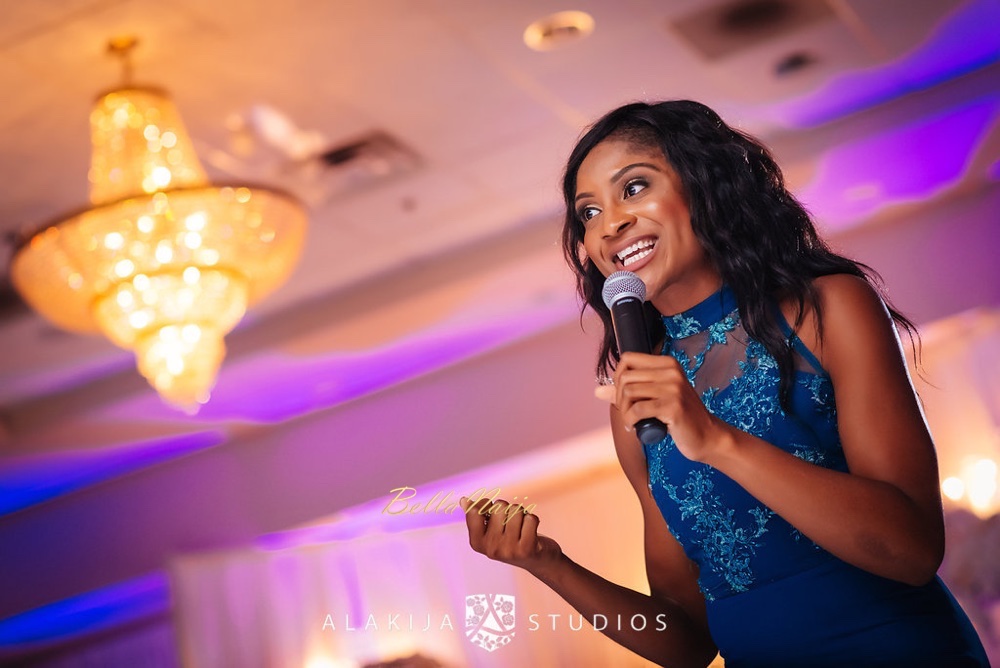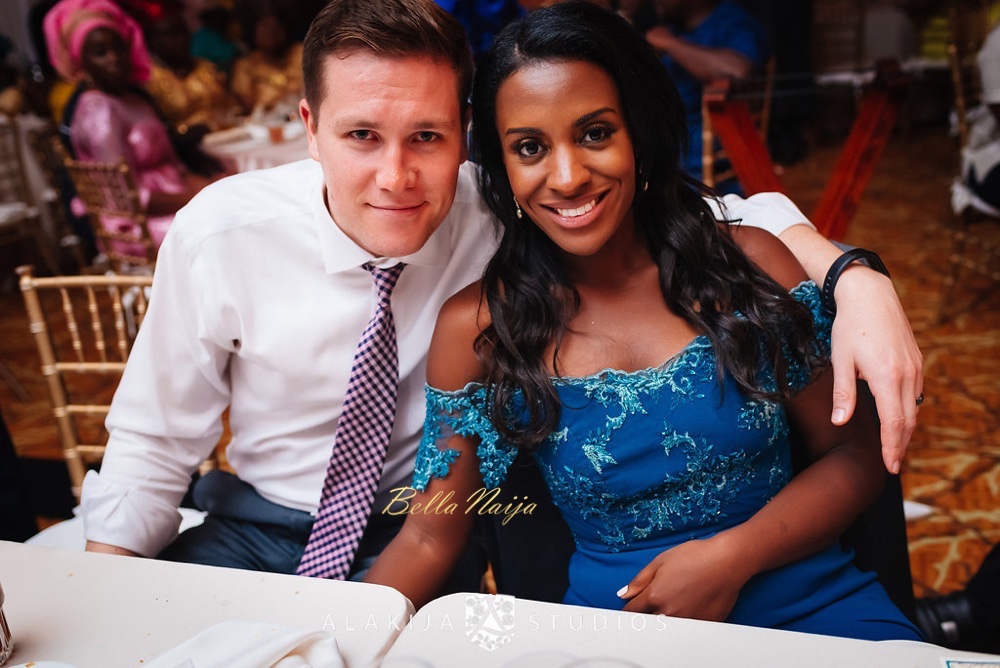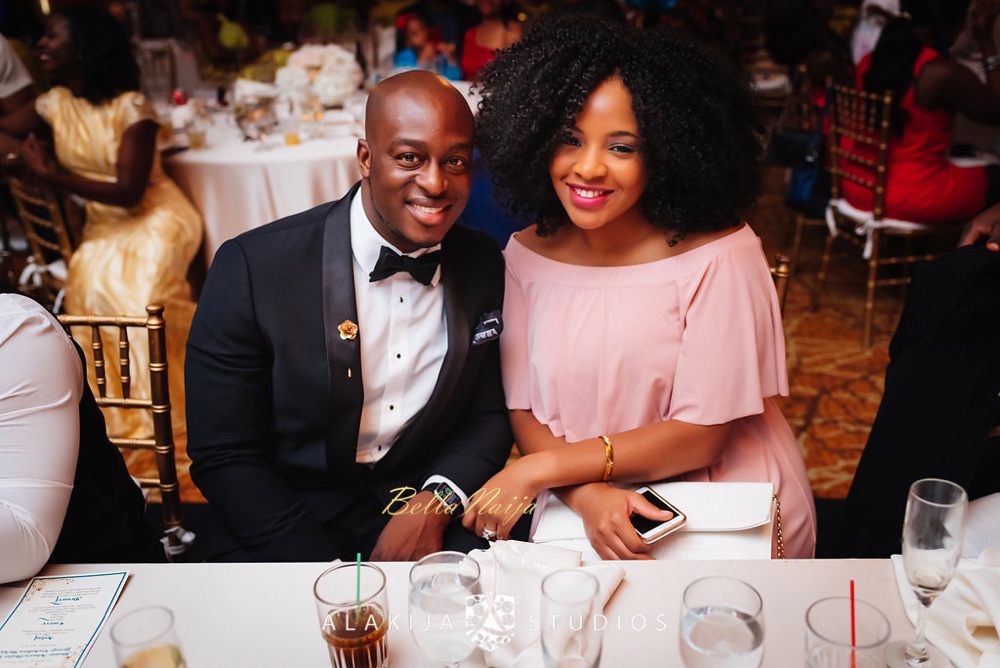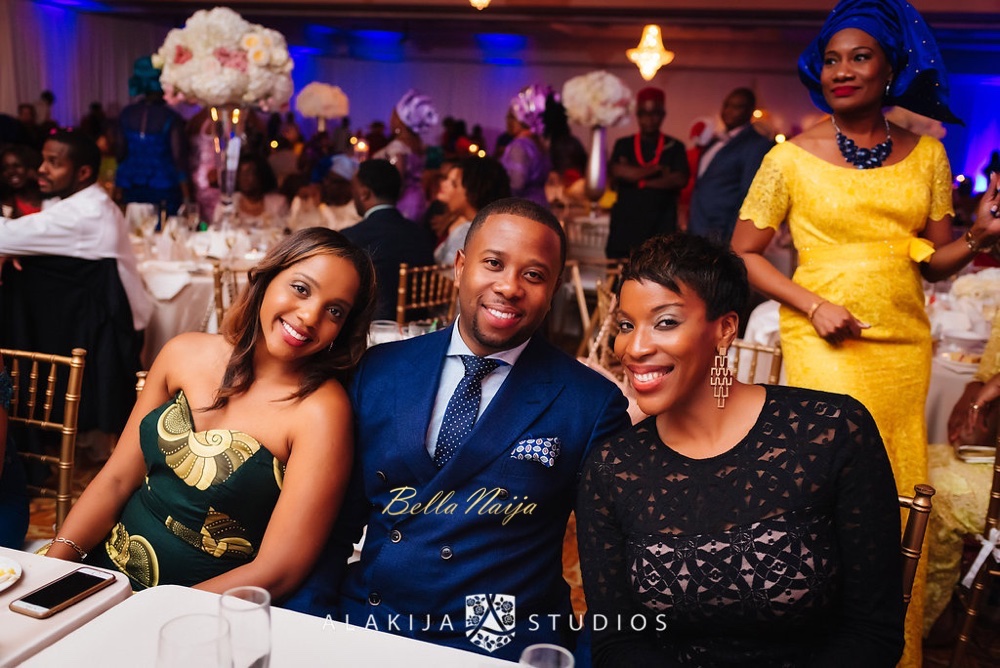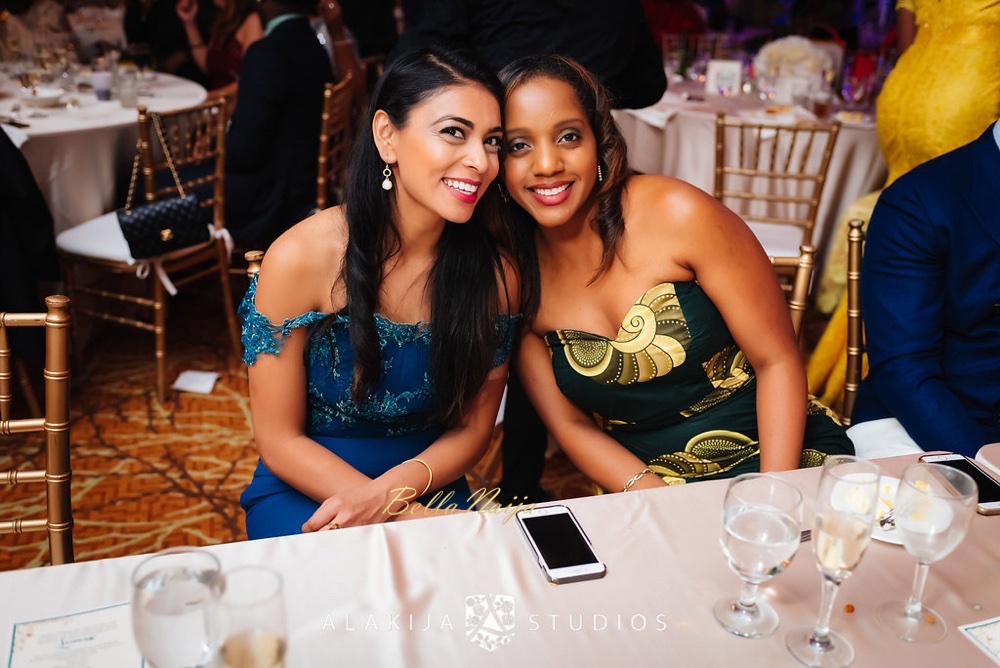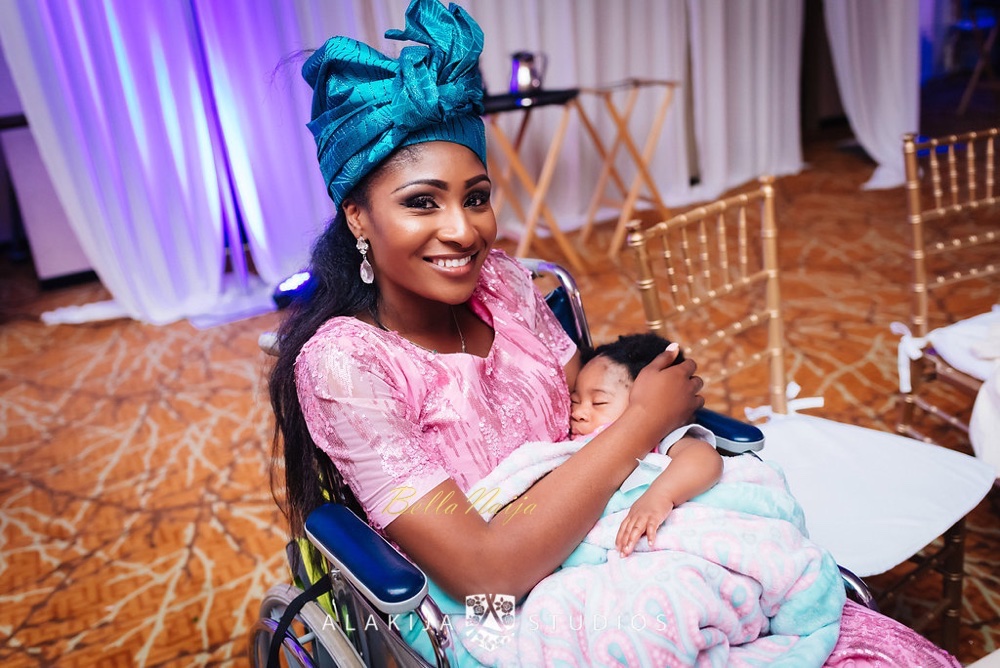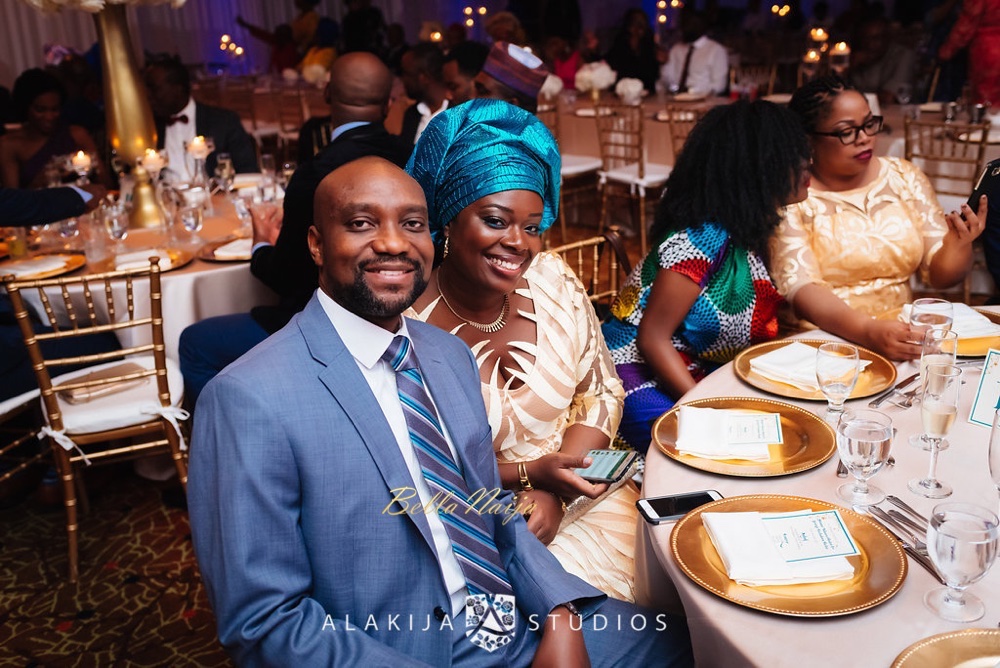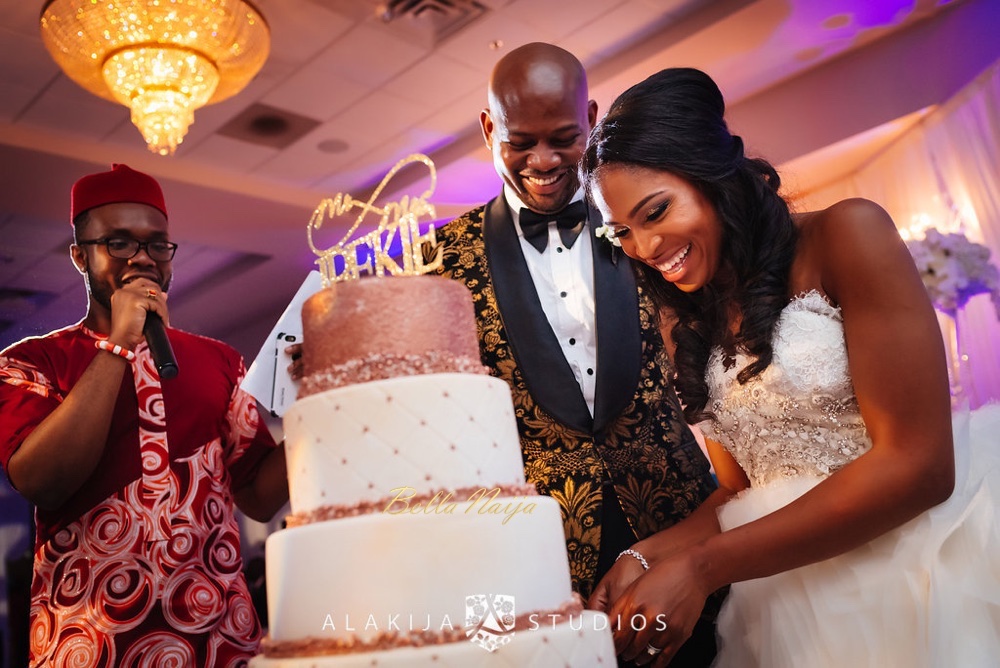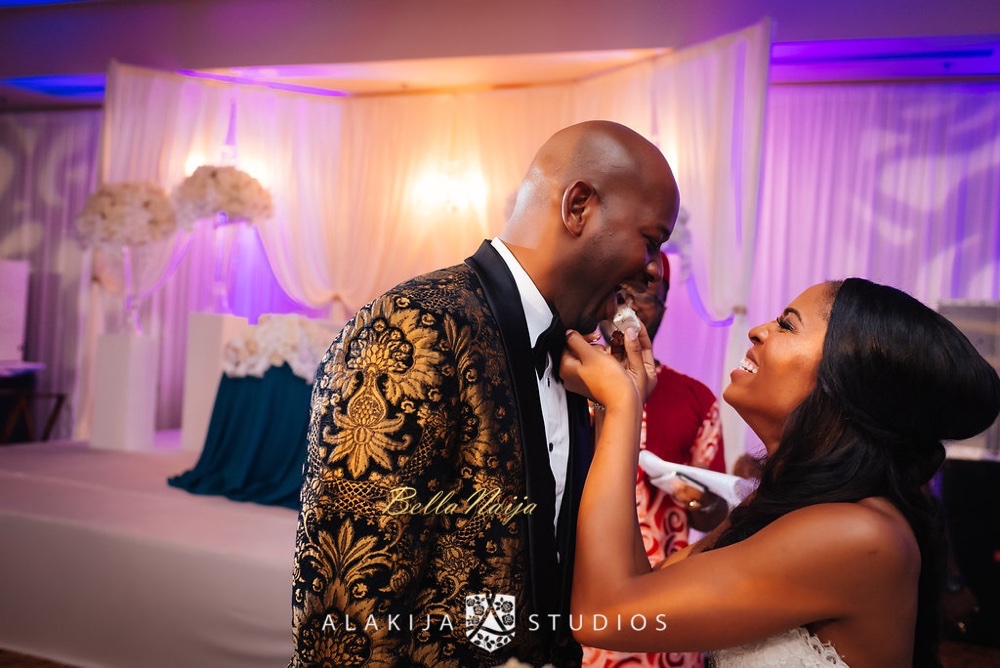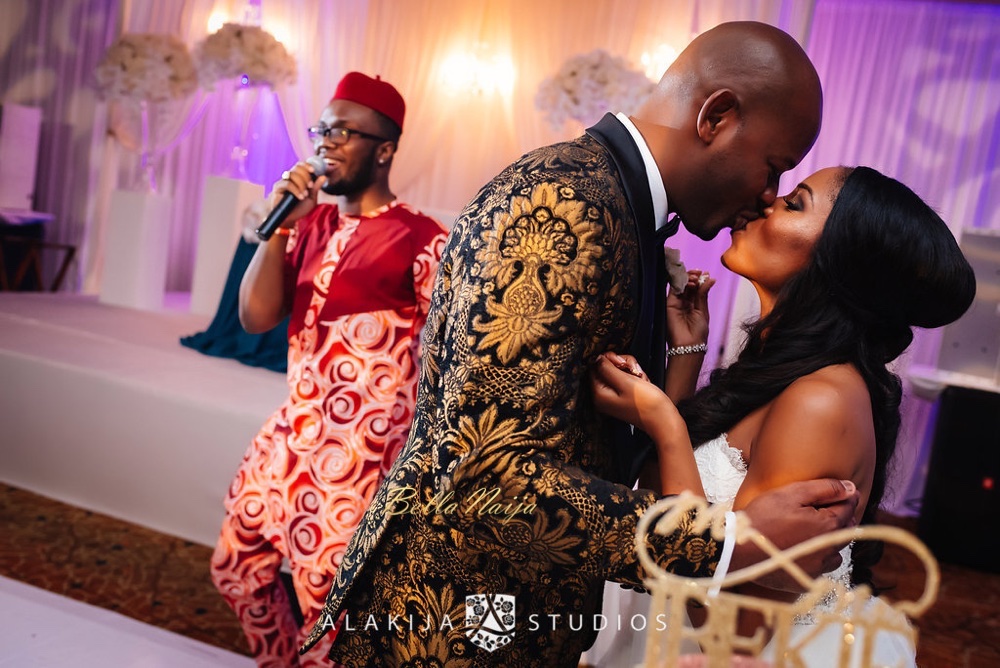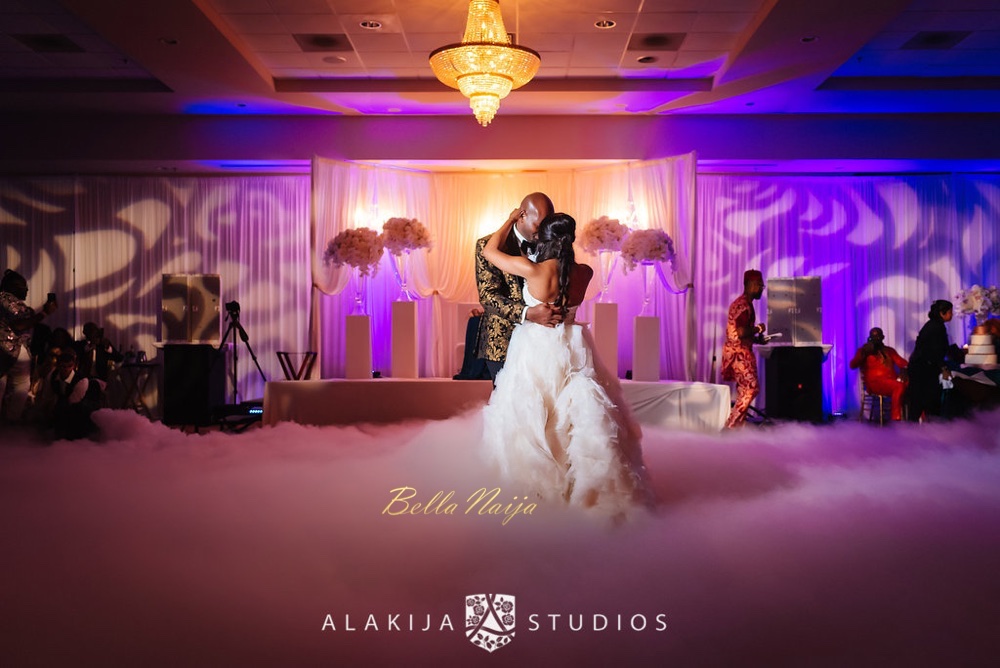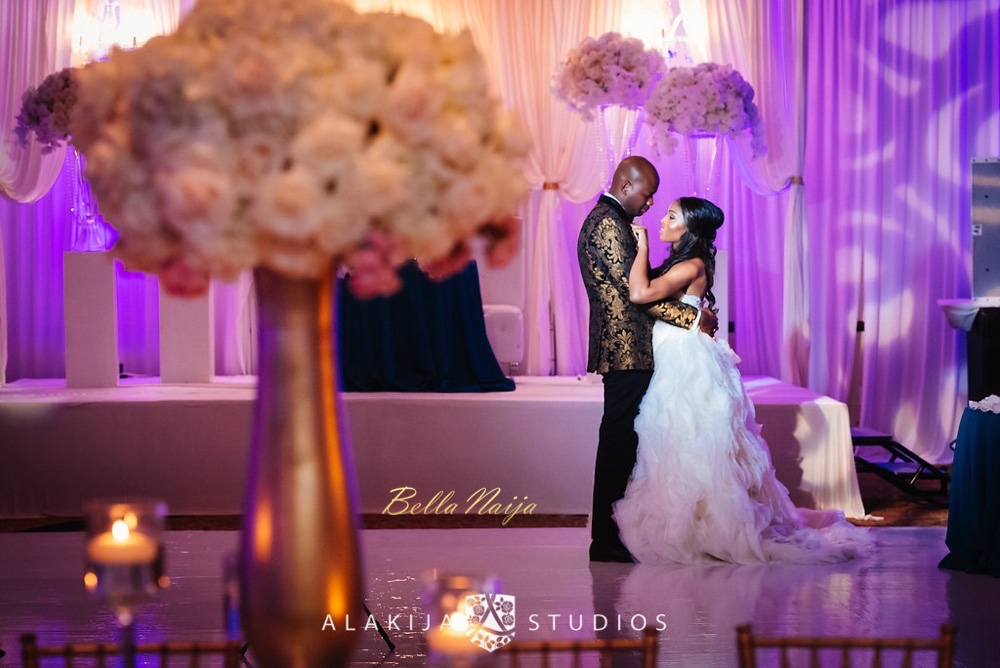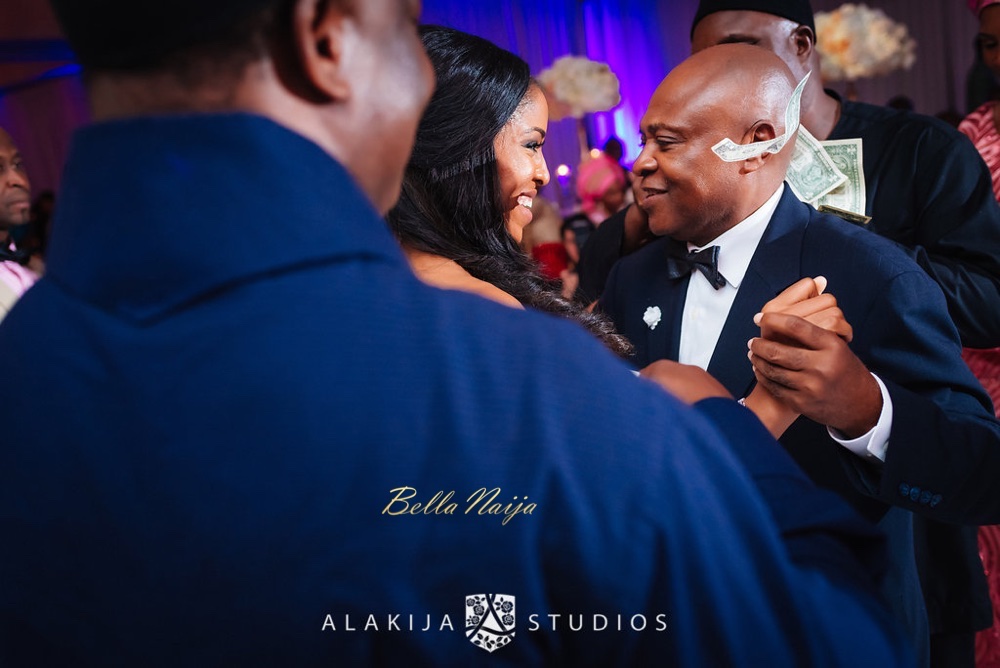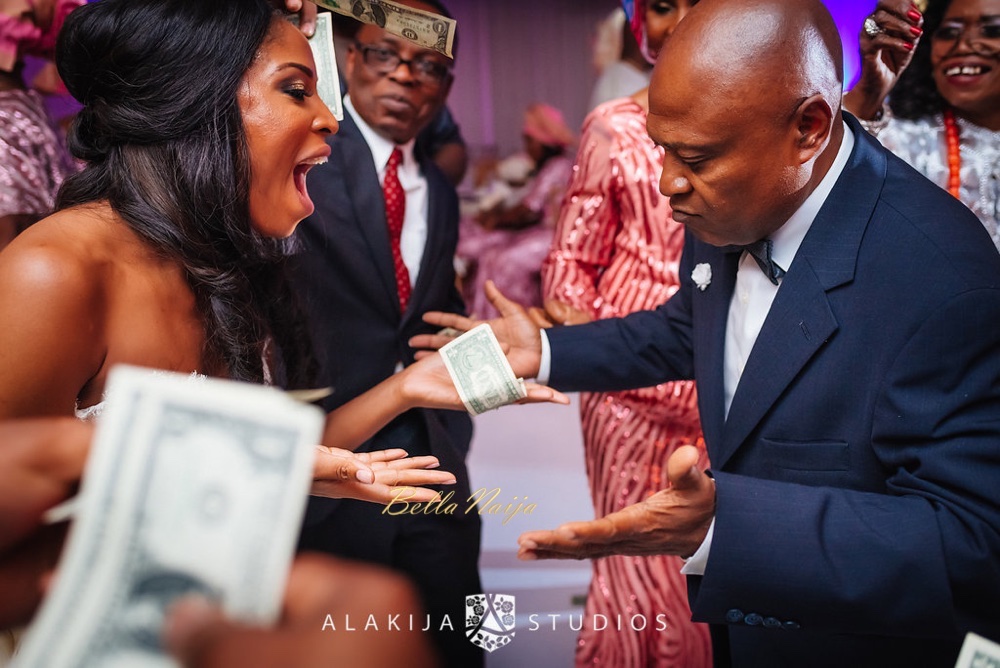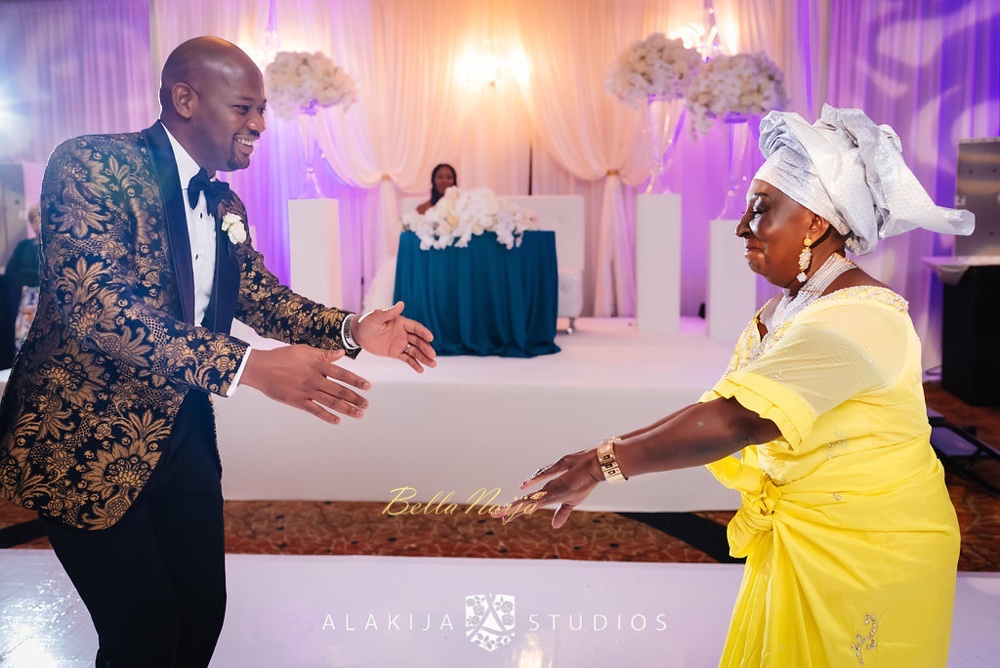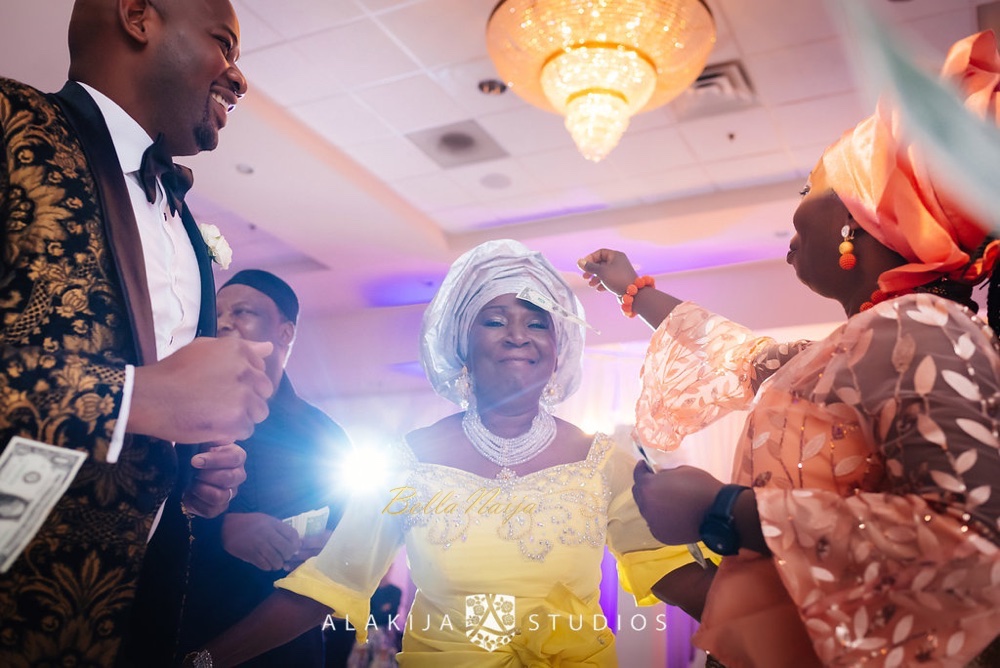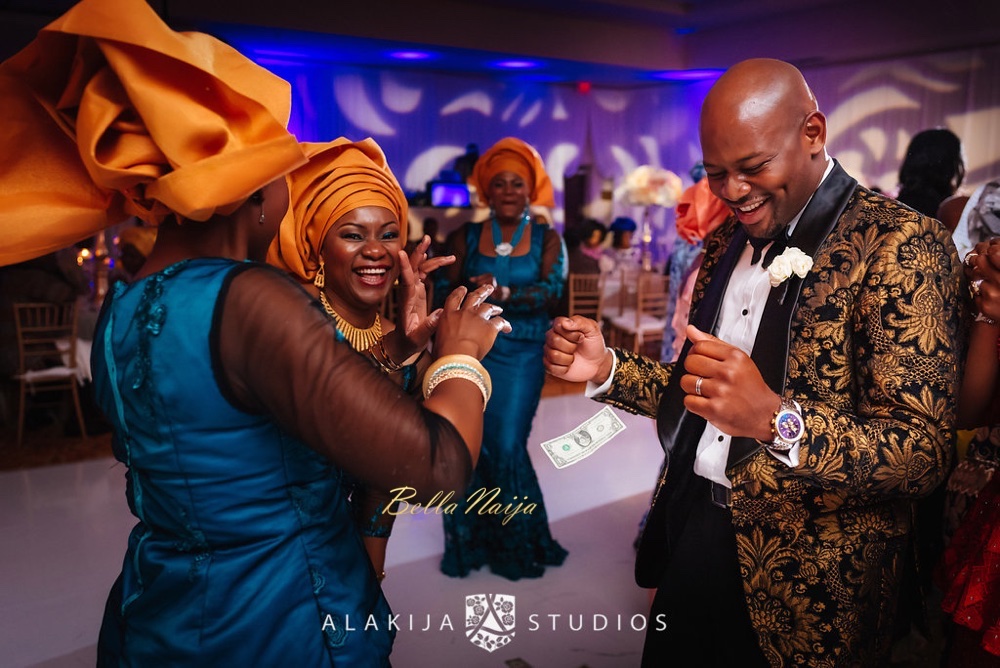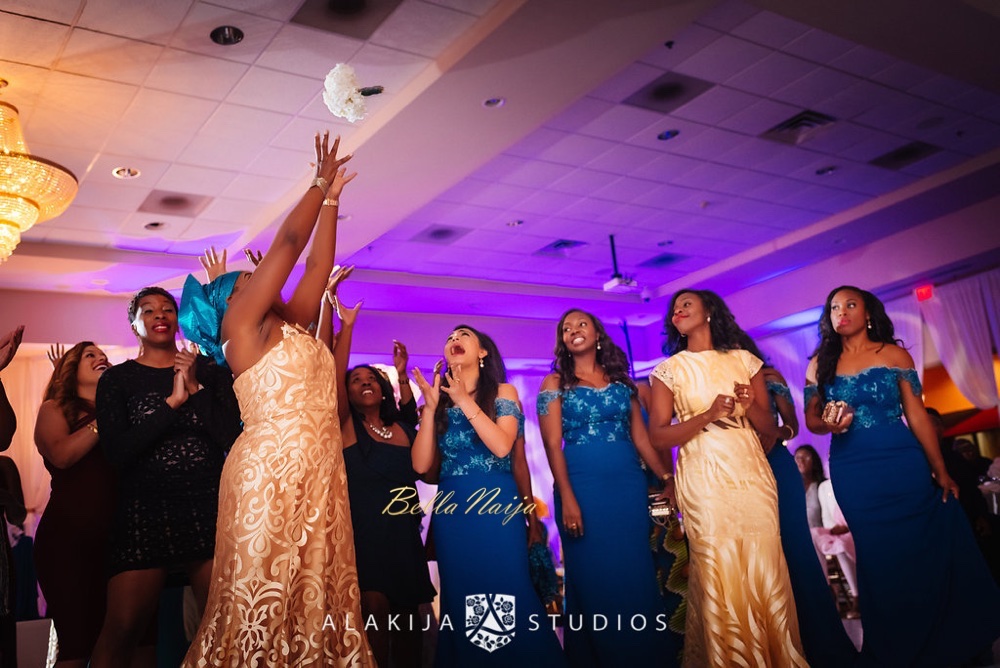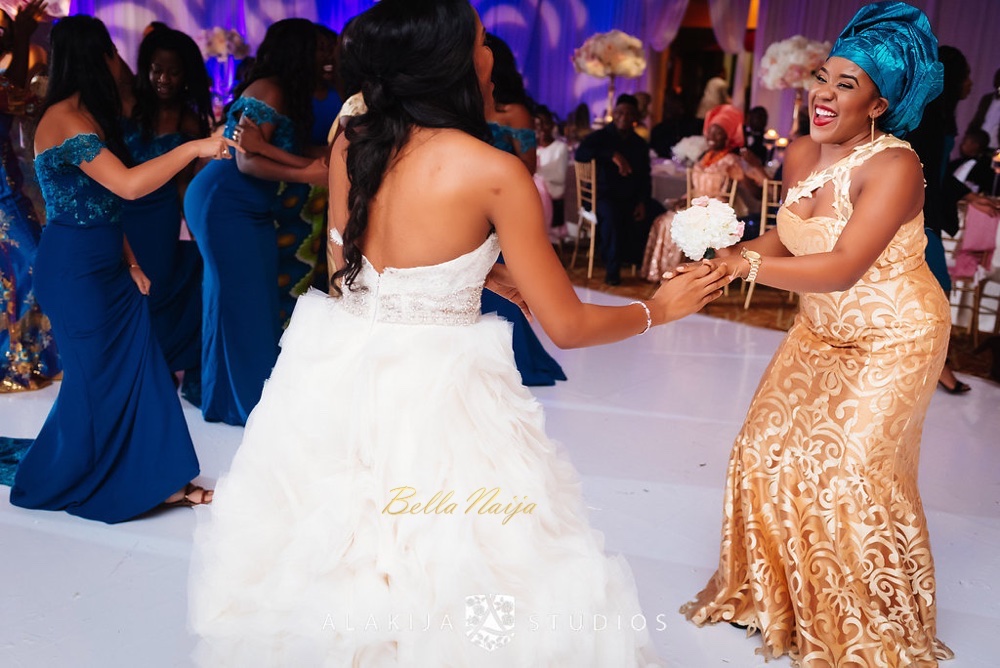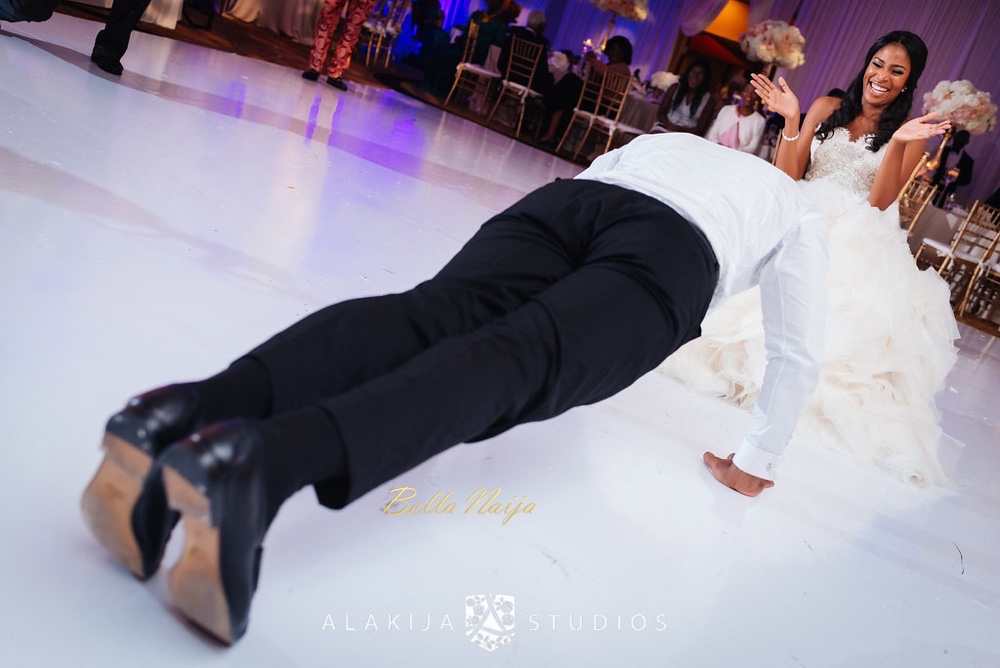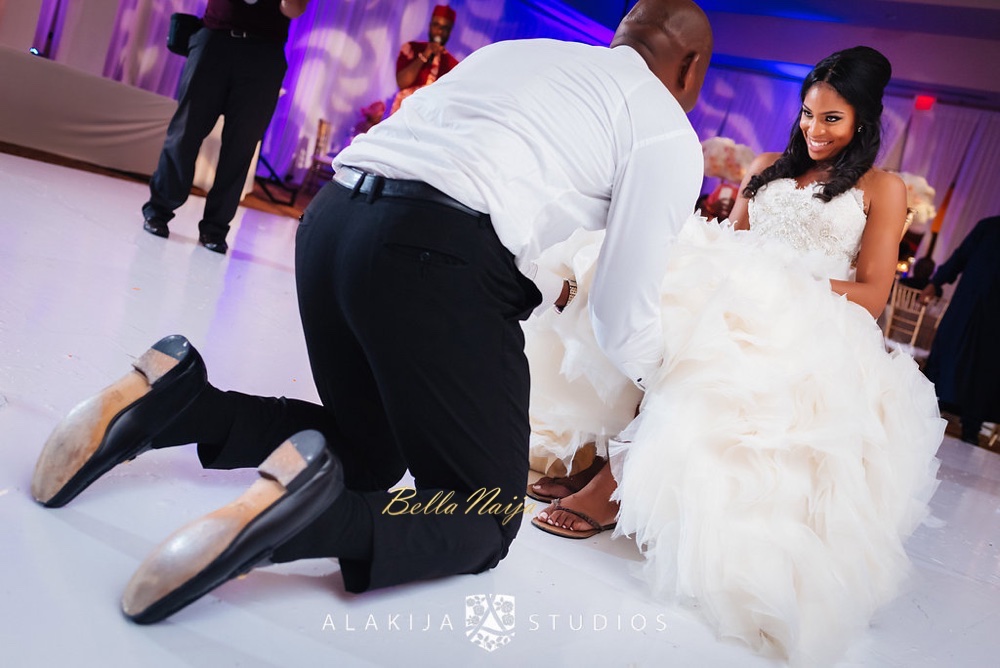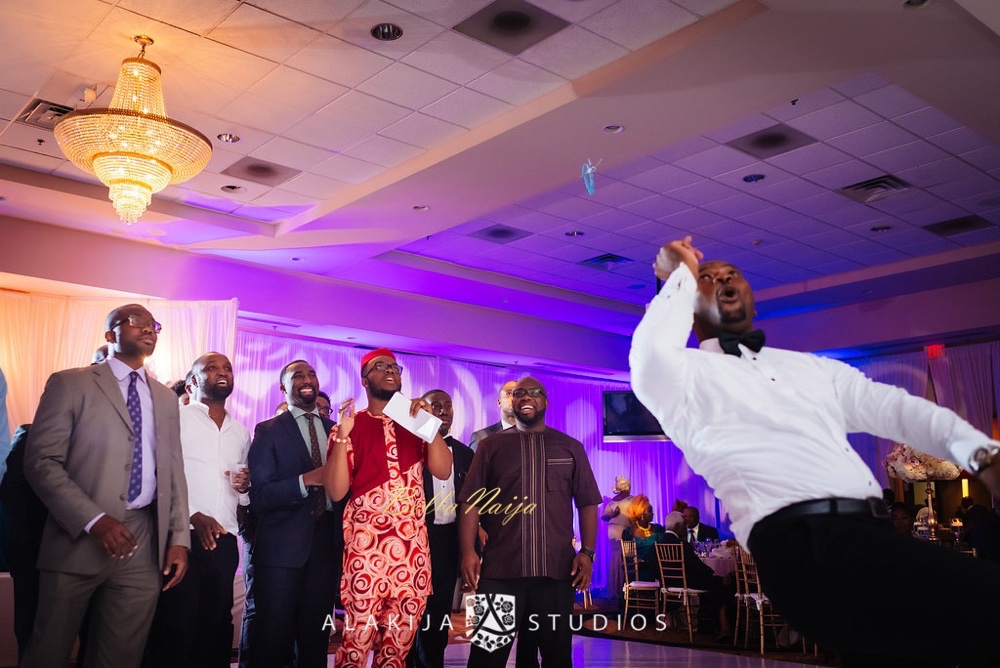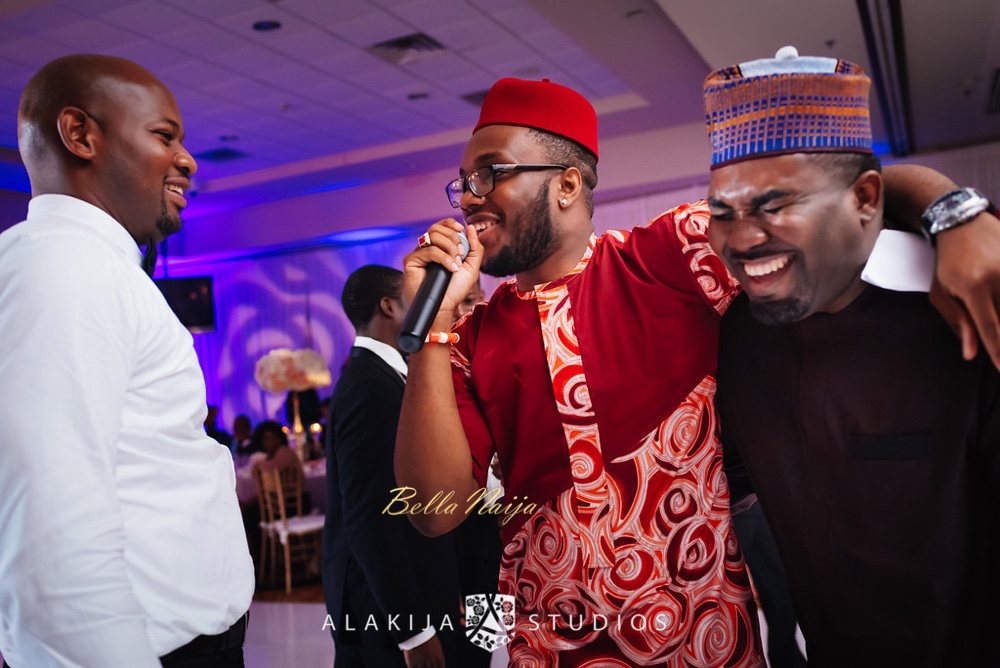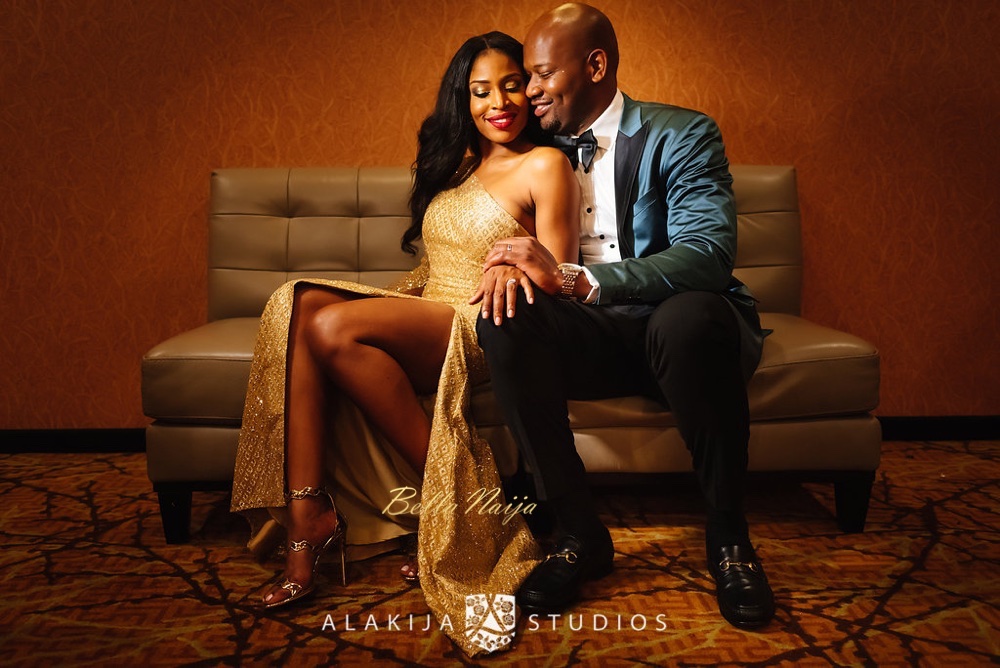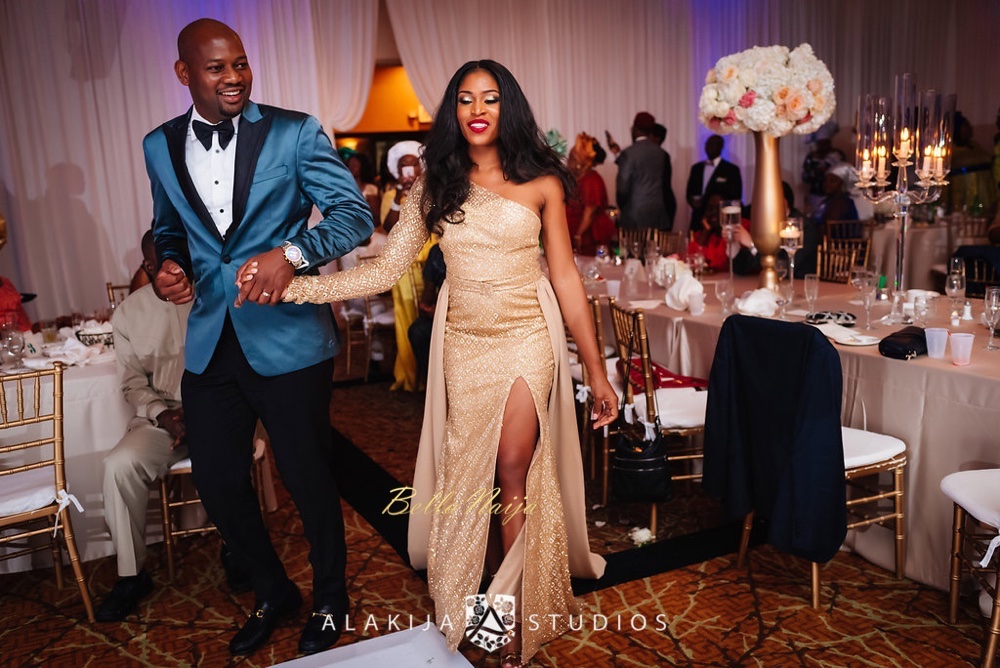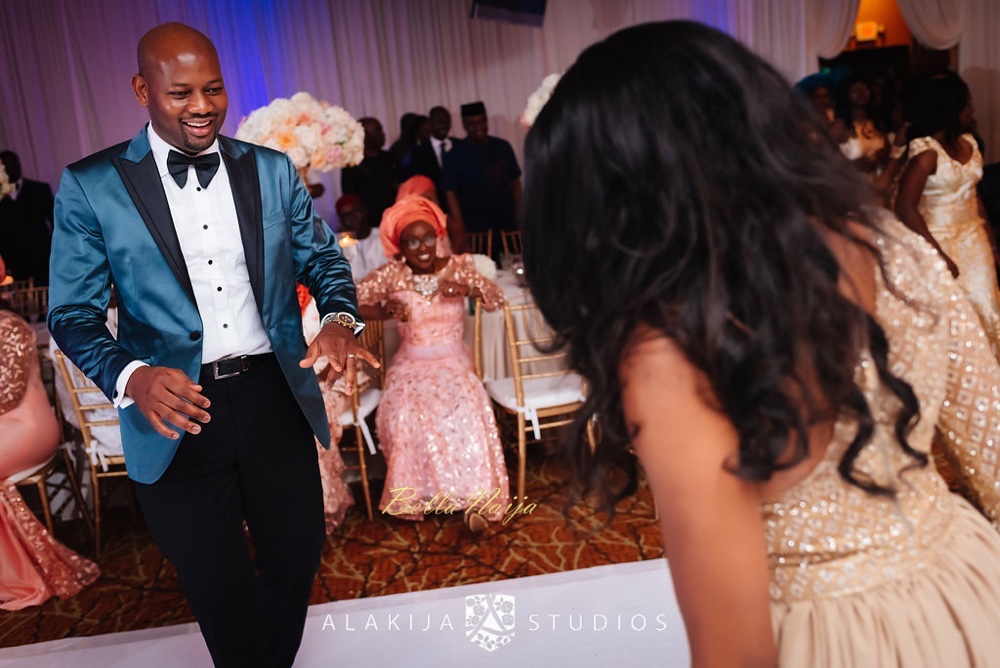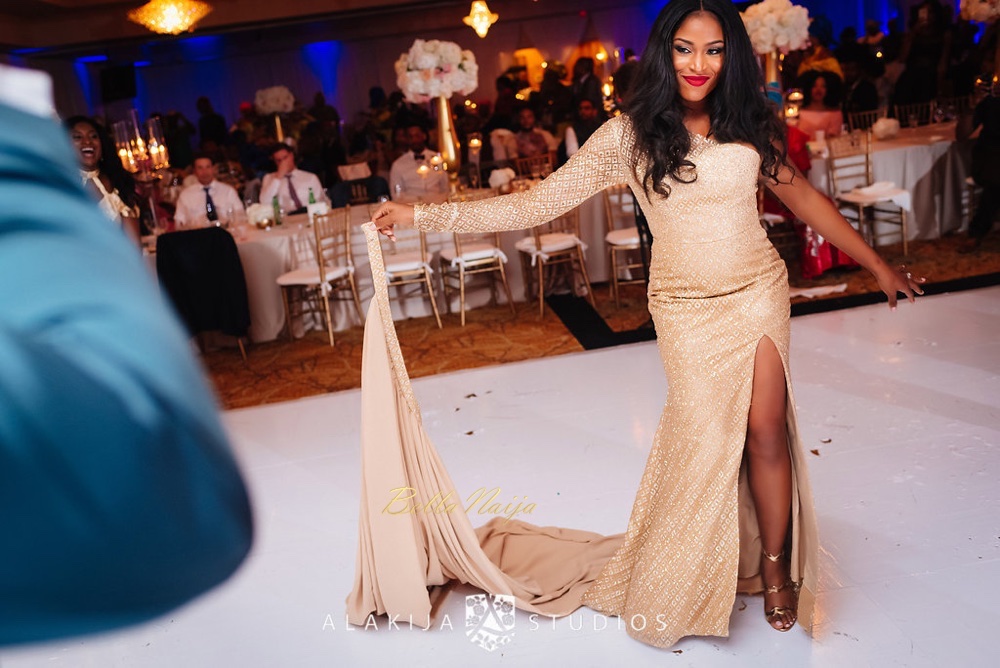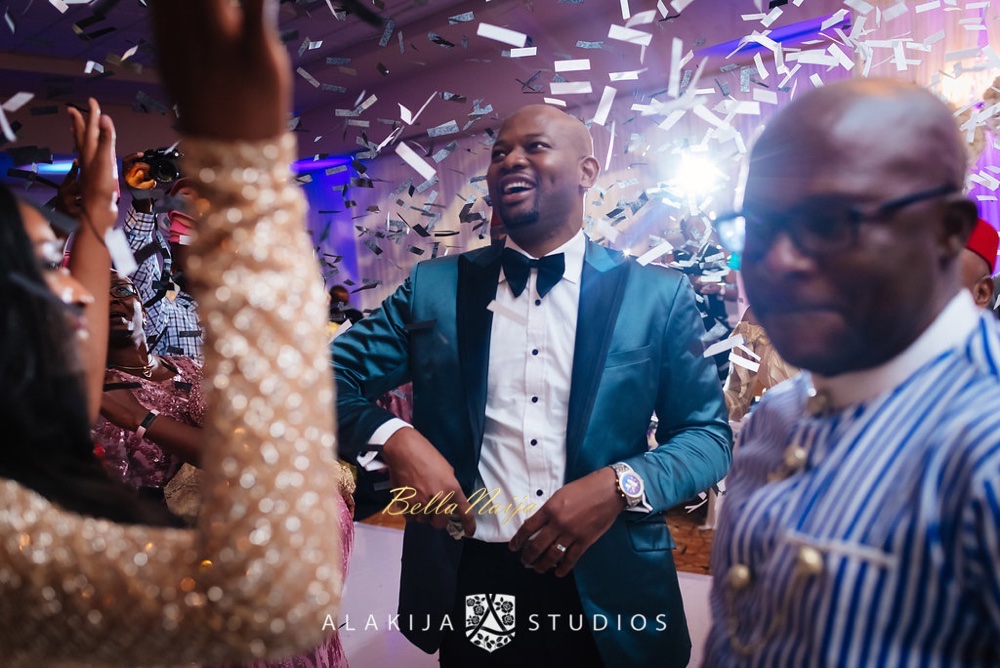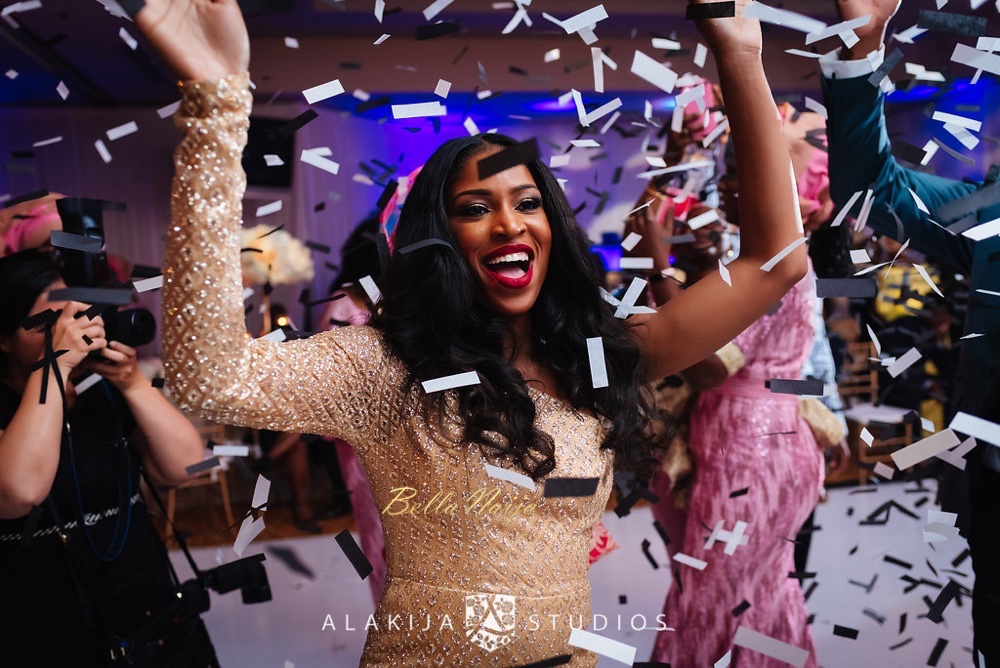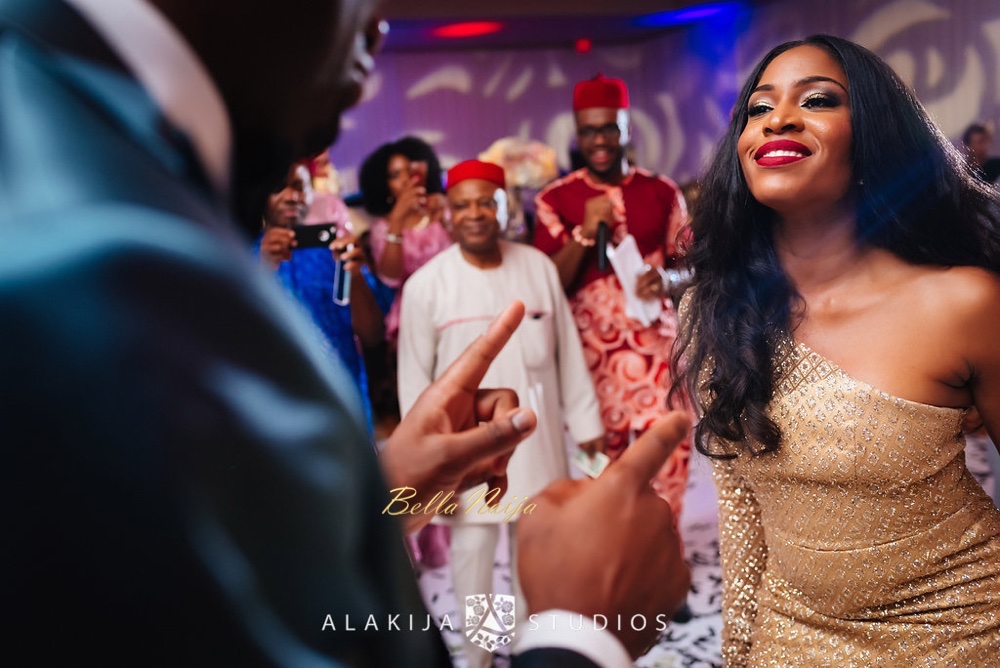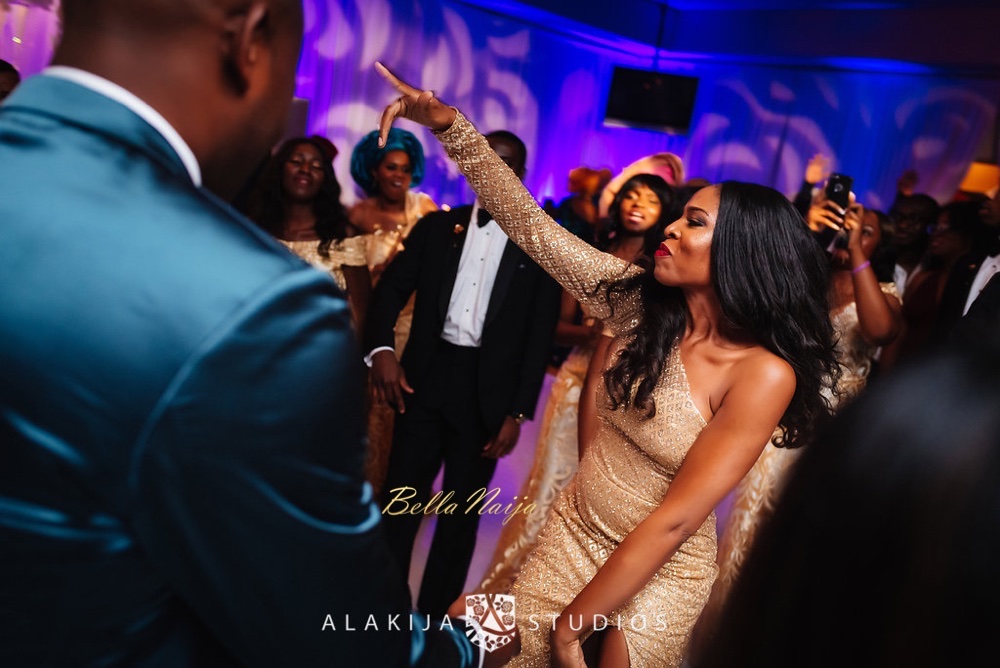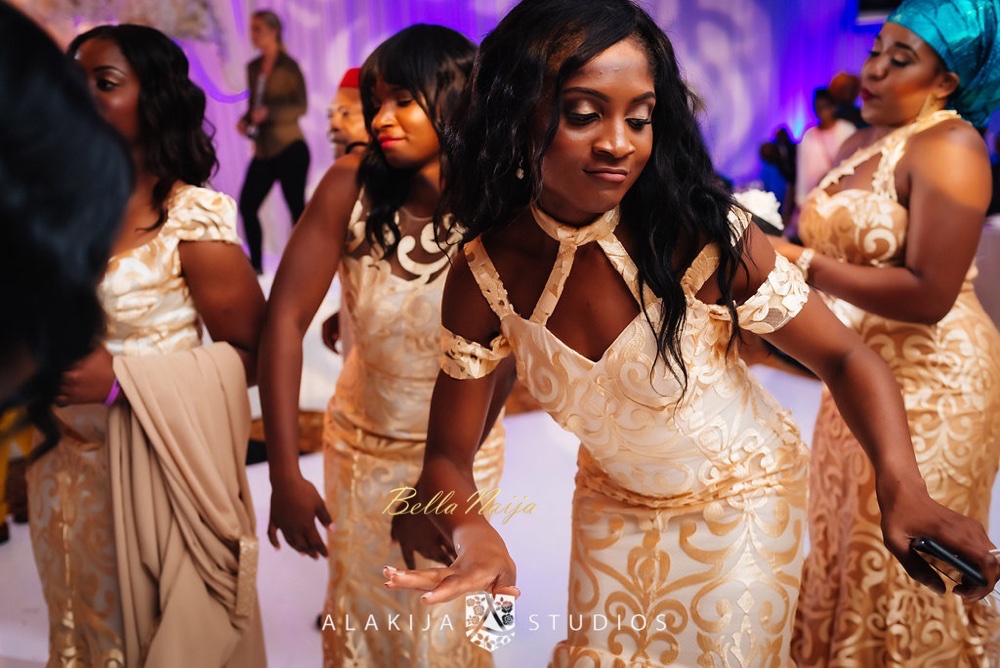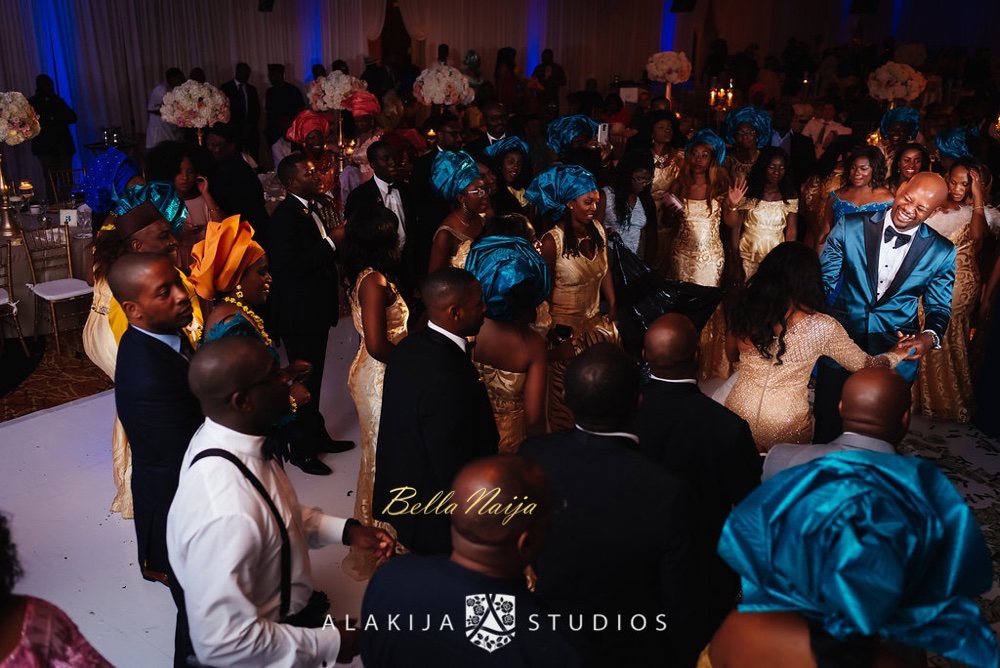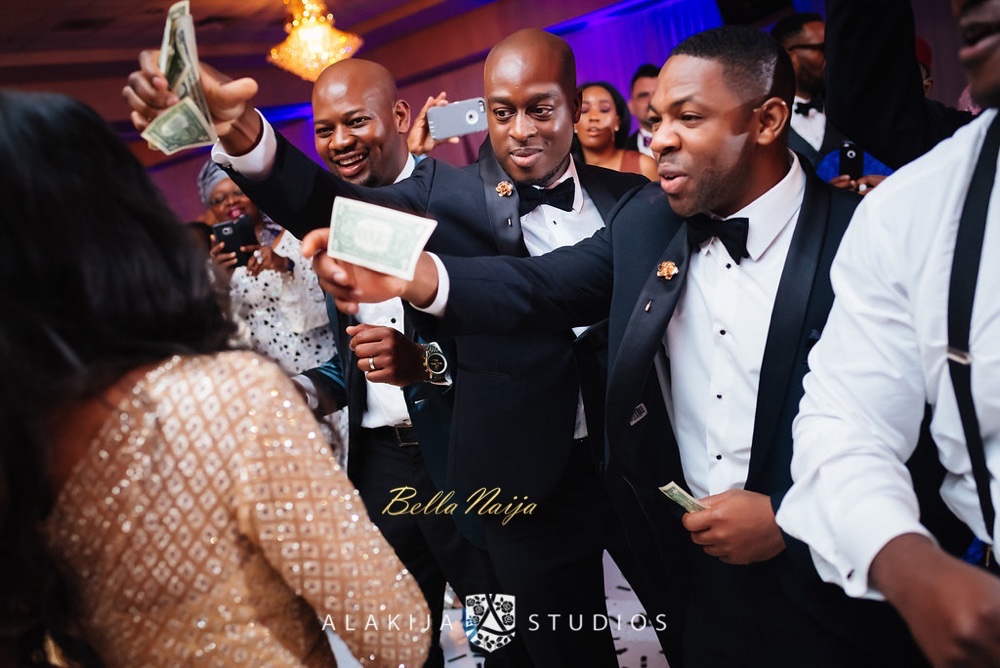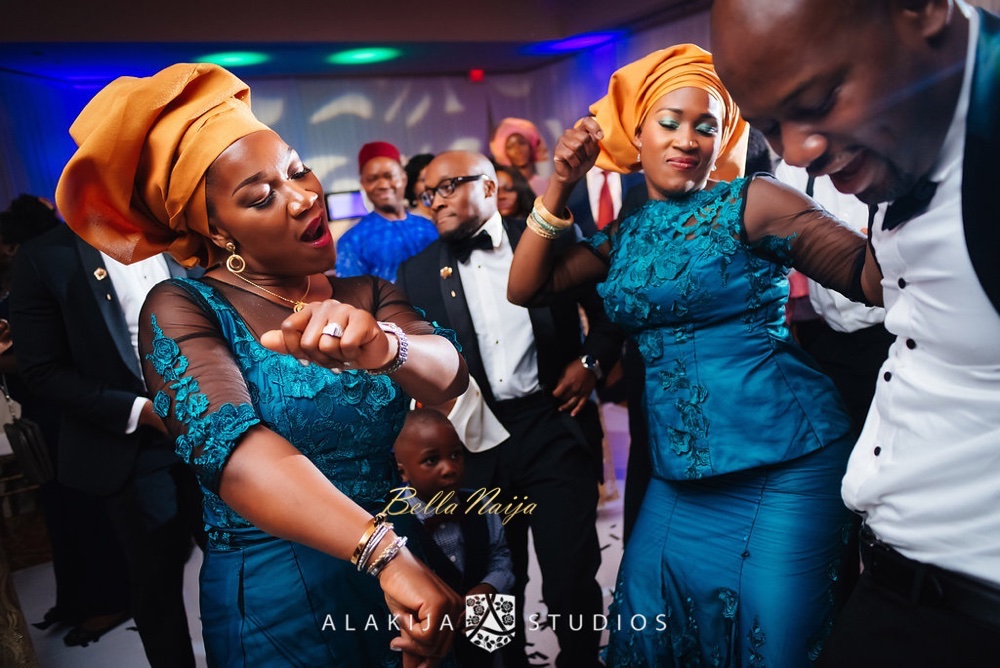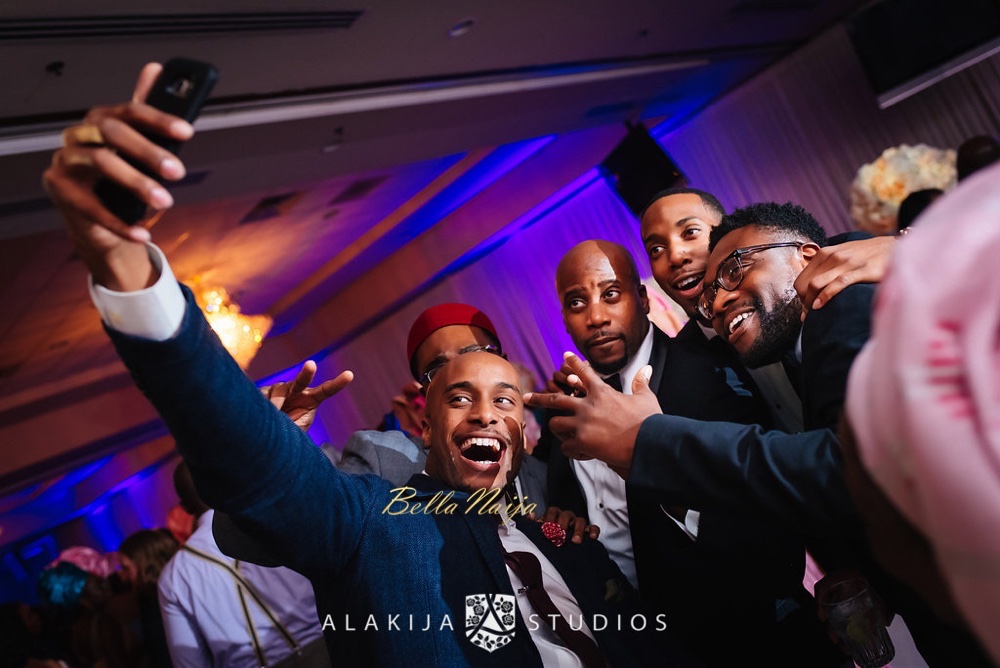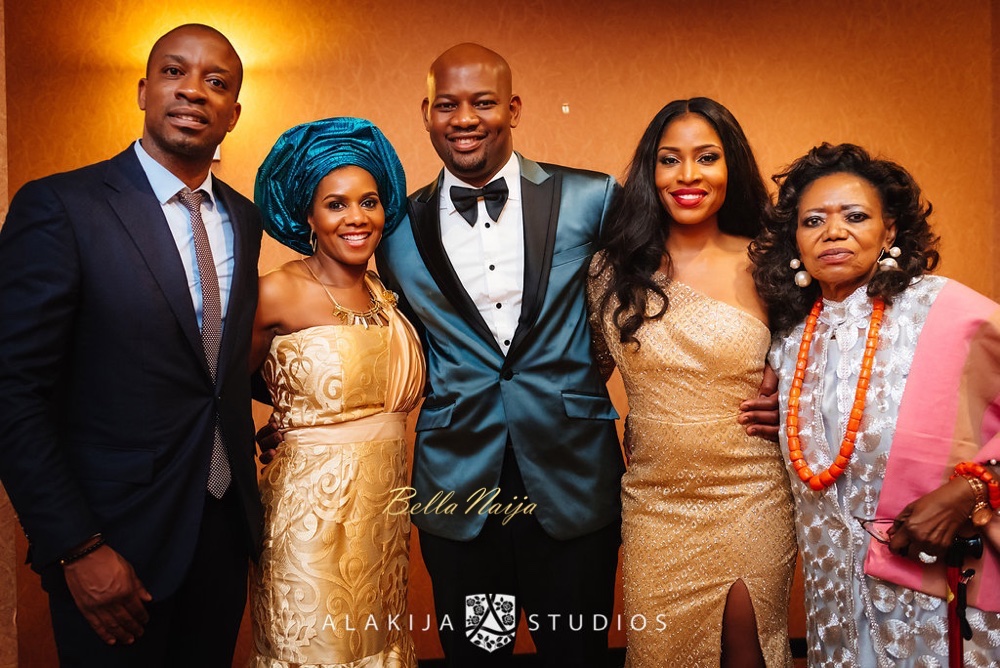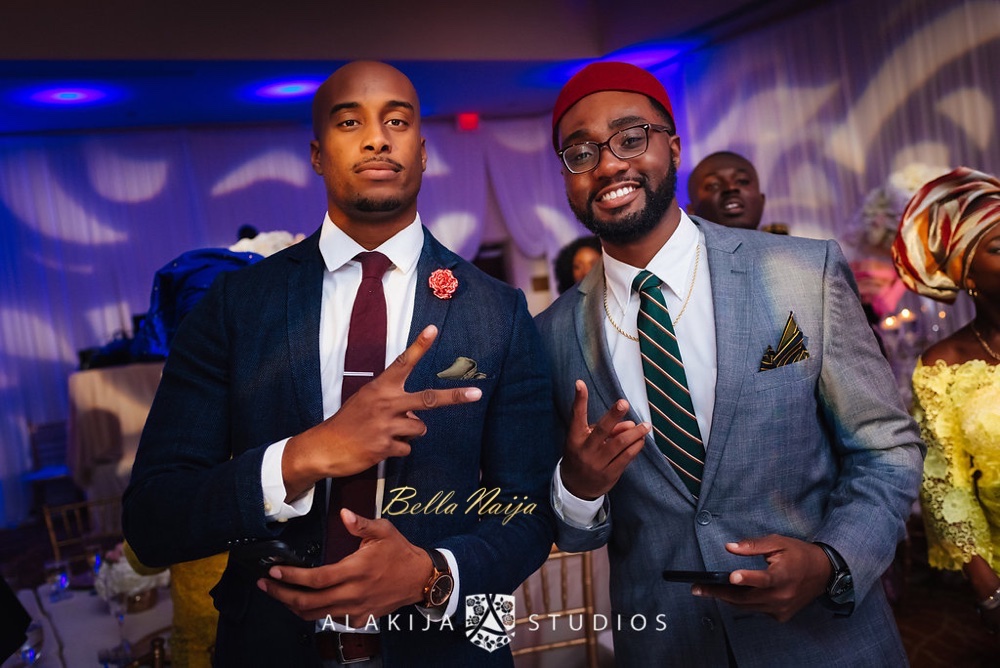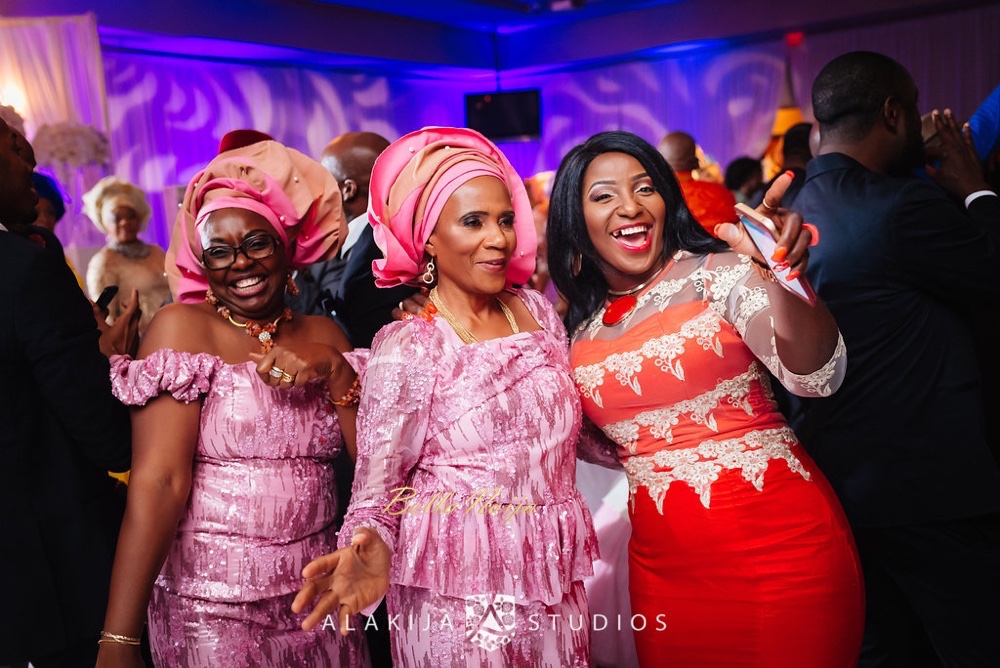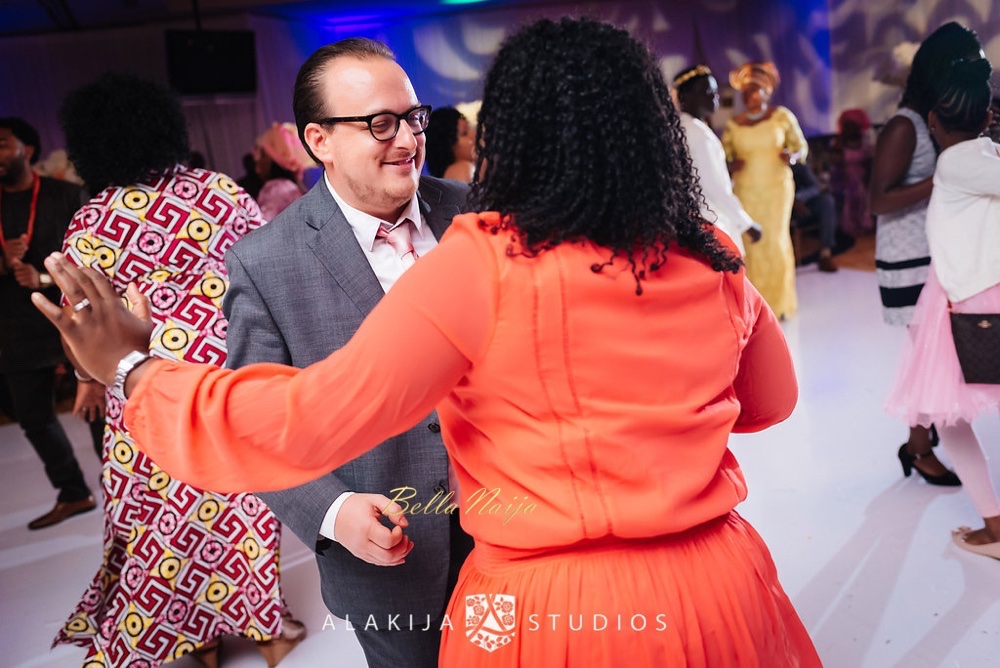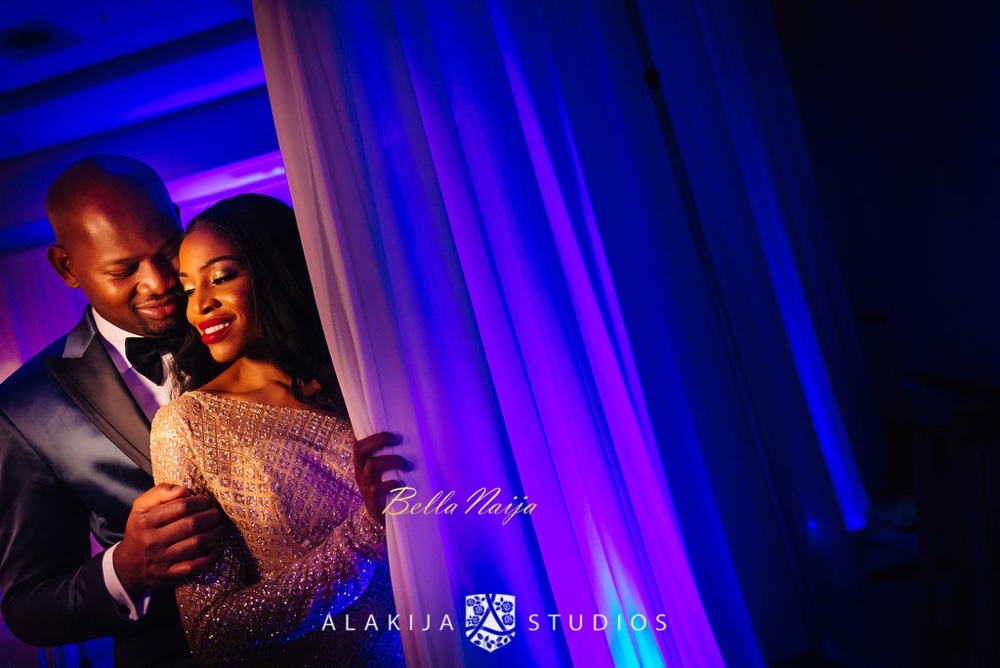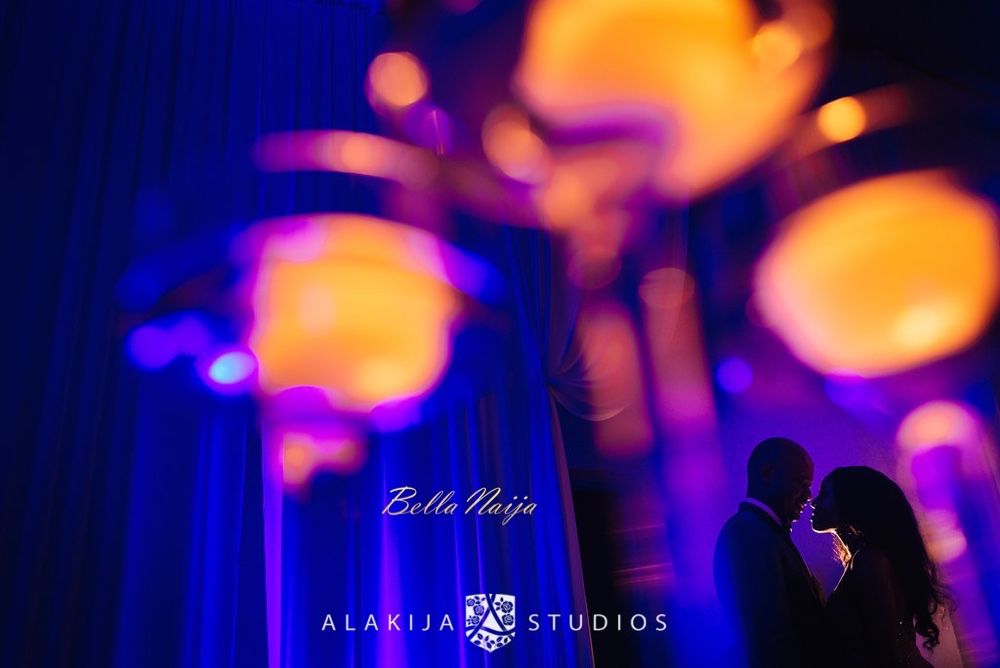 Traditional Wedding
∼ Photography: Jide Alakija | Alakija Studios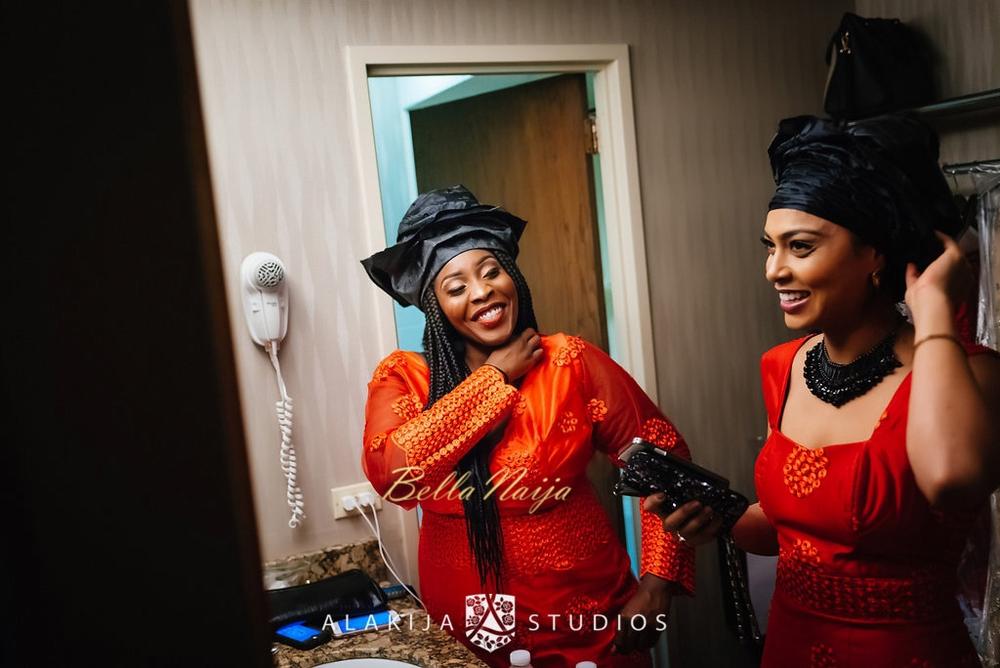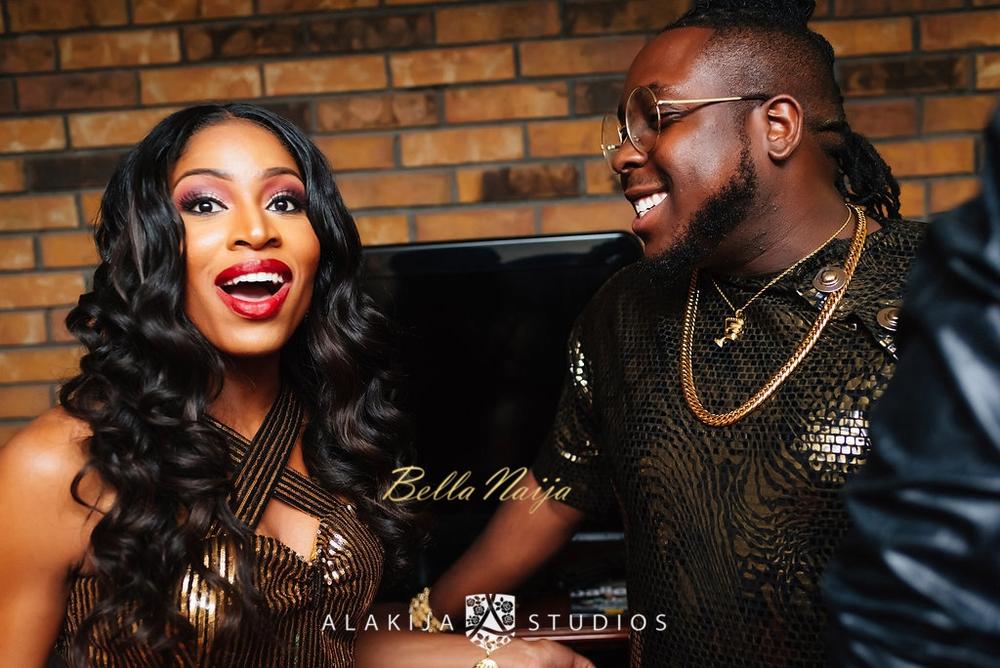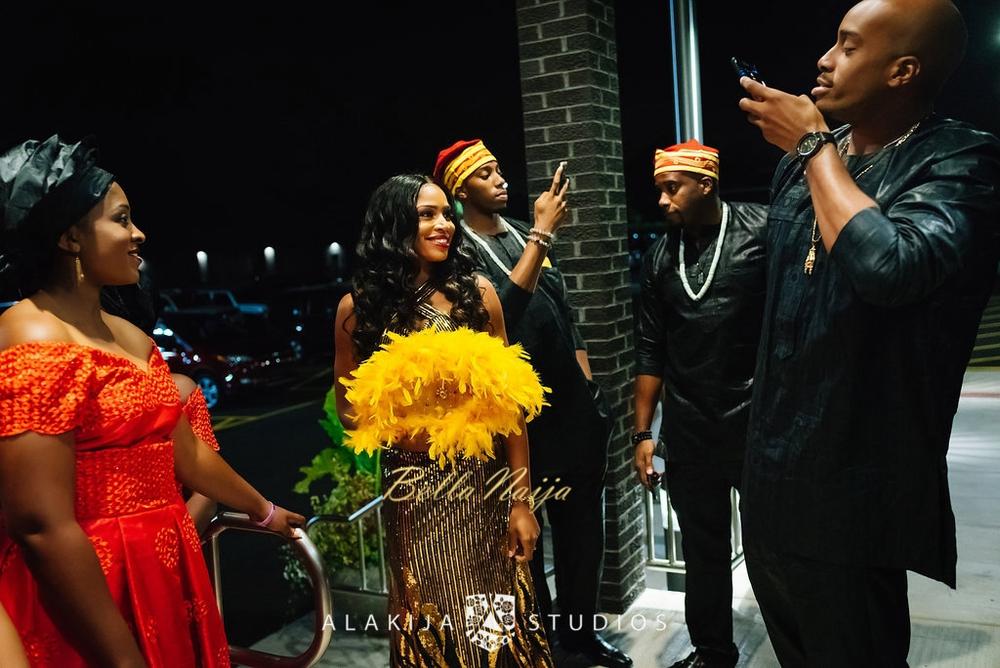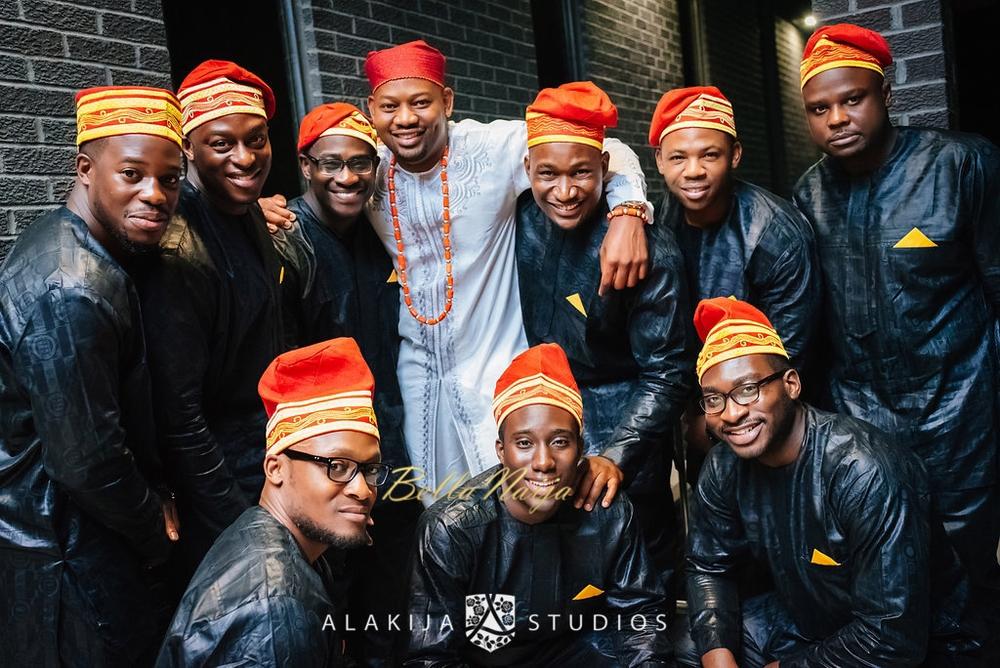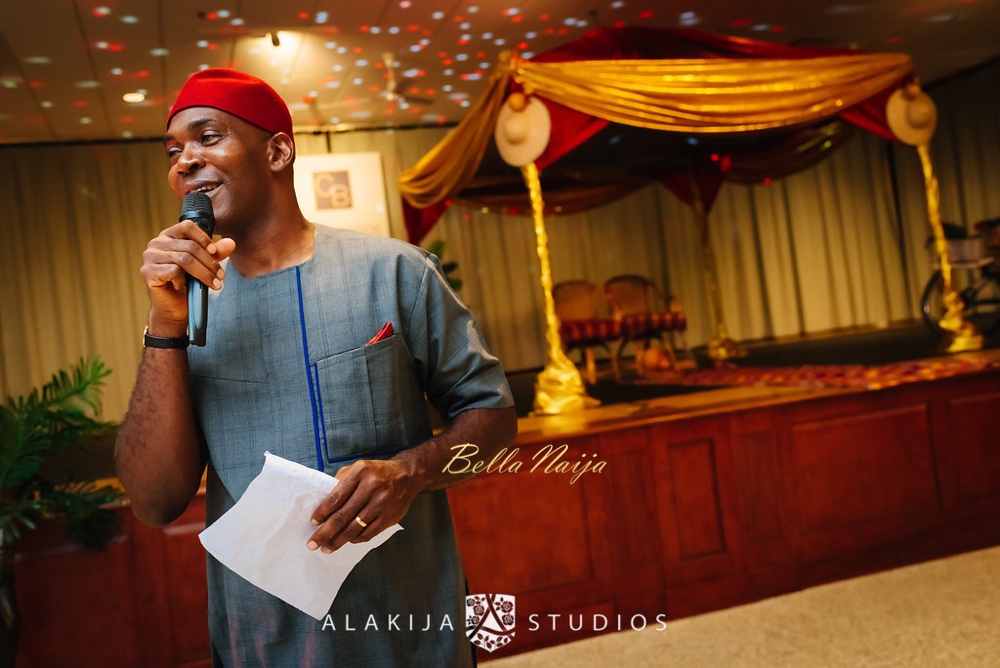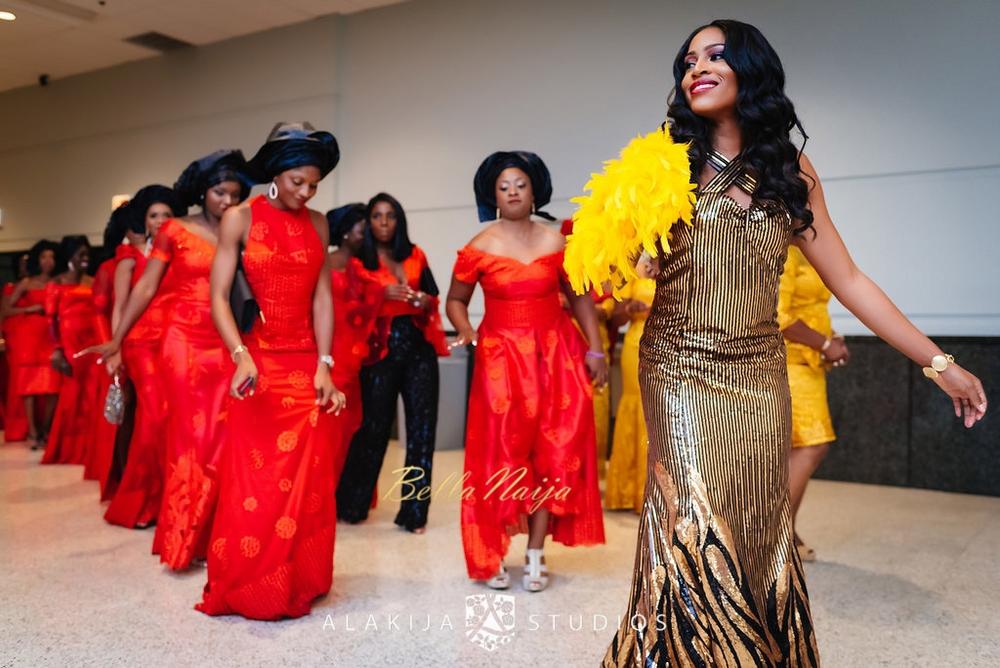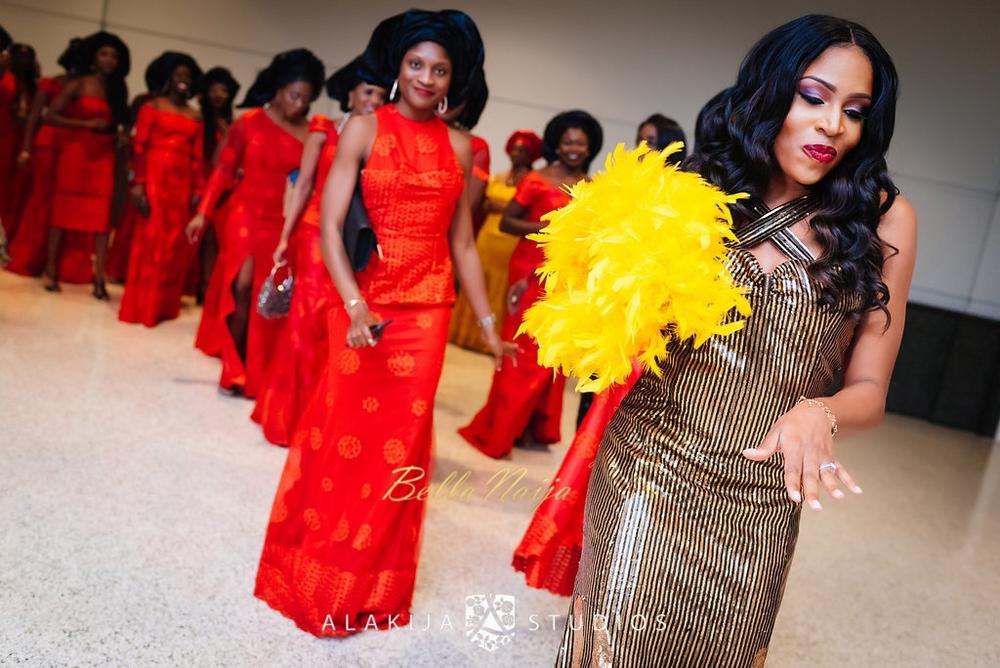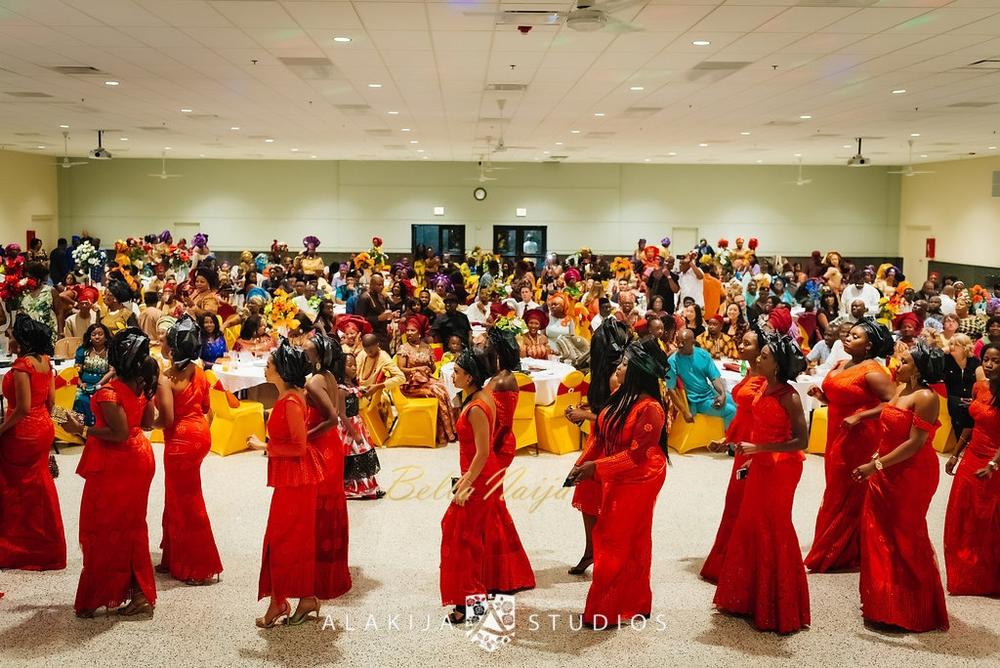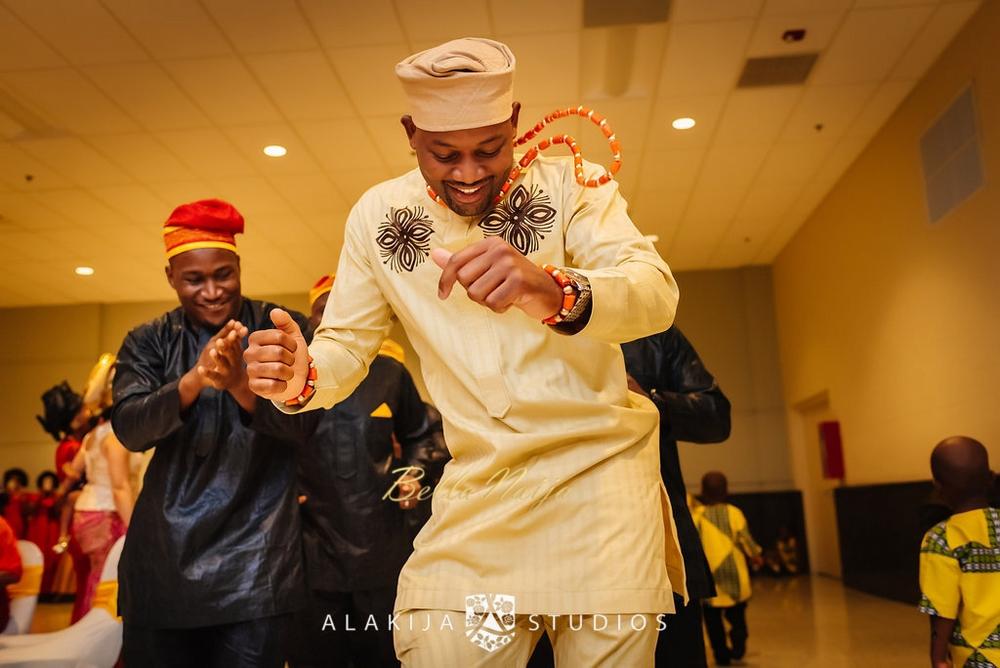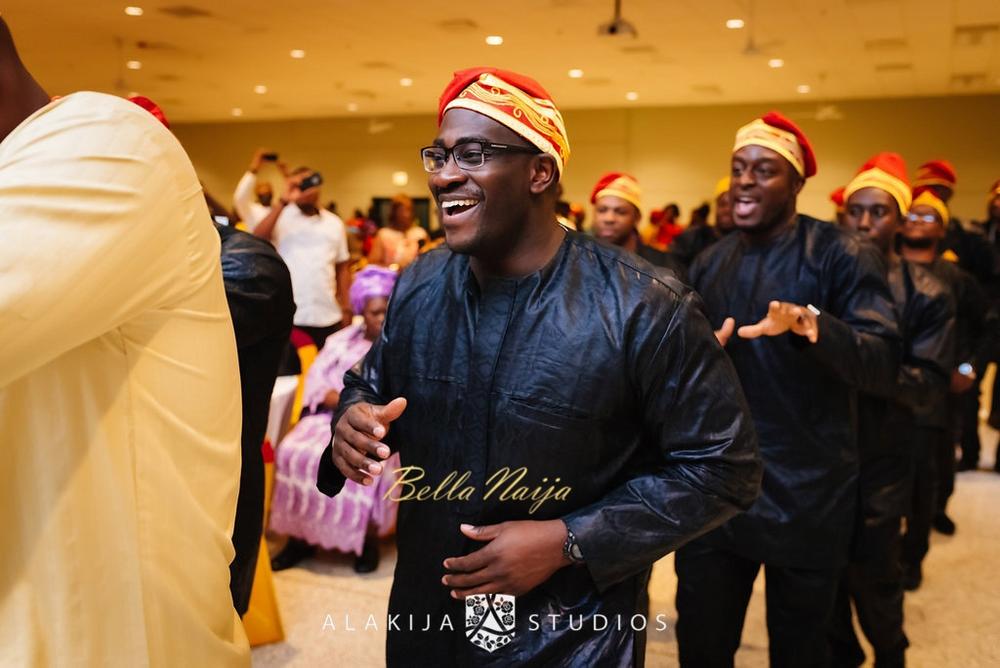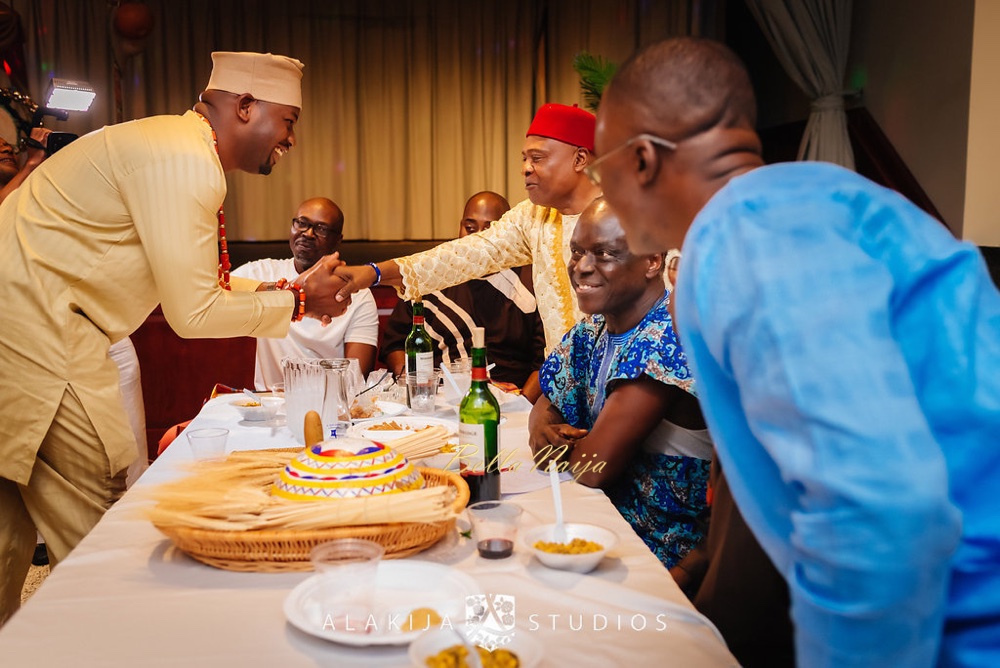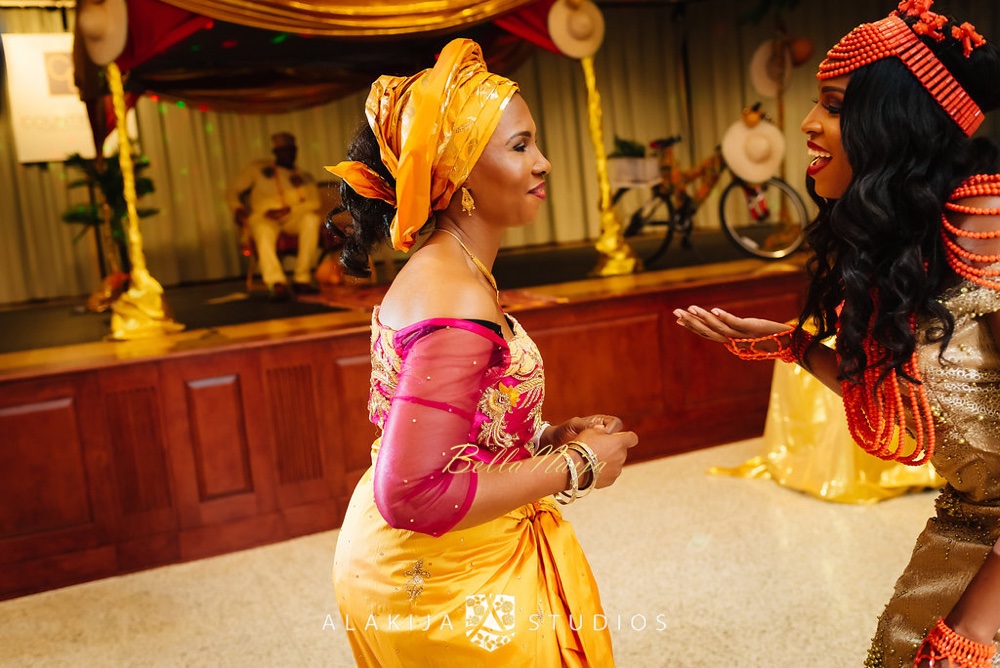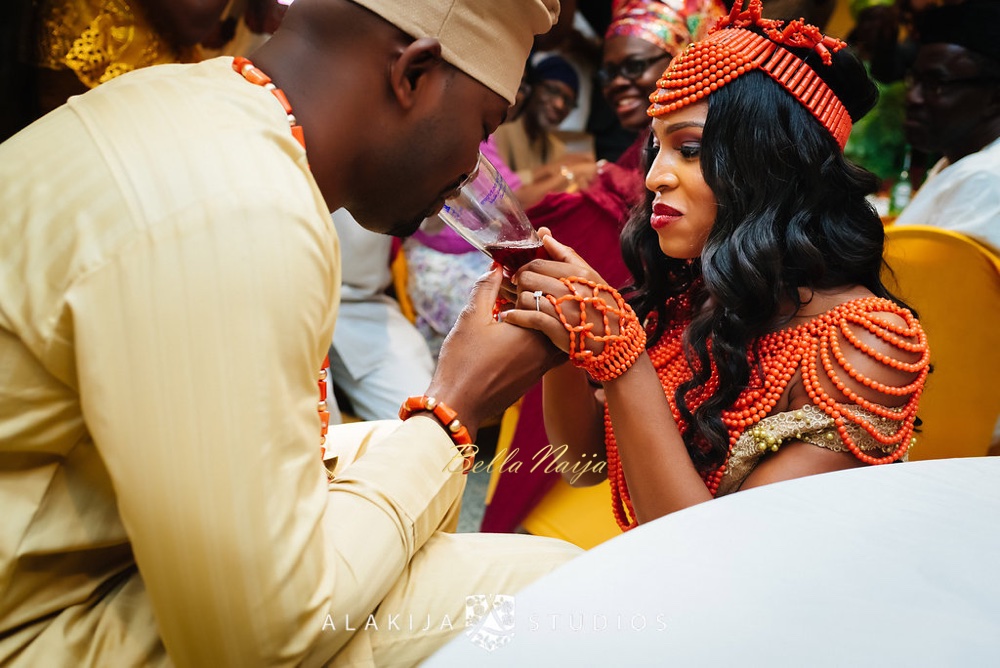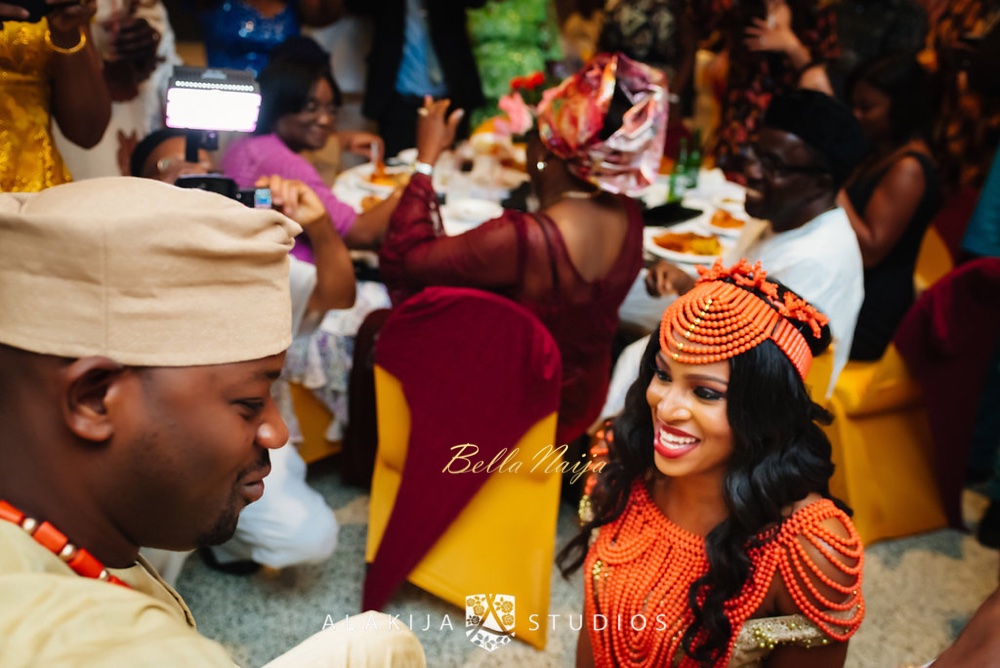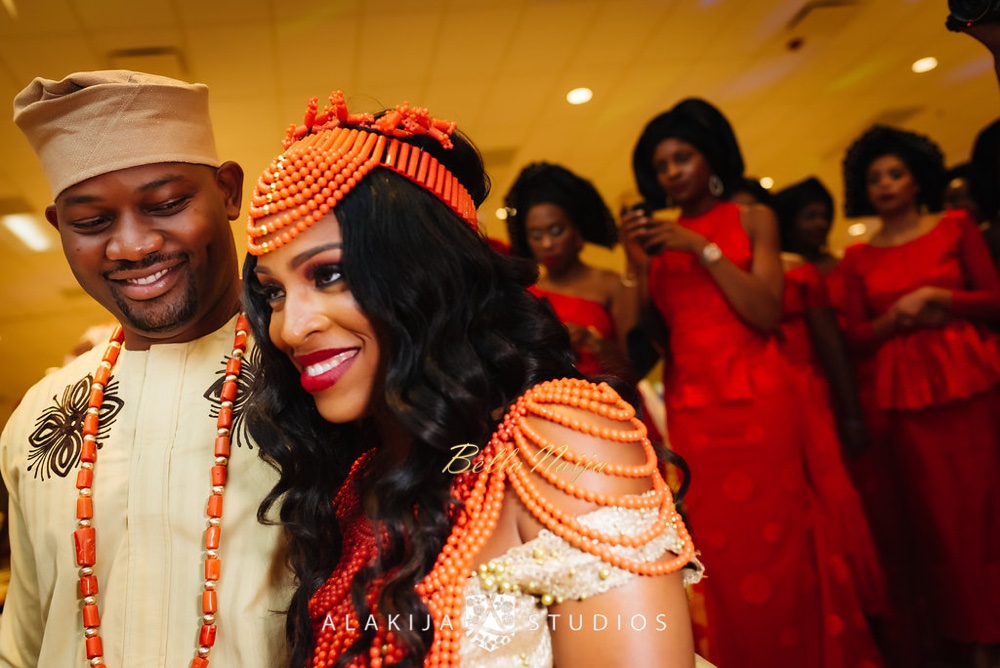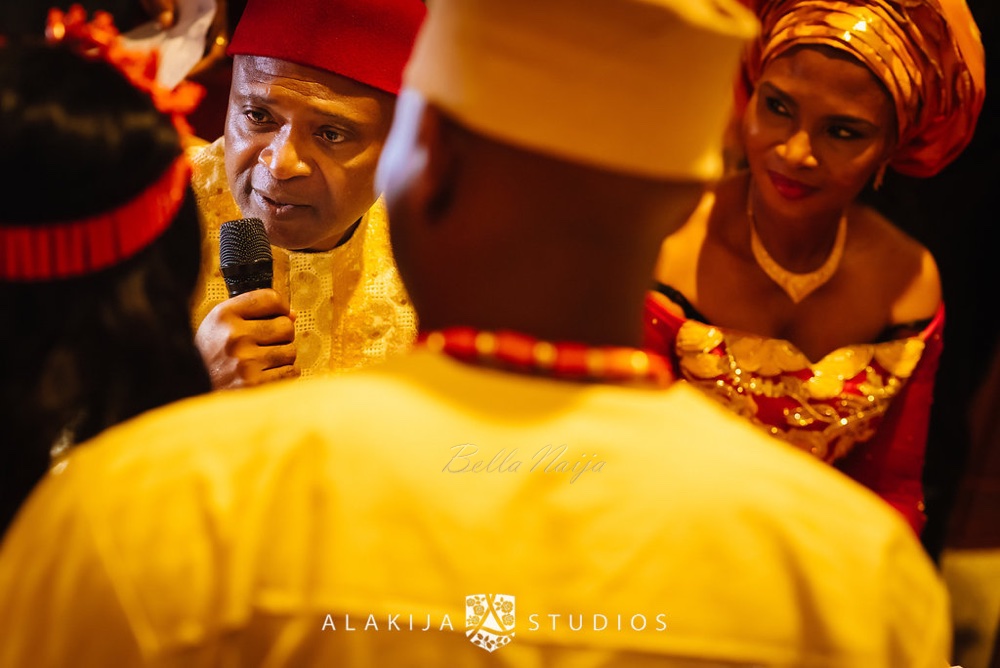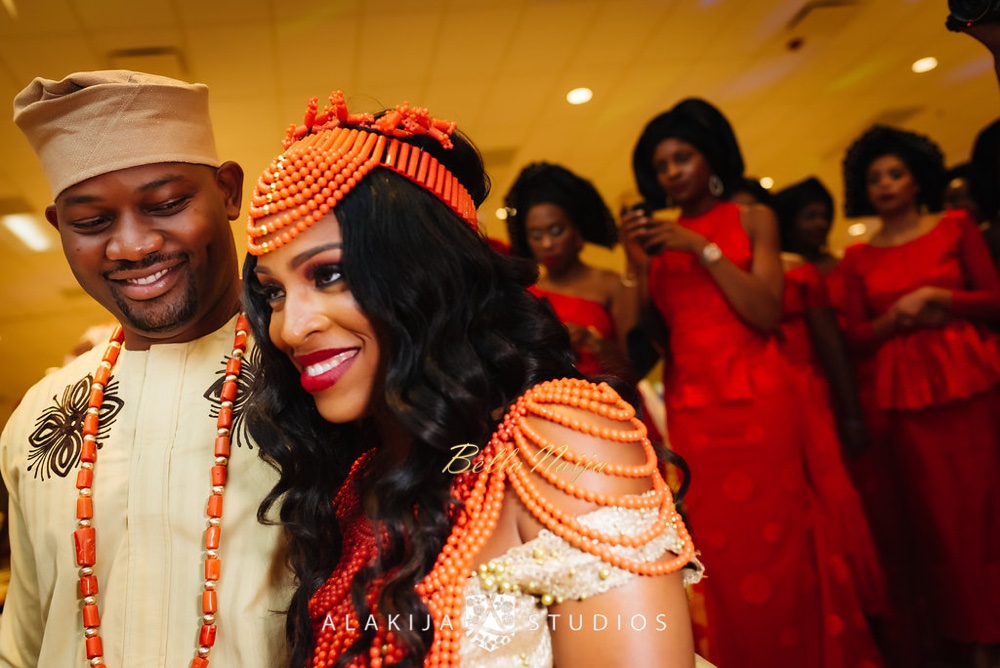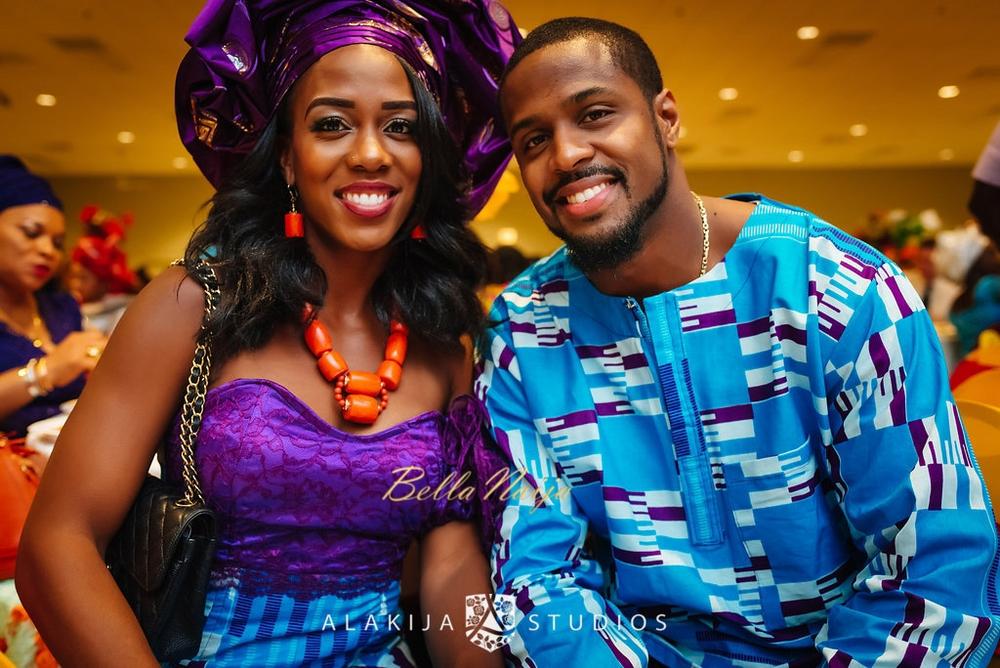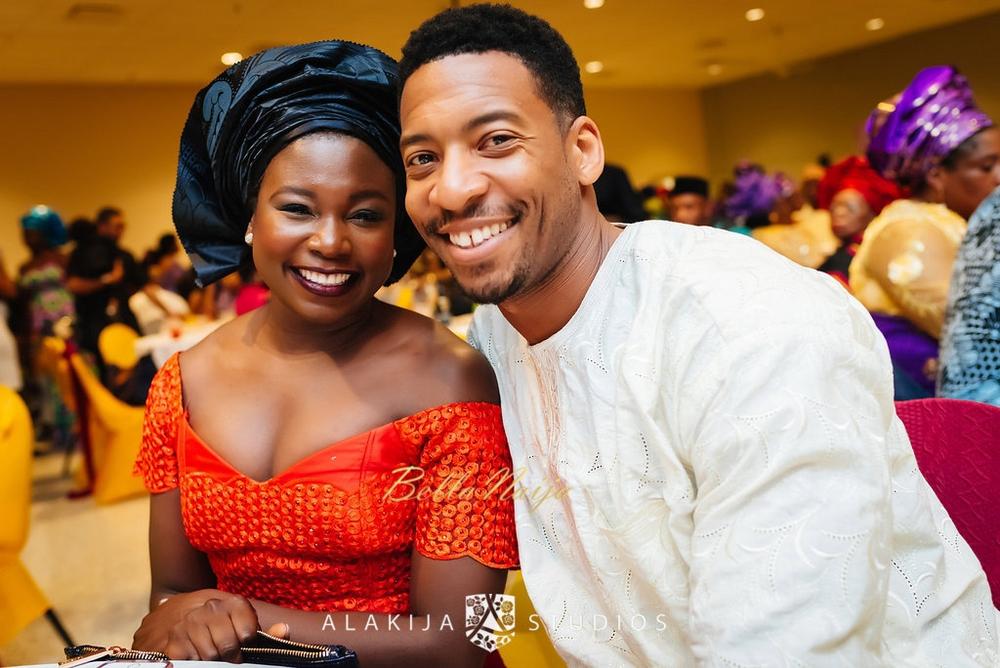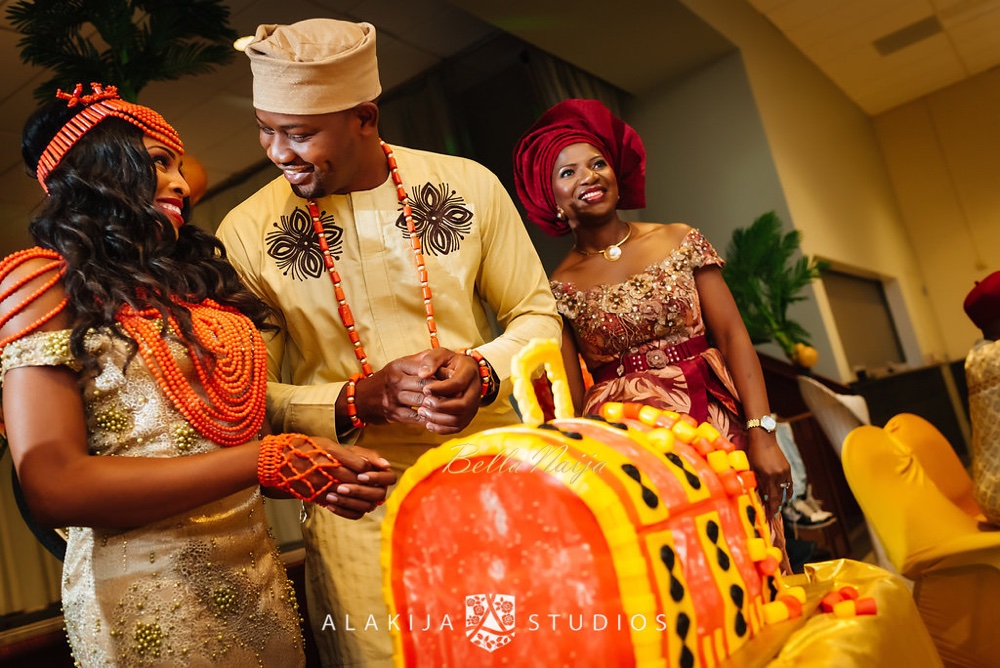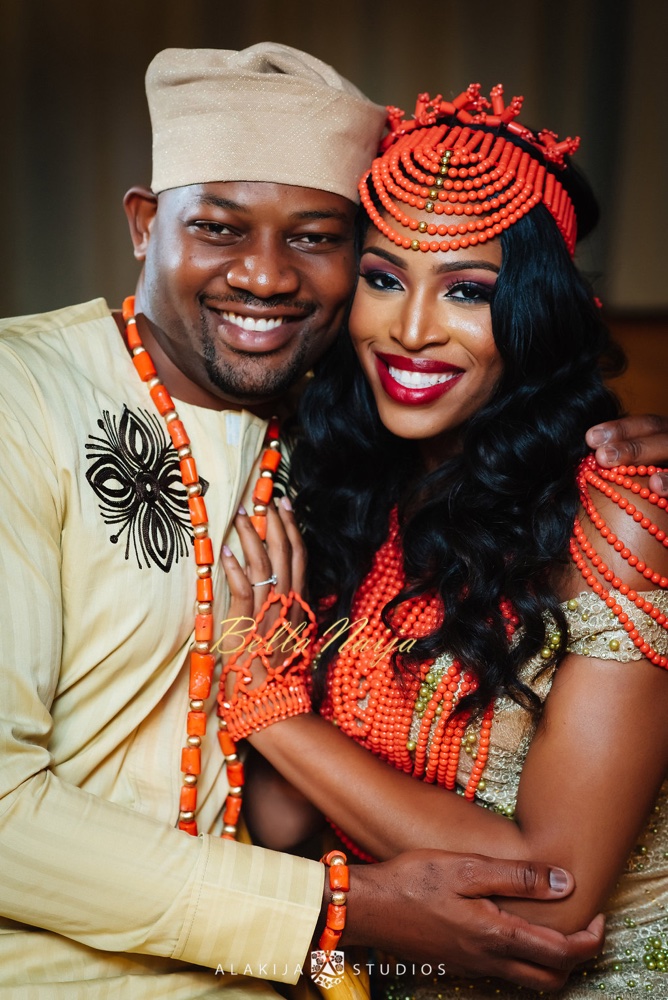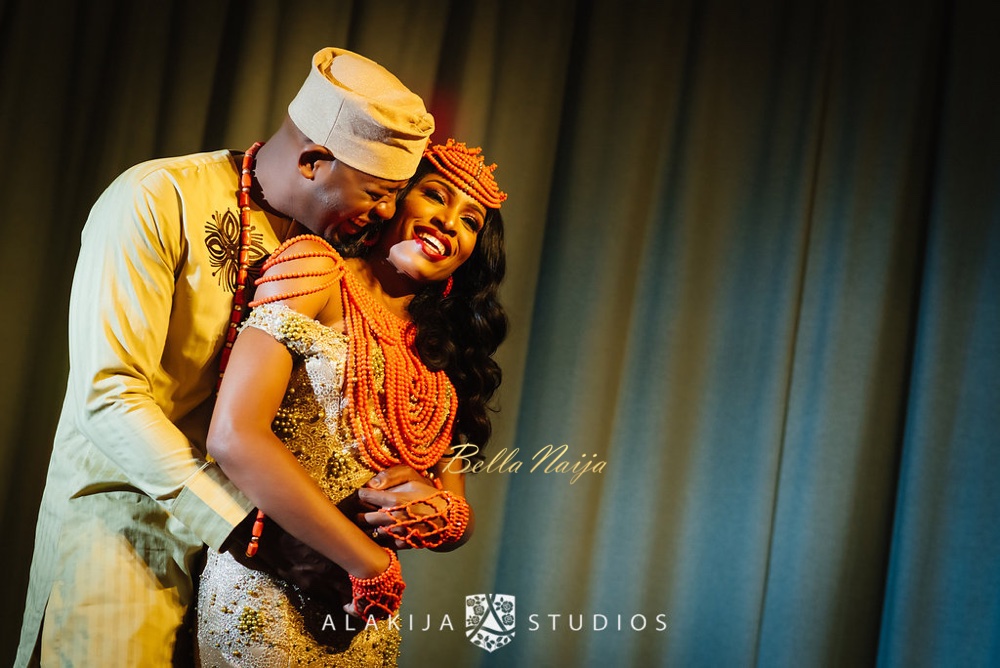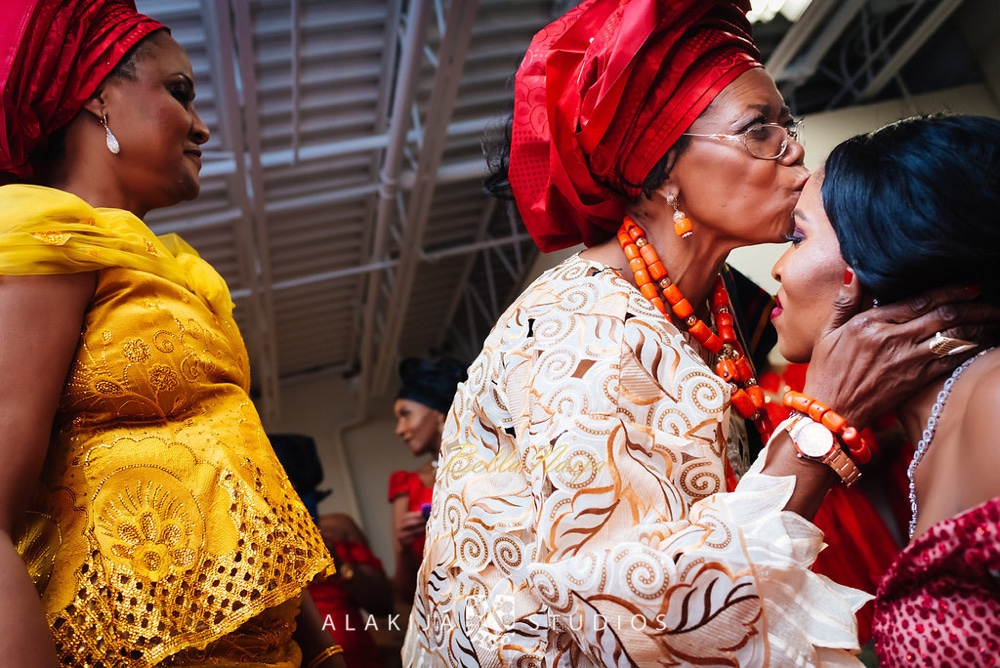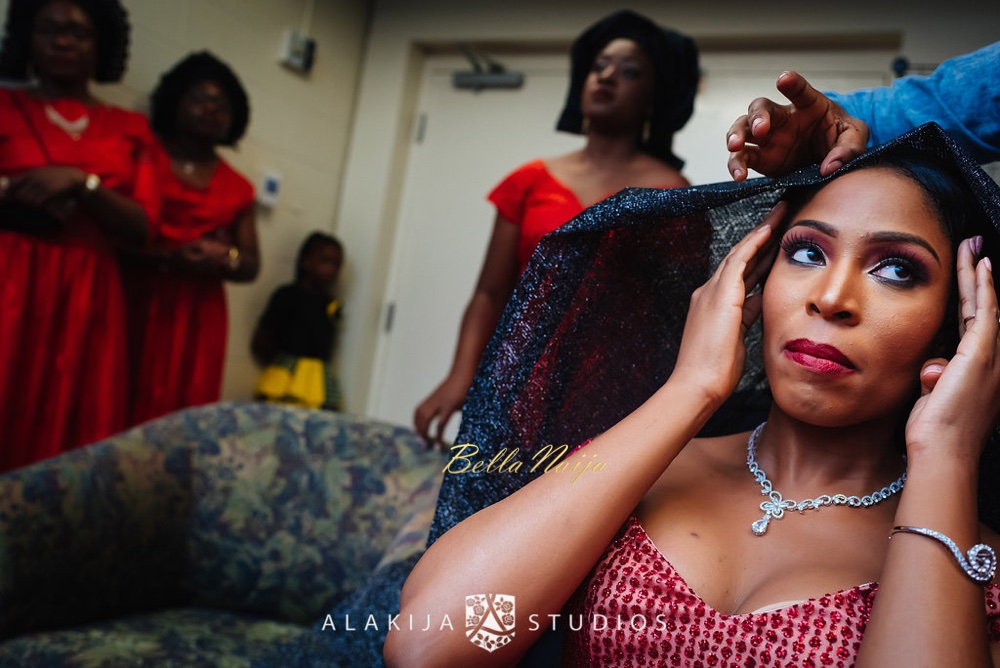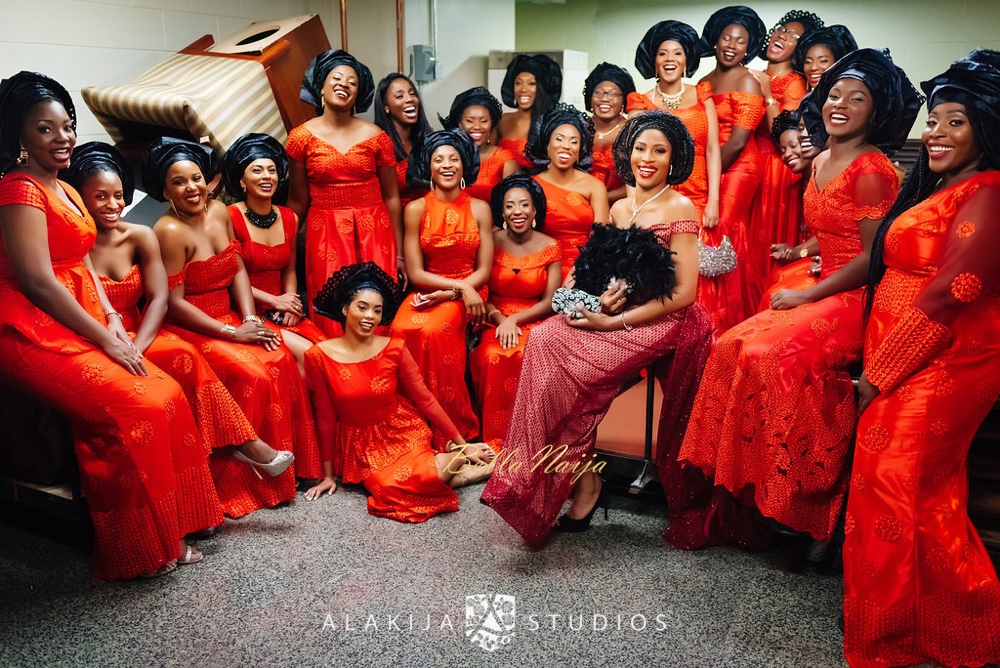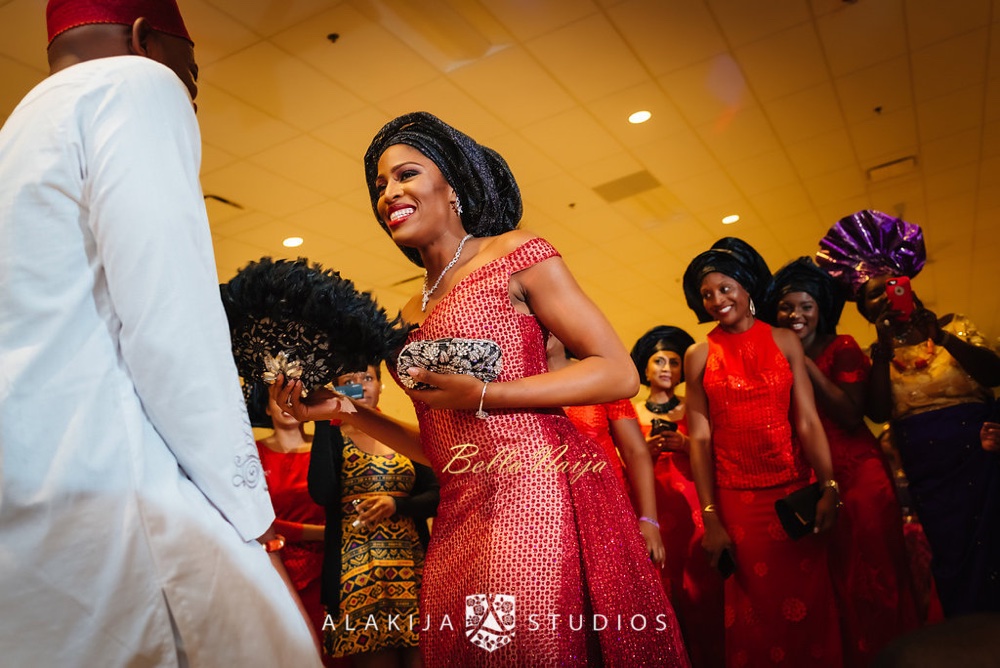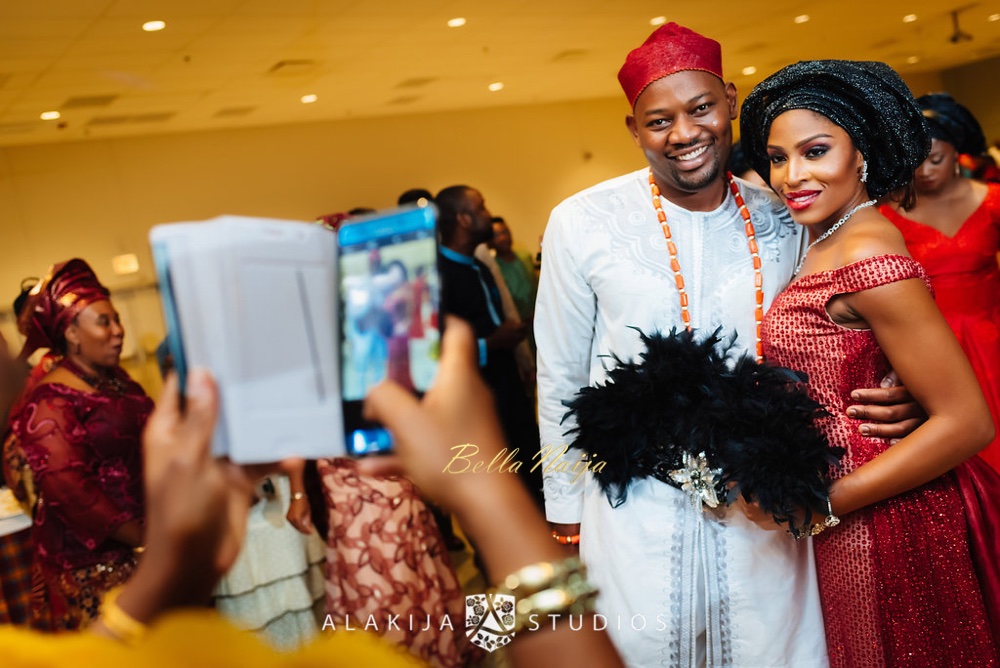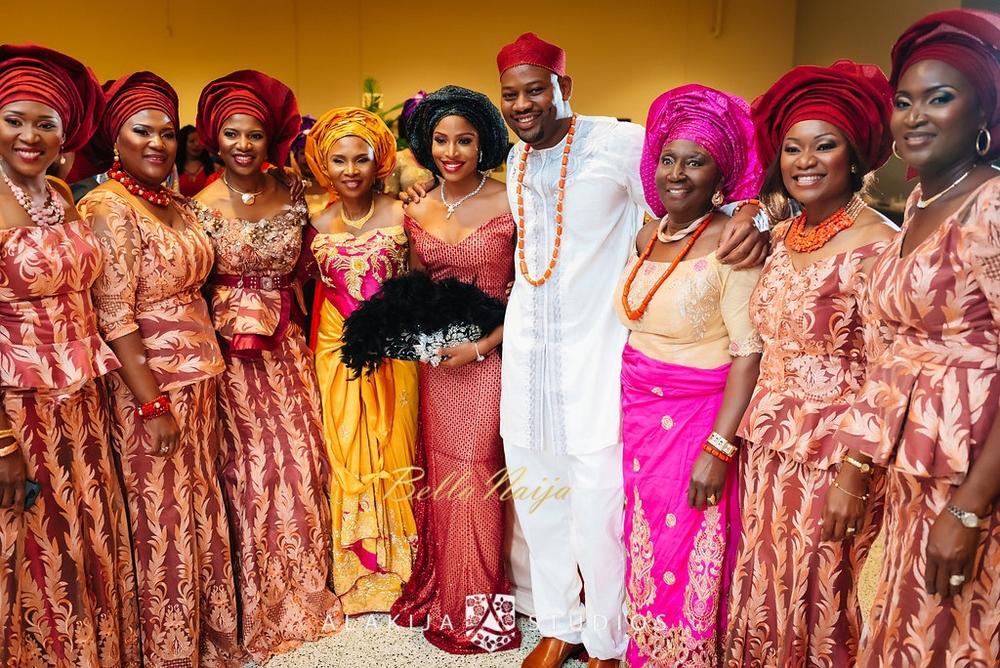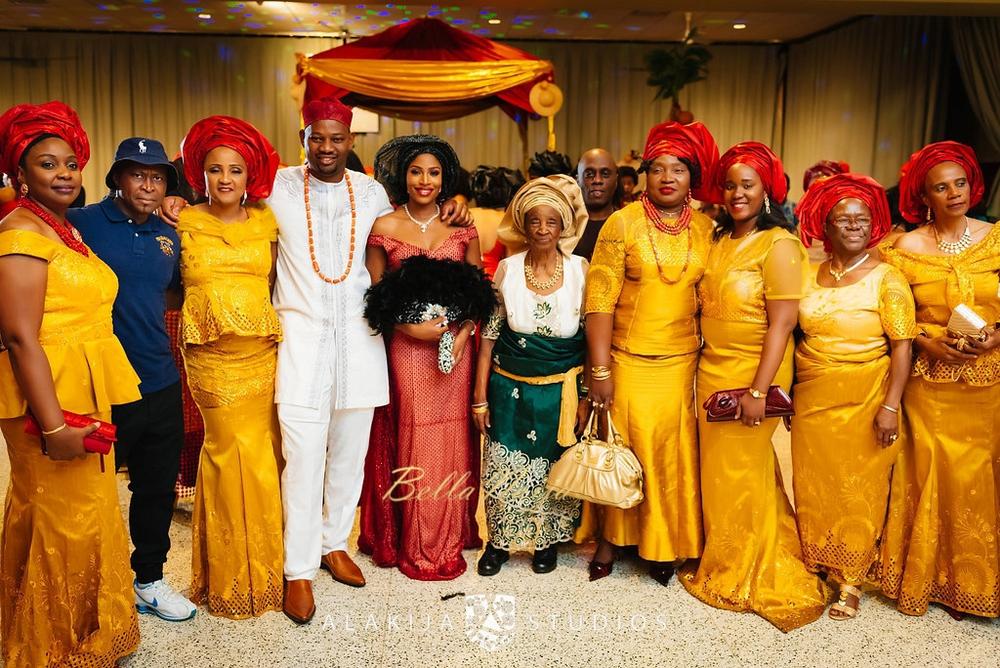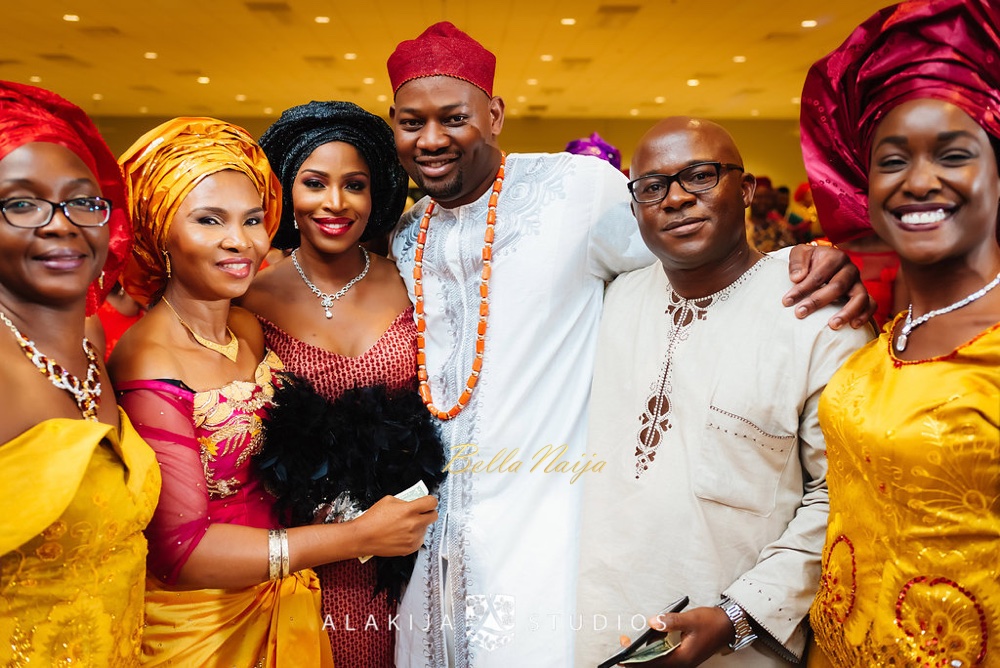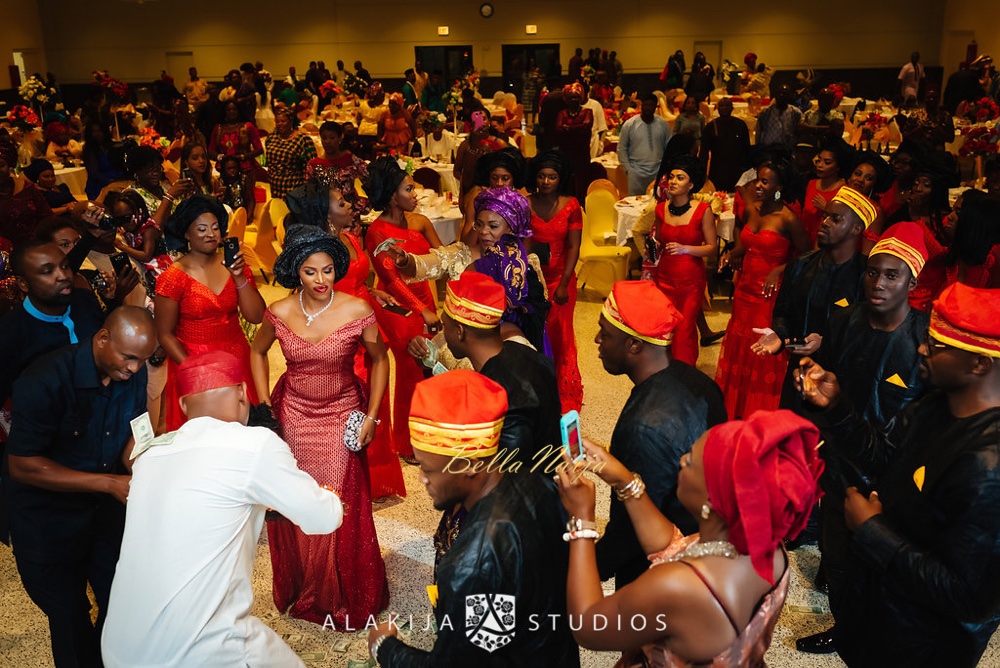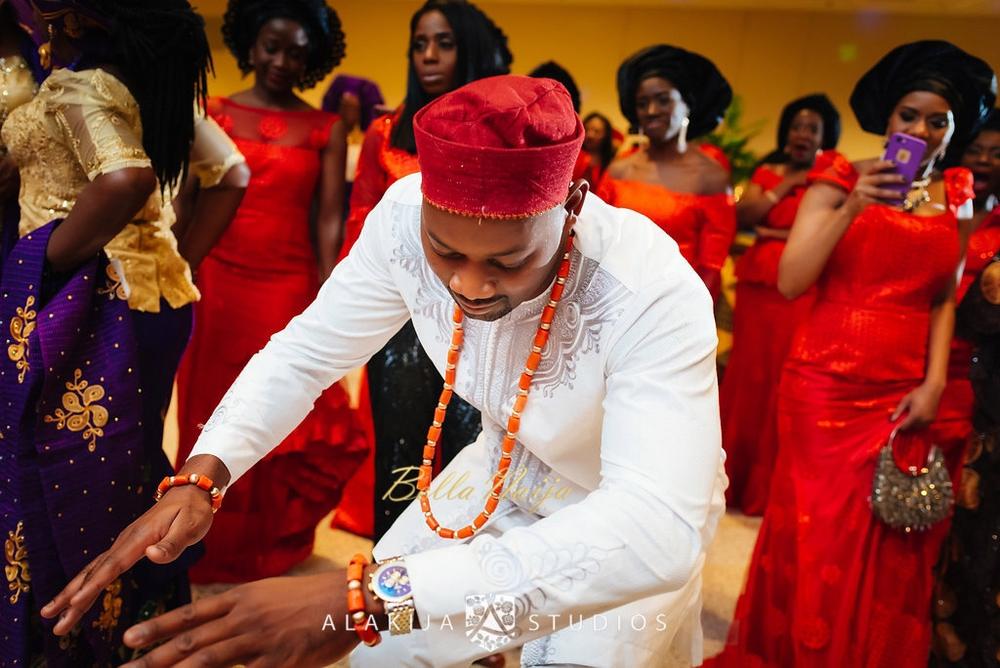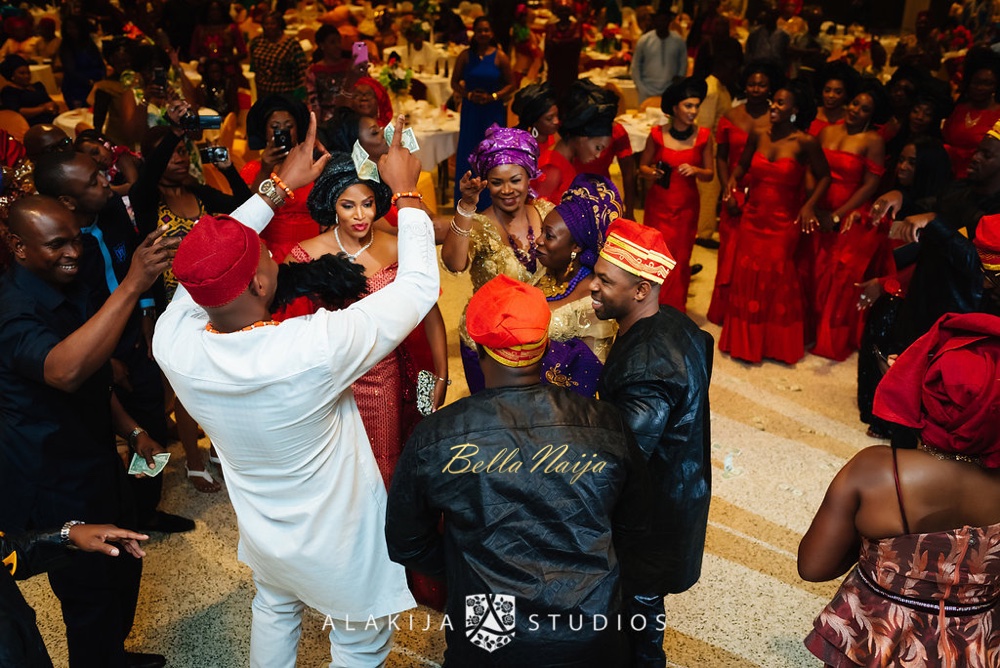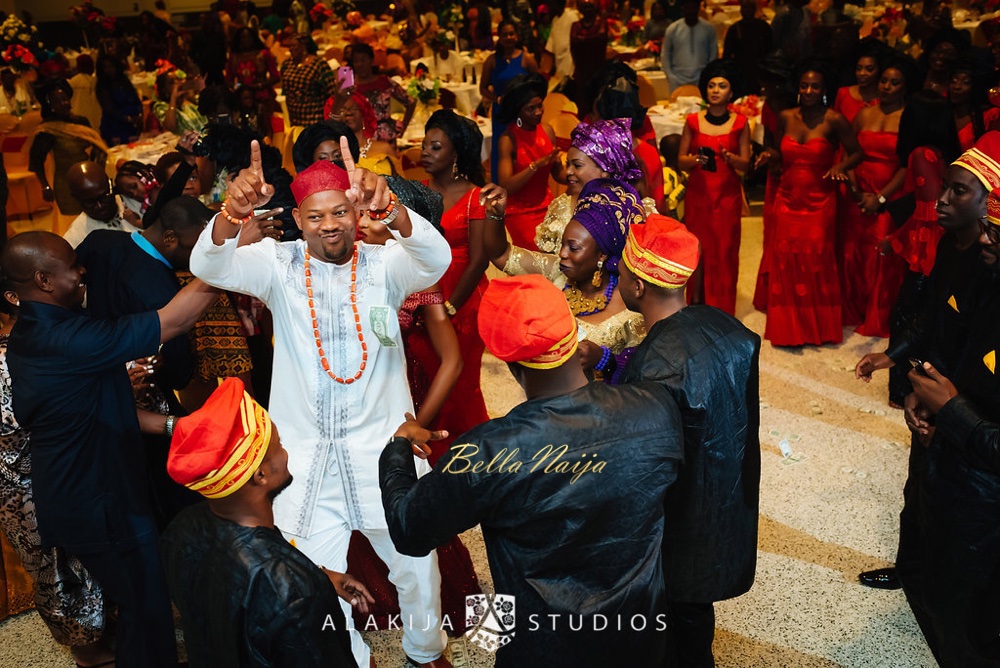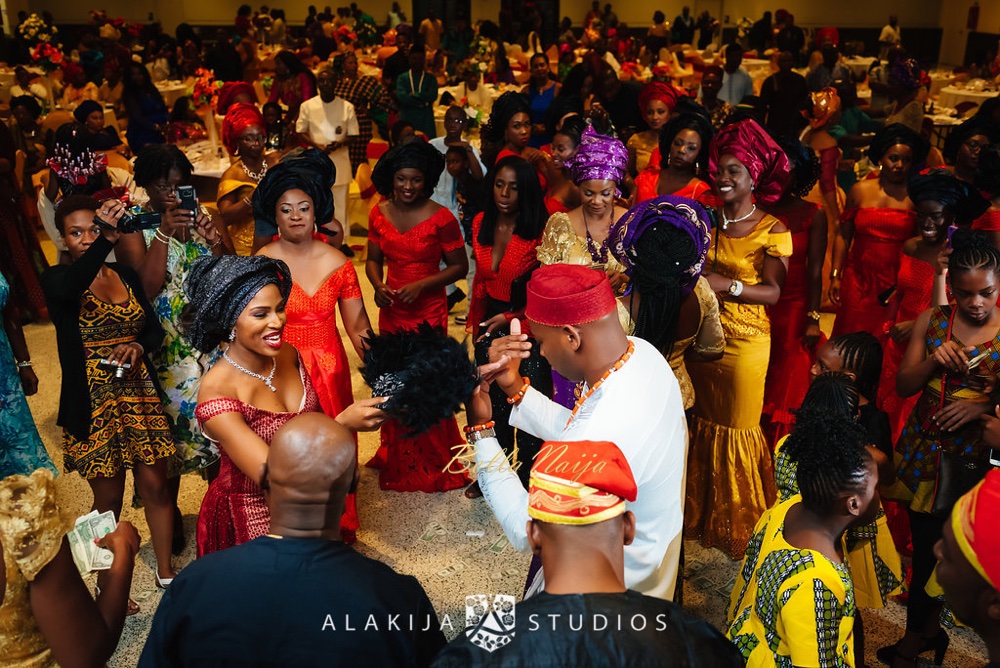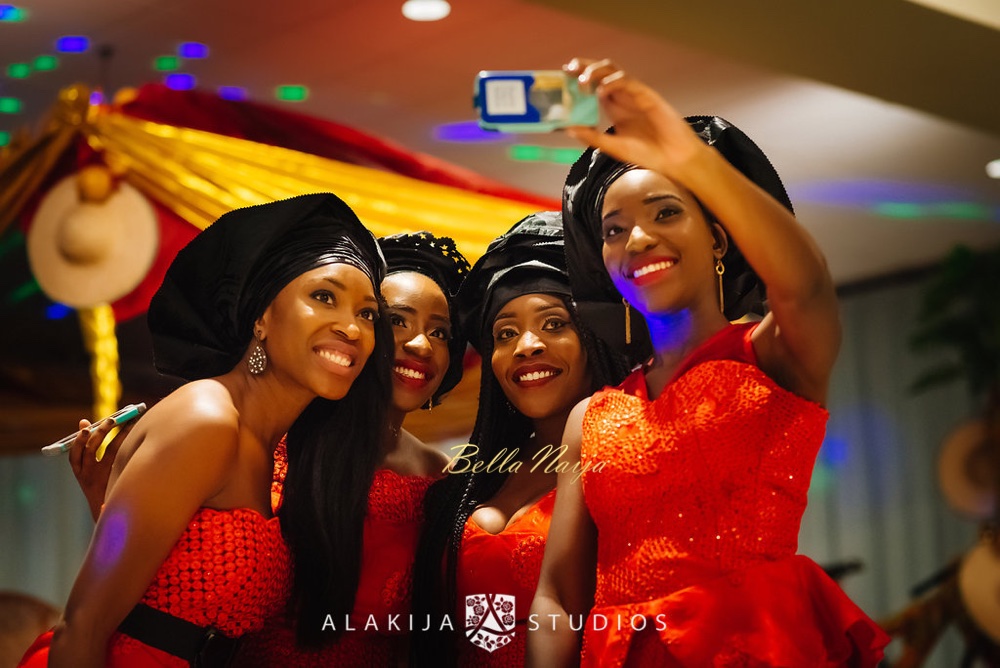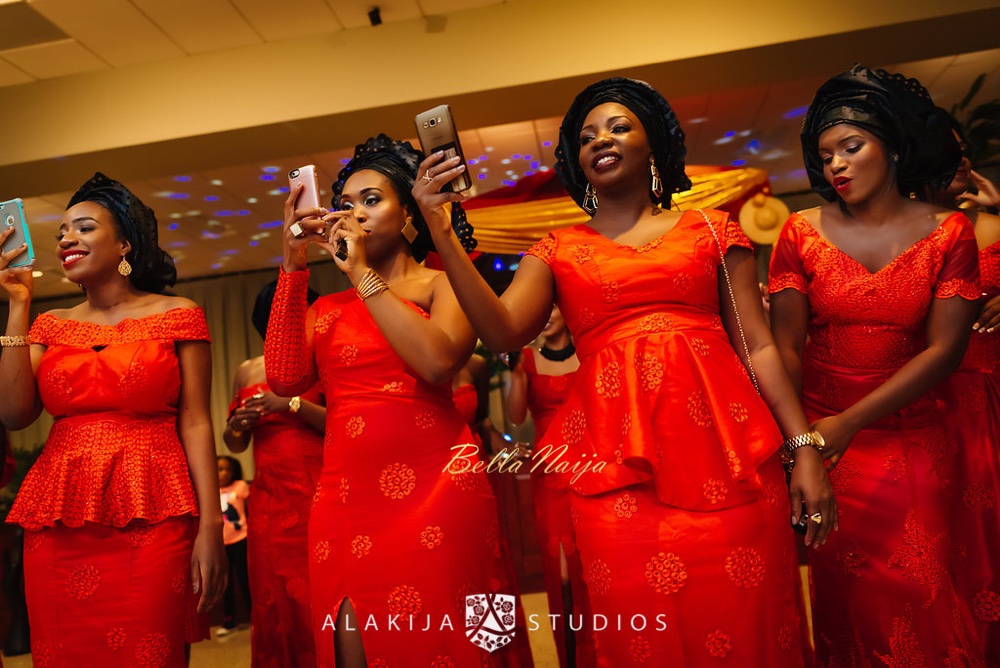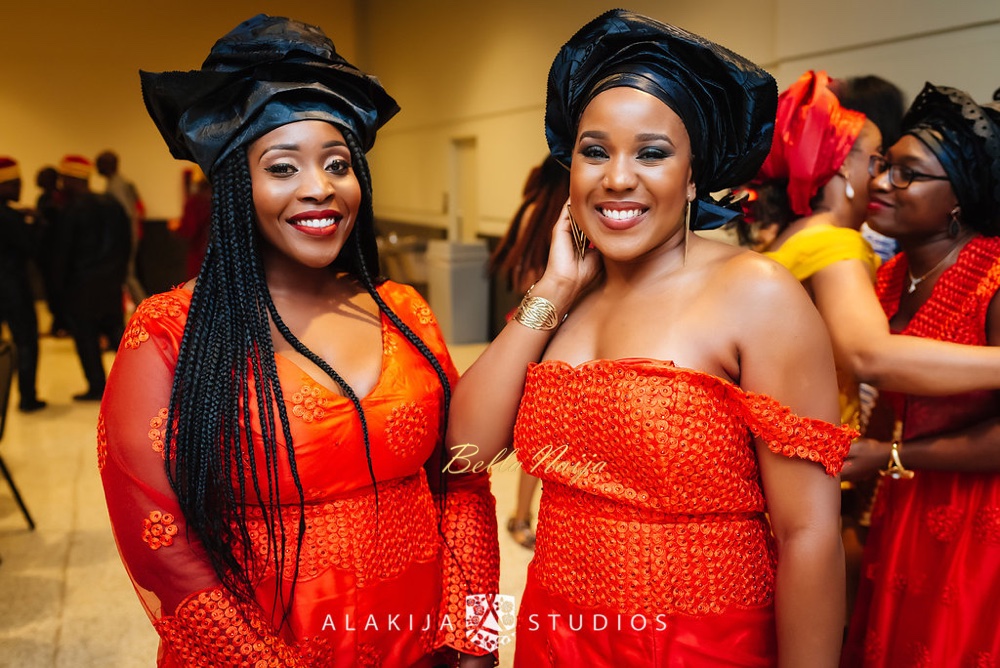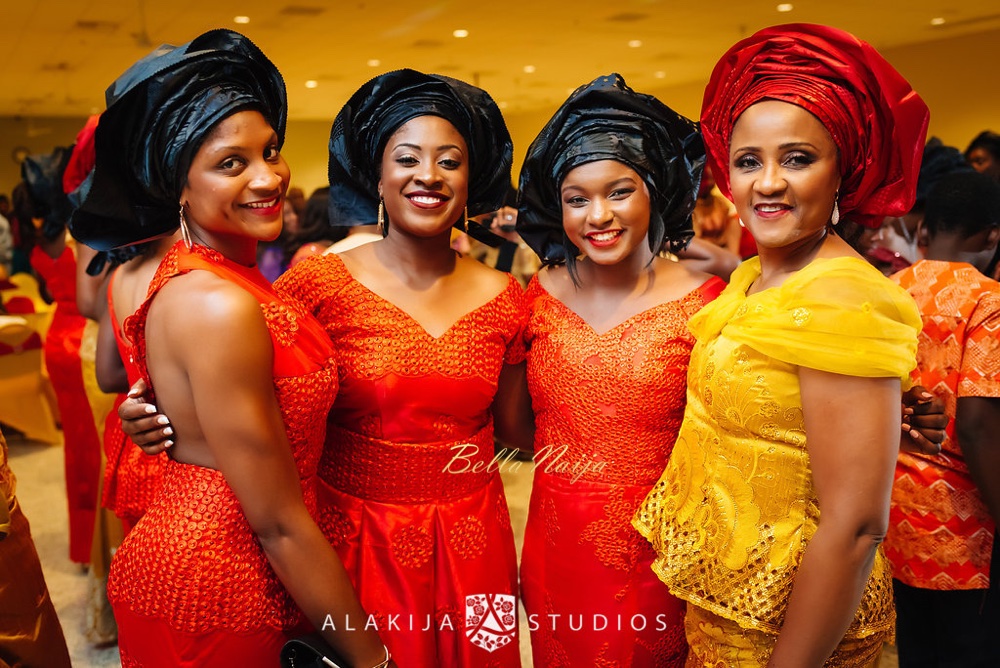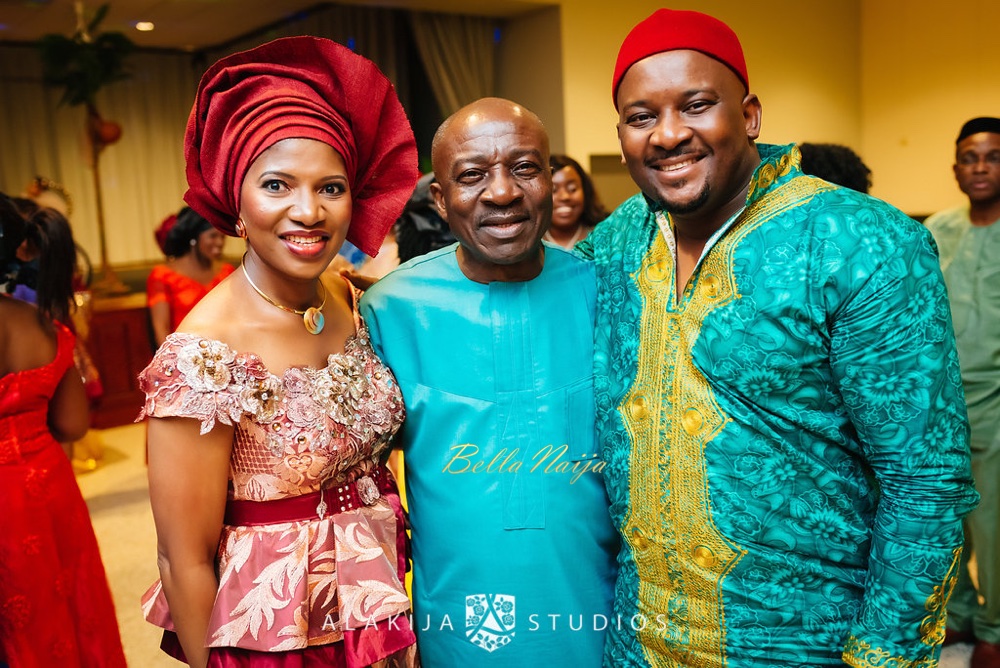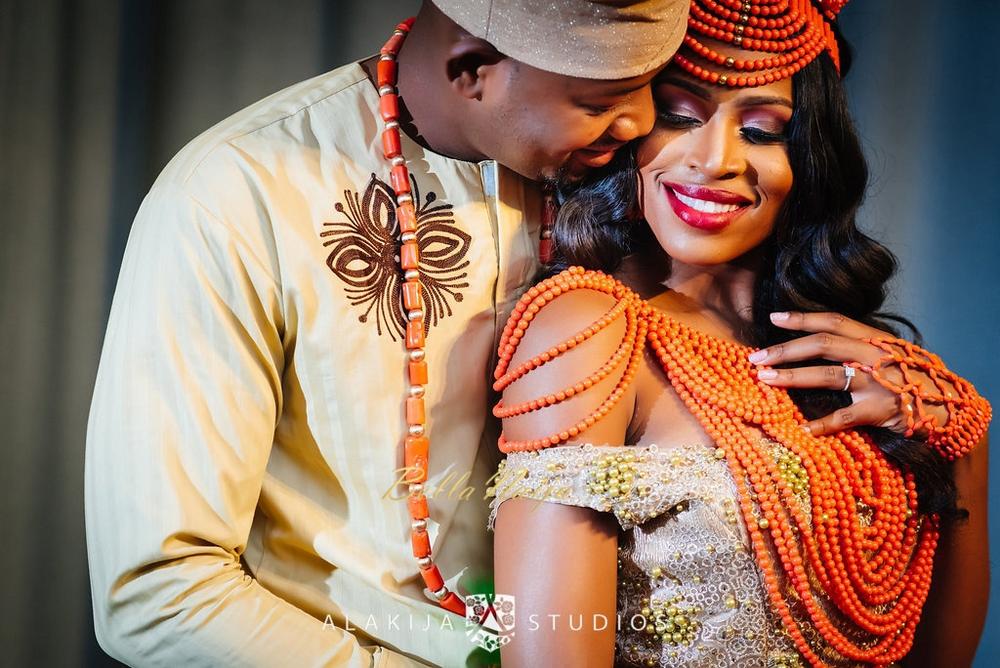 Credits
Photography: Jide Alakija of Alakija Studios | @alakijastudios, Vito Rade
Makeup & Hair: Bisi Essien of Crystal Eyez Makeup & Beauty Lounge| @bisicrystaleyez, @crystaleyezbeautylounge
White Wedding
Dress: Lazaro Bridal | @lazarobridal
Bouquet: Akeshi Akinseye of Kesh Designs | @keshevents
Groom's Tux: Eaden Myles | @eadenmyles
Shoes: Gucci | @gucci
Bridesmaids: Toju Foyeh | @Tojufoyeh
Groomsmen Tux: Calvin Klein from Men's Wearhouse | @calvinklein
Planner: Akeshi Akinseye of Kesh Events |@keshevents
MC: Chief Obi | @chief_obi
Wedding Dj: Dj Diesel | @dieseladekunle
Cake: Delish Cakes | @delish630
Catering: Kreative Xpressions
Limo Bus: W-Limo
Favor Bags: HAC Media Services
Traditional wedding
Bride's Outfit Fabrics: Nakenoh Asoebi fabrics
Ase Oke: Nma Asonye | @Panachlyhomes
Bride's Fan, Jewelry, and Purse: Olorie Bose Trendy Beads | @iambosetrendy
Groom's Fabric & Tailoring: Ayobami Emmanuel of Ayo Fashions Chicago | @ayofashionofficial
Planner: Jody Okeke of KrunkENT | @jkrunk
Cake: Cakes by Nerisa
Catering: Julian Ayeni phon
Wedding Dj: DJ Emma Onua aka DJ Alacrity of Chicago