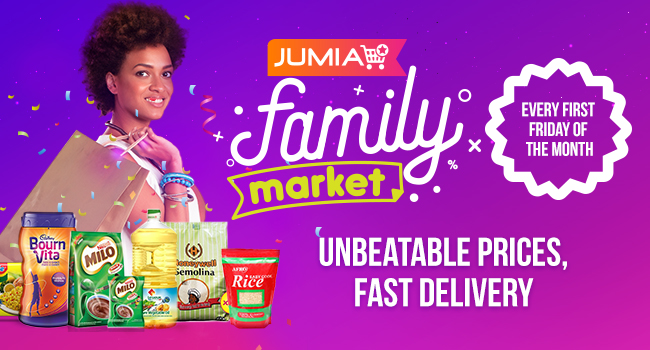 Valentine's Day is just around the corner, and depending on your relationships status – single, married, taken, or it's complicated – the day can loom with anxious expectations, dread or just plain indifference.
Need some ginger so you can pepper dem big boy, big girl style? Check out our hassle-free guide below and this video brought to you by Jumia Family Market:
Skip the traffic – Valentine's Day is often known for its traffic jams as people rush to favorite restaurants and hotspots. Stay clear of the hustle and bustle by ordering in and planning a special night at home. For you, for two, or even for the whole crew!
Skip the anxiety – Want to make an impression on your crush, but not sure what to get? Or maybe you know what they want but haven't found time to go shopping? Shop online to see gift ideas and directly search for what you are looking for. Get it delivered to you superfast with free premium services like Jumia First.
Skip the day – If your motto is I-don't-need-one-day-to-show-love, then definitely don't confine yourself! Set your own date to celebrate and love on yourself or your boo. Choose a whole weekend or splurge on an extended getaway, just make sure you carve out time to give yourselves that extra TLC!
Skip the hype – Low on cash? High on love? Not to worry. Jumia Family Market has a DIY hook-up with this delicious surp-rice that'll keep your loved one loved-up: The Valentine Special Fried Rice with Pan Fried White fish. Click here to watch the how-to video and here for the ingredients list.
ABOUT Jumia Family Market: Shop Jumia Family Market this Friday February 3rd 2017, and every first Friday of the month thereafter, for unbeatable prices on your monthly grocery shopping list. Take advantage of next-day (Saturday) delivery in Lagos if you place order before noon. Offer valid for just 24 hours while stock lasts. This February also comes with free shipping, so don't delay. Follow the new Jumia Family Market cooking series, Mommy Menu for yummy family recipes brought to you by Chef Khudu.

__________________________________________________________________
Sponsored Content