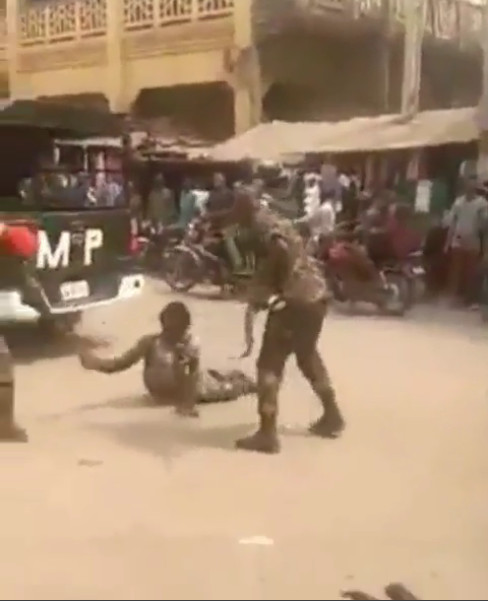 Two soldiers who brutalised a physically challenged man along New Market Road, Osha in the Onitsha area of Anambra state appeared before a court martial on Thursday, PUNCH reports.
The soldiers, whose names had yet to be disclosed by the army, had also been discharged from their unit and summoned to the 82 Division, Enugu State.
The Nigerian Army had, in a statement late on Wednesday, said it had identified and arrested the soldiers.
The division spokesperson, Colonel Sagir Musa, who is also the Deputy Director, Army Public Relations, said:
"The soldiers have been tried at the unit level in Onitsha, and referred to the higher level for appropriate punishment commensurate with the offence committed. The victim has also been invited and he will meet with us on Friday. We also have a press conference where the issue will be discussed in detail. Whatever human rights infraction is seen with our men, appropriate sanctions will be applied to serve as deterrence to others. This case will not be an exception."
The Joint National Association of Persons with Disabilities (JONAPWD) in a statement by its National President, Ekaete Umoh condemned the attacked and asked that the Disabled Persons Bills in the by the National Assembly be harmonised, and signed into law.
"We detest the treatment and call for proper investigation, prosecution and justice should take its course in this matter. We also call for the speedy harmonisation of the Disabled Persons Bills passed by both the Senate and House of Representatives. President Muhammadu Buhari should assent to the bill for it to become law," Umoh said.