Cut off one of the hands of corrupt individuals – NLC tells FG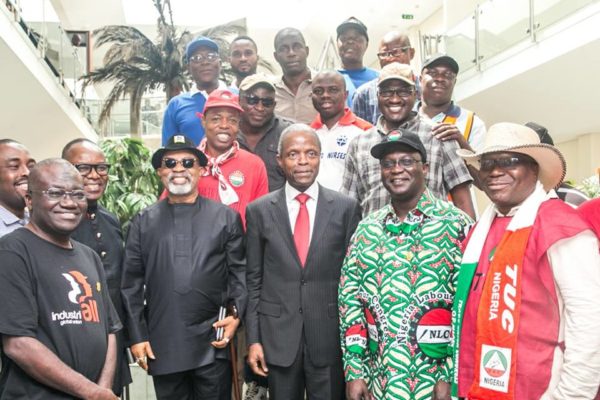 The President of Nigeria Labour Congress (NLC), Ayuba Wabba, has called on the Federal Government to cut off the hands of those alleged to have looted Nigeria's funds.
Speaking in Abuja on Thursday during the protest rally at the Presidential Villa, Abuja, he said amputating the hands of looters will serve as deterrent to others while also shaming them.
According to Wabba, he said:
We must not allow a situation where few, because of their interest will hold the system to ransom.

Why should somebody steal one billion Naira and walk the street free. We are demanding that they should be named and shamed. We are also demanding that one of their hands be cut off so that when we see them, we will know that they are people that have stolen our money.

So, let us not be tired. Not to pay salaries and pensions is criminal. Not to increase our wages in this condition is corruption and so, we must demand good governance and support the fight against corruption.

It is obvious that what we are doing today is in our collect interest. As working class and our families and as Nigerians, we must always make our voice know and heard very clearly.
Wabb, alongside Boboi Kaigama, President of Trade Union Congress (TUC), led the protest where they demanded for increment in workers' salaries and good governance. The protest was targeted at harsh economic realities and unprecedented hardship in Nigeria.
Though the protesters were not allowed entry into the Villa, the doors of the State House were opened for their leaders and few journalists from different television stations to meet with Osinbajo in his office at the Villa.
"Corruption in Nigeria is wealthy, powerful and influential," Acting President, Yemi Osinbajo said during the closed door meeting.
Yesterday, Ag. President @ProfOsinbajo met with protesting Labour and Civil Society leaders at the State House. pic.twitter.com/L7YPjRYEms

— Presidency Nigeria (@NGRPresident) February 10, 2017
Osinbajo reiterated the determination of the present administration to wrestle and win the war against corruption. He said:
We commend you for taking this laudable campaign to the Villa on behalf of the Nigerian people. For a democratically elected government, we must constantly report to the people and we must show that we are accountable to the people. That is why positions like yours have to be received properly and we must find ways to positively take action on the many demands that were raised.

Every time you fight corruption the way we are trying to fight corruption, there is a major fight back, because corruption in this country is wealthy, powerful, influential and it is in every aspect of our lives.

It is in, practically, all institutions including religious institutions. The social media campaign of bring back corruption is an orchestrated one. Nobody that is suffering can say bring back corruption. Attempts by those who are being tried for corruption to delay trials is also part of the orchestrated campaign. If we don't speak up against corrupt officials who make it look as if there is a witch-hunt, then we will not succeed in the fight.

Government needs everybody to speak up. We have a serious battle in our hands and if we don't win that battle, this country will never get to the path of sustainable development. The major problem that this country has suffered so far is the looting of its resources. We must fight corruption hard. It is a tough one but we must fight it. If we don't fight corruption, all we are doing is a waste. If a few can pillage the resources of the nation and get away with it, then we will just continue to go around with it.
The Acting President also underscored the need for prudent management of scarce resources, stressing that everyone must be held accountable. He said that the government was operating at less than 60% of revenues as at 2015. He said:
Management of resources is critical especially when those resources are as small as what we are witnessing today. We want to ensure that everyone is held to account. If resources were not efficiently managed, we will not be able to do even the things we are doing now because we are operating at less than 60% of revenues as at 2015, today.

There is so much we can do with the Nigerian economy. We are going to be consulting with the labour unions and civil societies on our Economic Recovery and Growth Plan which we intend to launch this month. There is supposed to be a consultation on it so that we can take a look at the issues that are important especially to labour and civil societies and we can incorporate them into the plan.