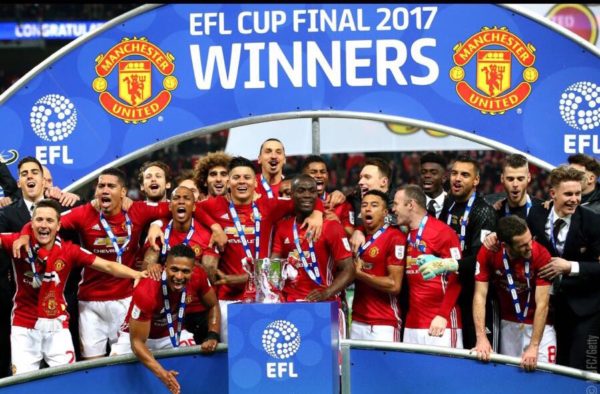 Zlatan Ibrahimovic on Sunday struck late to hand Manchester United a hard-fought 3-2 victory over Southampton in the final of the English Football League (EFL) Cup.
Ibrahimovic's late winner secured the EFL Cup and gave United manager Jose Mourinho his first success since his summer appointment, as brave Southampton were beaten at Wembley.
Southampton was the better side for most of this final match but was left heartbroken by a controversial offside decision.
But an added incentive for the new Champions was the inspiration provided by the 35-year-old Swede as he took his tally to 26 goals this season.
Saints' striker Manolo Gabbiadiani saw a goal contentiously ruled out before United took an undeserved two-goal lead.
This was through Ibrahimovic's superb 19th minute free-kick and Jesse Lingard's measured finish seven minutes before the interval.
Southampton's players, as their performance merited, were on terms with two predatory strikes from Gabbiadini either side of half-time.
Oriel Romeu hit the woodwork before Ibrahimovic stole in on Ander Herrera's cross three minutes from time to give United a victory that looked beyond them for long spells.
Mourinho was a subdued figure throughout this final match.
Perhaps it was because he was unable to disguise his discontent at what was a wretched performance by United for the most part at Wembley.
Inside, however, he will be ecstatic at holding silverware aloft once more, making himself a success with United in his first season at Old Trafford.
Also, he was performing the same trick he used at Chelsea to ease any pressure on himself and reassure supporters they have a winner at the helm.
Mourinho made it his business to target this trophy in his first season at Chelsea, beating Liverpool in the 2005 final.
It was also his first success in his second spell at Stamford Bridge as Spurs were beaten here at Wembley in the 2015 final.
He is now level with Sir Alex Ferguson and Brian Clough as the most successful manager in the League Cup after his fourth triumph.
He thus takes another step on the road to rehabilitation after his sacking at Chelsea last season.
Photo Credit: Twitter – @ManUtd