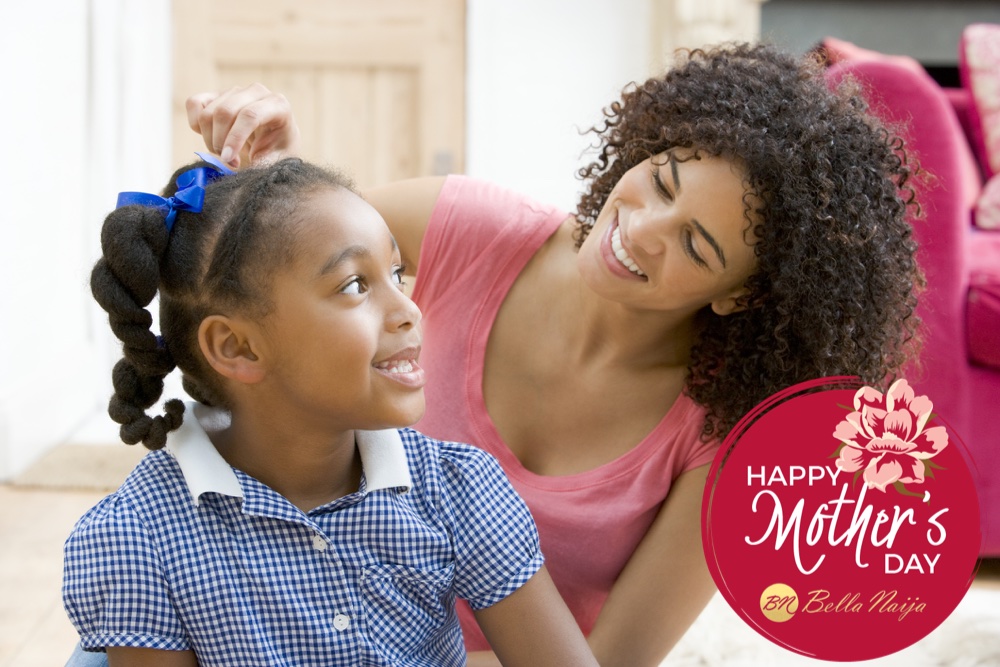 If you're a DIY mum and you do your daughter's hair yourself at home or you'd rather go to the salon and have a stylist help out, BN Beauty is here to inspire you with cute hairstyle ideas for you little one in a Mother's Day edition of #BNFroFriday.
8 Useful Tips
Here are a few suggestions to help you make the best of your daughter's wash day:
Don't detangle on dry hair. Wet/damp hair makes it easier for you and less painful for her.
Be gentle on her edges and try not to use too much heat. There are heatless ways to stretch natural hair and one of them is the old school African threading (watch the video on this below).
Work in sections. This way you carry hair along and she knows when three sections are done, "mummy is almost done with my hair." It also makes it easier for you to work your way through her hair, tangle free.
Explain what you're doing to her hair while you're doing it, this way when she's older or you're not around, she'll know what to do. This is helpful especially if you plan to send her to boarding school, she'll be a guru with healthy hair!
Get her involved in the easy steps like adding oil or brushing her hair to make it neat. This way, she doesn't get used to just sitting and having someone else do her hair for her and she'll start to do more steps herself as she gets older.
Give her something to play with or put her favourite cartoon on so she doesn't get bored.
Washing/styling hair can be cumbersome but please, don't take it out on her. Try to be as nice and gentle as possible. Use this time to bond with your daughter, share childhood stories & life lessons, talk to her about hair, her friends, school etc. Make wash days fun!
If she's eager to learn how to twist and braid, don't let that interest die. Get her a doll to practise on while you're doing her hair. Whenever you have the chance to teach her a skill, don't back down on it. You never know what this little bit of encouragement can do for her in the future.
Heatless Stretching for Natural Hair with African Threading by ThisIsGugu

Feel free to share some more tips in the comments section below.
Hairstyle Inspiration
Most schools in Nigeria prefer simple plaited styles like "all back, shuku, clap" and the rest but watch some of the videos below to help inspire you with styling ideas for your little one for holidays, weekends or special occasionss like Mother's Day 🙂
4 Easy Back to School Natural Hairstyles by NaturallyNat90

Back to School Hairstyles by Busy With D

Textured Bun-Hawk Tutorial | Kids Natural Hairstyle by IAMAWOG (heat free)

Diagonal Part Hairstyle | Cute Hairstyles for Little Girls by Sekora and Sefari

Hairstyle Lookbook by Zaineey's

4 styles 1 base | Kids Natural Hairstyles by IAMAWOG

Don't forget to share some useful tips with us in the comments section below.