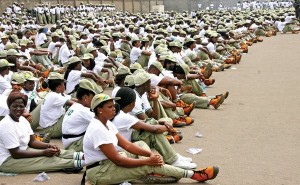 A National Youth Service Corps (NYSC) member, Michael Uwakwe, has been redeployed from Zamfara to Anambra after a police officer assaulted him for punishing a student of Nasara Standard Academy, Gusau, who is a rich man's ward.
The NYSC Director, Corps Welfare and Inspectorate, Victoria Okakwu, stated this in Abuja on Wednesday.
Okakwu said the corps member was redeployed to ensure his safety during the national assignment.
The briefing was designed to keep the public abreast on the outcome of investigations conducted by the NYSC on the matter.
Okakwu said after proper investigations and resolution of the matter, NYSC has also ordered the immediate withdrawal of 11 other corps members who were posted alongside Uwakwe to the school
She said the 11 corps members have been re-posted to serve in other establishments in Gusau as a proactive measure to ensure their safety and security.
Reports of the assault surfaced on social media earlier in the week, with a photo of a man with deep cuts on his back. The NYSC also debunked that report by sharing a photo of the corps member, adding that he "has since put the matter behind him."
See his photo below: