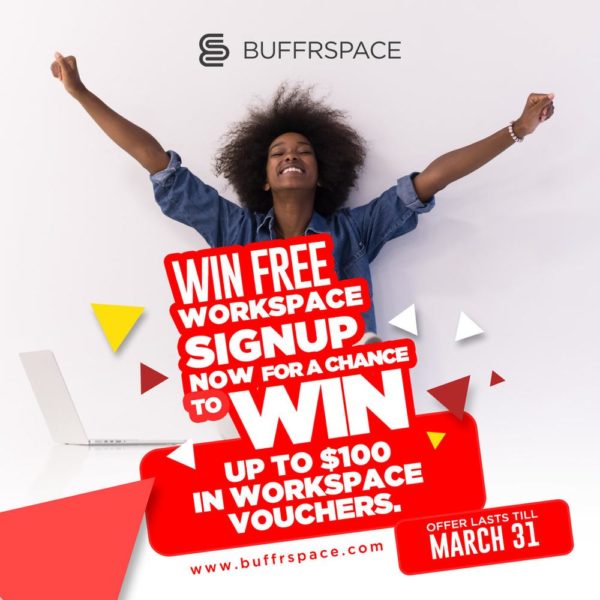 Working in Lagos? Say goodbye to traffic jams, power cuts and low productivity!
Imagine if you didn't have to worry about traffic on the way to/from work and incessant power cuts. You don't have to imagine anymore!
Buffrspace (www.buffrspace.com) allows you search online for on-demand workspaces in Lagos. We have listed every imaginable workspace you could possibly need – shared workspaces, single desks, dedicated offices (seats up to four people), coworking spaces, meeting rooms, conference rooms, coffee shops and studios. All fully serviced, no need to worry about anything else asides your work.
If you're a freelancer, remote worker, consultant, startup founder, digital nomad or frequent traveller, this is for you. And if you sign up between now and March 31, you stand a chance to win free workspace vouchers.
About Buffrspace
Founded in 2016, Buffrspace is Africa's largest marketplace for workspaces. The platform uses marketplace technology to dynamically match startup founders, distributed teams, freelancers, remote workers, business travelers, and anyone else in between, with spaces suitable for professional work and meetings – on demand. Through Buffrspace, workers can find professional venues to meet and work, real estate owners can drive the utilization of their properties and enterprises can manage and measure the economic efficiency of their asset portfolios. Buffrspace currently offers vetted and reviewed workspaces in three cities across Nigeria, and soon expanding to Kenya, Ghana and other African countries.
Owners and managers of real estate, particularly office space, become hosts by listing their spaces on the platform. There are currently over a hundred hosts listed on the Buffrspace database willing to lease or sub-lease their space to users via the service. More than 263 workspaces in three cities (Lagos, Port Harcourt and Abuja) are currently available ondemand through the Buffrspace platform.
——————————————————————————————————————-
Sponsored Content