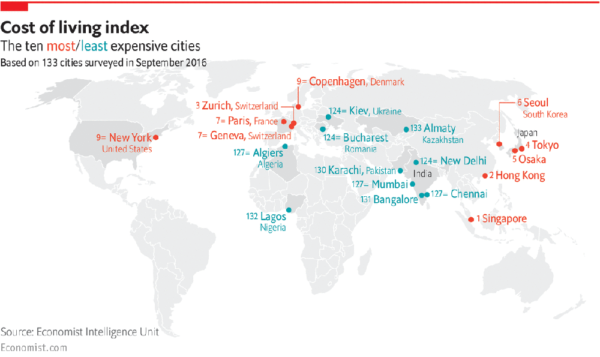 A recent report by The Economist has named Lagos, Nigeria the second least expensive city out of 133 cities surveyed around the world.
The survey compared the prices of 160 goods and services in the cities in question, The report, put together by Economist Intelligence Unit said.
Singapore, according to the survey is the world's most expensive city, followed by Hong Kong, Zurich, Tokyo, Osaka (all in Asia) respectively.
Geneva and Switzerland tie on the number 7 spot on the list and New York is the 9th most expensive city to live in, followed by Copenhagen.
The least most expensive cities, according to the report are: Kiev (124), Bucharest (124), New Delhi (124), Algiers (127), Chennai (127), Mumbai (127), Karachi (130) Bangalore (131), Lagos (132), and Almaty (133).
See the full list HERE.