25th NUGA Games suspended due to Technical Hitches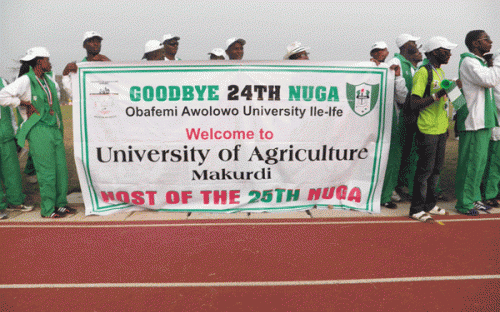 The Nigeria University Games Association (NUGA) has temporarily suspended the national university Games which began on Saturday in Makurdi, over what it called "technical hitches". NUGA Secretary-General, B. O. Orodele, who announced the suspension on Sunday in Makurdi, said that the action became necessary because "both athletes and contingent officials have not been accredited as required by the guidelines of the Games". According to him:
The temporary suspension will enable both the officials of NUGA and the host university to sort out the technical hitches.
Reacting to the hitches, the President of NUGA, Prof. Stephen Hanafyelto of the University of Maiduguri, blamed the confusion on the ICT Unit of the association which "defied my instructions over accreditation". He alleged that the ICT Unit refused to heed his instructions on the procedure for accreditation, preferring to deal with the Secretary-General. He further stated that if the complications are unresolved by Monday, the games would be called off. The NUGA president said that more than 450 accreditation tags were needed for both athletes and officials.
Reacting to the threats of cancellation, Prof. Emmanuel Kucha, Vice Chancellor, Federal University of Agriculture Makurdi, the host institution, said that the university should not be punished "for the sins of others". He said:
The problem is between the Secretary-General and the President of NUGA, and not the host institution; we have done all they asked us to do. We provided facilities and venues. How can they take such an arbitrary decision after we have spent so much money? Do they know where we got the money from? As far as University of Agriculture, Makurdi is concerned, we are ready. We have done our part. We should not be victims of any disagreement between two NUGA officials.
The opening football match of the fiesta, between the host institution and the Kaduna State University (KASU), rescheduled from Saturday to 7 a.m. on Sunday, had to be postponed again, owing to the confusion over accredited athletes. No date has been fixed for the game and other subsequent soccer outings.