AY Live 2017 ended a couple of hours ago and it's still got people talking on social media.
The show which saw performances from top comedians and music industry heavyweights in the country also had its share of controversy.
This year's AY Live came one week after the Grand Finale of the Big Brother Naija 2017 and a large percentage of the jokes were about the events of the house.
Here are some of the most talked about highlights of the show:
AY joking about Kemen's sexual assault on TBoss
AY had already been slammed on social media for saying what Kemen did that led to his disqualification from the reality TV show was normal for every man.
He made the statement at the last edition of Warri Again over the weekend.
During the show, AY jokingly said women are free to castigate Kemen for his actions and not men because men should understand that the sexual urge is strong.
He asked that Nigerians should forgive him, adding that he's being slammed because his actions were caught on camera.
Klint Da Drunk also joked about Kemen's name, turning it into a word play on an Igbo phrase which can be translated to a man begging for sex.
Kenny Blaq
He was definitely everyone's favourite after he mixed and remixed songs, weaving them together with his comedy skills to create a mind blowing performance that handed him a standing ovation from the audience and some money from one of the guests, Ambassador Karo.
His RnB version of Dino Melaye's "Aje kun iya ni oje" got everyone in stitches.
#BBNaija Housemates Shine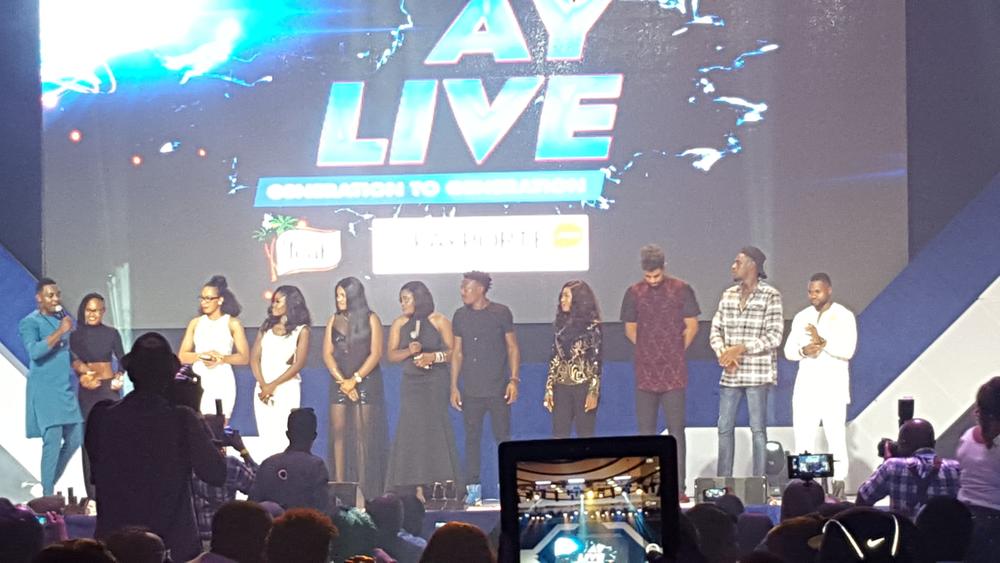 Fake housemate Ese and ThinTallTony were the hosts at Payporte's Orange Carpet, Bassey and Uriel interviewed guest on Peak Milk's Blue Carpet.
There were also performances from Soma, Cocoice, and winner Efe.
AY also promised Bisola a role in his next movie.
Hilarious Skit
The skit, which has become a ritual for AY Live events were hilarious as expected as the actors/comedians played out the trending stories to the amusement of guests.
From Dino Melaye's "Aje kun iya ni oje", to Apostle Sultan's sex scandal and Bobrisky and Pretty Mike's most talked about public appearances, before finally landing on a sum of money that required whistleblowing skills!