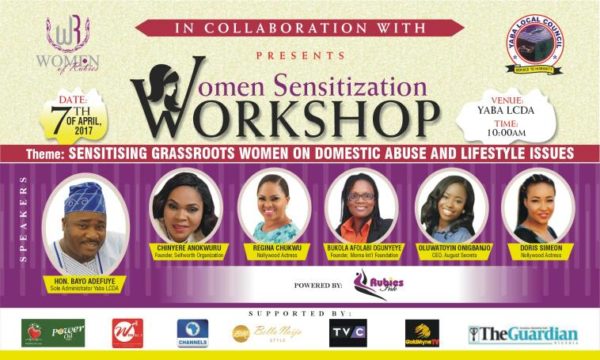 Women of Rubies (WOR) is a reputable capacity building and inspirational online magazine for the celebration of women of substance in the society, with a weekly publication in the Guardian Newspaper.   It is believed that women are nurturers by nature and when these women nurture their God-given abilities, the world is better for it. It is on this basis that Women of Rubies and  Rubies Ink Initiative for women and children is planning an empowerment forum for women in the grassroots that are often neglected and forgotten. This workshop will kick off on the 7th of April at the Yaba Lcda and will take place in several Local Government Areas across Lagos. The theme for the workshop is "Sensitising Grassroots Women on Domestic Abuse and Lifestyle Issues".
According to the Founder / Editor-in-chief of women of Rubies, Esther Ijewere; the workshop is in its second phase as we kicked off in August 2016, it will be an impactful learning experience for women at the grassroots, as we are collaborating with different Local Government to address the following issues:
Knowledge acquisition on domestic abuse – In addition, they will also learn to speak up when faced with domestic abuse. Women have the capacity to solve problems and influence decisions.  They will be equipped on how to utilize these decisions at crucial times as the girl child is dependent on this knowledge as a guide when she becomes a lady, mother and even a grandmother.
Lifestyle issues – We present to you a platform aimed at providing an avenue for women at the grass root level to exchange ideas and equip them on how to grow their businesses, support their families and create a better future for their children.
Savings Culture – The workshop would teach them on how to access business loans and proper saving culture in order to empower them financially.  When the woman is empowered the society becomes empowered.
Timeline of Event:
Date: April 7th, 2017.
1st Workshop : Yaba LCDA, Panti Busstop, Yaba​
​Date: April 13th, 2017.
2nd Workshop : ​Igando- ​Ikotun LCDA , Ikotun ​.
Date: April 19th, 2017.
3rd Workshop & Venue:  Kosofe LCDA​, Ogudu​.
Date: April 24th, 2017.
4th Workshop: ​Ikeja Local Government Area.
Time for all workshop: 10a.m
The event is endorsed by the Lagos State Ministry of Women Affairs and Poverty Alleviation, Supported by: Power Oil, Guardian Newspaper, Wfm91.7, BellaNaija, Channels, Goldmyne ​T​V​ and TVC.
​ Log on to www.womenofrubies.com for more information.
See pictures from previous edition here : http://womenofrubies.com/2017/01/13/photos-women-of-rubies-grassroots-women-sensitization-workshop/
_____________________________________________________________________________
This content has been published for free as part of BellaNaija.com's commitment to youth, education, healthcare and community development as part of our corporate social responsibility programme.