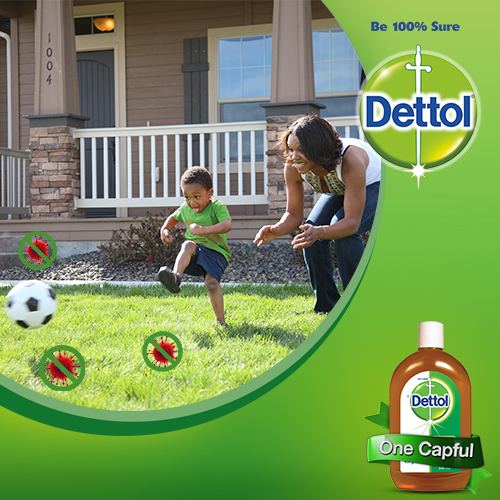 Mothers, can you relate?
Aaaaaargh! If you have children, I'm sure you've screamed like this more times than you can remember. I'm a mum of two bubbly, energetic, six-year-old boys, and this used to be my soundtrack every time my kids tried to climb trees or play football in the house or wrestle each other and forget it's a game.
Every time they played rough, I went into straight panic mode and that was the end of play time for them. My husband would say let them be boys but what's my own? How about let them be alive first?
Of course as a mum, I wanted my children to play and be happy but my fear of them getting hurt was too much, so I didn't until I found Dettol Antiseptic Liquid. Now, my children play freely and I don't ever worry because whenever any of them gets hurt, I use one capful of Dettol antiseptic liquid for first aid. It kills germs and helps stop the wound from getting infected.
I switched from panic mode to protect mode with Dettol Antiseptic Liquid. I am a powerful Naija mum and I rely on the power of Dettol's 1 capful to protect my family from up to 100 illness causing germs.
Are you a powerful Naija mum? Dettol wants to celebrate you!
As a reward for all your efforts to keep healthy homes and families, Dettol plans to celebrate powerful Naija mums. This means some of you lucky mothers will get to hang out with your favorite celebrities in Nigeria at the end of the search for Powerful Naija Mums!
Each week, mums with the highest likes get to win a Dettol Power Pack filled with exciting prizes including a smartphone and at the end of the campaign, a final draw will be done to select the top mums with the highest engagement. These mums will be part of Dettol's Powerful Naija Mum photo shoot with the celebrities. The shoot will also be featured on top blogs and websites with many exciting gifts to be won!
To participate:
Upload a photo or video telling us how you use Dettol's one capful,
Upload on your social media page
Ensure your post is seen by using the hashtag #Powerfulnaijamum #Dettolonecapful
Tag @thenaijamum on facebook and @thenaijamum_ on Instagram
WIN EXCITING PRIZES!!!

Be a powerful Naija Mum with Dettol!
*Terms and Conditions apply
______________________________________________________________________________
Sponsored Content