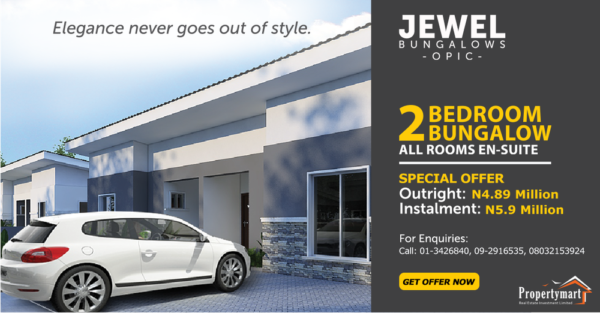 If you love to have peace of mind say 'I'.
Now, imagine what life would be when you return from a hard day's job to a serene and tranquil environment, neatly built to taste and comfort, far away from any form of disturbance. Imagine dwelling in an impressive urban residence that invokes the sense of living among nature. "This is pure luxury," you might say.
But luxury is not about the price; it is an experience. It is a state of great comfort and peace that could be simple and easy to create if you make the right decisions. Some may define it as an extravagant form of living. But not us!  We call it true peace: living life to the fullest, and that's what the Jewel Bungalows have been crafted and designed to achieve.
The Jewel Bungalows are strategically built in the luxurious Cranbel Court Estate, They are located at the New Makun City along the Lagos-Ibadan Expressway; which is a 3-minute drive from the Redemption Camp, and a 25-minute drive from the Central Business District, Alausa.

Each bungalow is said to contain 2 bedrooms that come en-suite, a stylishly designed kitchen, a visitor's toilet, units built for your utmost comfort. Doesn't that sound luxurious?
The more interesting thing here is that the bungalows are quite affordable for their features, and Estate Valuers can attest to this. For only N4.897million, anyone can walk away with the keys to one of these exotic bungalows, like the proud house owner you are meant to be and With a N50, 000.00 monthly flexible payment plan and a bulk payment every fourth month, you can actually own a unit in 24 to 36 months.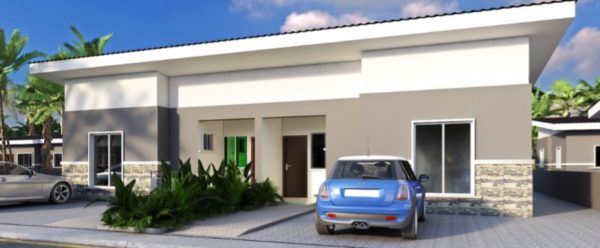 Consider it much cheaper than the cost of anything be it wedding in Lagos, a car or even house rent in many areas of Lagos. Hey guys! It is time to own a house and call it home. With the most talked about Jewel Bungalows, everyone stands a chance to a more peaceful and luxurious life.
Don't wait till the economy gets tougher to make concrete decisions. Grab this interesting opportunity now and live free from paying rents. Please visit www.propertymartltd.com for more information on the Jewel Bungalows or speak with an agent on 01-3426840, 09-2916535 or 08032153924.
__________________________________________________________________________
Sponsored Content