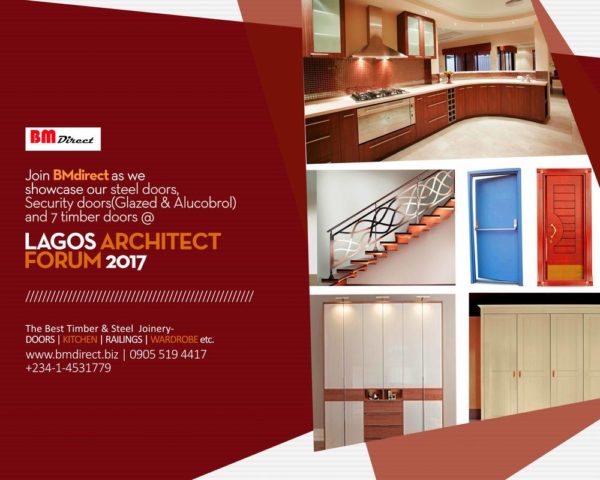 The Lagos Architects Forum (LAF) 2017 will be kicking off its annual festival organised by the Lagos State Chapter of the Nigerian Institute of Architects L.A.F 2017 themed, "An architectural Autopoiesis". The event which will take place at the Jasmine and Zinnia Hall of the Eko Hotel and Suites Expo center, and indigenous furnishing and manufacturing company – BMDirect will be showcasing the best of their Nigerian made timber and steel joinery.
Specifically, at the exhibition which is slated to run through Wednesday, May 10th – Friday, May 13th 2017, during the Lagos Architectural Festival (L.A.F), BMDirect would be showcasing their Steel doors, Security doors (Glazed and Alucobrol), 7 timber doors amongst other world class finishing and furnishing products.
Date: Wednesday, May 10th – Friday, May 13th 2017.
Venue: Jasmine and Zinnia Hall, Eko Hotel, Victoria Island, Lagos.
Theme: An architectural Autopoiesis.
Participants can interact with BMDirect at their stands – A20 and A39 – during the course of the festival as they display and feature their wide range of innovative products such as wood finishes and equipments, as well as giving technical advice and guidance on all of their products and systems.
About BMDirect
BMDirect offers a vast range of timber and steel joinery. Our years of experience in the employment of modern production processes and technology, as well as our ability to produce successful lines and personalized versions have enabled us to remain on the cutting edge of innovation.
Working with BMDirect means being able to count on a strong and capable organization, seeking to offer customers better designs and higher specifications while recognizing the customers' need for quality, flexibility, style and freedom of choice.
What you can expect from BMDirect at the L.A.F 2017 Exhibition:
2 exhibition stands from BM Direct
Display of products and services
Personnels to provide educational and professional information on steel and wood joinery
Networking with developers, architects and key players in the industry
Getting leads to developing quality business models
Having the opportunity to forge new partnerships and collaborative ventures.
Contact BMDirect:
E-mail: [email protected]
Website: www.bmdirect.biz
For enquiries: Call +23414531779, 09055194417
Facebook/Twitter/Instagram: @bmdirectng
About L.A.F
L.A.F offers opportunities to evaluate best practices, concepts, procedures and methodology required to evolve an architecture that would transform Lagos into the greatest city in the world. L.A.F also prides itself for creating parameters for high density vertical buildings typical of Lagos, and establishing safety factors for their development.
The Forum remains attentive to continuous evaluation of practice methods, technology, current legislation on planning, approval processes, to achieve master status. L.A.F's stance about Lagos may be summed up with the following words: Desire to create and develop an architecture that would make Lagos plans and regulations a first world city.
The programme also boasts a line up of distinguished speakers including Arc Theo Lawson, Olajumoke Adenowo and NLE's Kunle Adeyemi, amongst a host of others. You can find the full lineup of speakers here.
You can sign up to participate in the event, here. To find out more about the Lagos Architects Forum 2017, visit their official website
—————————————————————————————————————-
Sponsored Content