Junior Achievement Nigeria hosts STEM Innovation Camp – Oracle Academy Student Hackathon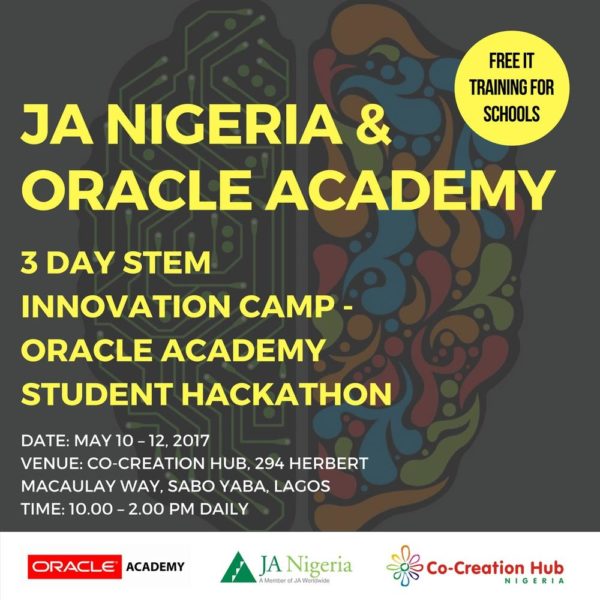 As part of its commitment to building a bridge between the classroom and the workplace, Junior Achievement Nigeria, in collaboration with Oracle Academy Nigeria, hosts a 3-day STEM Innovation Camp – Oracle Academy Student Hackathon – for 50 students aged 15-18 from Wednesday 10th to Friday 12th May, 2017.
All 50 participants are students from 10 of Junior Achievement Nigeria's most outstanding schools in Lagos for the first quarter of 2017. The participating schools are: Kings College, Akande Dahunsi School, Government College, Federal Science Technical College, Methodist Girls, Janet & John School, Dowen College, Canterbury International School, Caro Favoured College, and Kuramo College.
The 3-day STEM Innovation Camp is designed to promote increased participation of young students in ICT and develop critical digital literacy skills required for success in future. Students will be trained on Oracle programming and animation technology and will compete to create an advert or public service announcement addressing a social challenge using animation.
Simi Nwogugu, Executive Director, Junior Achievement Nigeria said, "We are excited to partner with our Board Member, Oracle Nigeria, and our trusted partners at the Co-Creation Hub, to implement this STEM Innovation Camp because digital skills are required for tomorrow's successful leaders. The participants will also gain critical innovative, leadership and teamwork skills as they work together to create a winning ad. We thank the Oracle Academy for sponsoring this initiative."
About Junior Achievement Nigeria
Junior Achievement Nigeria (JAN) is part of Junior Achievement Worldwide (JAWW), the world's largest and fastest-growing non-profit economic education organization with a 121-country network. Since inception in 1999, JAN has reached over 690,000 students in over 900 schools in 29 locations across the country with the support of 2000 volunteers.
Junior Achievement operations in Nigeria are governed and financed by its Board of Directors which include Accenture, Agile Communications, Channels Television, Citibank, The Dangote Group, Deloitte, ExxonMobil, FirstBank of Nigeria, Oracle, Schlumberger and Stanbic IBTC. As part of a global network, JAN is able to leverage resources and expertise to deliver localized cutting-edge experiential programs built on JAWW's three pillars of Work Readiness, Entrepreneurship and Financial Literacy, to in- and out-of-school youth ages 5 to 27 free of charge.
__________________________________________________________________________
This content has been published for free as part of BellaNaija.com's commitment to youth, education, healthcare and community development as part of our corporate social responsibility programme.