Wakaa! The Musical truly Breaking Every Record & Transcending Race, Gender & Age
Contemporary Nigerian Theatre is at its highest peak ever with Wakaa! the Musical, the hugely successful homegrown musical breaking records and barriers with completely sold out shows in an amazing run all through the month of April, with a crowd that was eclectic from young to old, business men to students, Nigerians to foreigners including Americans, Europeans, Chinese, Indians and South Africans. Tourists from Malaysia, South Africa and London, Abuja, Ibadan and Port Harcourt were there to see wakaa the musical.
It was an unbelievable moment in the history of Nigerian theatre, many were turned back, many wore furlong faces of anger and disappointment at missing out on a production that ran for a full month| many wrote their names down with the hope that the Producer would swing in one more show. This has never before seen befores when the desire and demand for a theatre production in Nigeria would far exceed the supply.
Wakaa the Musical is not new to such success and record breaking feats both locally and internationally. In July 2016, it became the first Nigerian Musical to be performed at London's west end where it also had completely sold out shows and a waitlist of eager theatre goers hoping there would just be one more show for them to see.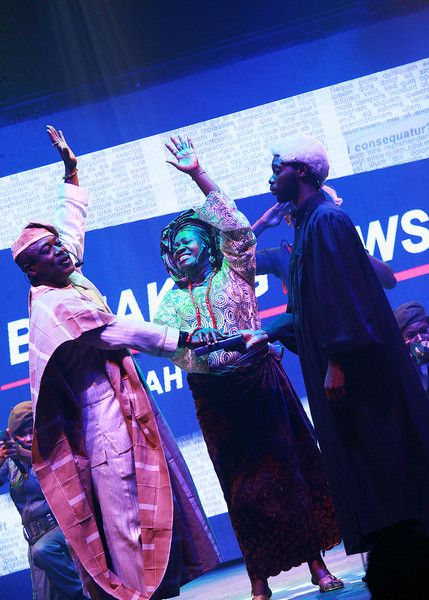 It is indeed a new dawn for the Nigerian theatre industry and Bolanle Austen-Peters, the Producer and Director of Wakaa the Musical and her BAP Productions outfit and team are spear heading the renaissance or if you like, the resurgence of this hitherto neglected sector.
In her message to the teaming crowd in the New Terra Kulture Arena, she informed them of plans to take SARO the Musical to London in August and also of a new musical called Fela and the Kalakuta Queens which will be showing in December in Lagos.
There is also a glimmer of hope, that Wakaa the Musical just might return in the last quarter of this year for the sake of those who missed out and those who are yearning to see it again.
ABOUT WAKAA THE MUSICAL
This strong satire of Nigeria's politics and society explores the scheming, intrigues, betrayals and games people play in life to get ahead.  The socio cultural and modern entertainment production rejoices in the diverse yet homogeneous people and culture of Nigeria, while examining current pressing issues of mass youth unemployment, lack of opportunities for social mobility, immigration and migration.
WAKAA! THE Musical was made possible by the support of MIXTA AFRICA, MTN, PENCOM, BANK OF INDUSTRY, NIGERIAN EXPORT PROMOTION COUNCIL,AFRICA MAGIC, FCMB, AMSTEL MALTA, AXA MANSARD, LEADWAY ASSURANCE, AIRCOM, OLX, XTAMALIY, SAHARA GROUP, Ebony life TV, Beats FM, amongst other partners.
—————————————————————————————————————–
Sponsored Content