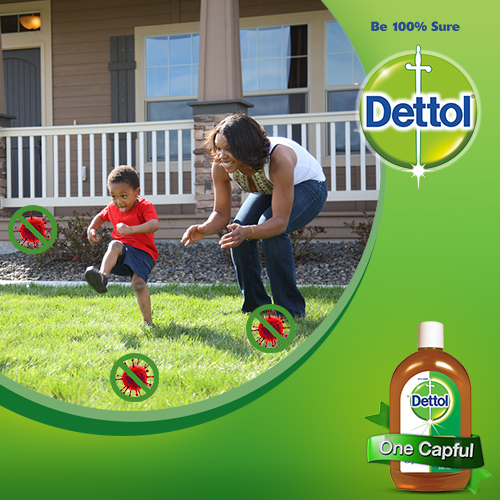 I have three boisterous boys who love watching cartoon characters and super heroes on TV. I wish it all ended there but that's not the case. They also try to replicate their actions right in the house. I spend half my time chasing them down or scolding them to stop one of their many pretend wrestling matches but do they listen, no!
Which means I spend the other half of my time tending to injuries. I cannot count how many times I've had to clean cut lips, head wounds, scraped knees and palms and swollen fingers.
With the way they play hard, I have to constantly be on alert, never knowing when the next injury might happen. I know that cuts and wounds are easy entrances for germs and infections and that I need something to prevent them from entering. That's why I use Dettol while administering first aid to my children.
I dilute one capful of Dettol Antiseptic Liquid in a bowl of water and apply on cuts, scratches, and scrapes to kill germs and protect against infections.
I am a Powerful Naija Mum and I rely on the power of Dettol's 1 capful to keep my family germ-free.
Are you a powerful Naija mum? Dettol wants to celebrate you!
As a reward for all your efforts to keep healthy homes and families, Dettol is celebrating powerful Naija mums. This means some of you lucky mothers will get to hang out with your favorite celebrities in Nigeria at the end of the search for Powerful Naija Mums!
Each week, mums with the highest likes get to win a Dettol Power Pack filled with exciting prizes including a smartphone and at the end of the campaign, a final draw will be done to select the top mums with the highest engagement. These mums will be part of Dettol's Powerful Naija Mum photo shoot with the celebrities. The shoot will also be featured on top blogs and websites with many exciting gifts to be won!
Two more sets of winners were just rewarded for their participation in the Powerful Naija Mum challenge. Adeyi Sarah, Chioma Iloabuchi and Robert Rita who had the highest likes for week 2, as well as Prisca O'Neal, Uchechukwu Okudo and Abiola Adewale with the highest likes for week 3, have all received a brand new smartphone and a Dettol Power Pack filled with fabulous prizes. They have been announced on our Instagram, Facebook and Twitter pages and the next set of winners will be announced soon but there's still time. Take the #PowerfulNaijaMum challenge now and you could be our next winner.
To participate:
Upload a photo/video on your social media page, telling us how you use Dettol's one capful

Make sure you are holding the bottle of Dettol in your photo or video

Ensure your post is seen by using the hashtags #Powerfulnaijamum #Dettolonecapful
Tag @thenaijamum on Facebook and @thenaijamum_ on Instagram

WIN EXCITING PRIZES!!!
Be a powerful Naija Mum with Dettol!
*TERMS AND CONDITIONS APPLY
————————————————————————————————————————–
Sponsored Content