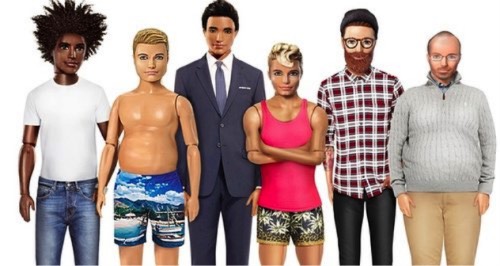 After being the measurement of a perfect body since 1961, Mattel has announced that Barbie's Ken will be relaunched to suit the 21st-century male which means it will now be a relatable male that falls into different categories of men, from different skin tone, different race to a difference in height.
With over 50 years of its launch, Ken has undergone different transformations, given 40 different occupations, created in 7 different skin tones and also 15 different forms. This re-launch is significant because it loses that herculean perfect body ideology that it has created among men over time, (making Ken's body the dream body).
This development in the American iconic doll kills stereotype where body shape is concerned, letting all men know that their body type is accepted in society and available to the society, hence there is a need for all to be satisfied with their body sizes as this new development consist of Ken as slim, broad or the original version which will also come with Ken in cornrows and a man wearing bun rather than the traditional blonde hair.
Source: ABC News