Yvonne Jegede, Emem Isong, Kemen & More Attend Omoni Oboli's Clothing Line Launch 'Omoni Oboli By AVE'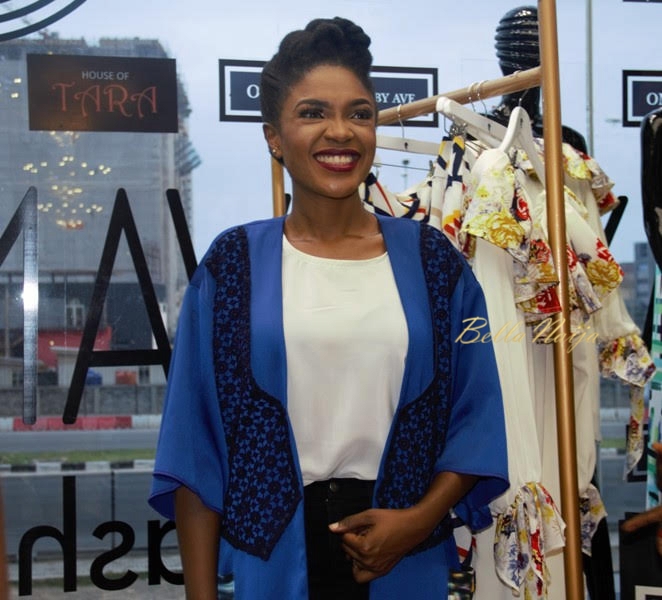 On Sunday, June 4th, Nollywood actress and filmmaker, Omoni Oboli, launched her clothing line called 'Omoni Oboli By AVE'.  The clothing line was launched in conjunction with one of Nigeria's finest designers, Ayo Van Elmer.
The event which was held at Oriental Hotel, Lekki, Lagos was graced by media personalities, actors, actresses and fashion entrepreneurs. Some of those in attendance were Swanky Jerry, Yvonne Jegede, Seun Olokeyuti, Gbenga Adeyinka, Lala Akindoju, Joro Olumofin, Ubi Franklin, Kemen of Big Brother, Emem Isong, Humble Smith, Ashionye, and O'naturals.
Most of the guests were marvelled at the quality of the prints and the artistic designs of the clothes. According to Swanky Jerry, Nigeria's foremost celebrity stylist he said: "Everything is beautiful, I really love her pieces they are unique. I just got myself a pair of something and it looks good. It was a great idea for Omoni Oboli to go into fashion, if you follow Omoni's brand you can tell that she is interested in fashion, you can tell that she makes an effort to look good. I wasn't really surprised about this invention".
Also, Nollywood actress, Yvonne Jegede, who spoke about the price and the colours of the clothes said: "The prices are very affordable. I am very dark skinned and I love to play with colours in as much as I shy away from colours I like to play with colours. I see a lot of summer colours here, so yeah I love the colours all of them, everything".
The prints are 100% Nigerian made and they were all sewn by a Nigeria, Ayo. Omoni who also intends to take her clothing line international stated
I feel awesome; it has been an amazing night. We have sold hundreds of pieces, it's unbelievable. Pretty much everything is gone; we've sold over 80% of what we had here. It's amazing. I think that colours make the world beautiful. Imagine the world without colours? It will be a very dull world. So, when I had the concept for the line, I wanted it to be bright, to be colourful, to be sunny, and to be something that you will wear and instantly feel happy because happiness is important. Everything you see here is proudly made in Nigeria and it looks like what you can pick up in any store around the world. It is amazing".
The highlight of the event was when a couple got engaged and Nigeria's talented singer, Humblesmith performed his hit tracks, 'Focus', 'Attracta' and 'Osinachi'.