Tha Revue: Hilary 'The Maveriq' Ajodo Reviews Nollywood Film 'A Star In Heaven'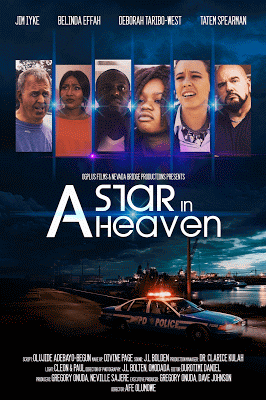 Hilary "The Maveriq" Ajodo of tharevue.com (pronounced "the review dot com") Nigeria's premier movie review resource for local and foreign movies reviews Nollywood movie "A Star In Heaven".
…
Director: Afe Olumowe
Producer: Gregory Onuda & Neville Sajere
Main Cast: Jim Iyke, Belinda Effah, Deborah Taribo-West and Tatem Spearman
Genre: Drama/Crime
Release Date: May 26, 2017
Jim Iyke is Kayode, a brilliant software designer who illegally migrates to the USA to pursue his dream of becoming the next Steve Jobs but he lacks the money needed to actualize his ambition and so he takes a loan from loan sharks. Expectedly, things take a turn for the worse when his work is hijacked by a large corporation who threaten to reveal his immigration status and with the loan sharks circling, he seeks divine help.
Quite honestly, this is indeed a fantastic plot with a lot of promise of intrigue action and entertainment but sadly poor plot development and production were the impairment of the film. The directors made some really amateurish errors especially with the sound production which was uneven and sounded like they were recorded separately and then dubbed on the film. This was so evident because there were scenes where the ambient sounds were muffled or simply nonexistent. This totally stifled my enjoyment.
Furthermore, the plot of the movie was diminished by the attempt to throw in some mysticism into the mix. I understand the producers intention to toe a different path from Nollywood's usual Church or Babalawo angle to conflict resolution but their effort to use alternative religion and mysticism didn't quite come off as  expected and after a while, it felt like I was watching 2 different movies at the same time.
Conversely, a bright spot for me was the performance of Belinda Effah who was Jim Iyke's over ambitious wife. She had so much energy and brought a lot of spark to the film and I am looking forward to seeing her in many more movies. Something about her reminds me of one of my crushes from early Nollywood, called Victoria Inyama (where is she though?) Also, I was proud to see Deborah Taribo-West the daughter of legendary Super Eagles defender Taribo West who is just 13 but puts in a decent performance as the mystical entity called Zainab. I think the girl has prospects to do well in movies.
Ehen, one curious thing I noticed was that the movie was subtitled. Why? So our Naija producers have become racist abi? They have joined the likes of BBC and CNN to subtitle videos where Africans speak English because we (allegedly) speak in an incomprehensible accent? Worse still, there was so much misspelling in the subtitles and this attempt to make the movie appeal to the foreign audience came off as rather insulting to Nigeria and Nigerians. You don't see the Americans subtitling their movies for us, do you?
For a movie shot in the USA with such a promising plot, I honestly anticipated more entertainment. We expect more from our own these days and I appeal to our producers to pay more attention to their sound engineering and plot development and I think they can make some really good movies.
Follow tharevue.com on social media:
Twitter: @ThaRevue
Facebook: ThaRevue
Instagram: tharevue
Email: [email protected]