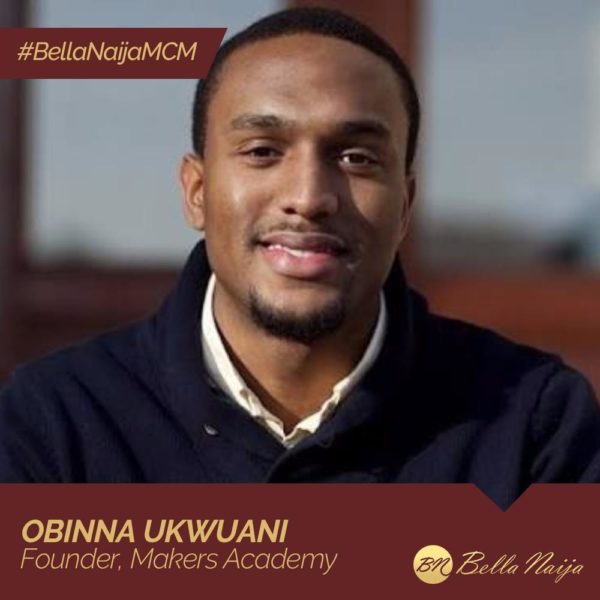 The Fourth Industrial Revolution – the digital revolution – is in full force and our #BellaNaijaMCM today Obinna Ukwuani is working to get Nigeria on the movement.
Ukwuani, who graduated with a B.Sc in Economics (Business Management) from Massachusetts Institute of Technology (MIT), in 2012, founded and directed the Exposore Robotics program, a first-class, first-of-its-kind robotics education program in Lagos, Nigeria through the Exposure Robotics Academy (XRA).
The program taught over 100 Nigerian and Ghanaian high school students computer programming and engineering fundamentals through building and operating robots between 2012 and 2014.
Through strategic partnerships, the program was taught by globally diverse teams of MIT, Columbia University, University of Ibadan students flown into the country for six weeks.
The "Naija Beta" documentary which is based on the program, won "Best Documentary Film" at the Roxbury International Film Festival.
He's hoping on repeating the experience with a new STEM-focused school – Makers Academy.
After securing a $200,000 investment from four Venture Capitalists, Ukwuani hopes to begin the session in 2018 or 2019 with a pioneer 600 students living on the campus.
For now, Ukwuani runs the NESA by Makers program which is "a Full-Stack Web Development Course + Mentorship + Professional Placement" which runs for 6 months.
Ukwuani, who was born in Washington DC, U.S, had most of his education in the States, however, in his eighth and ninth grade, he was brought to his hometown in Enugu, Nigeria, to school so as to know his roots.
He went back to the U.S after that, and in his first year at MIT, he said: "I met up with my peers, the friends and classmates I'd met during my time there (Nigeria) and it was shocking to see how far behind me they were. It was a very real experience for me.
He described the imbalance as "an injustice."
"In the U.S., if you work hard, you'll be fine in this life. So I had that moment where I knew I wanted to improve things in Nigeria," he said.
This led to him founding XRA focusing on high school students.
Between 2010 and 2012, Ukwuani was the Vice President & Creative Director of Harambe Nigeria, a youth and agriculture-focused start-up NGO which, over three years, raised more that $100,000 USD to operate an educational agri-business incubator, host a national business plan competition, and organize conferences to promote agriculture with the support of companies such as Shell Oil and Notore.
From 2009 to 2010, Ukwuani was a Robotics Instructor with the District of Columbia Public Schools.
Ukwuani is playing his part in creating Nigeria's future in terms of STEM, and we are rooting for him!