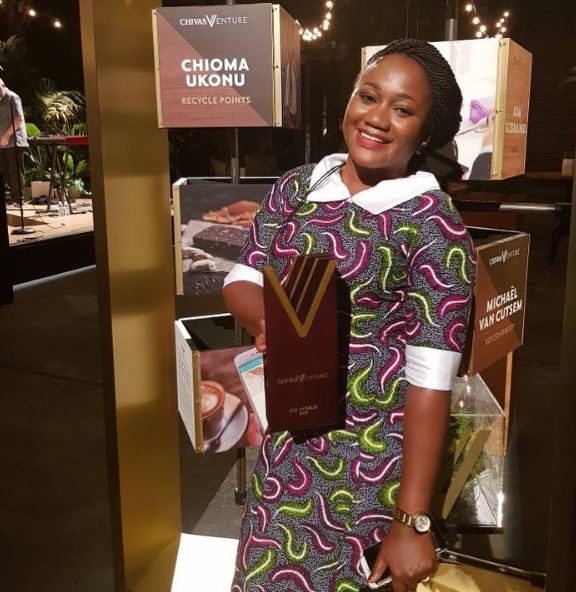 Hi guys! Adesola here.
The Grand Finale of "Chivas – The Venture" happened Thursday night and our very own Chioma Ukonu of Recycle Points bagged the second prize, taking home $200,000.
After the final event, I had a quick chat with the first runner up.
See transcript of our chat with her.
You had a wonderful pitch on Thursday. How were you feeling? Were you nervous? What was going through your mind?
I was. I think I managed to push through the nervousness. I usually get on stage I'd be nervous for the first few seconds and then, you know, be good. This one, the nervousness lingered a lot till towards the end and I was like, okay, but at least I was still able to push out the message. They got the message
When your name was called, what went through your head, were you like: did they just call the winner or…?
I was like What happened? How? Because everybody was so fantastic in the pitch yesterday so when I heard my name I was like, wow! This is a global validation for our work at Recycle Points. So, it just made us understand that we're not doing the wrong thing, we're doing the right thing. And people are watching. I'm a firm believer of a better Nigeria, where Nigerians are integral to the solution of Nigeria's problem. The narrative in our country might not be the best, but we can, as a new generation, work towards changing those narratives, and one of them happened last night for me. So it was a good one, that even if it means changing the story of Nigeria one pet bottle at a time, I'm ready to do that.
What did your husband say?
He is my partner in the business, so he's like, "Thank God". They kept on shouting. You know, when I got out he kept on screaming. We're very happy. It's a good thing for us. To the business and to our personal lives. Because we made an investment with our lives, with this. We made an investment of our savings to start Recycle Points to get it to where it is. So apparently it's just a clear cut that we have to make an investment for things to work. If we didn't get the tricycle, if we didn't better our technology, and all those things are money. Serious money. And then, the investment has yielded.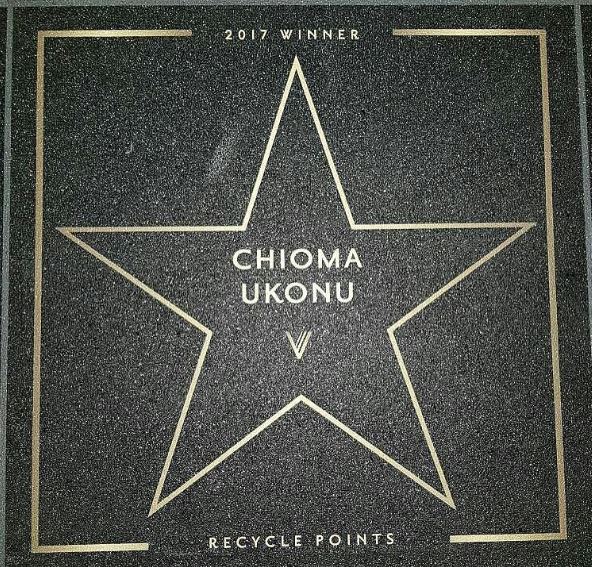 With over 70 million naira now; $200,000. What's the first thing you're going to do for Recycle Points?
It's expansion. Let's not go into technology alterations now. Let's expand. Make recycling more accessible. With what we have let's make sure we make it more accessible. The reviews of the i-recycle kiosks were good. We're working on the prototype as I'm here. So it motivates us to even finish fast because if we can drop those refurbished shipping containers in different locations it will make recycling accessible to more communities. It will cut down on our own cost on door-to-door pickups, and the centres will also employ more people, collect more waste, and equally serve as an awareness centre in the community on waste management. It's something that we're happy about.
If you had to talk to a young Nigerian, an entrepreneur starting out, who is interested in entering the competition for next year, what advice would you give? What would you say? What's the secret?
I was saying something to someone on the Chivas team that you people should get ready because you know Nigeria. This year's application is going to come like fire. So if you're out there and you want to apply it's a great platform. It's a fantastic thing to do. For the fact that it was singled out just for social enterprises. So it's not for commercial—sorry guys—social enterprises are now the in thing now. Thanks to Chivas. That really got my attention to start with. When I was applying I asked them, "Why social enterprises?" Because social enterprises are not in Nigeria. It's either you're for profit or you're an NGO, so what is this in-between stuff? When I started it took me a while to explain, "Oh it's not an NGO." "Oh, you're making money?" "Yeah, we're supposed to make money to stay alive." You know that kind of thing.
So I encourage everyone out there that wants to apply. Make sure you're solving a problem, and have a very clear idea of the problem you're solving and the policies that are driving the sector of the problem you're solving, community engagement is key. We are all good-doers, but also try to find out what is the response of the community of people you're trying to do the good for. Because if you don't engage the community properly, the good you're trying to do might not go far. And have a vision. It keeps you focused. Start small, dream big, but start small. Don't wait until you hit jackpot before you start that business because you might never start. You can use your garage, it can be your car boot, just start.