Meet JCI's Ten Outstanding Young Persons of Nigeria 2017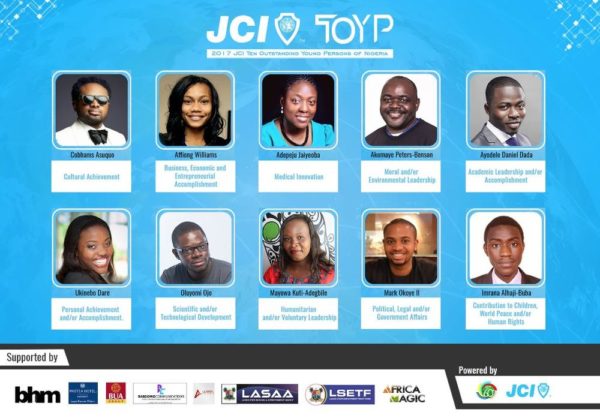 Junior Chamber International (JCI) Nigeria has officially unveiled the names of 10 young Nigerian professionals who are recipients of the 2017 edition of its annual JCI Ten Outstanding Young Persons (TOYP) Awards.
This announcement comes 7 months after the process began, with nominations by members of the public and stages of screening, selection and voting, which narrowed the long nominees list down to 29 from about 160 nominations, and then to the final 10.
For 34 years, Junior Chamber International, an organisation present in over 100 countries, has used the Ten Outstanding Young Persons (TOYP) Awards as a platform to identify, recognize, and celebrate young professionals under the age of 40, who are doing outstanding work in their various communities and fields of endeavour, while also inspiring others to be active young citizens.
On Saturday, August 26, Junior Chamber International Nigeria will be celebrating the 10 JCI TOYP 2017 Award recipients at a lavish ceremony in Lagos. This award night will also double as an anniversary gala to mark the 60th year of JCI's presence in Nigeria.
Invites to the awards show/anniversary gala night are available on www.toyp.jci.ng, and conversations are ongoing via #JCINTOYP2017 on social. More information is also available via official JCI Nigeria channels, @JCI_Nigeria on Twitter, Facebook and Instagram.
Meet the 10 Outstanding Young Persons: