#ChivasVenture: Read BellaNaija's Adesola's Quick Chat with Don Cheadle
Hi, guys! Adesola here.
A couple of weeks ago I had the opportunity to attend The Grand Finale of "Chivas – The Venture" which took place in Los Angeles leaving our very own Chioma Ukonu of Recycle Points bagging second place and taking home $200,000.
Prior to the final event, I had a quick chat with Hollywood actor and director Don Cheadle.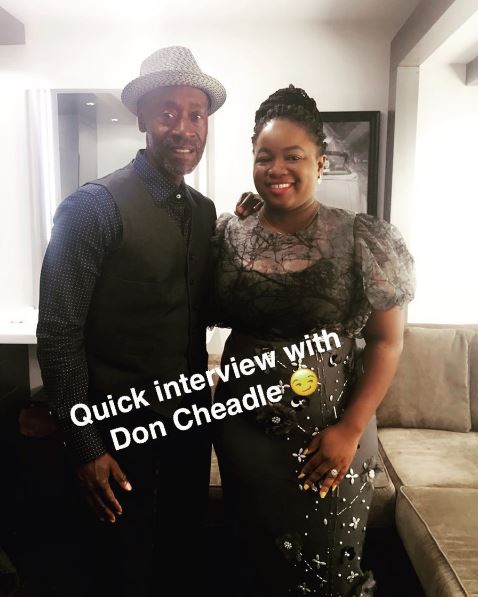 Read the full transcript of my interview below:
Why did you choose to be a part of the Chivas Regal campaign?
Well, It's not every day that you work with a company or endorse a product where one of their personal identities is giving back, supporting entrepreneurs who are trying to find solutions to our collective problems, not just in it to enrich themselves. And it's something that aligns with how I try to live and how I try to comport myself, so it's a good marriage.
What's the one thing you look out for in startup companies?
The way it's designed is that these contestants that Chivas works with, they narrow them down from 40 to 30 to 15 and they pick – we'll see the process happen tonight with the judges – that they pick those that they think are the most qualified with their – whatever it is they've come up with, whether it's a recycling venture, or we're dealing with water concerns, and they pick the ones that they think are most innovative, essential, aligns with their philosophy. So it's really about how Chivas is picking them. I'm not a judge. I just support their effort.
But if you were to invest in a startup, what would make you invest in one?
Depends. I mean am I investing just to make money? There are different reasons to invest in startup companies. It's not something that I do. It's not really my brand. I'm an actor, a director, a writer, a producer. The startup company that I started is a production company. So, I haven't been a part of a start up company before outside my own.
So what does winning the right way mean to you?
It means not just being in a position to enrich just yourself personally, not to just extract as much as you can, but also to find ways to reflect and refract the light and add your light to the sum of light and try to find ways to leave this place better than you found it.
If you could advise the finalists, what would you say to them in terms of entrepreneurship?
It seems like they're already doing it, I mean they don't have to – these aren't guys who need to be told how to get up and go. They're self-starters. That's why they've been identified, and this is probably just going to be another step along the way for them in their long life of doing this. You know, we're going to hear about these guys later, that are going on to do big things, we may be meeting the next Elon Musk, so we don't know that it's people like these that move us forward.
Photo Credit: Christopher Polk/Getty Images