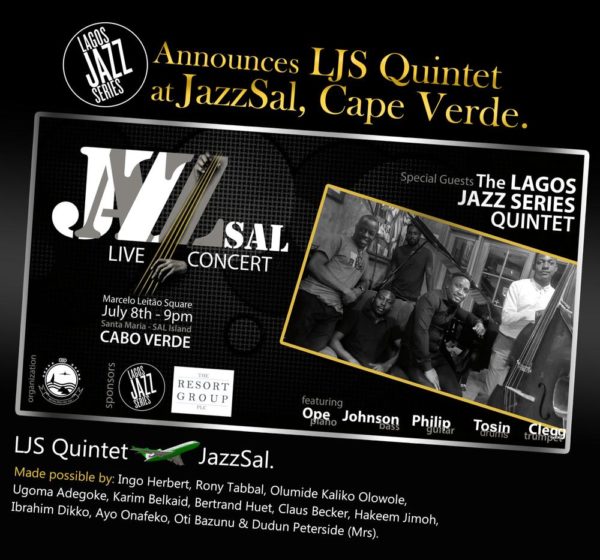 On Thursday, July 6th, 2017, the Lagos Jazz Series Quintet will jet out of the country for Sal, Cape Verde to perform at this year's Cape Verde JazzSal, which opens on Saturday, July 8th, 2017. Sal is one of the ten Islands that make up Cape Verde.
The trip to JazzSal ignites a musical exchange programme between the two festivals. This exchange has been described by some music experts and lovers as quite novel.  This is the first time musicians from Nigeria are going to Cape Verde to perform on the main stage at JazzSal.
The Lagos Jazz Series, which is the music festival founded by Oti Bazunu in 2010, has evolved to become one of Africa's most anticipated music calendar festivals.
A few years ago, Bazunu recruited music graduates from the Music Society of Nigeria (Muson Centre), honed their skills and today they are heading out of the country as a group, which will represent Nigeria credibly in Cape Verde.
Speaking at the invitation of the Nigerian Jazz group, Bazunu said: "The Cape Verdians seem to have huge respect for the musical skills of the boys as we do for the small island country folks. We are totally honoured to have been billed for their main Stage at JazzSal."
According to Bazunu, the LJS Quintet – featuring Opeyemi Omotayo on the piano, Johnson Eyo on bass, Tosin Paul on drums, Taiwo Clegg on trumpet and Philip Iwuagwu on guitar; are totally prepared to belt out some straight-ahead jazz and afrobeat.
The group is also expected to perform a few gigs at some of the fine hotels and resorts on the island.
For more information about the Lagos Jazz Series, visit the website here.
———————————————————————————————————-
Sponsored Content