Participate in McVitie's Digestive 125th Anniversary Special Promo & Stand a chance to win N1 Million and other Amazing Prizes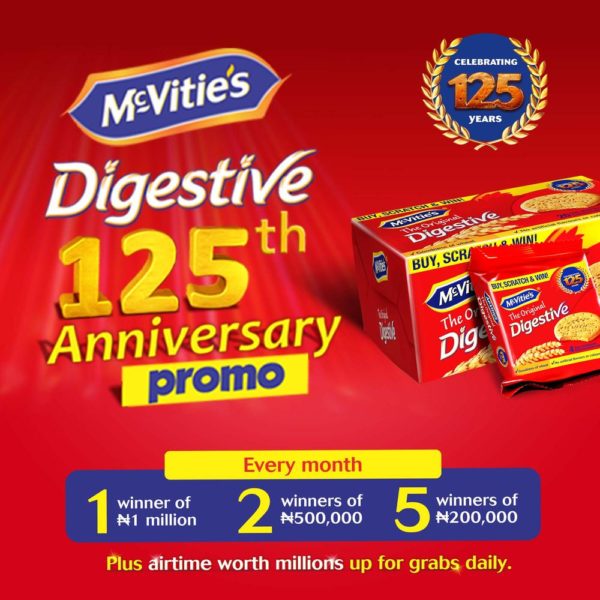 Global Biscuits and Confectionery Company, Pladis, trading as A&P Foods Limited in Nigeria, is celebrating the 125th anniversary of one of its most loved products – the original McVitie's Digestive biscuit.
Achieving 125 years of existence is indeed an excting milestone worth celebrating and to celebrate this, Pladis has made an announcement it would run a consumer promotion from 1st July – 30th September, 2017, where all McVitie's Digestive consumers would stand a chance to win prizes.
Hmmm! A classic case of eating your biscuit and having it.
The steps for participating in the promotion are really simple.
All you need to do is:
Buy any of the McVitie's Digestive 125th Anniversary special promotion packs: 40g, 104g, 208g or 302g
Look for the white label pasted on any of the special promotion pack
Scratch the foil on the white label to reveal the unique promotion code
Text the code on the white label to the SMS short code 55332 to enter the draws for a chance to win any of the promo prizes
Once this is done, you stand a chance of winning any of the promotion cash or airtime prizes. Every month for each of the 3months of the promotion, a cash prize of N1, 000,000 would be won by 1 person; N500, 000 would be given to 2 persons; and N200, 000 would be won by 5 persons.
In addition, tens of thousands of people would also win airtime of N100, N200, and N500 denominations throughout the promotion, with winners emerging every day from Monday to Friday for 12weeks.
So what are you waiting for? Go buy your favourite McVitie's Digestive biscuit, enjoy the delicious taste, and participate in the promotion. In the next few weeks, we could be featuring you as one of the millionaire winners!
——————————————————————————————————————————–
Sponsored Content