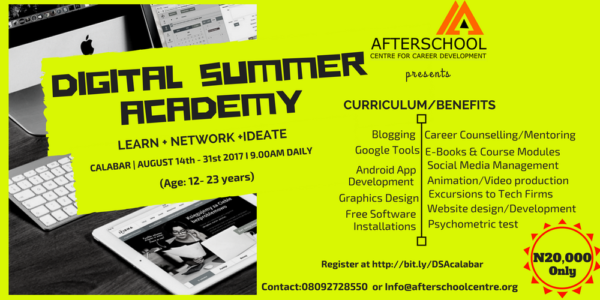 Afterschool Centre for Career Development is a capacity development organization committed to assisting young persons in transitional stages of their lives set goals and walks them through the achievement of such goals. The Project provides growth opportunities and self as well as career development interventions for and with young people enabling them transit seamlessly from school to work.
As part of its objectives to proving learning and mentoring opportunities for people in Nigeria, Afterschool Centre for Career Development is hosting a Digital Summer Academy for Adolescents (Age 12- 23 years). The Academy which is run by its Digital Footprint Initiative is aimed at improving the digital skills of young people in our community and enabling their learning, employment and engagement in the Digital Communications and Technology industry.
Date: Monday, August 14th – Thursday, August 31st, 2017.
Participation Fee: N20,000.00  (Highly subsidized)
The programme curriculum covers Web Designing & Development, Social Media Management, Graphics Design, Android App Development, Animation & Video Production ,Robotics and Google Tools. Other areas to be covered during the programme include Carer Counselling, Mentoring sessions, Psychometric test, Free Software Installation, Excursions to Tech Firms, Robotics, Technology Career Talks, Excursions to Leading Technology Companies, Leadership Workshops, Extra-curricular activities, Financial Education as well as access to the course modules & E- Books.
Criteria for participation: For young people between 12 & 23 years
To register, click here.
For registration and sponsorship, Please contact our Programmes team on [email protected] or call 08187508000. For further clarification, please call Etim Effanga on 08135207082
———————————————————————————————————————-

This content has been published for free as part of BellaNaija.com's commitment to youth, education, healthcare and community development as part of our corporate social responsibility programme.