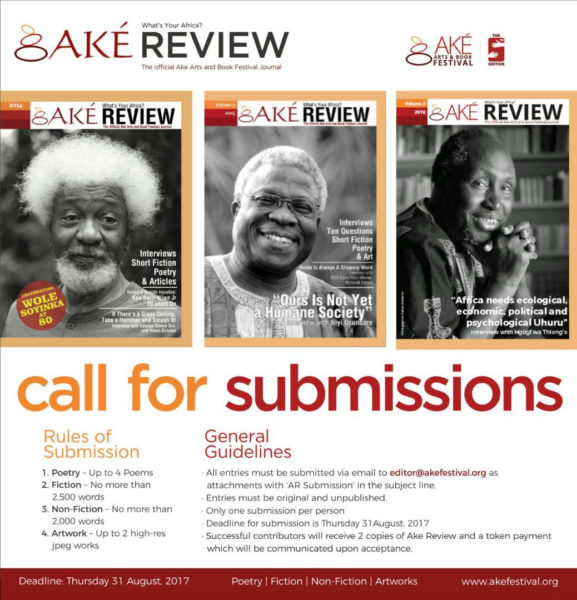 The Ake Arts and Book Festival is calling for submissions to the 2017 edition of our annual journal, Ake Review. This 5th Edition is themed This F-Word and will focus on the challenges, journeys and triumphs of African women, while exploring a range of feminist perspectives.
Submission eligibility:
Ake Review welcomes entries in all literary and artistic genres including: fiction, creative non-fiction, poetry, reviews, photography, film, music, sound art, performance art, and visual art.
Entries can be submitted in written form, as podcasts, or as videos. Pieces that explore multi-genre, inter-disciplinary, and multimedia formats are encouraged.
Categories:
Poetry – Up to 4 Poems
Fiction – No more than 2,500 words
Non-Fiction – No more than 2,000 words
Artwork – Up to 2 high-res jpeg works
A bio of no longer than 70 words
Submission Guidelines:
All entries must be submitted via email to [email protected] as attachments with 'AR Submission' in the subject line.
Entries must be original and unpublished
Only one submission per person
The prize:
Successful contributors will receive 2 copies of Ake Review and a token payment which will be communicated upon acceptance.
Deadline:
August 31, 2017
Don't forget to read and follow the instructions carefully. A lot of people miss out on good opportunities, because they do not adhere to the instructions of submissions.
Ensure that your work meets the criteria for the category you're applying for.
Good luck, guys!