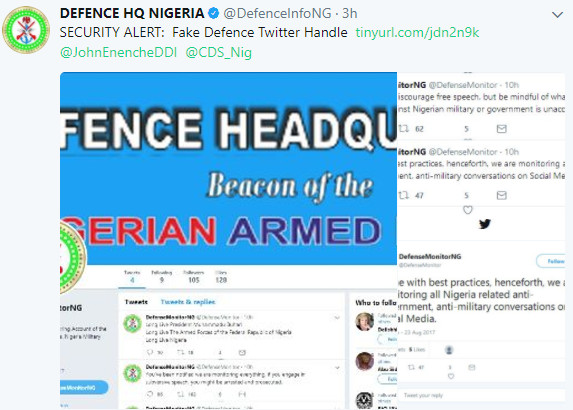 The Nigerian Defence Headquarters has distanced itself from a Twitter account @DefenseMonitor claiming to be the "official Twitter monitoring account of the Nigerian Armed Forces. Nigeria Military".
A statement by Maj.-Gen. John Enenche released on Thursday read:
1. The Defence Headquarters wishes to call the attention of the general public of the emergence of a fake twitter handle @DefenseMonitor. The twitter handle is mischievously using the Defence logo and posting tweets as though they are emanating from the Defence Headquarters.

2. The tweets have started attracting reactions from unsuspecting members of the public. The DHQ hereby call on patriotic citizens of our nation to disregard the twitter account and ignore the tweets, while effort is underway to track the perpetrator of this heinous act.
3. The official twitter handle of the Defence Headquarters is @DefenceInfoNG which is a verified account. People are advised to be conscious of increase in the number of fraudsters who will go at any length to misrepresent the military and its Institutions, sometimes using such channel to swindle innocent members of the public. Please be guided.
The Presidency Office for Digital Engagement (PODE) also put out a disclaimer that the account is fake.
DISCLAIMER: This Twitter handle was apparently set up with malicious intent to mislead the public. It is NOT official. Disregard it. https://t.co/44NPuL7nzK

— PODE (#weASOcial) (@DigiCommsNG) August 24, 2017
DISCLAIMER: This Twitter handle does NOT belong to the Nigerian Armed Forces, Defence Headquarters or the Govt of Nigeria. Pls disregard it. https://t.co/sTKnFJ5h9p

— PODE (#weASOcial) (@DigiCommsNG) August 24, 2017
"In line with best practices, henceforth, we are monitoring all Nigeria related anti-government, anti-military conversations on Social Media.

Not here to discourage free speech, but be mindful of what you say, as anything against Nigerian military or government is unacceptable.

You've been notified we are monitoring everything, if you engage in subversive speech, you might be arrested and prosecuted.

You have been warned. Ignorance is no excuse. Do not post subversive material or you face the risk of arrest and prosecution.

We also see those who are anti-government. We are also identifying you and we are going to act accordingly at the appropriate time," the account had tweeted.
This development came o the hills of Enenche's comment on Channels Television's News At 10, where he disclosed that the military now monitors social media to sieve out and react to anti-government, anti-military, and anti-security speeches and fake news.
" In the military, we are now taking on it more seriously than ever. We have our strategic media centres that monitor the social media to be able to sieve out and react to all the ones that will be anti-government, be anti-military, (and) be anti-security," Enenche had said.