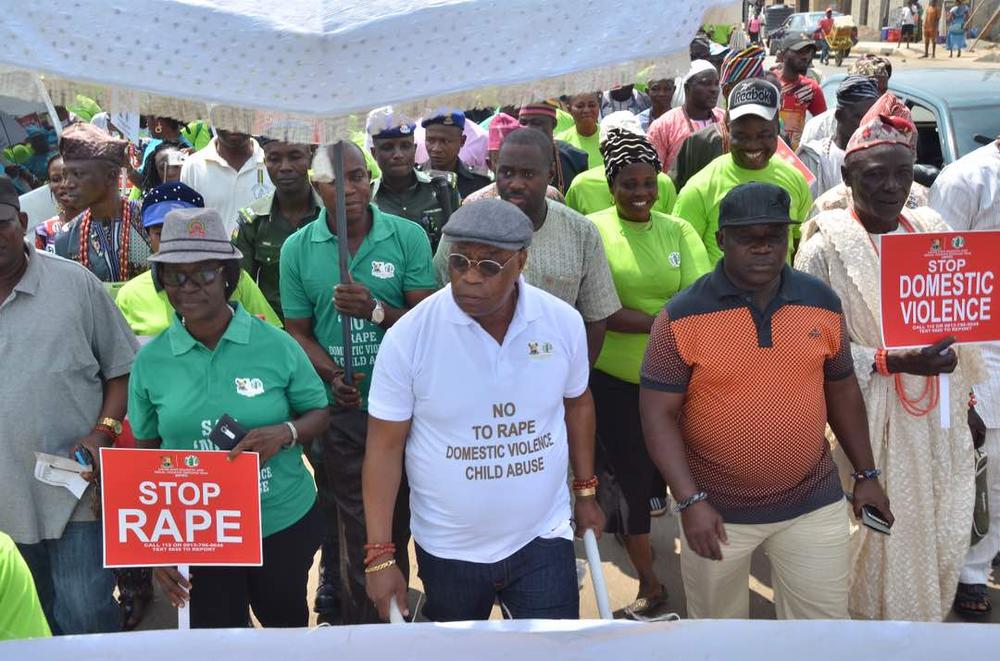 The Lagos State Domestic and Sexual Violence Response Team (DSVRT) on August 24, 2017, organized a walk in the Epe area of the state to raise awareness and sensitize the residents of the area about domestic violence, rape, child abuse and all forms of sexual and gender-based violence.
The walk attracted over 300 participants from all walks of life; from artisans to teachers, religious bodies, community health workers, members of the Nigerian Bar Association, Traditional rulers, law enforcement, (police, neighbourhood watch, Nigeria legion and the police) religious leaders, teachers, guidance Counsellors, social workers, local government officials, artisans, principals, NYSC, NGOs, NURTW officials, market men and women participated in the walk.
The walk involved the two paramount rulers of Epe; kicking off at Oba Shefiu Olatunji Adewale's palace, where the ruler gave a welcome address and started off on the walk that went from Lagos Road to Marina road up to Ayetoro market where the monarch (the Olu of Epe) returned to his palace.
Oba Kamoru Ishola Animashaun, the Oloja of Epe joined the walk, leading from the market to Cele bus stop and all the way to his palace.
**
DSVRT is a collection of professional service providers and officials that respond as a group and in a timely fashion to the various needs of domestic and sexual violence survivors by providing legal, medical, emergency assistance, Counselling and psychological and psycho social support. It is to encourage and create unprecedented level of collaboration among professionals working to end sexual and Gender Based Violence.
The agency's Head Office is at the Lagos State Ministry of Justice, Secretariat, Alausa, Lagos.
Telephone: 112, 08137960048
E-mail:[email protected]
You can also contact DSVRT through their website.
See Photos from the walk below: