Rejoice Abutsa: Banana Island Ghost is BIG on Lessons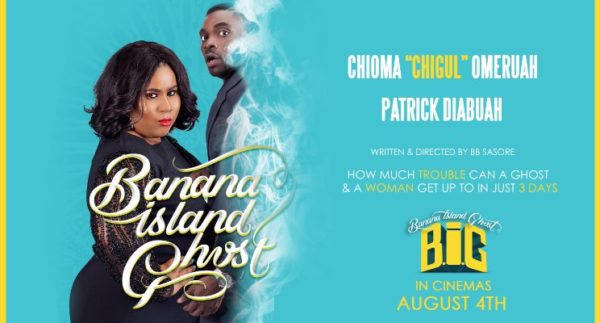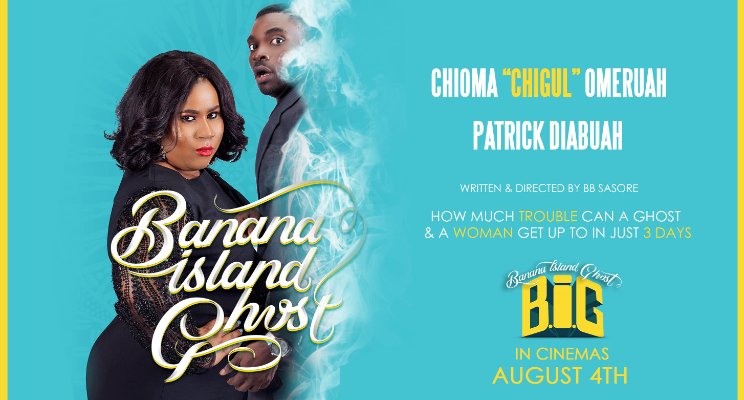 Director, BB Sasore, does something unusual with Banana Island Ghost. Sasore makes a passionate plea with the first scene of his movie – he pleads for the sacrifice of realism and logic, and instead, for his audience to watch for enjoyment.
See how he does this – the first scene features a young boy and his mother, her time on earth is limited and she knows this. In her farewell speech, she encourages her son to accept that she will be in heaven, and in this speech, she tells him of beautiful girls and the need for a soul mate. A soul mate here serves as his compensation for the loss. There is something deeply unbelievable about this scene, but most of the events that occur in Banana Island Ghost are unbelievable, yet deeply satisfying!
The film has the capability of dividing the cinema; some will enjoy the journey, and others will find it a little silly, and that is what films with many new ideas do. It is thought provoking instincts that bring us a ghost romance story with lessons on the value of humanity, on respect, on trust and on hope. Producers put their faith on a difference, and this is a film with the right dose of sweetness.
Some of us assume the presence of a guardian angel in our lives; we believe in the presence of a beacon of light, guiding us and being our efficient lesson through life, it exists in Banana Island Ghost. Hope plays a weighty part in our lives, and Banana Island Ghost uses the device of hope efficiently. In fact, the purpose of Banana Island Ghost is hope.  Hope guides our characters; Ijeoma hopes to pay off her father's debt and retain his house, Patrick hopes to find a soul mate. Sasore's vision is a ride, the use of logic is back to use in strategic scenes but you have to free your mind to enjoy the emotional content of his story.  Banana Island Ghost is a film that explores life, death and healing. Death for the first time is not heartbreaking, it heals.
Suspending disbelief and enjoying what is before us does not mean we do not take the lessons that come with this enjoyment. The charm of Banana Island Ghost is in its lessons. Hope; perseverance; the value of humanity: these are strong themes you should not leave the cinema without noting.
The ability to have real and authentic connection can give our lives true meaning, and there is a push for it here. Dialogue that counters discrimination, that advocate for the genuine idea of romance, and reshapes our notion of perfection all exist in this film. Banana Island Ghost is a film of second chances, and we all require that in life, we don't always get our second chance but it is soothing to believe that a second chance is possible.
The impressive use of cinematography to communicate messages is a major cause for excitement. The second time we experience death in Banana Island Ghost, cinematography is used to explore the quote of "Life continues after death", cinema is really exciting and that scene is  one of my favorite scenes of the year.
You could leave the cinema thinking it was a romance film, or a comedy, however you choose to define it,  one thing is for sure, it is a film with a heart, and it will make you feel.
A bonus on all these is the cast. This is a perfect mix of talent.The presence of Baba God is a strong asset; Bimbo Manuel is a charismatic ray of wisdom. His performance promotes the tender spirit of Banana Island Ghost.  Saidi Balogun and Akah Nnani are memorable performers. Chigul provides lots of laughter, and tears too. Patrick Diabuah is a revelation!
Music is its own character here. In the director's previous effort, "Before 30", music played a primary role in communicating moods. Here it does the same.
Banana Island Ghost has its flaws though; you will find an extravagant tribute to sponsors and a few continuity errors, but it will remain memorable because it is tactical. It has lots of laughter, and above laughter, important lessons.