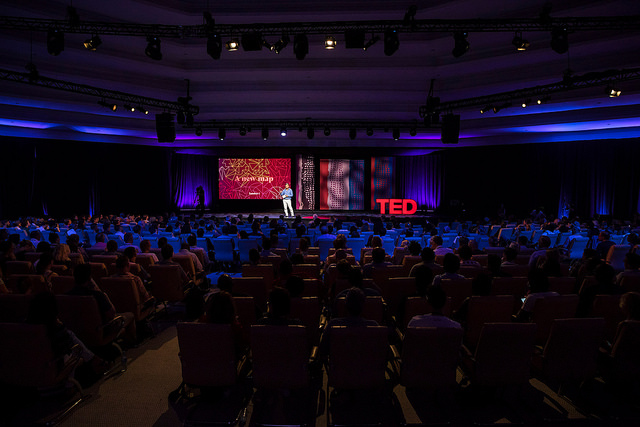 TEDGlobal 2017 Conference with the theme "Builders. Truth-tellers. Catalysts." kicked off Sunday, August 27, 2017 in Arusha, Tanzania with over 600 persons from all over the world, including BellaNaija's founder Uche Pedro, a TED Global Fellow, in attendance.
This year's conference marks TED's first return to Africa since the memorable TEDGlobal 2007 Conference held at the same location.
More than 45 speakers will share ideas at the conference, with  presentations and performances from 27 TED Fellows.
Three Nigerians spoke/performed at the opening session. Oshiorenoya Agabi, AI and Biology Expert, Nnedi Okorafor, Writer, and Qudus Onikeku and his dance group opened the Day.
Here's what went down on Day 1 which had the theme "A New Map".
The session was opened with Nigeria's Qudus Onikeku's dance tribe delivering a 4-minute energetic production titled "Rainmaker." Qudus and his team left the audience wanting more, and they'll get it as the group will perform again before the end of the conference.
Dr. Augustus Casely-Hayford shared on the history of Africa, debunking notions that the continent has no history. He spoke on the ancient city of Zimbabwe and its extremely advanced architecture. Casely-Hayford shared the story of Mansa Musa, the emperor of the Malian empire who has been described has the richest person in all of history, his caravans stretching out as far as the eyes could see.
Zachariah Mampilly shared political activism in Africa, especially led by the younger generation, is being used to shape Africa's future, using Tunisia, Egypt, Senegal, Burkina-Faso and Malawi as case studies.
George Steinmetz who left Stanford to hitchhike across Africa in what he described as a graduate course in ecological ethnography, shared breathtaking photos of the continent taken from the sky.
He says surprising historical ecological, and sociopolitical patterns emerge when you are looking down at the world from a flying lawn chair.
"Biology is technology. Bio is tech," said Nigerian Oshiorenoya Agabi who shared how his team is embedding living neurons in microchips and have found ways to keep them alive for up to two months.
Agabi's Koniku Inc. has developed Koniku Kore, an amalgam of living neurons and silicon, which can detect and recognise smells.
Art curator Touria El Glaoui shared a collection which tells powerful stories of African identity and grapples with the complexity of African history.
Nnedi Okorafor, the award-winning author of the Binti Series, which tells the story an African girl from a traditional family in a part of future Africa is accepted into the finest university in galaxy, planets away.
She argues that the Binti series which looks a lot like sci-fi is different from it because its evolutionary roots are different.
"I was inspired to write this story, not because I was following a line of classic space opera narratives, but because of blood that runs deep, family, cultural conflicts and the need to see an African girl leave the planet on her own terms. My science fiction has different ancestors, African ones."
This brought the end of Day 1 at Arusha. Follow the conference and inspiring talks on bellanaija.com, our Insta Story, and on Twitter.
Nigerians who are offering fresh, unique perspectives and solutions at the conference this year are:
Olutimehin Adegbeye – Forced evictions along the Lagos lagoon
Yvonne Chioma Mbanefo – African languages (whose 'Okowaokwu Igbo Umuaka: Igbo Dictionary for Children' became an Amazon bestseller a day after publication)
Chika Ezeanya Esiobu – Traditional institutes solving problems
Dayo Ogunyemi – Cultural production
Qudus Onikeku – Talk/performance. Dancer/promoting culture
Bibi Bakare-Yusuf – Book publisher (Cassava Republic co-founder)
Oshiorenoya Agabi – AI and biology
Ndidi Nwuneli – Scaling philanthropy
Olufemi Taiwo – Historian/philosopher
Nnedi Okorafor – Writer African science fiction (whose novel, Who Fears Death, is currently being adapted into an HBO series by Game of Thrones author, George R.R. Martin)
Leo Igwe – Fighting superstition
Kingsley Moghalu – Industralisation
Ike Ude – Art/photography
Others on the list are:
Nabila Alibhai, Place-maker
Alsarah & the Nubatones, East African retro-popsters
Christian Benimana, Architect
Niti Bhan, Founder and owner, Emerging Futures Lab
Mahen Bonetti, Film curator
Augustus Casely-Hayford, Cultural historian
Natsai Audrey Chieza, Designer
Llew Claasen, Strategist
Tania Douglas, Biomedical engineering professor
Touria El Glaoui, Art fair curator
Kamau Gachigi, Technologist
Ameena Gurib-Fakim, President of Mauritius
Amar Inamdar, Entrepreneurial business leader
Joel Jackson, Transport entrepreneur
Paul Kagame, President of the Republic of Rwanda
Zachariah Mampilly, Political scientist
Vivek Maru, Legal empowerment advocate
Clapperton Chakanetsa Mavhunga, MIT professor, grassroots thinker-doer, author
Thandiswa Mazwai, Singer
Sara Menker, Technology entrepreneur
Sethembile Msezane, Artist
Kisilu Musya, Farmer and filmmaker
Robert Neuwirth, Author
Kevin Njabo, Biodiversity scientist
Fredros Okumu, Mosquito scientist
DK Osseo-Asare, Designer
Keller Rinaudo, Robotics entrepreneur
Chris Sheldrick, Co-founder and CEO, what3words
Sauti Sol, Afro-pop band
George Steinmetz, Aerial photographer
Pierre Thaim, Chef
Washington Wachira, Wildlife ecologist and nature photographer
Magatte Wade, Brand creator
Ghada Wali, Designer
Photo Credits: Ryan Lash, Bret Hartman/TED