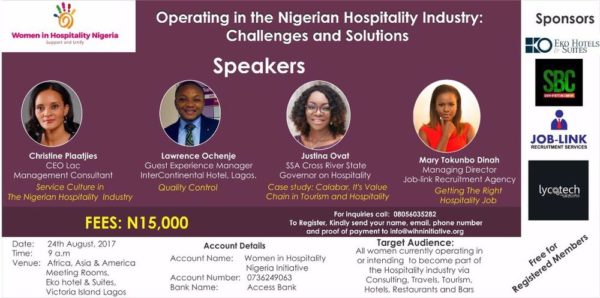 Women in Hospitality Nigeria, a new association, is the umbrella body for women engaged in the Hospitality Industry directly or indirectly. WIHN embraces female hospitality professionals with a view to enhancing their status and inputs in the Hospitality, Travel and Tourism sector. It is also a rich incubation ground for young ladies intending to become part of the industry in the near future.
WIHN aims to empower and inspire women to attain leadership positions in the Hospitality Industry as well as provide numerous platforms for exceptional development, growth opportunities and educational advancement for its members.
As part of the WIHN initiatives, a seminar has been scheduled to take place in Lagos with the theme: "Operating in the Nigerian Hospitality Industry: Challenges and Solutions". 
Date: Thursday, August 24th, 2017
Time: 9.00 am
Venue: Eko Hotel and Suites, Victoria Island, Lagos.
This seminar is expected to analyze research and development both locally and internationally. Participants will be exposed to techniques and strategies that can help with challenges being faced in the industry as tackling this will, in turn, increase the tourism prospects for Nigeria.
Four seasoned speakers have been slated to speak on various topics bothering on the Industry. Amongst the speakers are Justina Ovat, SSA to Cross River State Governor on Hospitality; Christine Plaatjies, CEO, Lac Management Consultants, Lawrence Ochenje, Guest Experience Manager and seasoned Hotelier from InterContinental Hotel and Mary Dinah, MD Job Link Recruitment Agency.
For further inquiries, kindly call 08056035282 or send an email to [email protected].
———————————————————————————————————————————–
Sponsored Content