The well anticipated Wedding Lifestyle Magazine by George Okoro launched on the 26th August. It was a beautifully decorated cocktail party at Transcorp Hilton's Lagos/Osun hall. Guests were well turned out in beautiful dresses and dapper suits, which gave a nod to the 'strictly black tie' dress-code, as seen on the invitations.
Hors d'oeuvres and non alcoholic beverages were passed around by waiters. Muted chatter filled the room as friends and acquaintances exchanged greetings, a white and gold carpet coverage of the event unused just outside the hall. Yet, the excitement to finally behold the magazine touched everyone in the room.
Indeed, it was a special moment, a remarkable moment, when the magazine cover was revealed, thanks to the Chief Launcher, Her Excellency, Dr Zainab Shinkafi Bagudu (wife of the Executive Governor of Kebbi State) who was present to perform the honour during the ceremony. She unveiled the magazine with the Chief Host, Her Excellency Hajiya Amina Titi Atiku Abubakar represented by Dr Maxwell Gidado, Hon Jibrin Abdulmumin who was represented by his wife Maryam A Jibrin and Alhaji Nasiru Danu.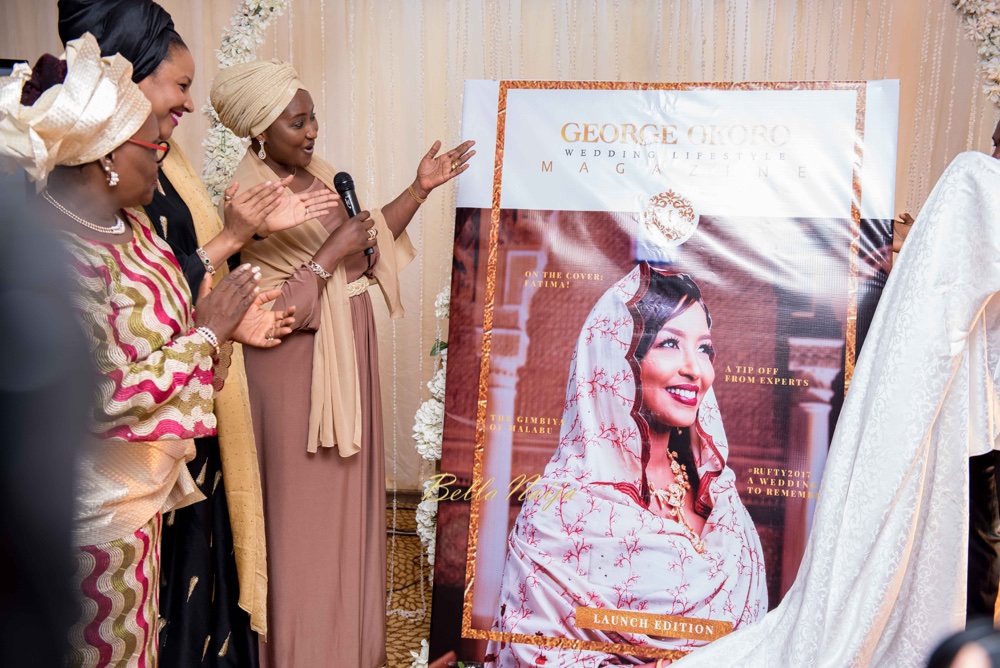 The event was graced by some industry experts like Hylezira Zira of Bluevelvet Marquee, Hudayya Abacha and King Hakbal and big photographers like Big H, Aisha A Kuta, Ademola Adeniran, Simi Vijay to name a few. Also present was members of the first family, Halima and Hanan Buhari.
I would like to thank everyone for taking the time to show up on that special night. It was a great night and I am delighted to have celebrated the birth of the George Okoro Wedding Lifestyle Magazine (GOWLM) with everyone who was there and those who continue to wish us well.

Especially, I would like to thank:

The Chief host of the occasion, Her Excellency, Hajia Amina Titi Atiku, ably represented by Dr Rose Maxwell Gidado,
The Chief launcher of the occasion, Her Excellency, Dr Zainab Shinkafi Bagudu
Special guest of honour, Igho Sanomi, Chairman, Taleveras. Represented by Aliyu Jimeta, Deputy Managing Director
Special guest of honour Pastor Deborah Omale

We have created this magazine and we're excited to see what the magazine will evolve into in the nearest future. I am grateful for the continued support and love. This is only the beginning. Please remember that the GOWLM is for you, for me, and the wedding industry. God bless you." – George Okoro, CEO, George Okoro Weddings
Unveiling of the George Okoro Wedding Lifestyle Magazine (GOWLM)
Inside the Magazine
Decor & Gold Carpet
More Fabulous Guests
To follow up with the George Okoro Wedding Lifestyle Magazine and to learn more about obtaining a copy and of the launch edition and other information, follow @GeorgeOkoroweddings on Instagram. To book an interview, email [email protected]
Credits
Planner & Coordinator: Roxos Events | @roxosevents, 08094560519
Location: Transcorp Hilton | @hiltonabuja
Food & Drinks: Transcorp Hilton | @hiltonabuja
Cocktails: Cocktails InandOut | @cocktailsinandout
Master of Ceremony: Matilda Duncan | @matilda_duncan
Dj/Light/Sound & Special Effects: Dj Gabby | @iamdjgabby
Red Carpet Host: Mimi Onalaja | @mimionalaja for EbonyLive TV, Ina Peters | @ina_peters for PTV and Scholastica Okolo | @miss_schollie
Musical Performance: Rubunu | @rubunu_rcube
Sax: Revy Sax | @officialrevysax
Video: Klaze | @klazeofficial
Photography: Sadiq Momodu | @momodumedia and Joe Ali | @joeali007 assisted by Mayowa Aboah | @mayowaaboah
Additional Photography: Ejike Emmanuel | @Ejikemanny