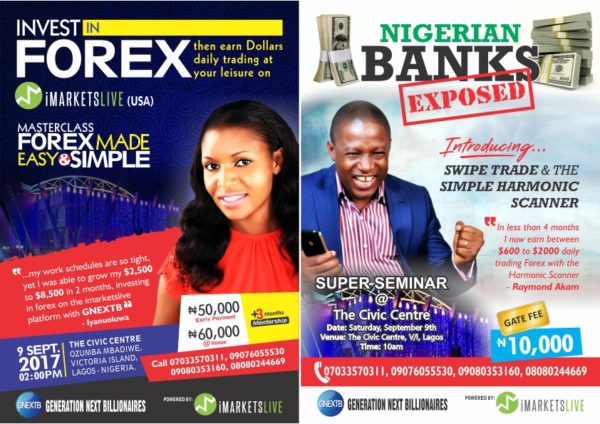 GNEXTB will be teaching about Forex trading and the first session is tagged #tiredofbeingbroke2017. This seminar is for students, Youth Coppers, unemployed youth, retirees, fathers, mothers and everybody who wants to understand the rudiments of Forex Trading and leveraging.
Date: Saturday, September 9th, 2017.
Time: 10 am & 2 pm
Venue: The Civic Centre, Victoria Island, Lagos.
On the simplicity and ease of use of the swipe trade and harmonic scanner which can be downloaded on your Android phones or laptops, some Nigerians are already tapping into this platforms making as much as 200USD to 2,000USD a day. I did not say a week or a month I said a day. We have the likes of Raymond Akam one of our team members who make between 1,500USD and 2000USD daily and he will be present to show you how you too can benefit from Forex. Raymond has never traded Forex before he only started trading Forex 3 months ago. There are many like him in GNEXTB.
The second session is a Master class for those who would like to tap into deriving benefits than just learning to trade. In the second session, we will have GNEXTB Investment where we will be unveiling the investment aspect of forex. Here, for the sake of those who called us from all over the Country asking if we can assist in advising them with their funds being managed over a period of time for up to 50% Return on Investment? In the second session, all the modalities will be presented. This is not a pyramid scheme or a scam but forex. For the investment, an account will be opened for you and you will be sent the statement of all trades done on your account
Learn & Earn: For those who may want to trade under the master class, we will provide mentorship for 3 months non-stop, until we see you can trade and earn comfortably and confidently. We have arranged for a Forex luncheon which is open only to those on the Island for now. Whilst for those on the mainland we have a provision for you as well at No 2 Allen Avenue. We can also arrange to train your colleagues at your office if your management is ok with it.
The Fast Track Mode: This is an aggressive approach we have also put in place for those who may like to hit the ground running in 1 month after the seminar on Saturday.  (i.e. that is to say by a month's time they have started earning). The second session will be exciting, you don't want to miss it! We also have a raffle draw on that day and the lucky winner will go home with a Surprise gift.
Call these numbers for your reservation 07033570311 or, 09076055530
Please note:
The morning session #tiredofbeingbroke2017 gate fee is 

N

10,000.
For the second session; the Masterclass gate fee is 

N

50,000.
If you are paying for 3 participants you will pay 

N

45,000 for each.
If you pay before the event you will pay 

N

50,000
If you want to pay at the event you will pay 

N

60,000
Bank: Zenith Bank
Account name: Prosolution Global
Account name: 1013322587
See you at the Civic Centre live!
————————————————————————————————————————–Sponsored Content