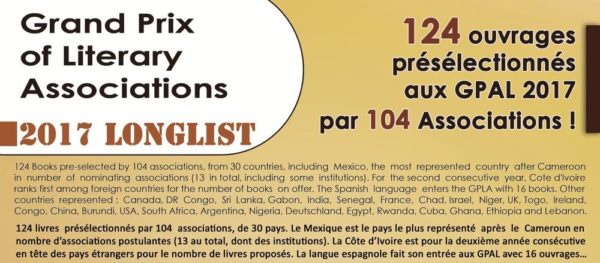 As could be expected, the list of the pre-selected books of the GPLA 2017 is quite long. In total, 124 books endorsed by 104 associations. 30 Countries from all parts of the world are represented by authors and associations, and of course, Nigeria is part of them.
But still, the great surprise is the admissibility of the Spanish language. It is the very first time since the creation of the GPLA contest, which was open exclusively to English and French in its previous editions. 16 Works of this current edition are written in Spanish, and 13 amongst them come from Mexico, which also counts 13 associations from its soil amongst the 104 contesting.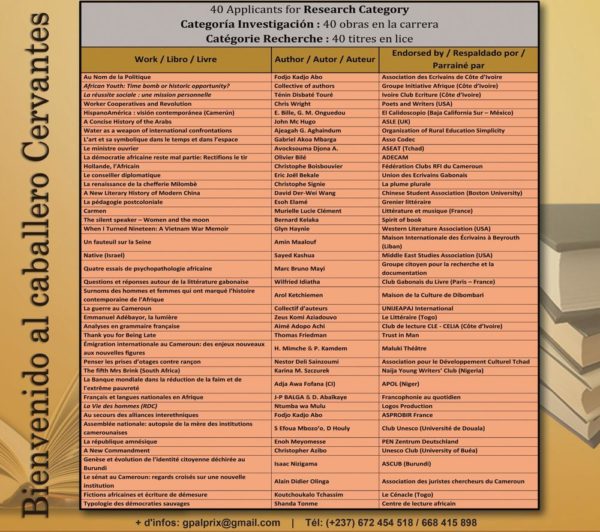 Several names can notably draw attention from observers. Thomas Friedman (three times Winner of Pulitzer Prize), competing in the 'Research Category' with his latest work entitled 'Thank you for being late'; Indian woman writer Arundhati Roy (Man Booker Prize 1997), competing in the 'Belles-Lettres Category' with her novel 'The Ministry of Utmost Happiness' ;  the Ghanaian Yaa Gasi is also present with her novel 'Homegoing', as well as Cameroonian young novelist Imbolo Mbue with her million dollar book 'Behold the dreamers'; not forgetting Othuke Ominiabohs'come-back 'A conspiracy of Ravens'. Nigerian author Othuke Ominiabohs who had already been close to a GPLA trophee, notably in the last edition in which he was shortlisted in the 'Belles-Lettres Category' with his first novel 'ODUFA, A lover's tale' (His fellow compatriot Chigozie Obioma was also one of the finalists). Some other Nigerian authors have their books endorsed in this fifth edition of the GPLA, especially in the Belles-Lettres Category
Yet, we are eager to find out who will replace the winners of the previous edition: Felwine Sarr in the 'Research Category', awarded for his work entitled 'AFROTOPIA', and Eric Mendi in the 'Belles-Lettres Category', awarded for his novel 'AFANE – Forêt Equatoriale'.
In the meantime, kindly memorize that in Spanish "se dice" Los Grandes premios de las
asociasionces literarias, and in French Grands prix des associations littéraires.
————————————————————————————————————————–Sponsored Content